Drum Festival of the Ma Coong Ethnic Group
After the Tet Holiday of the Kinh ethnic people, on the first full moon night of the year, the Ma Coong Ethnic Groupd will organize the Drum Festival, a unique event of Quang Binh province that embraces all the original, primitive values, attracting both domestic tourists and international tourists. Even though they have to encounter several hardships in their life, the Ma Coong people could still preserve and pass on this precious spiritual treasure. Taking place in Truong Trach village, according to the cultural researchers, this is a local festival in which the villagers wish that good luck, strength, the ability to overcome atrocities will come to people everywhere.
To remind the younger generations of the exploits of the first leader of the group, Ma Coong people cheerfully celebrate the Drum Festival on the 16th day of every year (according to lunar calendar). The ceremonies are to be carried out in a punctual and strict procedure. The eldest man of the village will lead the festival. Before the festival starts, every family prepare a table of foods and gifts including sticky rice, wild bananas, May sprouts, Doac spouts, chicken, fishes from the Forbidden Stream, Hieng Wine, etc.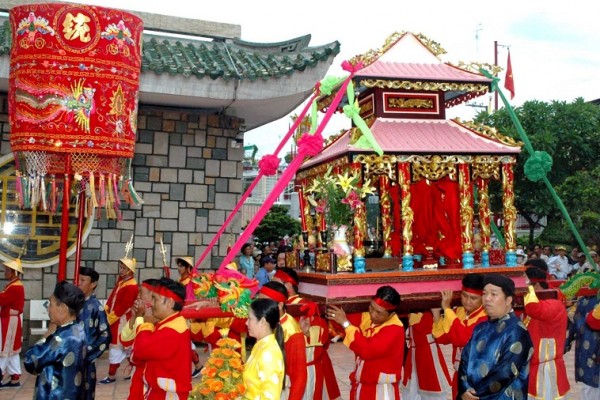 Photo: vietnamtouriam.org.vn
The drums are made of a special type of tree called Chi Cup. The best thing about Chi Cup trees is that they can produce high quality wood which can withstand the effects of an excessive amount of rain or sunshine. The surface of the drum is made of deer's skin or buffalo's skin.
The festival starts when the moon rises on the 16th night of the year. The leader of the festival dresses in an embroidered black costume full of colorful patterns. All the participants dress up in their traditional outfits, wearing silver bracelets and sparkling necklaces. Everybody lines up and faces the main altar, on which five tables of food have been placed. After half an hour praying, the leader of the festival strikes a chain of drumbeats that echoes all over the mountains and the forests. Next, 5 people strike the drum on behalf of their family before giving the drum sticks to the children who are going to do the same thing. People continue to strike until they break the drum and the fire is just about to die out, giving back the forest its rightful quiet atmosphere.
Conversations (0)
Join the conversation
Conversations
Join the conversation
ALL COMMENTS (0)
There are no comments. Add your comment to start the conversation.
read next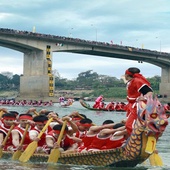 On the Gianh River valley, there is a fishing village whose most inhabitants originally come from Xuan Hoi village.