The Most Beautiful Islands In Nha Trang That You Must Visit Once
Nha Trang, a coastal city in the south of Vietnam, is a well-known tropical paradise where you can see white sandy beaches, immense crystal-clear water and unique marine creatures. Nha Trang Bay is in the list of 29 most beautiful bays in the world. It is a big pity if you don't pay a visit to an island resort when you are in Nha Trang. If you find it hard to pick an appropriate destination, don't worry. We will give you names and important information of the most gorgeous islands in this paradise bay. A lot of promising things are waiting for you to discover. Let's get started!
Hon Tre Island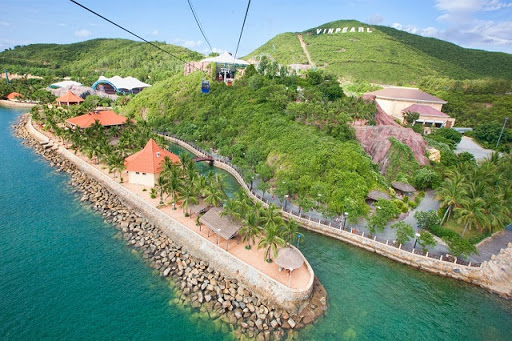 Photo : thuongiaonline.vn
Hon Tre is the biggest and the most hectic island of the Nha Trang bay. This spectacular island is like an enormous green turtle swimming in the middle of immense crystal-clear blue water. Located on the island, Vinpearl Land resort is one of the factors that has made Hon Tre on the map. Vinpearl Land, the best-known tourist resort in Nha Trang, is an ideal place for you to enjoy various interesting activities and high-quality services. Paying the ticket once, you are able to take part in plentiful extraordinary services (games, cinemas, sports, concerts, etc) without extra charge! There is also a beautiful white sandy beach where you can freely swim and sunbathe, a must-do activity in the tropical country. Besides, if you want to stay on this spectacular island for several days, accommodation is not a problem as many hotels with luxurious services are available. Hon Tre is a typical beauty of the mix between synthetic and natural elements, where you can find yourself most relaxing and comfortable. For more details about the tours, tickets, accommodations… click here Vinpearl Official Website.
Additionally, there are some other resorts with excellent services such as Bai Tru, Con Se Tre Island, Dam Bay,...
Hon Mun Island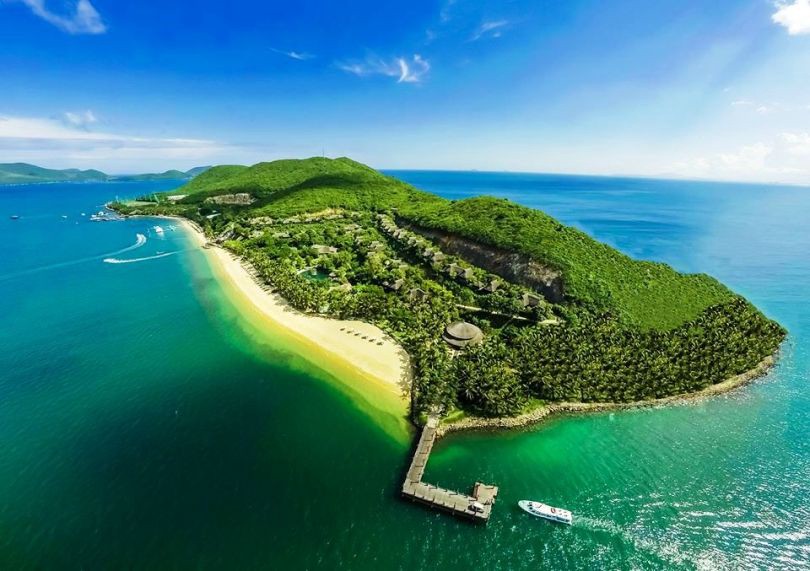 Photo : medium.com
Hon Mun is not the biggest but the most romantic island in Nha Trang. Hon Mun is located 10km from the Cau Da Dock. Beside white sandy beach, clear water and swiftlets nest on the majestic cliff, Hon Mun is famous for Hon Mun Marine Life Reserve where more than 340 categories of corals and numerous different sea creatures are living there. Sea bar (floating bar), scuba diving and glass-bottom boat are three special services available at this place. In a sea bar, you will stand floating on the water surface and enjoying various kinds of beverages. This is such a unique activity that you must join once when you are in Hon Mun. If you want to see the beauty of marine life but you are afraid of scuba diving, a glass-bottom boat is the best solution. As its name, you can imagine the feature of this boat whose bottom is made from clear glass. So you are able to enjoy the windy weather, do sightseeing and observe ocean life at the same time.
Hon Mieu Island (Tri Nguyen Island)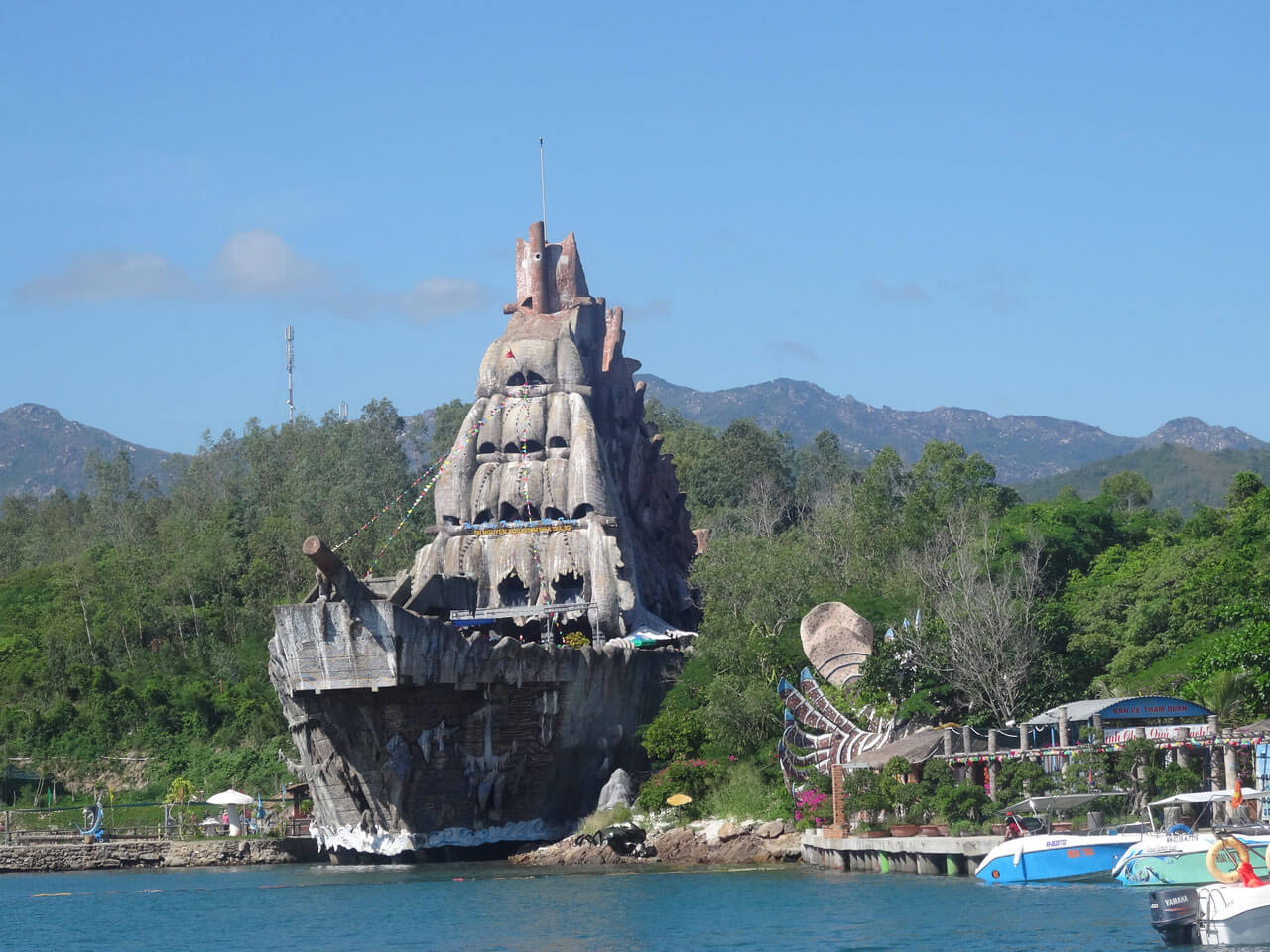 Photo : dichvuhay.vn
This beautiful inshore island is the place where more than 3000 locals are living. This is an attractive place owing to its frugal beauty like the people here. One of the most famous tourist attractions on this island is Tri Nguyen Aquarium, which was founded in 1994 to reserve marine life and develop tourism. In Tri Nguyen Aquarium you will be able to see hundreds of kinds of sea creatures in a very unique architecture. Outside of the aquarium is the Bai Soi (Bai San) Beach where you can swim because of the round year warm water. The name of this beach is named after that there is plentiful piled gravel sparkling in the sunshine. After passing the long cliff at the Bai Soi beach, you will reach Bai Tranh beach. This white sandy beach with clear water is really ideal for swimming and bathing. There are lots of water sports such as parachute, snorkel diving and jet skiing. 
Hon Noi Island (Swiftlet Island)
Located 25km to the North-East of Nha Trang, the only way to get to this island is by booking a tour. This island will make you fascinated by the pristine beauty. Hon Noi is a natural home of thousands of wild swiftlet individuals. The surrounding water is so clear that you can see the corals on the seabed.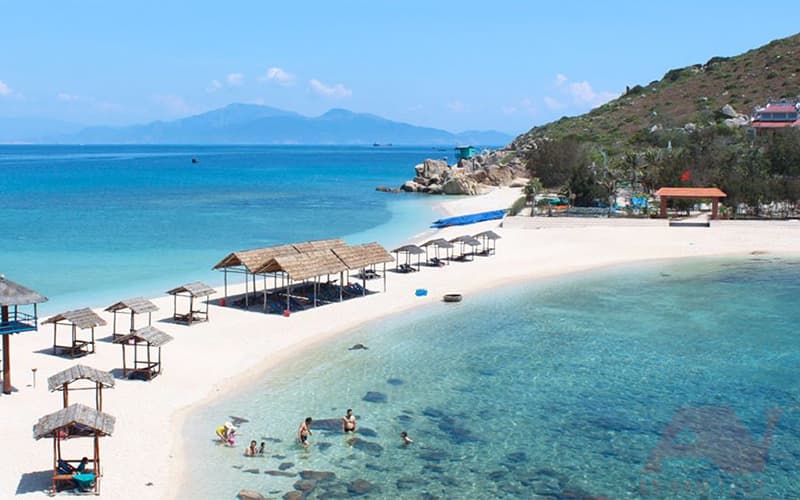 Photo : baokhanhhoa.vn
If you want to visit this unique island, there are some notices for you. The tour to Hon Noi is only available from March to September and this is the best time of the year for visitors. More importantly, the number of tourists on the island is limited, about 100 people per day. Therefore, it is recommended that you book the tour in advance. The tour's ticket will cost 490,000 - 790,000 VND per an adult (approximately $20 - 32).
Hon Tam Island (Thuy Kim Son Island)
If you are interested in a luxurious vacation on a tropical island, Merperle Hon Tam Resort is one of the best choices in Nha Trang. The resort offers various tour programs such as Daily Tour, Luxury Daily Tour, Mud Bath Package,... With excellent accommodations, restaurants, professional staff, and an abundance of services, your holiday vacation will be completely comfortable and relaxing. Tropical open designs of the resort makes you feel like being in harmony with the fresh environment, which is full of green from plants, blue from the sky, and navy from the ocean. There are many special offers available, including accommodations, canoe to the island, free access to the Merperle Sparkling Waves playground area and many other activities. Book your tour at: Merperle Hon Tam Resort.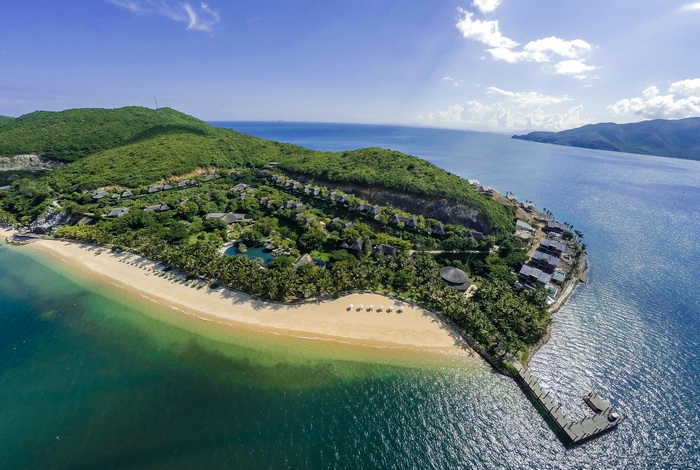 Photo : odt.vn
Moreover, there are some cultural destinations for those who are keen on Vietnamese traditional culture. Hoang Hoa Thon, including five 100-year-old houses, exhibits a diversity of historical objects such as rice mill, Manchon lamp, wooden table, cupboard, turret, casket,... These artifacts are the typical symbols of Vietnamese rural life.
Hon Lao (Monkey Island)
Located 15km to the North of Nha Trang, Hon Lao is an ideal attraction for your holiday especially for your children. This island used to be the natural home of more than 1200 monkey individuals from different categories. You can take a taxi or a bus to arrive at the Hon Chong port first and then get to the island by boat. The trip usually takes 20 minutes. This is a very good opportunity for you to observe and approach the biggest monkey population in Vietnam. You can also observe their natural behaviors in an open space as well. Those monkeys are very friendly to tourists and sociable. The scenery on the island is lovely and you are able to take a lot of interesting photos. Remember that you should not bring too many accessories such as handbags, necklaces or watches, because some of the monkeys are quite naughty.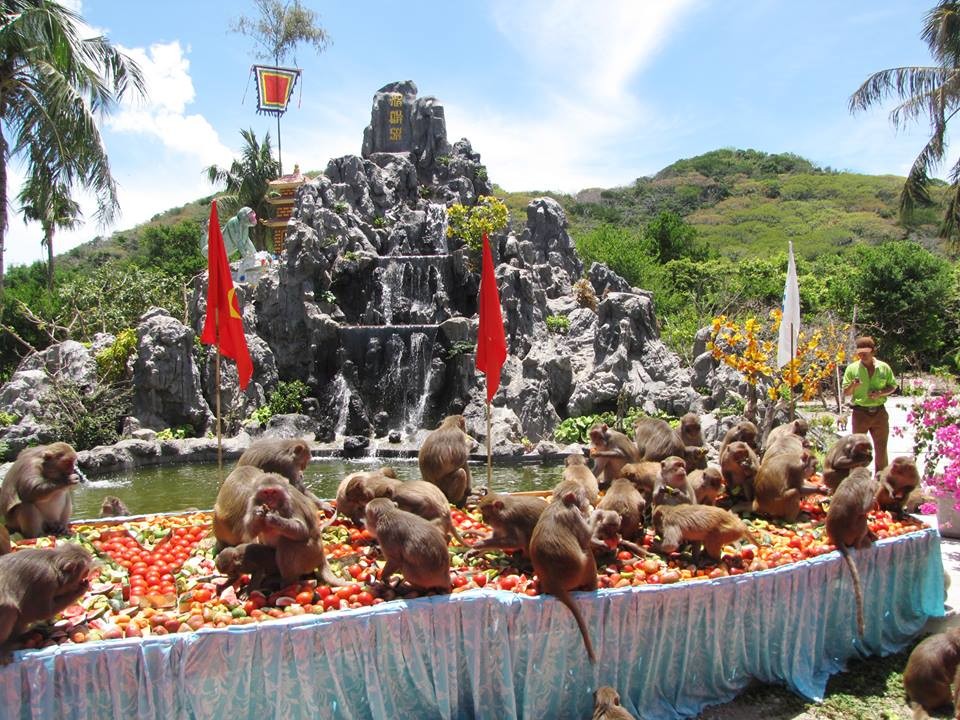 Photo : tripadvisor.com.vn
There are many other entertainments like scuba diving, fresh seafood market, ostrich ride, circus and so on. The ticket price is 180,000 VND ($8) for adults and 90,000 ($4) for children under 1.3 metres.
Final tips: The recommended time for an island trip in Nha Trang is from March to September - if you are flexible with time, plan it right.
Conversations (0)
Join the conversation
Conversations
Join the conversation
ALL COMMENTS (0)
There are no comments. Add your comment to start the conversation.
read next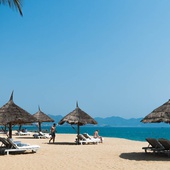 Nha Trang is one of the most visited tourist locations in Vietnam, for both foreign guests and locals alike. Boasting amazing white sandy beaches and blue seas, all of which are considered one of the best in the world, Nha Trang is a place that will guarantee wandering visitors a worthwhile experience with many things to do. Here are 9 of the most recommended ways for one to spend their day in this amazing coastal city.