10 Best Things To Do In Mui Ne
Among Vietnam's myriad of beach and mountain escape options, Mui Ne is one of the few spots that offer you breathtaking experience with unspoiled natural beauty and cordial hospitality. The town offers a great variety of landscape with soft pale sand covered by majestic blue sea and evergreen coconut trees, eternal spectacular sand dunes, glorious mountainous wilderness, scattered by courteous and amiable human beings at seaside fishing villages or rich cultural features. All the most exciting things in this article await for you to find out about the upcoming Mui Ne discovery.
Take a dip in the sea 
Not wearing gorgeous beaches with cerulean blue water like Nha Trang or vibrant coasts of Da Nang, Mui Ne boasts some isolated, pristine beaches that might not be popular but definitely seduce any sea lover. On top of the list, there must be Hon Rom beach with calm water and an eternal coast, where you can enjoy an indulgence in the sea or get adventurous with beach sports and activities.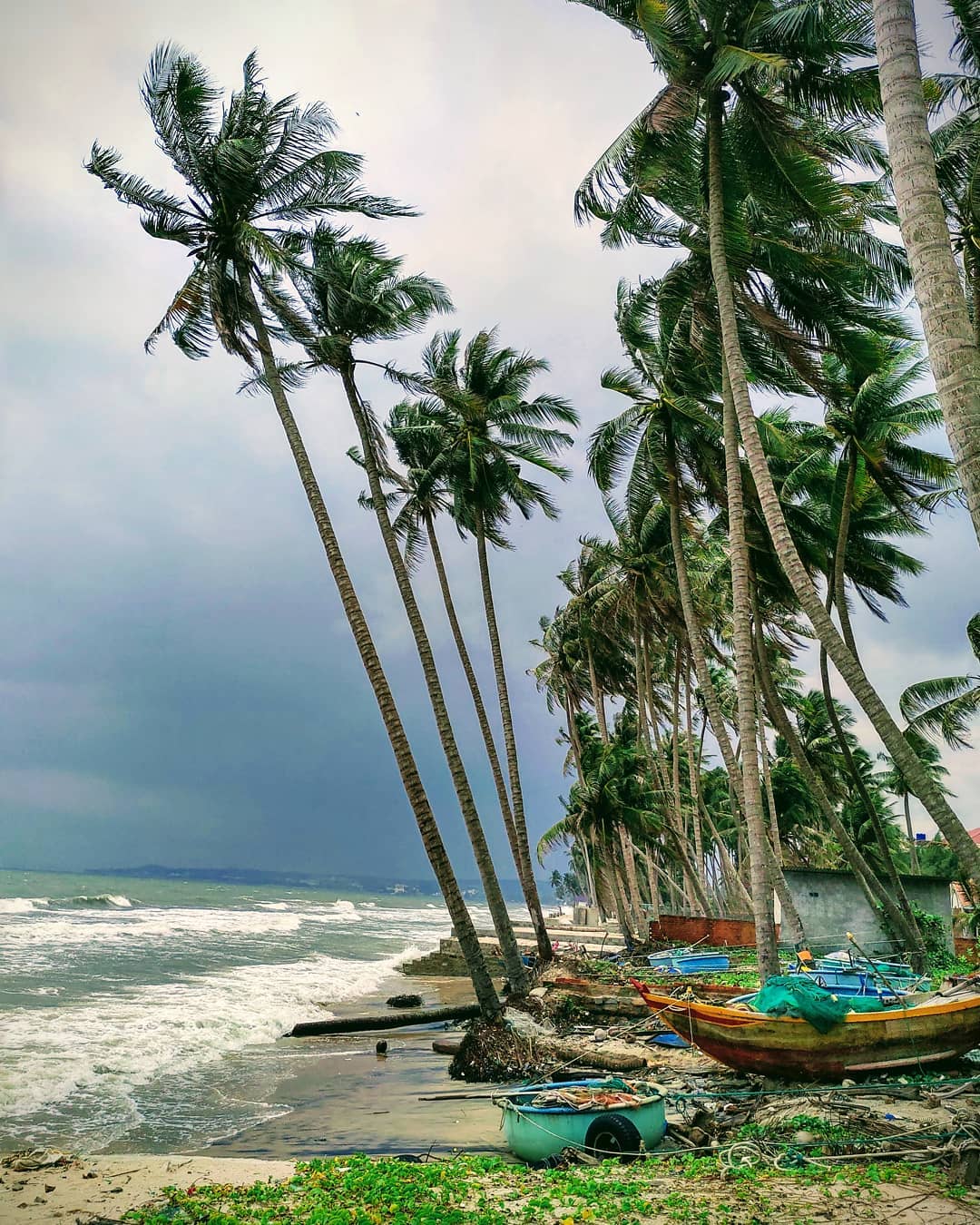 Hon Rom beach - Photo: @tramla.la
Quad bike at white sand dune
The great sand dune is perhaps one of the most unique landscapes in Vietnam, which made Mui Ne an impeccable spot for the uncommonly off-road rides. Visitors can choose to take a jeep tour with a professional driver or go wilder by riding a quad bike on your own while enjoying the spectacular panorama of the white sand dune. The joy of soaring upon the sand will leave unforgettable memories for anyone.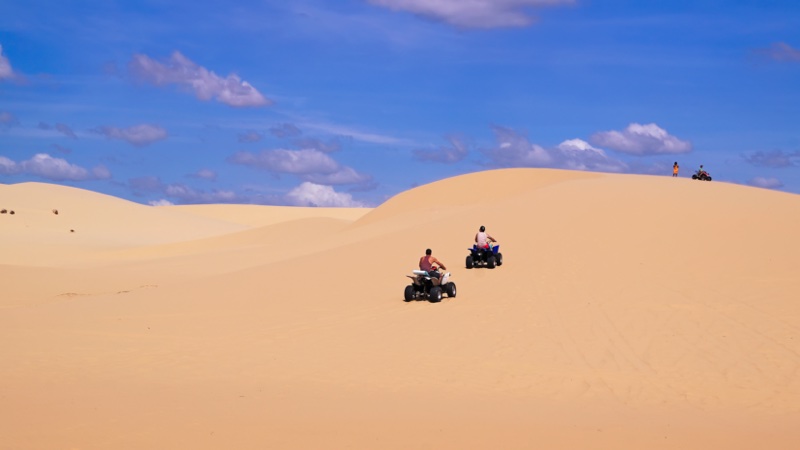 People chasing around sand dunes on a quad bike in Mui Ne
Try kite surfing
If you are a fan of extreme water sports, don't miss out the chance to fly above the water in Mui Ne. Renowned as the biggest hub for kitesurfing and windsurfing in Vietnam and South East Asia, this place attracts many fans by an ideal condition of constant wind and blue clear sky. There are several surfing centers along the beach, where you can find out surfing sessions at both amateur and advanced levels.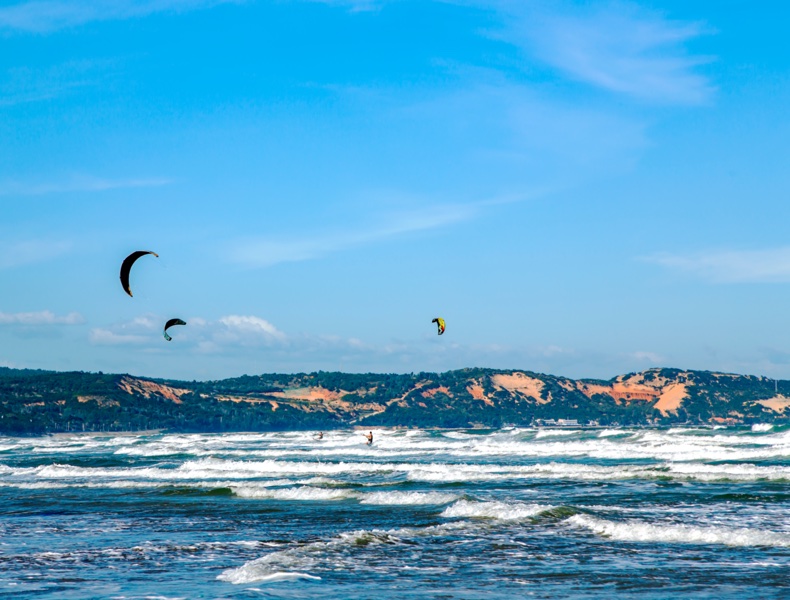 Kitesurfers on the big waves in Mui Ne
Explore fishing village
Spending the early morning in the fishing village, you can immerse in the bustling daily life of fishermen and local neighborhood. The fishing village of Mui Ne, which is located along the coast about 1km long, is home to hundreds of fishing boats after every night sea trip. Batches of coracles come back to the shore with fresh specialties from nature such as crabs, prawns, and fishes in different sizes and different types. Walking further into the village, you may have chances to observe how local people make the traditional fish sauce and other dried food from the sea. There's a market operated right after the fishermen arrival, so you can get yourself a decent meal with fresh seafood bought from this place as well.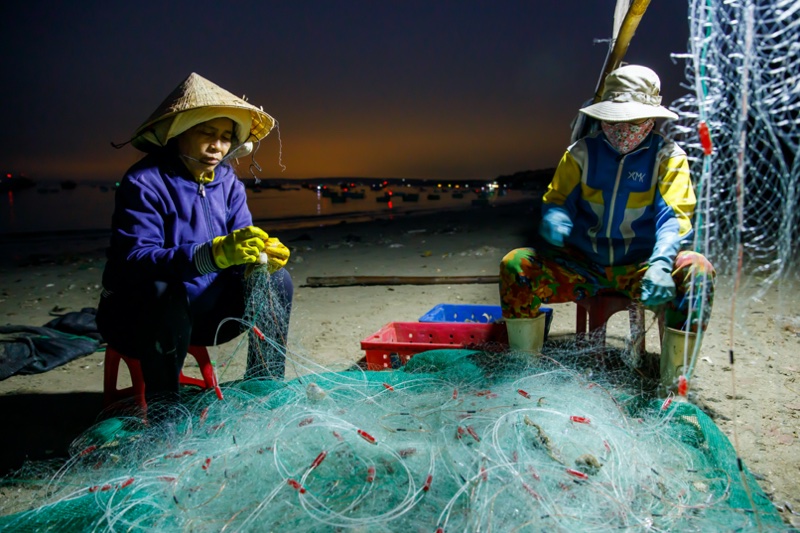 Fisher with fisher net at the beach of Mui Ne
Wander along Fairy Spring
Your first thought of a typical water spring, which is usually crystal clear water overflowing onto rocky surfaces, will definitely change after visiting Fairy Spring in Mui Ne. Not too far from Hon Rom Island, the stream is filled with red-orange color from the sand blended from stalactites and swept away with the waterways. The water level only reaches your ankles, so you can take off your shoes and walk barefoot in the cool water while marveling at the surrounding scenery with natural stalactites in extremely attractive strange shapes.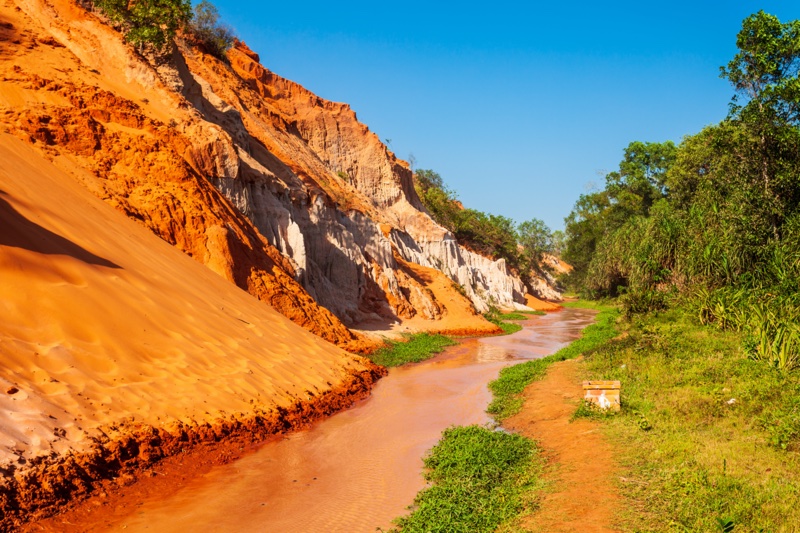 Fair Spring in Mui Ne
Visit Poshanu Cham Towers
Poshanu Cham Tower is a famous historical and cultural relic located between Mui Ne and Phan Thiet. Built early in the ninth century, the monument distilled with the artistic quintessence of Cham culture, with symbolic red brick walls and meticulous sculpture patterns. The remains consist of only two towers and one small building, considered the leftover evidence of the empire. It won't take too long to explore everything, but it's already enough to feel the majesty of a flourishing civilization era.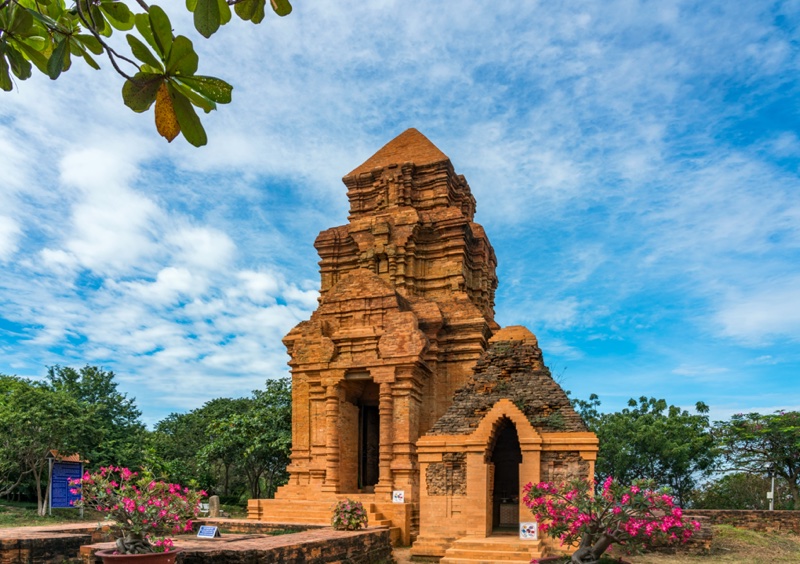 Poshanu Cham Towers
Hike Ta Cu Mountain
Ta Cu Mountain is approximately an hour riding from Mui Ne, which is one of the must-visit places in your trip. With the height of 649m above sea level, visitors can challenge themselves with thousands of stairs to the top of Ta Cu to enjoy the panoramic view. The 2-hour hike enables you to discover the rich plant variation in Ta Cu including rare species listed in the Red List. You can also visit Linh Son Pagoda featuring a giant Buddha statue, one of the local relics with renowned legend.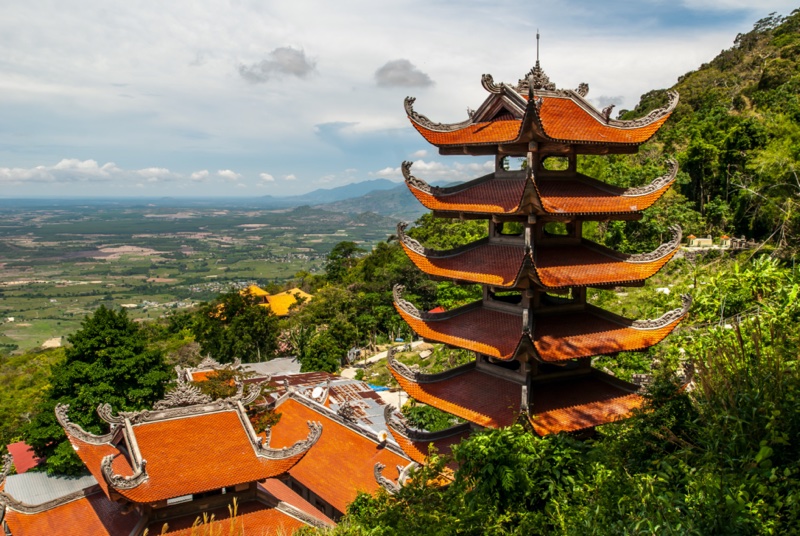 Buddhist temple on Ta Cu mountain
Take a ride along great sand dunes
The coastal road along Mui Ne Beach is recognized as one of the most beautiful routes in Vietnam that you must leave your footprint at least once in your journey. Starting from Red Canyon of Mui Ne, the DT716B Highway stretches along the immense natural landscape. The sideroad scenery turns color over time from the red desert land, to the lustrous orange-yellow of the sand, covering the majestic landscape that is the typical tropical sunlight. The route is spacious and never busy that makes you overwhelmed by the ingenious creation of mother nature.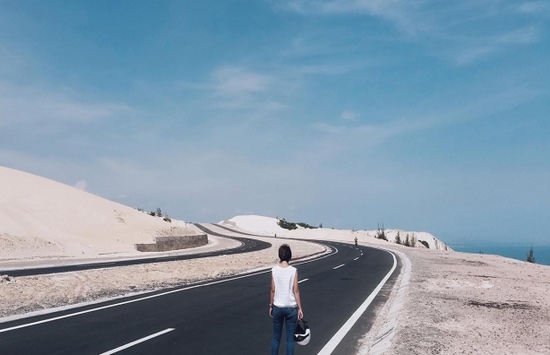 DT716B Highway in Mui Ne, Phan Thiet - Photo: Vietnambooking
Watch sunrise/sunset from Ke Ga Cape
It takes you more than an hour to drive from Mui Ne to Ke Ga Cape to explore a closeby wild and majestic beauty. You can choose to walk along the secluded beach or hire a boat with a sailor to get you to the island where the SEA's oldest lighthouse is located. From this place, you can spot the whole panoramic view of the skyline. Laying on the rocks to watch the sunset while colorful fishing boats arrive ashore is one of the best moments to capture during your trip.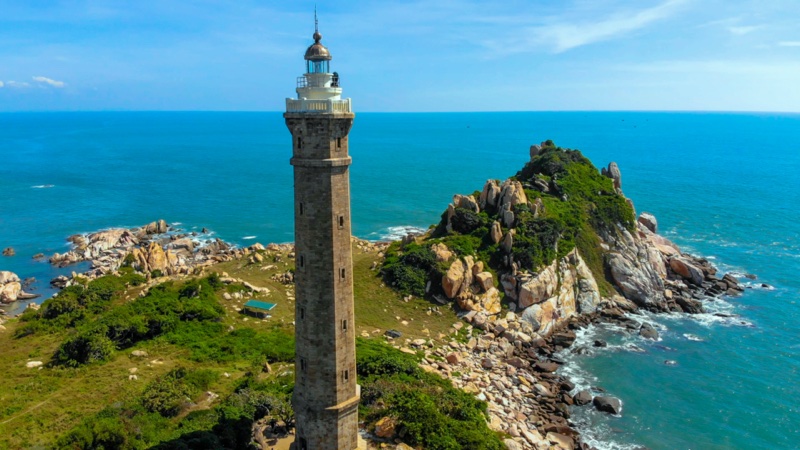 Ke Ga beach at Mui Ne, Phan Thiet
Savor fresh seafood
When traveling to a coastal town, you cannot miss out the local specialties, which is seafood, undoubtedly. In Mui Ne, you can find fresh arrays of seafood with fishes, shrimps, crabs, and shells, as bountiful as any other places in Vietnam. What really attracts seafood lovers is that you can immerse yourself in the massive delectable feast at insanely low cost, compared to other famous seaside regions such as Hai Phong, Dang Nang and Nha Trang.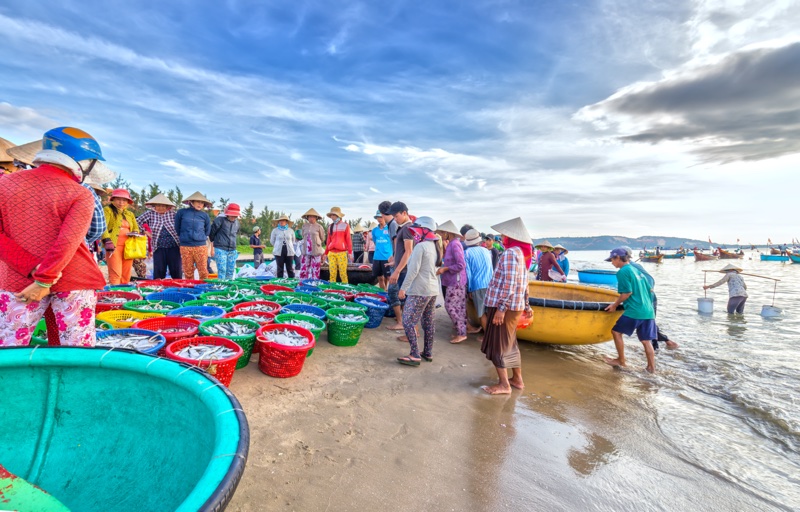 Fish market in Mui Ne, Phan Thiet
Conversations (0)
Join the conversation
Conversations
Join the conversation
ALL COMMENTS (0)
There are no comments. Add your comment to start the conversation.
read next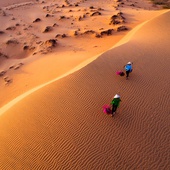 When is the best time to travel to Mui Ne? Have a look at this article to find more details about weather in Mui Ne and plan your best trip ahead.