16 Best Boutique Hotels and Resorts in Hoi An
Hoi An is the junction of the elegantly ancient beauty of the town, the charm of sunshine beach and the tranquility of gracefully beautiful river, all together making it a perfect destination for unwinding. In fact, Hoi An is so packed with quality boutique accommodation that it never fails to miss its name from the top best in world travel list. Each boutique hotel in Hoi An is characterized by its sheer style and services as well as lovely touches, differentiating themselves from other chained hotels in the world. Boutique hotels are so prevailing in the town and in its outskirt that you could find it hard to not be attracted by one of them when searching for your ideal accommodation in the historical town.
Nature takes centre stage at almost all boutique hotels, creating perfect ambiance for a run-away life in need of a pause. Furnished in a themed and stylish manner, boutique hotels in Hoi An such as La Siesta Hoi An, Hoi An Silk Village or Boutique Hoi An Resort are certain to intrigue the most fastidious guests. 
Deeply inside every little luxurious touch in these hotels are the heartfelt hospitality of the staff and the sensational service. As the most classy boutique hotels are located a little bit far away from the centre of hustle and bustle, so undoubtedly, tourists could savor their every peaceful moment, blow away with a heaven-like feeling.
Aurora Riverside Hotel & Spa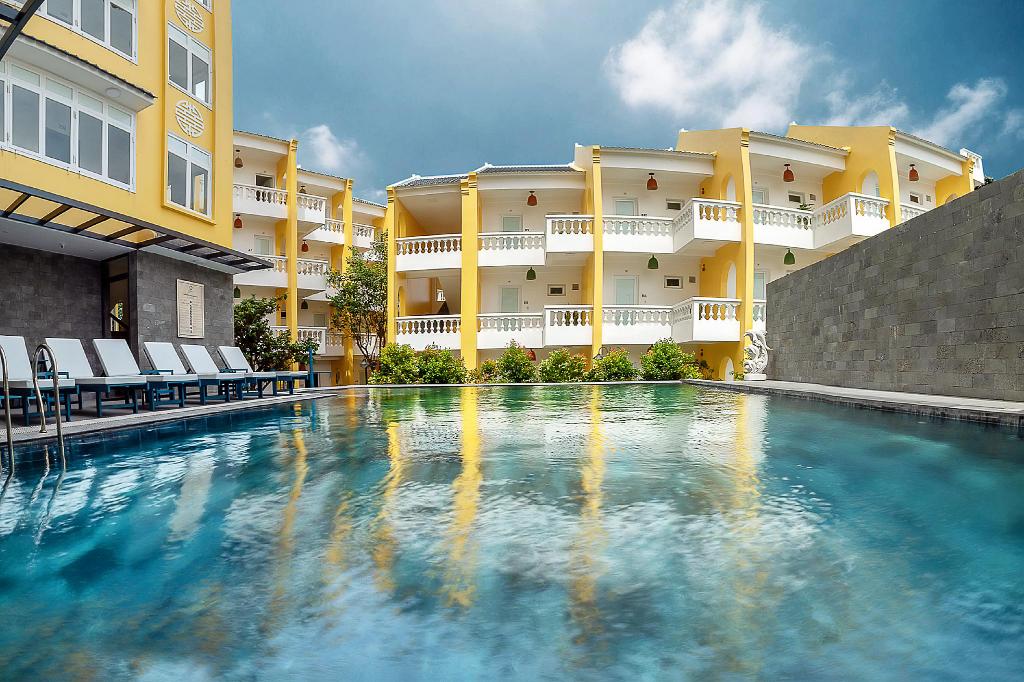 Photo by @Hoi An Aurora Riverdise Hotel&spa
Since its latest renovation in 2019, Aurora has drawn an even bigger number of visitors. The hotel has proved its charm by offering quality room and professional services in the competitive hotel settings of Hoi An. The hotel comes in 5 story building, the top floor of which offers great view and look on to Hoi An center.There is free shuttle van to Hoi An town and Cua Dai beach every day. The pool is an added bonus, and the restaurant on-site makes a perfect dining venue as well, with panoramic views of Thu Bon river and Cham Island.
Address: 242 Cua Dai
Lotus Boutique Hotel & Spa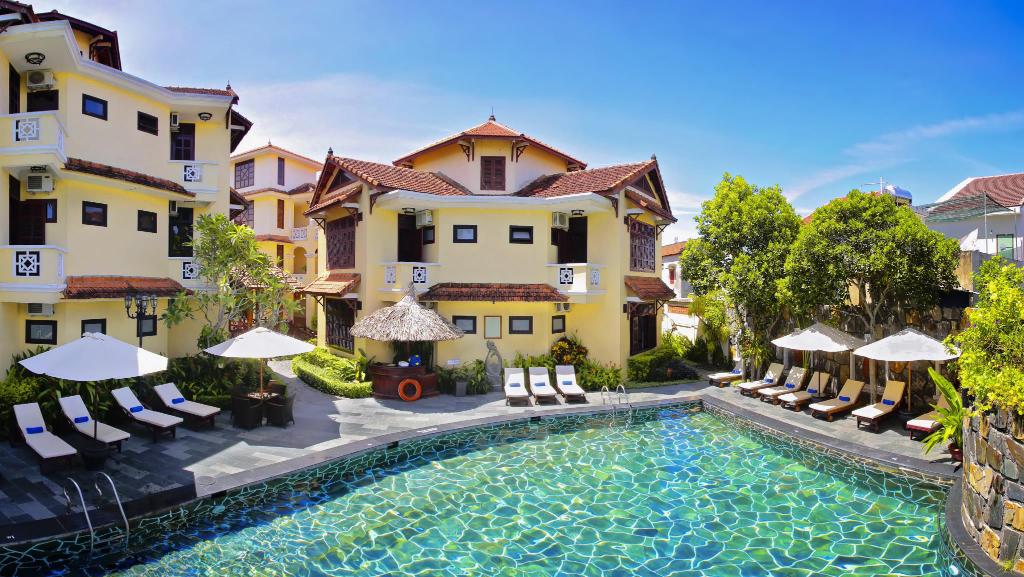 Photo by @Lotus Boutique Hotel & Sopa
With 45 rooms and private bathrooms, Lotus hotel offers tranquil moments and excellent service for a budget hotel. The hotel is especially suitable to those who prefer quietness and relaxation, as it sits mid way between the beach and the busy old town. From the outside, Lotus hotel charms tourists with their traditional design and a dense string of lanterns hanging on the door. Lotus hotel will make your trip to Hoi An even more memorable than it already is.
Address: 330 Cua Dai, Hoi An
Le Belhamy Hoi An Resort & Spa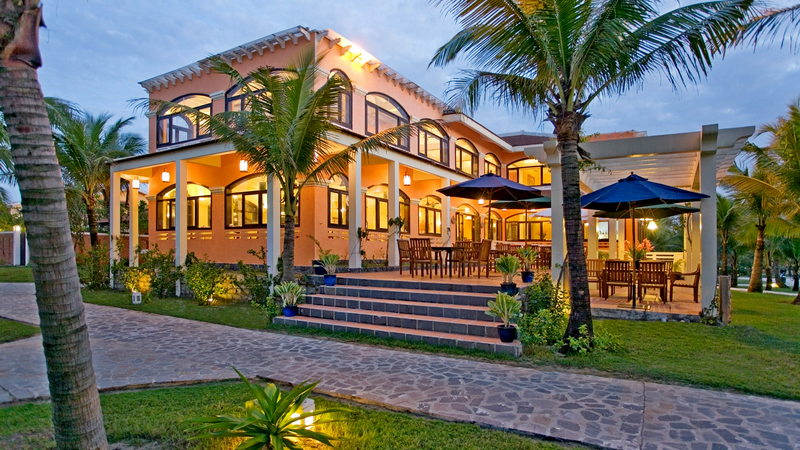 Photo by @Le Belhamy Hoi An Resort & Spa 
You definitely will be blown away by the tranquil setting of the resort. The combination of traditional decoration and modernly solid structure is really a perfect treat for tourists. The lush garden and crystal clear pools are well maintained and taken care of while the beach is clean and peaceful thanks to the attentive staff.Whatever you choose luxurious ocean view villas or spacious garden bungalows, you find it truly a pleasure when staying here. Everything is so clean and fresh that could not be faulted. The restaurant is elegantly beautiful and the food is of top notch. The staff is so friendly and clever to accommodate any requests.
Address: Hamlet 1, Dien Ban, Quang Nam
River Beach Resort & Residence Hoi An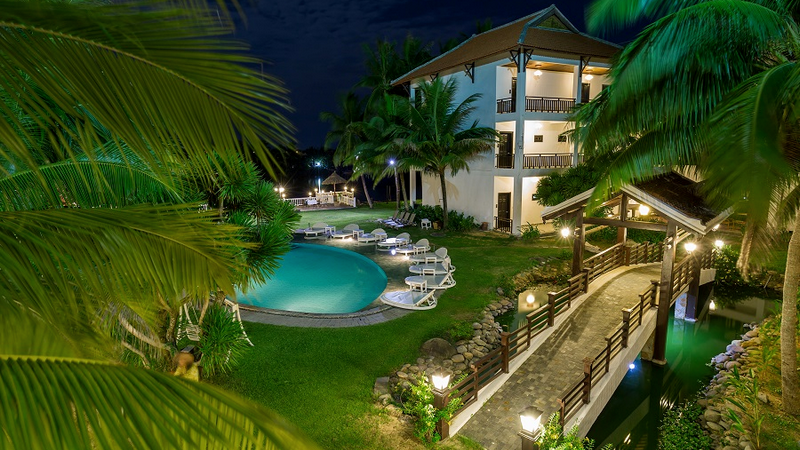 Photo by @River Beach Resort
River Beach Resort stretches along De Vong river and just a few minute walk to Cua Dai beach. Taking fresh air, feeling the cool breeze and contemplating the blue sea and the poetic river are likely to lead you to your peace of mind.Apart from pleasing guests with four-star facilities, River Beach Resort also  offers far-reaching views of fertile paddy fields, romantic river and open sea. 
Right after reaching the ancient town, Hoi An, entering a classy lobby overlooking a lush garden, you are certain to be stunned by a warm welcome from the attentive staff.With 85 lavish guest rooms, ranging from deluxe, superb deluxe rooms to executive, family and presidential suites, well-appointed with chic amenities and comfort, the hotel is bound to serve all you needs. Private balconies offer panoramic views of the river, pool, garden or countryside. More notably, rooms and facilities for the disabled are also available.
Address: 5 Cua Dai, Hoi An
Hai Au Boutique Hotel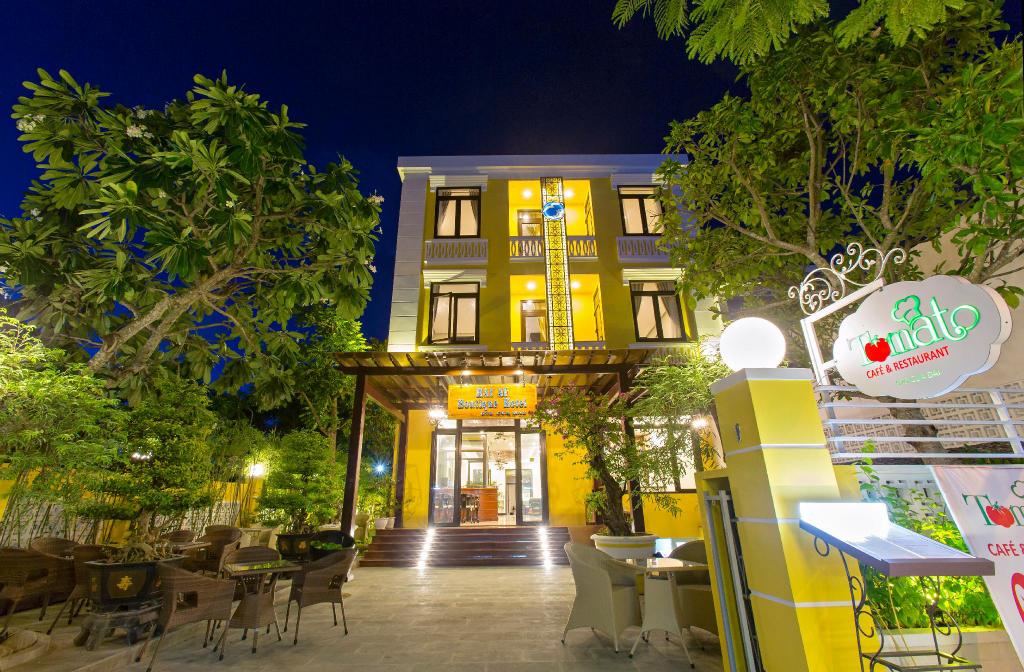 Photo by @Hai Au Hotel
The hotel is just a 10 minute bicycle ride from the beach and a 10 minute walk from the  town. There is really anything fancy about the design, yet the feel is warm and authentic, with classic Hoi An yellow wall and wooden panel. However, it is the service that builds up the hotel's reputation. "Nothing is too hard and no detail is missed" is the review of almost all tourists when staying here. You would be absolutely surprised at how incredibly competent the staff is. Rooms are spacious and well equipped for the price while the tasty breakfast buffet is memorable. At very reasonable price, the hotel is great value for money and for the personalized care of their staff.
Address: 576 Cua Dai, Hoi An
Vinh Hung Library Hotel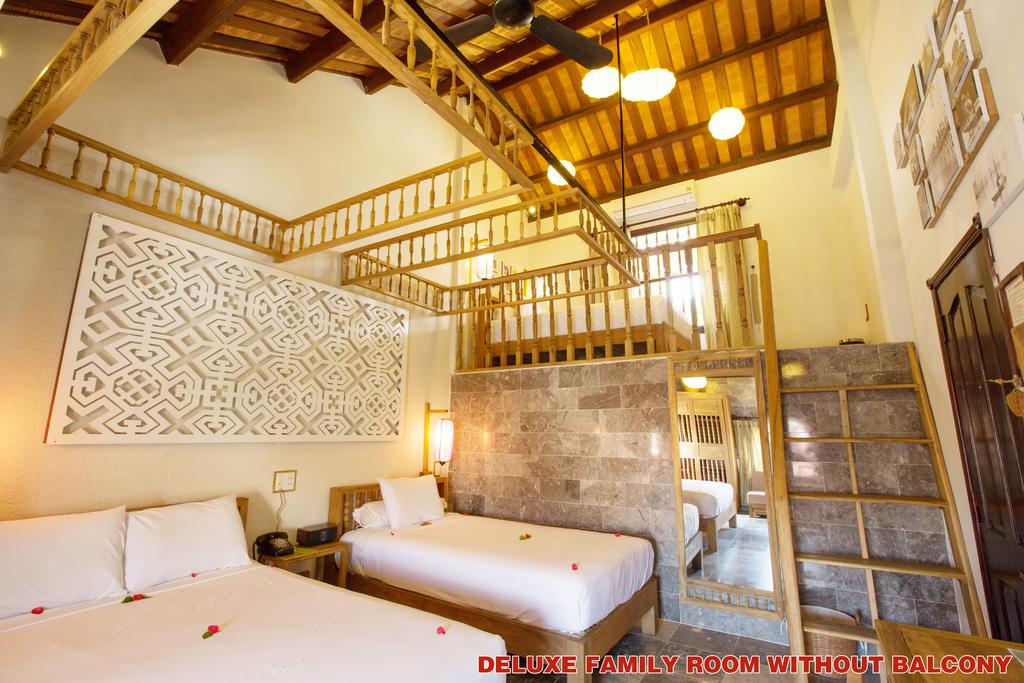 Photo : vinhhunglibraryhotel.com
Vinh Hung Library hotel belongs to the famous Vinh Hung hotel group in Hoi An, which offers quality room service at a surprisingly low price. This newly built hotel is rather contradictory to the historical feel that his brother Vinh Hung creates, but is no less special. The hotel is nestled in the heart of the shopping area, where you can have beautiful clothes and shoes made to your size. If you want to go to the beach, a taxi will take about 10 minutes. The hotel is set up with books, and books, making it a top choice for bookworms.
Address: 96 Ba Trieu, Hoi An
Thanh Binh Central Hotel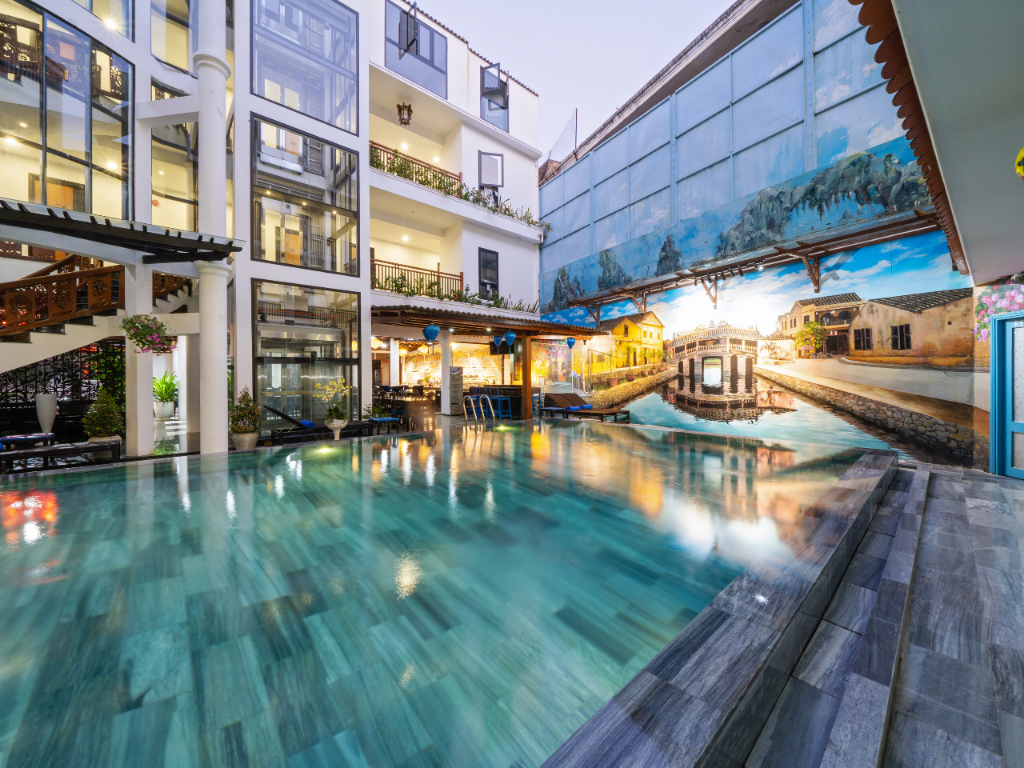 Photo by @Thanh Binh Central Hotel
Located right in the centre of the town, Thanh Binh Central Hotel is a good option for budget-minded travelers. The hotel itself has seen great renovation and all rooms are now themed after blue mural, combined harmoniously with Indochine decoration style. From the hotel, you can get easy access to great restaurants, walking street, tailors and spas. The antique design and the peaceful ambiance could certainly pull tourists back to the lovely accommodation.
Address: 98 Ba Trieu, Hoi An
Villa Hoa Su Frangipani Hoi An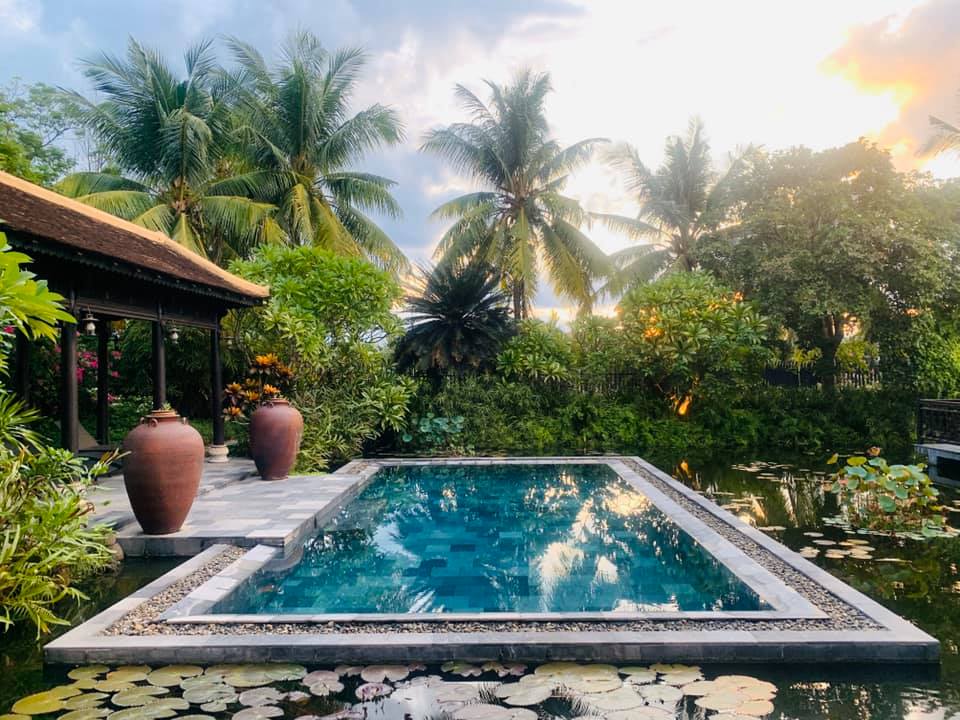 Photo by facebook /mantravillahoasu
The villa style accommodation is located on the outskirts of Hoi An, just a 10 minute walk from Cua Dai Beach and a 10 minute ride from the antique town. The harmonious combination of ancient religious architecture and state of the art design could bring refreshing moments to tourists. The nicely designed garden and the swimming pool are stunning while the rooms are immaculate and spacious, not to mention a pretty courtyard with bath and outdoor shower. Top-notch personalized service is what you are going to experience with the family run hotel. Having dinner and breakfast in open pavilions amongst lovely pond could be extremely relaxing and enjoyable.
Address: Cam Thanh, Hoi An
Belle Maison Hadana Hoi An
Photo : bellemaisonhadana.com
Belle Maison Hadana has always been highly recommended by those who once stayed.The 4 star hotel has friendly staff and a manager who is always attentive to guests' needs and feedbacks. The pool is large and well kept. The room is spacious and well equipped with amenities; you can choose the view of your room either with private balcony or pool view. Glory hotel is about 10 minutes walk to Hoi An ancient town and 30km from the Danang Airport.
Address: 593 Cua Dai, Hoi An
Êmm Hotel Hoi An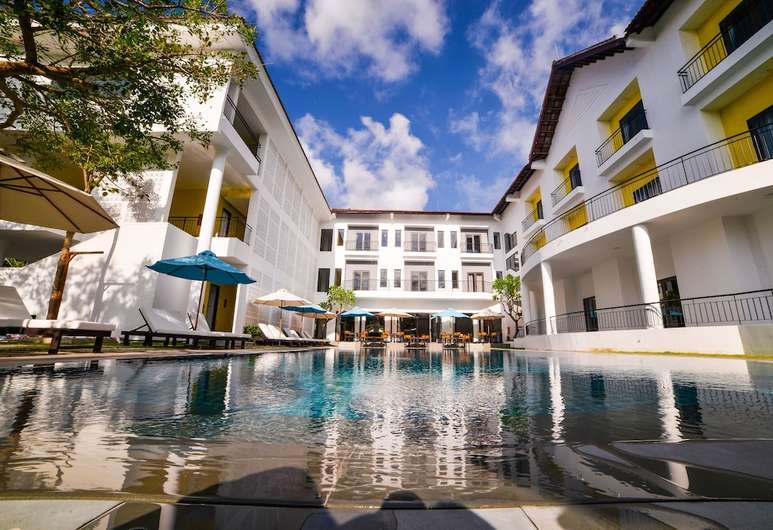 Photo : emmhotels.com
Êmm Hoi An Hotel is a renowned boutique style hotel yet with contemporary furnishing. The hotel sits on the edge of the Hoi An Ancient Town and is easy to access to the downtown center.The hotel has a beautiful courtyard and a standard size swimming pool, with traditionally decorated lobby hall. All rooms are well equipped with queen or king size bed, TV, air conditioner, refrigerator and hair dryers. The hotel is furnished with tastefully carved wood work, which creates an airy and quaint feel for those who stay. The breakfast buffet has continental breakfast choice such as muffin, crepes, seasonal fruits, with some traditional cakes and noodles.
Address: 187 Ly Thuong Kiet, Hoi An
Ha An Hotel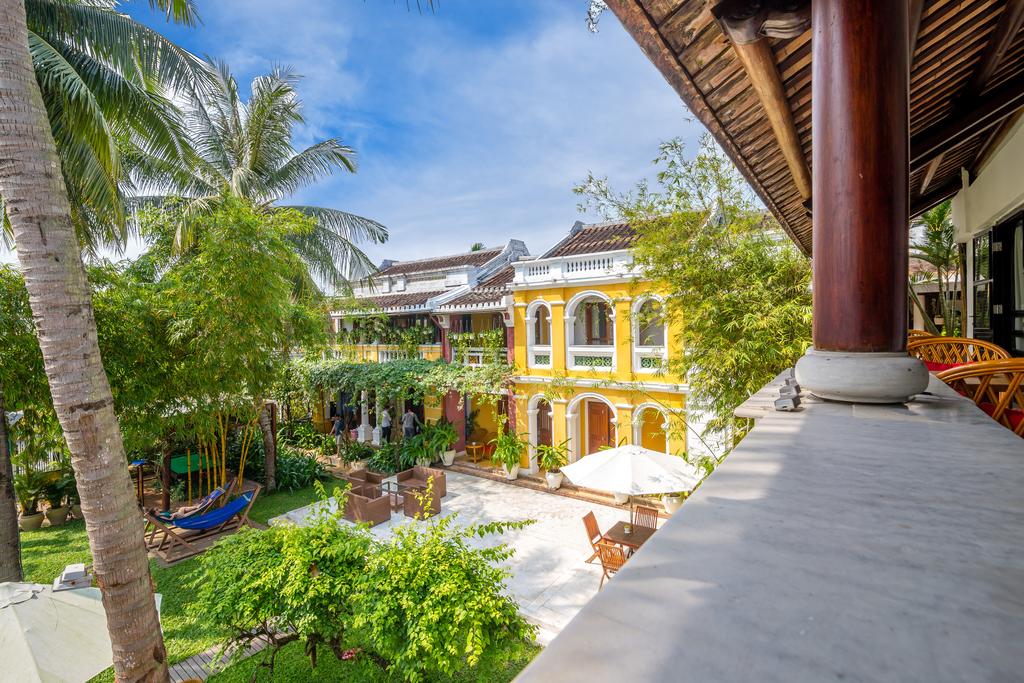 Photo by @Ha An Hotel
The location of Ha An hotel is jsut perfect, close enough for you to mingle with the lively downtown and far enough to find your own peace. The charming garden hotel is a fine combination of gorgeous French style building and traditionally elegant Vietnamese decoration with fresh petals adorned everywhere. A spacious and pleasant garden area in front garnished by potted orchids brings great ambiance for a romantic dinner and a refreshing breakfast. Rooms are well designed and well taken care of, albeit not spacious. Free bicycles are available for tourists to get around the ancient town.The staff could speak excellent English and they could not be more accommodating and friendly, providing impeccable services. No swimming pool could be a plus point or a minus point, it depends on you. The breakfast is impressive with the choice going on forever and the quality above a fantastic culinary standard.
Address: 6-8 Phan Boi Chau, Hoi An
Vinh Hung Heritage Hotel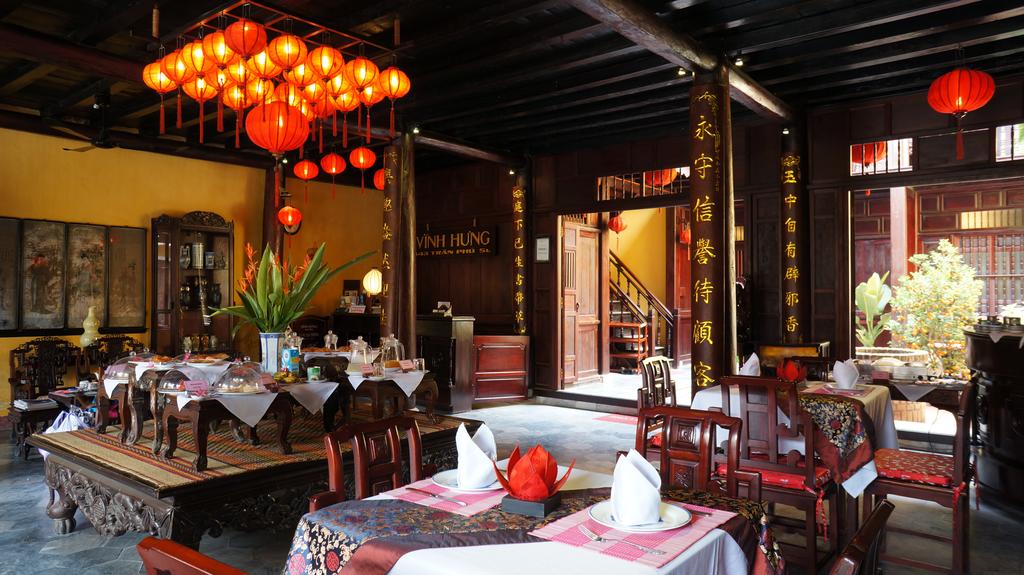 Photo by @Vinh Hung Heritage Hotel
With designs and decorations modeling that of traditional Oriental style, Vinh Hung Heritage is a popular hotel in Hoi An – one of Vietnam's most favmous UNESCO World Heritage Sites. The hotel is probably even more wellknown for participating in the The Quiet American Film project. Originally housing a Chinese merchants and a newly turned hotel, Vinh Hung Heritage promises story to tell and memories to recall, offering tourists a historical and special atmosphere like no other in Hoi An. The hotel is about 2 minutes walk from the Japanese bridge, at the heart of Hoi An town center.
Address: 143 Tran Phu
Victoria Hoi An Resort & Spa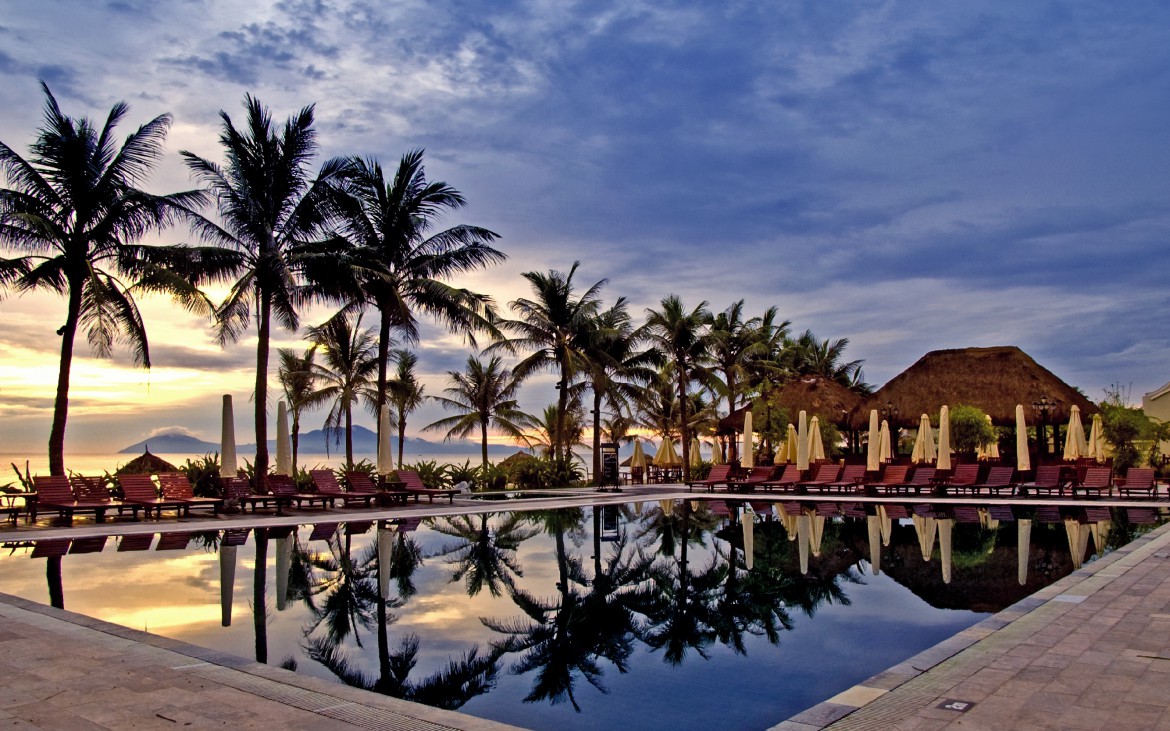 Photo : victoriahotels.asia
Victoria Resort is one of the longest standing luxury boutique resort in Hoi An town. The resort is by Cua Dai beach and about 15 minute ride from the centre of Hoi An. Right from the arrival, tourists are bound to be greeted by stunning views of the ocean. One of a few resorts in Hoi An stretching out on an untouched white sand beach, the resort is much more inviting for those who are in love with blue sea and sparkling sunshine. The website photos do not do this place justice as the setting is so magnificent. Rooms are spacious and spotless with charming outdoor shower and lots of litter luxury touches.
Address: Cua Dai Beach, Beach Front, Hoi An, Vietnam
Hoi An Historic Hotel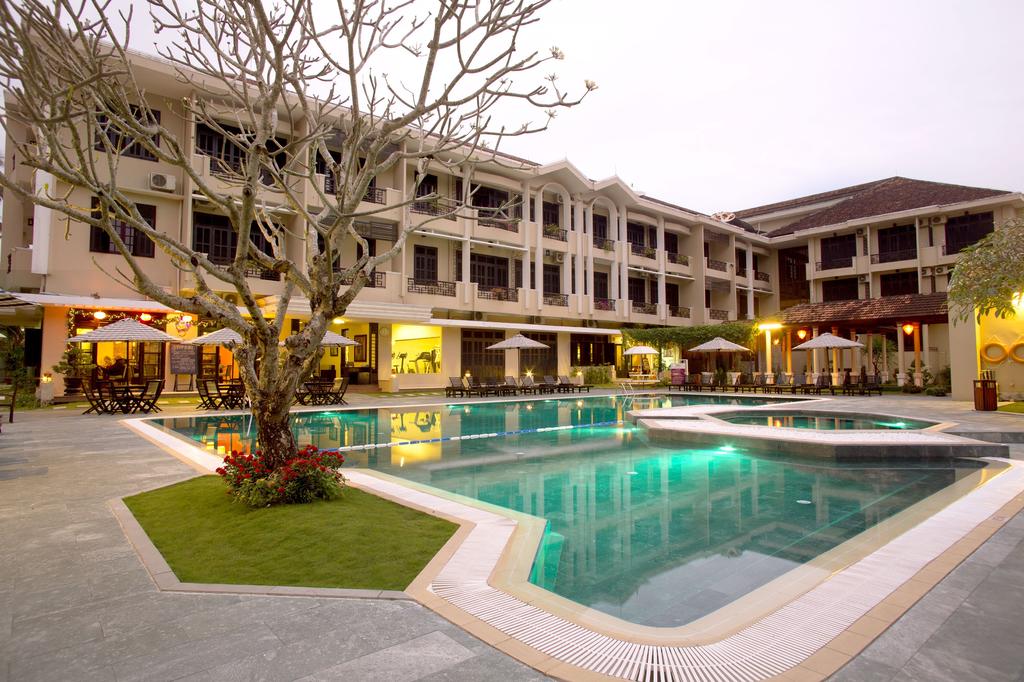 Photo : hoianhistorichotel.com.vn
Sitting on the edge of Hoi An main squares and within walking distance to most major attraction, Hoi An hotel receives a lot of compliments from those who stayed.The pool is quite large and the room is well equipped with amenities such as air conditioner, queen and king size bed, reading lamps and bathtubs. The hotel promises customers a relaxing stay during their trip to the most favorite destination in Vietnam: Hoi An ancient town.
Address: 10 Tran Hung Dao, Hoi An
KOI Resort Hoi An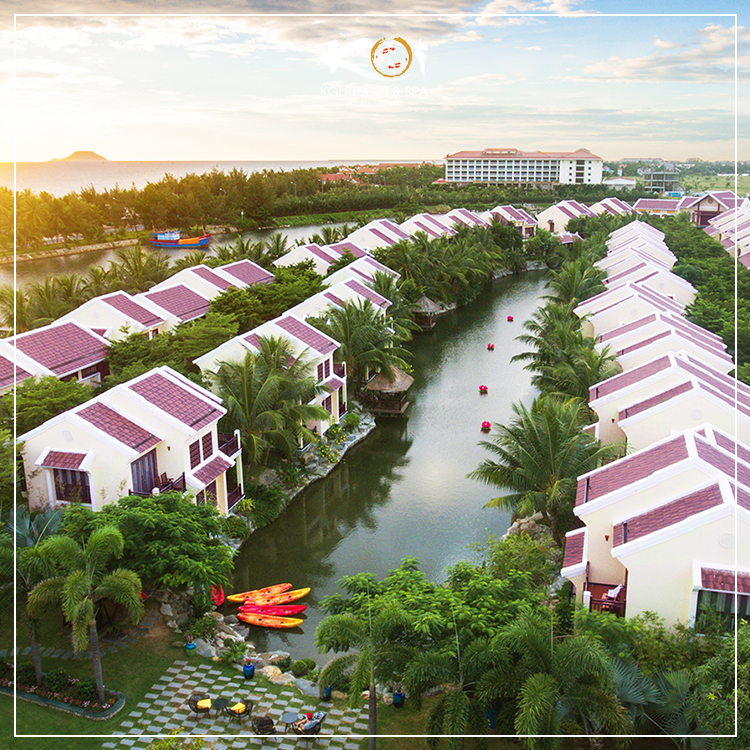 Photo by @Koi Resort Hoi An
KOI Resort & Spa Hoi An will catch your attention the moment you travel to Hoi An. Located on the edge of the ancient town, facing both the river and the ocean, KOI offers bungalow type accommodation. The resort is designed after Hoi An's essence, with cultural heritage the main theme. A stay at KOI is one to remember, probably for a lifetime.
Address: Au Co Street, Hoi An
Palm Garden Beach Resort 
The resort is about 30 minute driving from Danang Airport and 15 minute bus ride to the town. The harmonious combination between a large lush tropical garden and an enviable beach location could make the resort outstanding from the others as a green environment for recovery and relaxation. 
The staff with the superb attention to detail is willing to go out of their way to make your stay great and ready to serve all you needs instantly, if any. While the buffet breakfast is so great with various choices, the seafood barbecue buffet is even better.
Palm Garden's rooms are amazing with lovely balconies overlooking the sea and the touch of elegance on design and every amenity. Hammocks slung between palm trees on the beach are so tempting for anyone eager for a quick nap or just a relaxing moment after savoring heaps of delicious foods or swimming for hours in the terrific swimming pool.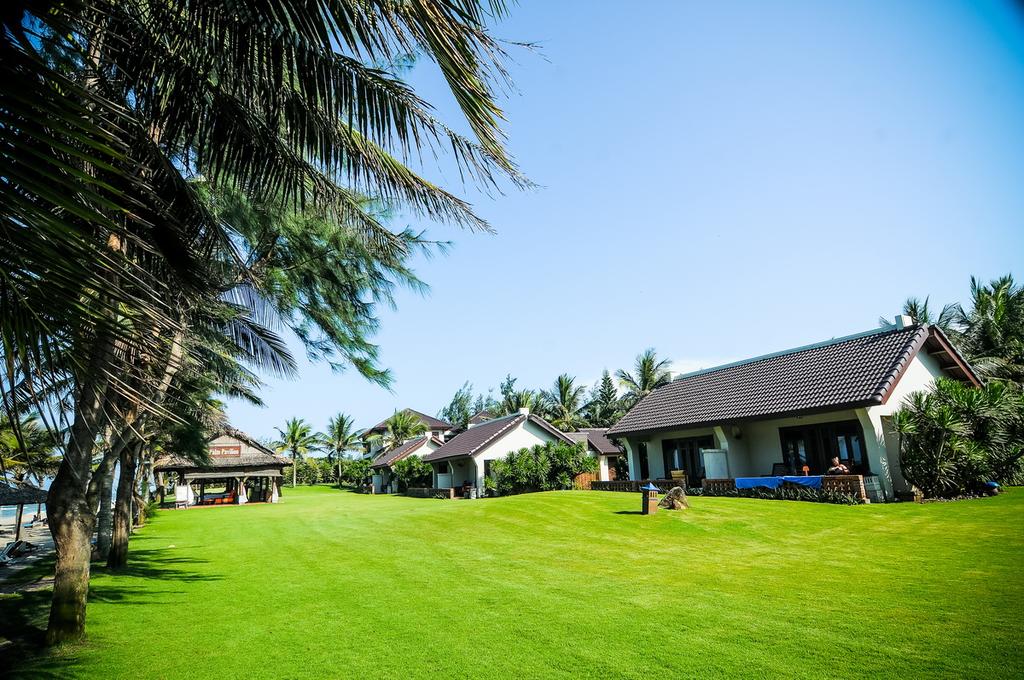 Address: Lac Long Quan Street, Cua Dai Beach, Hoi An
Conversations (0)
Join the conversation
Conversations
Join the conversation
ALL COMMENTS (0)
There are no comments. Add your comment to start the conversation.
read next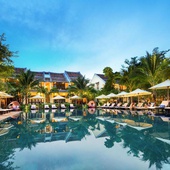 Hoi An has experienced and continues to see the boom of accommodation facility, ranging from budget option to international recognized five star resorts.