Mien Dong Bus Terminal
Mien Dong is the largest bus station in Vietnam.
Mien Dong (Eastern) Bus Terminal, previously located at 292 Dinh Bo Linh street of Binh Thanh district (Tel: 0283-899-1607) is about 7km away from the city center. From October 10, 2020, Mien Dong Bus Terminal has found a new home in the trendy District 9, about 20km from Ben Thanh Market. This remains one of the busiest terminals in Ho Chi Minh City. Every day, the station welcomes thousands of people from the northern and the central highlands provinces to Saigon. If one is traveling to Vung Tau, Phan Thiet- Mui Ne, Dalat, Nha Trang, Daklak or even to Hanoi, Mien Dong Bus Terminal is the essential departure point.
Mien Dong Bus Terminal - Photo: Quang Dinh
There are currently over 200 transportation companies operating at the terminal with buses to 178 destinations scattering all over the country plus 2 in Laos.
Transit to Eastern and Northern (of Ho Chi Minh City) provinces
Depending upon your particular destination, you may choose a suitable carrier for your tri. A general rule is to go with the trusted brand, for safety reasons and their high quality of services. These include: Phuong Trang, Mai Linh, Kumho
Nam Cat Tien
Tan Phu transportation company offers Ho Chi Minh - Nam Cat Tien route at VND 80,000 ($4).Hours start from 1:30p.m. until 4:30 p.m. It is an around 2-hour trip.
Binh Phuoc-Phuoc Long
Thanh Cong transportation company offer Phuoc Long-Binh Phuoc route at VND 70,000-VND 80,000 ($3.5-$4). It takes 3 hours to get to Phuoc Long-Binh Phuoc.
Thanks to the close proximity and the popularity of Vung Tay beach, there are multiple, both big and small carriers operating this route. Kumho, Mai Linh or Hoa Mai top the list of recommendation. It often costs about VND 70,000 to VND 80,000 ($3.5-$4) for a ticket to Vung Tau and the trip takes about 2.5 -3 hours depending upon the traffic. There is a bus departing every 15-20 minutes from Mien Dong Bus station to Vung Tau beach on a daily basis.
Phan Thiet Mui Ne
Phuong Trang, Mai Linh, Tam Hanh, Hanh Cafe are some recommended transportation companies for the route. It costs about VND 150,000-VND 160,000 ($7.5-$8) for a ticket. It takes 5 hours to get to Phan Thiet.
Buon Me Thuot
Mai Linh and Kumho are recommended. There are two options: sleeping bus (VND 200,000-$10) or sitting bus (VND 160,000-$8). It takes 9 hours to get there.
Gia Lai
Some noticeable companies are Hong Hai, Thuan Hung, Truong Thanh. They depart in the evening from 7p.m. There is a bus every 30 minutes. Hong Hai offers sleeping buses departing daily at 7:30 p.m. at VND 270,000 ($13.5). It takes about 10-12 hours to get from Ho Chi Minh City to Gia Lai.
Dalat
Phuong Trang and Mai Linh offer Dalat route at VND 170,000-180,000 ($8.5-$9). Sleeper bus is available when traveling with Phuong Trang. It takes about 8 hours to get to Dalat.
Nha Trang
Phuong Trang offer sleeping bus to Nhatrang at VND 200,000-VND 220,000 ($10-$11). It takes 10-12 hours to arrive Nha Trang.
Danang
It takes almost a full day to travel by road from Ho Chi Minh City to Danang. Mai Linh, Phuong Trang and Thuan Thao are the recommended carrier providers. Both sleeping and sitting bus are available. Price varies from VND 360,000 to VND 540,000 ($15-$25) for a ticket.
Hanoi
Mai Linh offer Hanoi route with three categories of seats: standard, superior and deluxe (sleeping bus). For a standard ticket, it costs 900,000 ($40). The superior and deluxe (sleeping bus) may cost up to VND 1,200,000 ($50) per ticket. It takes around two days to travel by road from Saigon to Hanoi.
* Note: Information about prices and schedules of bus was last updated on March 15th 2020. Expect slight price increase in ticket because of rise in fuel cost and environment tax.
Ticketing
One can purchase the ticket for the above mentioned routes by coming to the ticket counter at the terminal. There is no need to reserve or buy ticket in advance, unless you go from South to Northern provinces just before Tet. Also make sure you bring cash in Vietnamese Dong, since Dollar or foreign currency will not be accepted and plastic money are not usable.
How To Get To Mien Dong Bus Terminal
Since the terminal is important for travelers to go to other provinces, there are various public bus routes to get to Mien Dong Bus Terminal, including Bus #55 and a free shuttle that runs between the Mien Dong (Eastern) Bus Terminal and Mien Tay (Western) Bus Terminal.
Bus company contacts
Similar to Mien Tay bus station, there are also a number of transportation companies at Mien Dong that monopolizes over one or several routes. Below are the most popular ones:
Minh Dung Bus has daily buses to Cam Ranh, Nha Trang and Phan Rang with one way ticket costing $4-5. Refer to the website or come directly to Mien Dong Bus station for detailed schedule and information.
Phone number: (0283) 511-5234; (0283) 519-0519
Website: http://vexe.com.vn - http://xeminhdung.com
Hoang Long Bus has buses to and from Hanoi for $18-42.
Phone: (0283) 915-1818; 511- 3113
Website: http://www.hoanglongasia.com/
Phuong Trang Bus has the office at the heart of the Pham Ngu Lao backpacker area. Bus quality is relatively high and service is consistent. You can also request to be dropped off at your hotel at no extra charge. Check out your timetable and buy your ticket in advance in the office. Address: 274 - 276 Đe Tham, District 1.
Phone: (0283) 920-6564/ (0283) 920-6571
Website: http://www.phuongtrangdalat.com/
Conversations (0)
Join the conversation
Conversations
Join the conversation
ALL COMMENTS (0)
There are no comments. Add your comment to start the conversation.
read next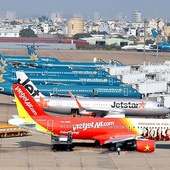 Bus, air and train to get to Ho Chi Minh City from Hanoi, Danang, Nha Trang, Hong Kong and other international destinations.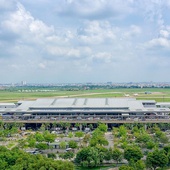 After a major renovation in early 2000s, Tan Son Nhat International Airport (SGN) is currently the largest in terms of area and capacity airport in Vietnam.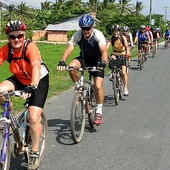 Cycling is not a common way of travelling in Ho Chi Minh City where most people want to travel by motorbike or car to save time. However, going by bicycles is an excellent way to explore the city.