Ho Chi Minh City Airport (SGN) - Tan Son Nhat International Airport
After a major renovation in early 2000s, Tan Son Nhat International Airport (SGN) is currently the largest in terms of area and capacity airport in Vietnam.
Along with Lien Khuong Airport (Dalat), Con Dao Airport (Con Dao), Phu Quoc Airport and several other local airports, Ho Chi Minh City Airport is under the management of Southern Airports Corporation (SAC), a state owned corporation.
Location
The airport is located in Tan Binh district, about 8km North of the city center. It takes about 15-20 minutes to get to the center of the city from the airport.
Domestic and International terminal
The domestic terminal used to be the old International terminal with 62 check-in booths. It is easy to navigate your way around, especially with only 3 domestic airlines being active.
The new international terminal was officially put to use in 2007, welcoming tourists and business travellers from all over the world. International terminals also have many modern facilities such as restaurants, convenient stores and currency exchange booths.
It takes approximately 10 minutes to get from one terminal to another so if you have a transit in Ho Chi Minh City, you will not be in any hassle.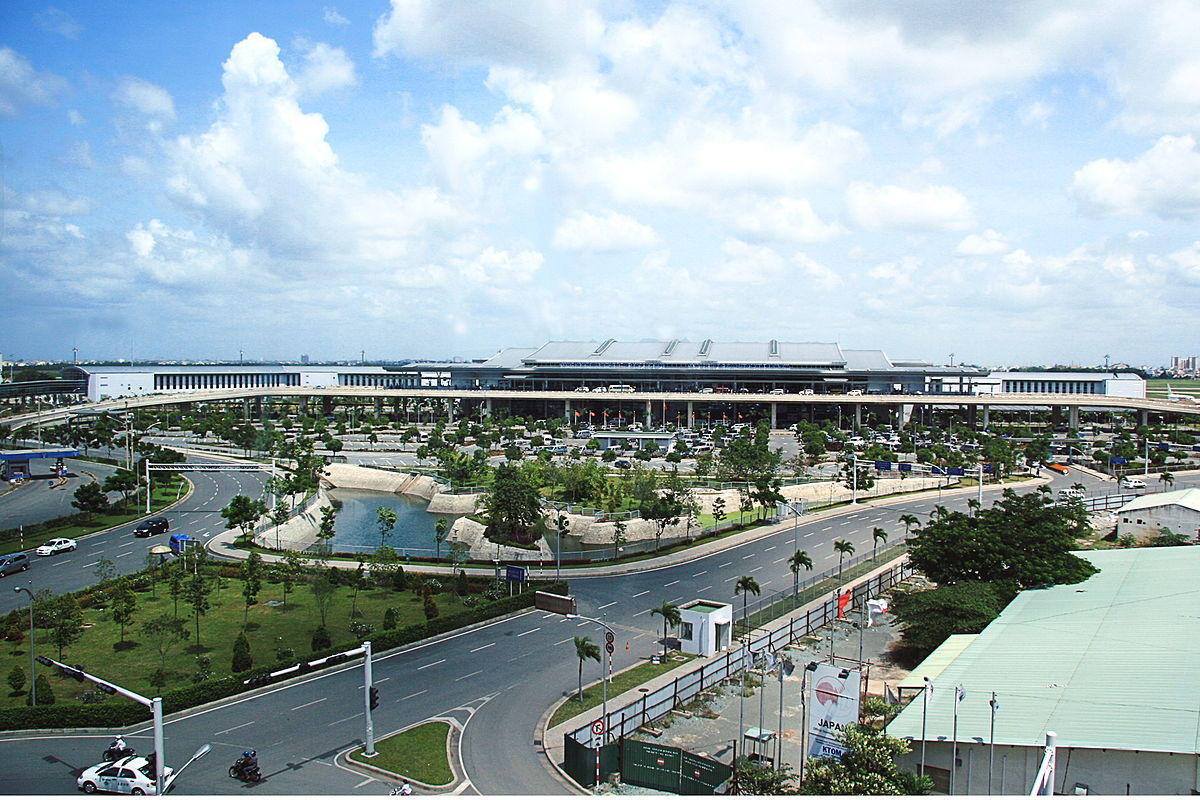 Photo: vi.wikipedia.org
Flights to Ho Chi Minh City Airport
It is estimated that 3 domestic and 34 international airlines serve flights to Ho Chi Minh City.
There are direct flights from major cities in Asia (Beijing, Tokyo, Seoul, Hong Kong, etc.), Europe (Helsinki, Frankfurt, Moscow, Paris, etc.), Australia (Melbourne and Sydney). Those from North America or other countries in Western Europe can easily book a connecting flight via Hong Kong, Bangkok, Tokyo or Seoul.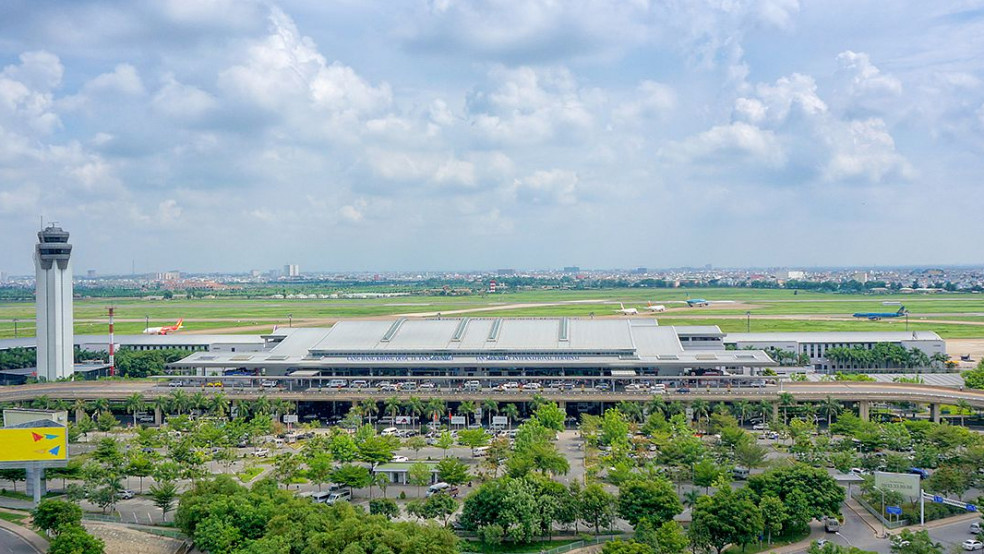 Photo: vietnamairlines-online.com 
From Ho Chi Minh City Airport to city center
Taxis line up, with proper police regulation outside of the airport. A metered taxi ride to the city cost about US$5-7 or you can asked for a fixed rate ($4-6). Airport Taxi and Saigon Taxi are among the most popular and reliable companies. It is better that you line up to get the regulated taxi than waving one off the road to avoid scams. Check with your hotel in advance to see if pick-up can be arranged.
Local bus runs every half hour between the airport and Ben Thanh market (which is a 15 minute walk from the downtown area). Buses run between 6 a.m. and 6p.m. and ticket price is 30 cents. Though inexpensive and convenient, bus is not the best option when you have a lot of luggage.
Shopping at Ho Chi Minh City Airport
Tan Son Nhat Airport is not only an international airport, but also serves as a great venue for shopping. Various types of clothing items to electronic devices can be found. Duty free shopping is undoubtedly a reason to attract visitors to this national airport.
On the way to the international boarding gates are numerous kiosks of different products for passengers to stop and take a look. Beside courts of special products like alcohol, tobacco or perfumes, fashions and accessories are also goods that have a huge number of kiosks with recognizable brands from both Vietnam like Viettien, An Phuoc or Ninomaxx, to well-known global brands like D&G, Nike, Bossini, Hermes or Swatch. Electrical device is also the kind of products that fascinate more attention of passengers with goods from popular companies such as Panasonic, Toshiba and Samsung.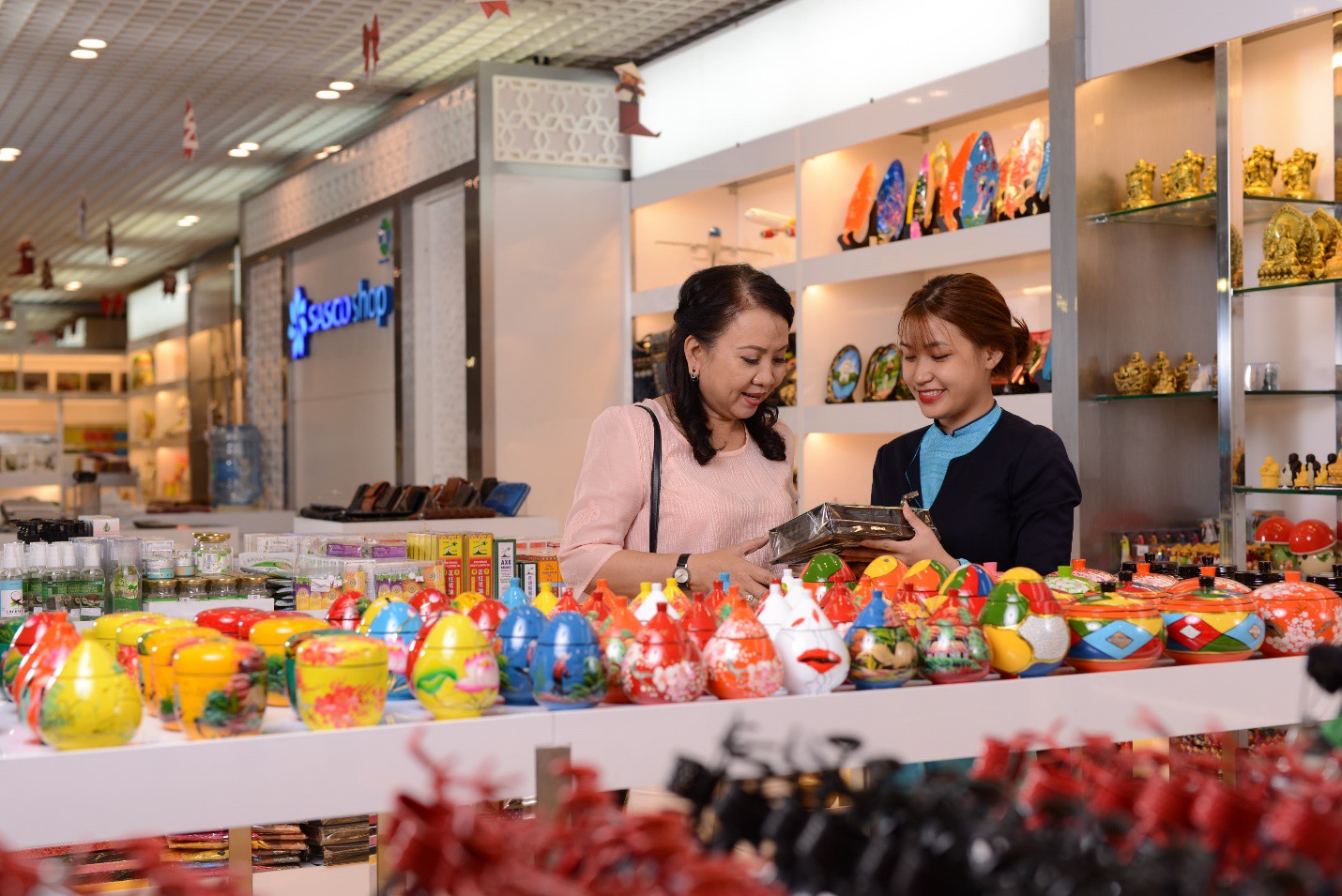 Photo : cafef.vn
Also, passengers who would like to buy some Vietnamese unique products to bring home, a number of handicrafts, souvenirs and artworks are available for their consideration with high quality but sustainable price.
Contrary to the international terminals, domestic terminals seem to be less uproarious in shopping with fewer kiosks and commercial courts for passengers. Only branches of famous clothe producers Converse, Lacoste and Adidas are represented at this area, with appearances of some kiosks with local crafts and souvenirs for passengers to do shopping.
In domestic terminal, there is also souvenirs and shopping venues available. There are stalls for books, chocolates and confectionary, as well as typical souvenirs one could find at Ben Thanh market though at a higher price.
Tips:
Do not expect a shopping paradise at Ho Chi Minh City airport like what you find in Changi International Airport of Singapore or Hong Kong Airport. If you have time, plan to arrive early and shop at the nearby Parkson Mall - just opposite to the main gate to Ho Chi Minh City airport. There are international brands featured in a professional setting - a truly shopping mall experience that you might want. There are also better food choices in the mall than dining at the airport.
Dining at Ho Chi Minh City Airport
Ho Chi Minh City airport offers a broader range of dining choice from coffee shops to fast food restaurants, especially in the newly built international terminal. When passengers arrive at Tan Son Nhat Airport and need something to satisfy their hunger or thirst, they have much to choose from. Those who only want snack or light meal can enter various food stalls and courts in different areas inside the airport to select packaged food like snack, cookies or sausages. Or if they like some traditional flavour, there is one Kinh Do kiosk and another Phaner bakery kiosk at international terminals for passengers to visit.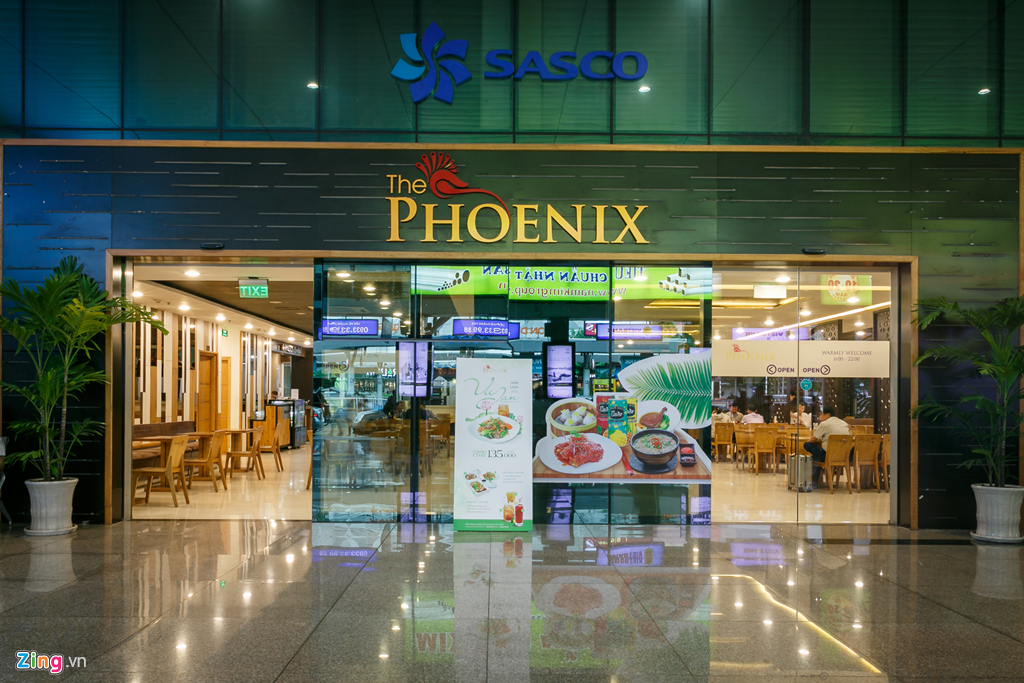 Photo : zingnews.vn
For passengers who prefer larger meals with adequate energy, there are many other bigger food stalls and restaurants inside tho fulfil their requirement. Skynet restaurant at internationals terminals could be an ideal choice. The restaurant offers diverse dishes from not only Vietnam's cuisine but also international foods to cater to different tastes. And coffee at this place is also worth trying. Fast-food lovers, especially children, should visit KFC branch inside the airport for their favourite chicken dishes and enjoy irresistible flavour remaining on their fingers.
Passengers who value a tranquil atmosphere and sip a hot coffee or chocolate, Trung Nguyen Coffee shop at Tan Son Nhat Airport should be a perfect location. Like other Trung Nguyen branch in town, the coffee shop here serves guests delicious beverage, especially coffee and related drinks, which might cause passengers to be late for their flights because of enjoying their drinks until the last drop.
Ho Chi Minh City Airport Business Lounge 
Airport lounge is the special service offered for business class passengers and VIP member of airlines when they arrive in Tan Son Nhat airport. There are 8 VIP Lounges at Tan Son Nhat airport where guests are served top class services and provided a truly ideally tranquil atmosphere for relaxing, working and preparing for their flights.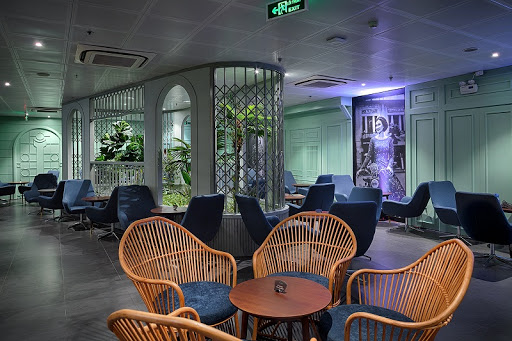 Photo : oivietnam.com
VIP passengers are allowed to choose from diverse menu of cuisines with high standard of quality. They can also order a cocktail from the bar or simply enjoy quick pastry before catching the flight. For busy passengers who would like to work or solve emergent cases, they have a perfect working environment with adequate facilities like high speed Internet Wi-fi, printers, scanner, photocopiers and fax machine. Also, for guests who need relaxing to recover from exhausting flights or to prepare for the next flights, bathroom with massage machines and sleeping area are waiting for them to use and refresh.
Ho Chi Minh City Airport Map
Map of Ho Chi Minh City Airport - Tan Son Nhat International Terminal has 3 levels, with the first 2 level for arrival and the 3rd level for departure.
Arrival Hall (Floor 1 and 2)
As you exit the airplane, you are on the second level of Ho Chi Minh City airport where Immigration office is located. If you need a visa on arrival, this is where you stop for immigration documents and visa pick-up. After that, proceed to level 1 by elevator.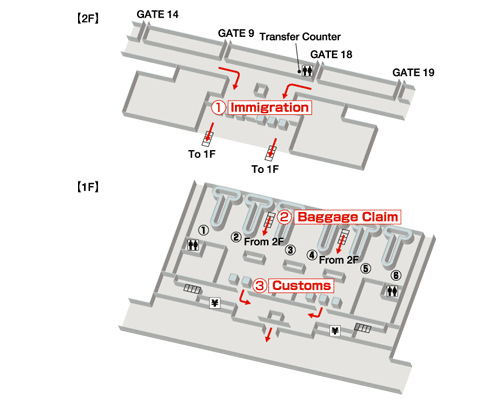 Arrival Map of Floor 1 and 2 - HCMC Airport

On the first floor, is baggage claim and customs section. You will be collecting luggage and clearing customs before exiting the airport. Toilets are located to the far right and left of the level. Just outside of the Customs are many booths for currency exchange, where you can get some Vietnam Dong.
Departure Hall (Floor 3)
Level 3 is for departure and level 4 is for lounge area. After check in, you will be clearing customs and immigration - which usually takes less than 15 minutes. Afterwards come the security check and you can proceed to the boarding gate to catch your flight.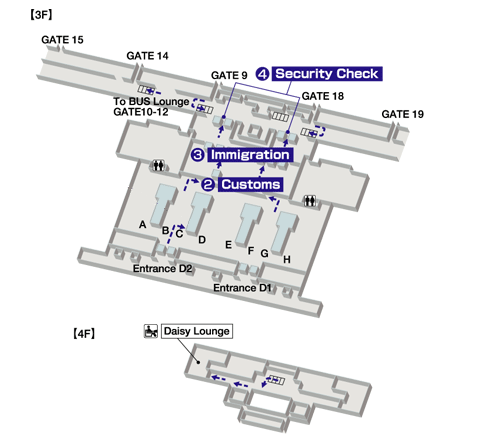 Departure Map of Floor 3 and 4 - HCMC Airport

Travelers' Review Of Ho Chi Minh City Airport
Although being the largest airport of Vietnam, Tan Son Nhat Airport still has space for improvement. Still, numerous passengers who have visited this airport all appraised that this could be the best airport in term of services and infrastructures in Indochina peninsula.
Goods:
Many passengers comment that the staff and officers at this airport are nice, intimate and courteous which is much better than at its counterpart Noi Bai Airport in Hanoi. From immigration officers, security guardians to other staff, all of them keep friendly and helpful manner to each passenger they meet. Especially with international passengers, they are nicer and more courteous to show the hospitality of Vietnamese to foreigners.
Spacious and airy hall for passengers to rest and wait for their flights, therefore guests do not feel too noisy and uproarious staying at this airport. There are also numerous comfortable couches and chairs for passengers to take a shot nap or sleep before the flights.
Custom and flight procedure here are extremely rapid so passengers do not waste a lot of time stand at security court and check from head to toes. No fingerprints checking, fast immigration checking and stamping, and passengers can pass security gates fast.
Common comment of passengers after being at Tan Son Nhat Airport is that the place is always clean. The housekeepers do a great job in keeping all halls, terminals and other areas in quality hygiene standard.
Bads
One negative point of Tan Son Nhat Airport is the taxi service at the main entrance of the airport. There are many taxi companies operating at this area, but many of them are low in quality but charge customers higher than other, and even higher to foreigners. Passengers should only choose to travel by reputable suppliers like Saigon Air Taxi, Vinasun Taxi or Mai Linh Taxi.
Another issue at this airport is there are plenty of petty thieves who take advantage of negligence of passengers to steal valuable items from them. The security team at the airport cannot cover all area, so each passenger should be a guardian themselves to keep an eye on their luggage.
Also there are various shops and kiosks with famous brands are at this airport, kinds and diversity of products here are pretty low. There are only some model of products for each type of goods, and furnishing of shops here is totally nor as attractive as other shops outside
Conversations (0)
Join the conversation
Conversations
Join the conversation
ALL COMMENTS (0)
There are no comments. Add your comment to start the conversation.
read next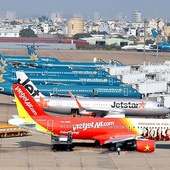 Bus, air and train to get to Ho Chi Minh City from Hanoi, Danang, Nha Trang, Hong Kong and other international destinations.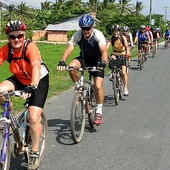 Cycling is not a common way of travelling in Ho Chi Minh City where most people want to travel by motorbike or car to save time. However, going by bicycles is an excellent way to explore the city.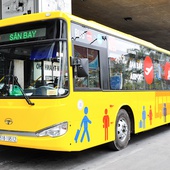 Ho Chi Minh City has a reasonable bus infrastructure, enabling visitors and locals to get around quickly and cheaply.