Nightlife in Dalat: Our Top 10 Recommendations
Dalat never fails to satisfy all types of tourists coming to this highland city.
To illustrate, for leisure or elder visitors, this is a perfect getaway for relaxations and rejuvenation. The youth, on the other hand, find it a vibrant place for endless night activities at happening bars and nightclubs. The list below reveals 11 most worth visiting nightlife spots for tourists in Dalat City.
The Escape Bar Dalat
The Escape Bar serves as one of the most happening bars in Dalat City, located at 94 Bui Thi Xuan Street, the bar features the 1970s style design with creative paintings of deceased music and film legends. Cushioned chairs are also provided in the lounge area for guests' relaxation. Escape Bar is dedicated to bring the best live music and fancy cocktails to tourists during their holiday. Favorite classic rock songs by Rolling Stone, the Beatles and Radiohead are covered most by both local residents and traveling musicians.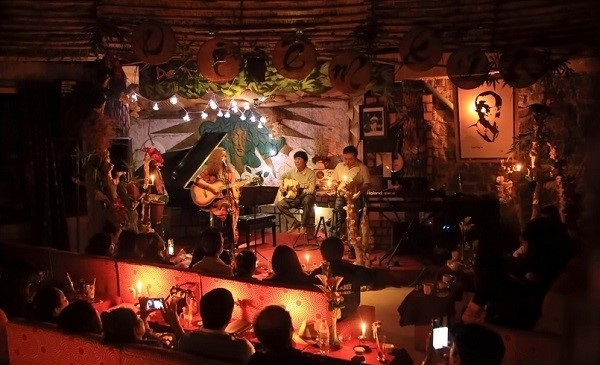 Photo : pinterest.com
Address: 94 Bui Thi Xuan
Best for: Solo, Couple
Phone: 090 334 2442
Le Select Bar at Du Parc Hotel Dalat
Le Select Bar occupies a prominent location in the main lobby of Du Parc Hotel Dalat, at 15 Tran Phu Street, Ward 3 making it an ideal spot for a nightcap. The bar features an all-day dining venue with colonial décor and high-grade furniture and hosts a plenty of discrete meetings as well as parties. Thus, guests can enjoy wonderful drinks and light snacks from afternoon until late at night in a welcoming atmosphere. A well – stocked bar serves guests a wide selection of coffees and teas while great cocktails are shaken and stirred by professional bartenders. For a visit, partygoers can come there from 11:00 am to mid-night every day.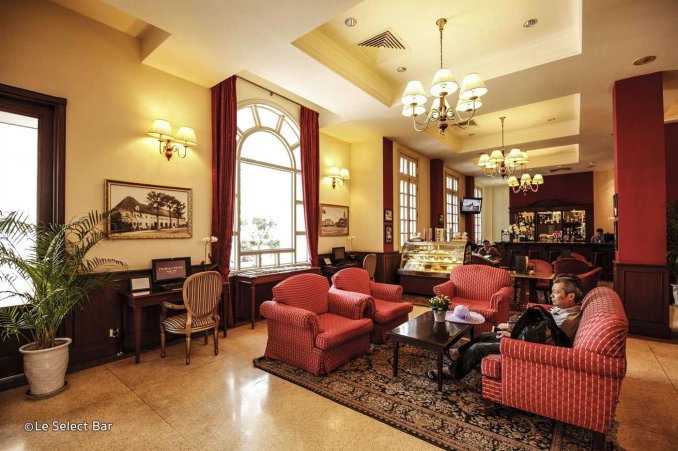 Photo by @le Select Bar
Address: 15 Tran Phu
Best for: Solo, Couple
Phone: 091 124 22 11
B21 Beer Dalat
Set on the side of Truong Cong Dinh Street, at no 68, Ward 1, B21 Beer Dalat is a favorite nightlife venue for many fun–loving local crowds and multicultural clientele. The nightclub offers a spacious space with large flat screen TVs for sport lovers to catch the latest football matches over the world as well as a massive dance floor for partying by night. Standard cocktails such as mojitos, Singapore Slings and Pina Coladas are available to be served. In addition, the bar is liveliest from 22:00 onwards with spinning dance music. Tight – budget tourists are welcomed to visit B21 Beer during Happy Hour from 15:00 to 20:30.
Photo : Halotravel.vn
Address: 68 Truong Cong Dinh
Best for: Solo, Couple
Phone: 091 779 21 21
Le Cosy Bar at Dalat Palace Heritage Hotel
Set inside the Dalat Palace Heritage hotel, at no 2 Tran Phu Street, Ward 3, Le Cosy Bar features a popular rendezvous for affluent tourists to unwind and enjoy original taste of cocktails. Located on the ground floor, the bar embraces a welcoming and informal ambiance with chandeliers, crafted white wood paneling, comfortable seating (high chairs and leather sofas) and French style windows overlooking the romantic Xuan Huong Lake. Thus, it is best for guests to leisurely sit on a chair overlooking the stunning view while enjoying tasty drinks. An extensive drink select list is comprised of cocktails, digestifs and spirits. Le Cosy Bar welcomes guests from 11:00 am until late.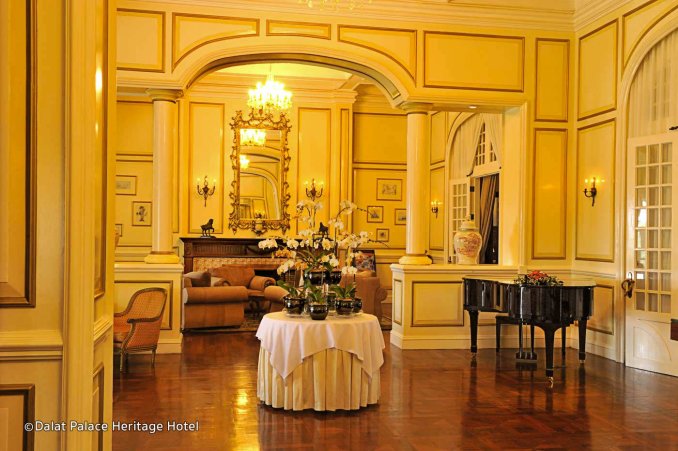 Photo by @ Dalat Palace Heritage Hotel
Address: 2 Tran Phu Street, Ward 3
Best for: Solo, Couple
Phone: 0263 3825 444
Secret – Coffee & Bar Dalat
It is Speakeasy – an illicit establishment that sells alcoholic and beverages in the 1920s which draws inspiration for Secret – Coffee & Bar Dalat foundation. Set within Bird's Nest Homestay Dalat, the stylish bar is situated at 1B Hoang Hoa Tham Street, Dalat City. This is where all definitive drinks are selected carefully and warmly served in a cozy setting among the cool climate of this foggy land. Prices for beverages there are relatively low with beer costs VND 30000 while signature cocktail is at VND 80000. Of which, milk-tea cocktail and lavender-infused gin are the two most highly recommended drinks in this bar. In addition, Secret Coffee bar is the most vibrant between 20:30 and 22:30 on every Saturday.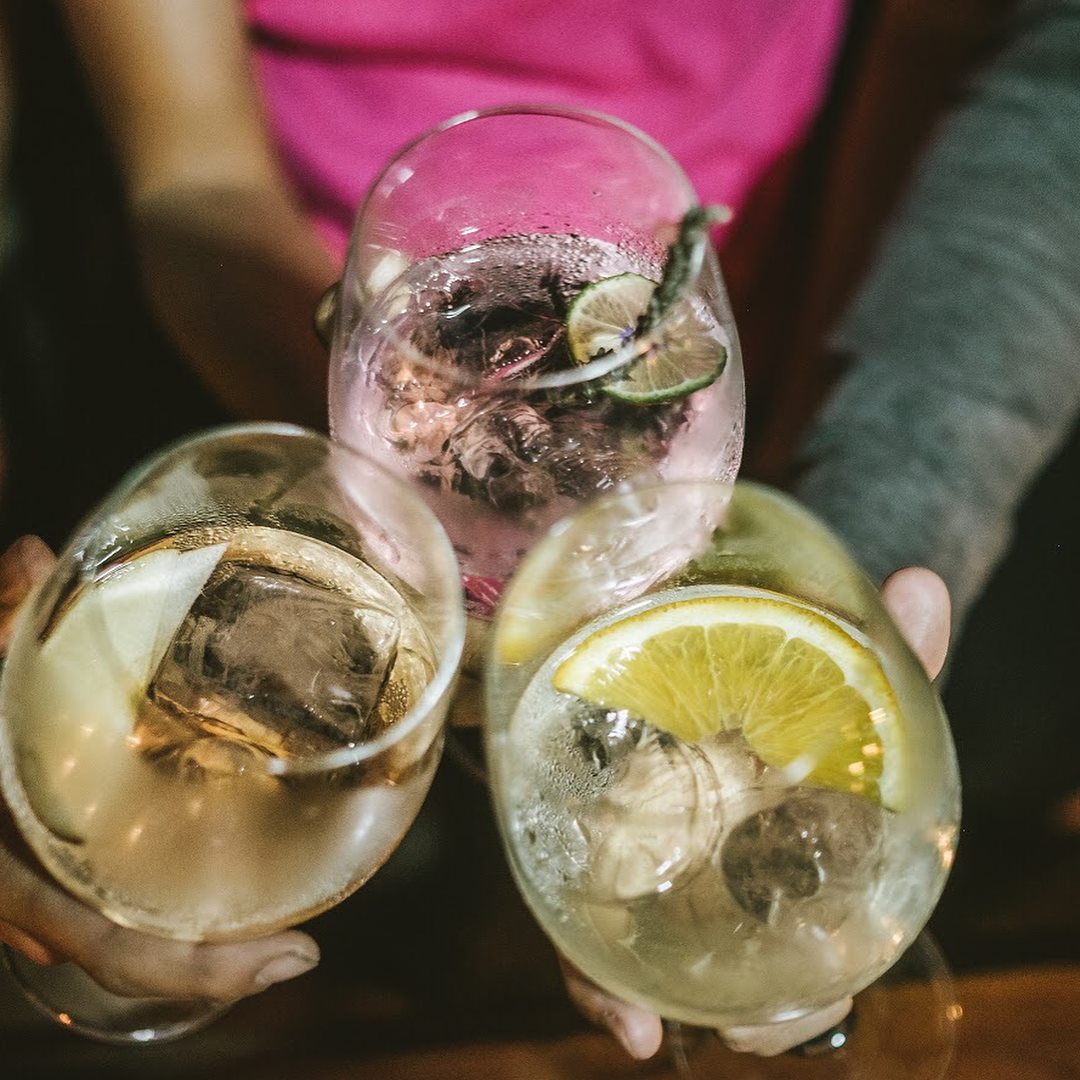 Photo by facebook @homstay-coffe dalat
Address: 1B Hoang Hoa Tham
Best for: Solo, Couple
Phone: 096 611 51 09
Beepub Hostel & Bar
Located at 74 Truong Cong Dinh Street, Beepub Hostel & Bar will definitely meet all tourists' demand for accommodation and a vibrant getaway after a day tour of exploring Dalat highland city. There is an inn for backpackers with the same name. Meanwhile, being a part of it, the bar features a compact setting while still providing a lively atmosphere where guests can enjoy a few rounds of pool table, dance under live music and socialize with other groups of clubbers. In addition, Beepub Hostel & Bar offers an extensive beverage menu with affordable prices. For example, a large glass of Saigon beer costs only VND 30000. If you feel a bit puckish, do not hesitate to try light snacks such as fried spring rolls and calamari.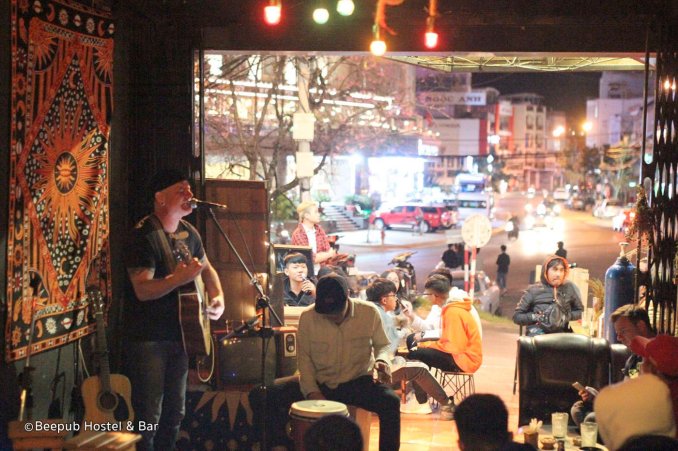 Photo by @Beebup Hostel
Address: 74 Truong Cong Dinh
Best for: Solo, Couple
Phone: 096 273 1274
Rain Nightclub Dalat
Rain Nightclub is another worth visiting nightlife venue for tourists, especially affluent clubbers looking for partying by night in Dalat City. Conveniently located at no 1 Le Hong Phong Street, Rain Nightclub Dalat hosts a wide range of vibrant light shows and a good line-up of talented DJs playing spinning music at the weekends. There is a variety of high-grade beverages there which are relatively pricey ranging from VND 70000 to VND 200000. For instance, to get a glass of beer, tourists are expected to pay VND 80000. Rain nightclub opens quite late at 19:00 and all activities will be closed before 02:00 every day.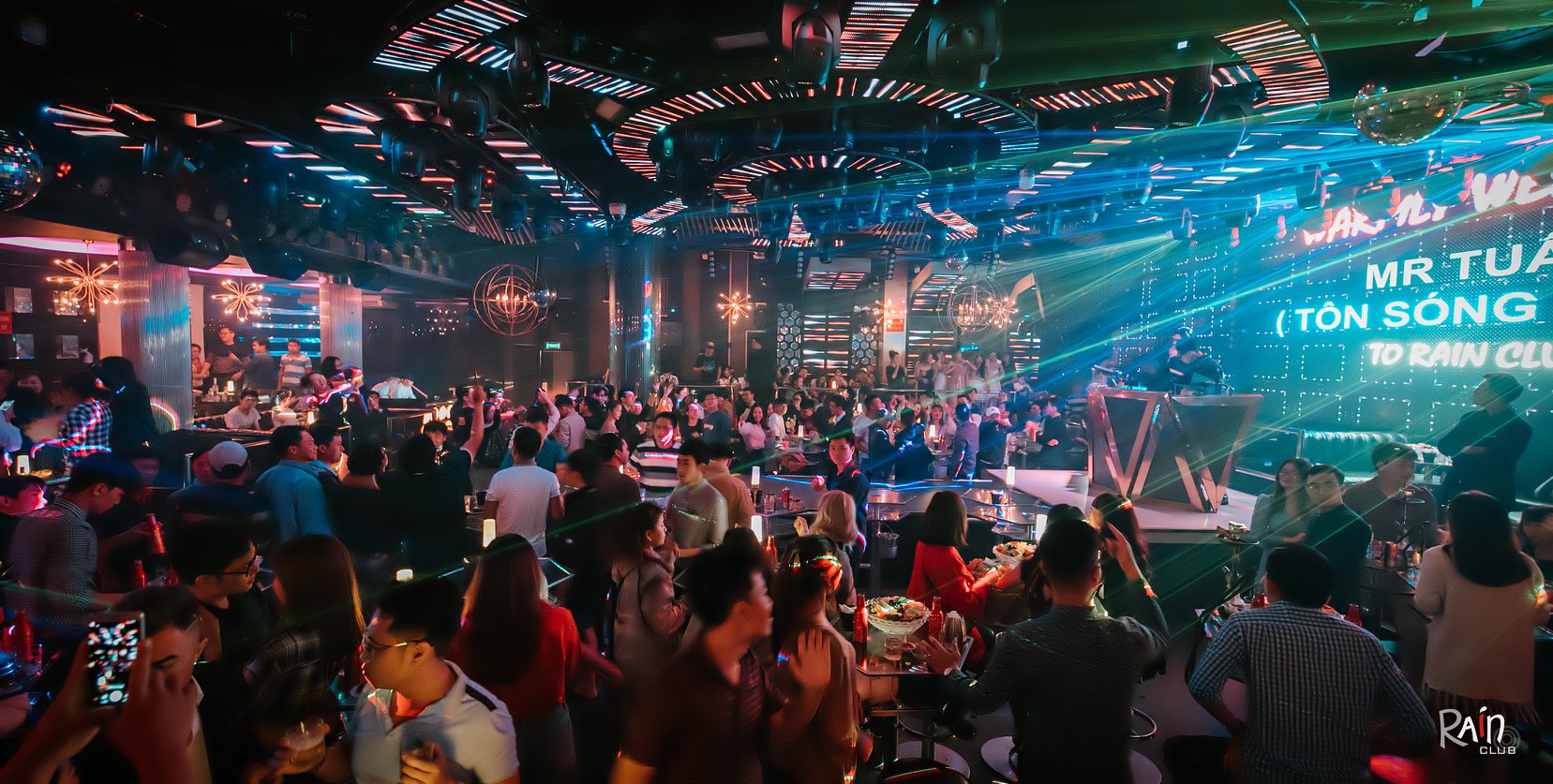 Photo by facebook @rainclubdalat
Address: 1 Le Hong Phong
Best for: Solo, Couple
Phone: 091 640 70 00
Dalat Night Market
If you are getting bored of frequenting ordinary nightclubs and bars, taking a stroll around Dalat Night Market will be a definitive option. The market sprawls along main streets around Dalat market building and the main square. This is home to endless trading activities with thousands of stalls selling almost everything ranging from foods, local delicacies, clothes and hand-crafted souvenirs. It is worthy for tourists to walk leisurely and stop over some food stalls offering mouth-watering snacks such as rice noodles, banh mi and Vietnamese pizza (grilled rice paper with a variety of topping) and finish it off with fresh soy milk. There are also a lot of exciting street performances of hip-hop dancing and roller skating in the market's site. The night market often opens from 17:00 to 22:00.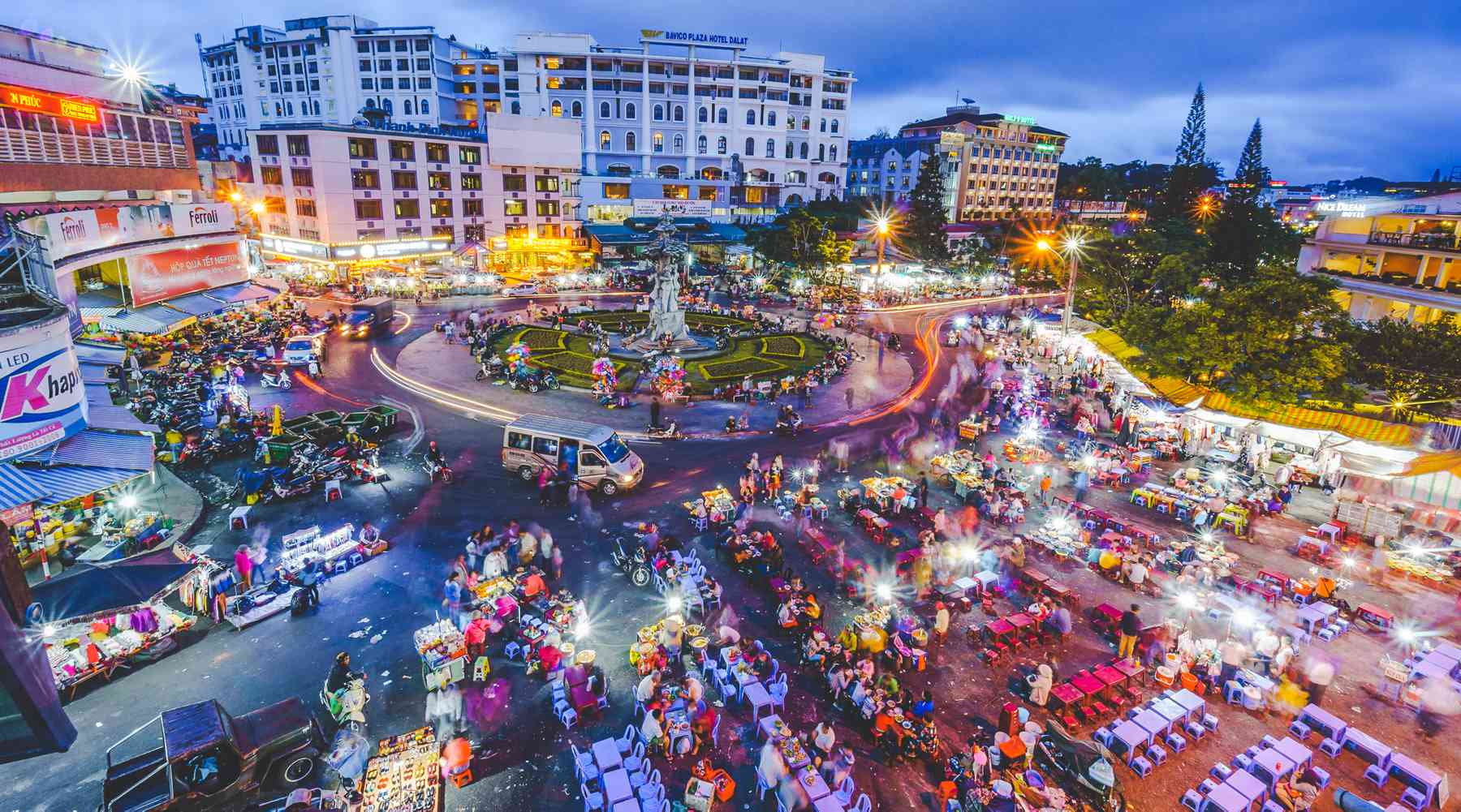 Photo : localvietnam.com
Address: Nguyen Thi Minh Khai & Nam Ky Khoi Nghia, Da Lat
Opening Hours: Daily 17:00 – 22:00
V Club Dalat
Just a short walk from the vibrant Dalat night market, at no.2 Le Dai Hanh Street, V Club has long become a prevalent bar for nightlife lovers including both local youths and travellers to frequent. The nightclub is fitted a spacious space, dimming in the LED illumination and a massive dance floor for exciting music and light shows. Interestingly, from 21:00 onwards, the bar becomes spinning and lively with a lot of talented DJs performing house, hip-hop, and trance music. Beverage menu is diverse corresponding with hookah pipes are always available to be served. V Club Dalat opens from 19:00 until 02:00.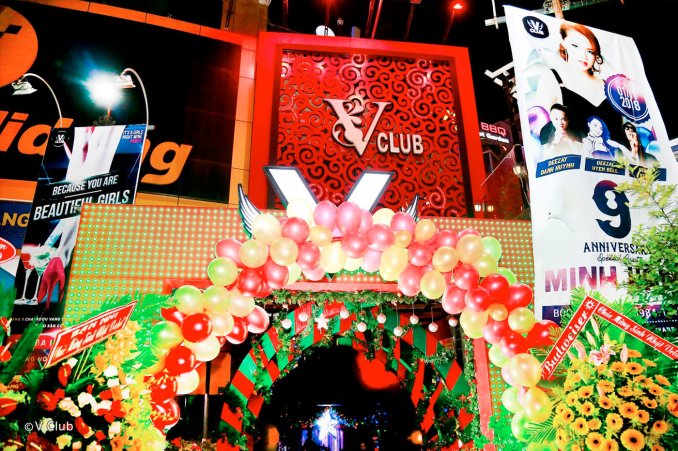 Photo by facebook @Vclubdalat
Address: 2 Le Dai Hanh, Ward 1
Best for: Solo, Couple
Phone: 096 666 26 66
The Fog Bar
The Fog bar is located at 76 Truong Cong Dinh . Although you may find it a relatively small bar venue, it features a welcoming and homey ambiance. The bar is designed in a simple style with painted mirrors and an interesting mural which is comprised of assorted alcohol bottles suspended from the ceiling above the bar and its display shelves. The music is eclectic soft rock served together with a wonderful drinks menu. Tourists can also visit the bar during Happy Hour which lasts until 20:00.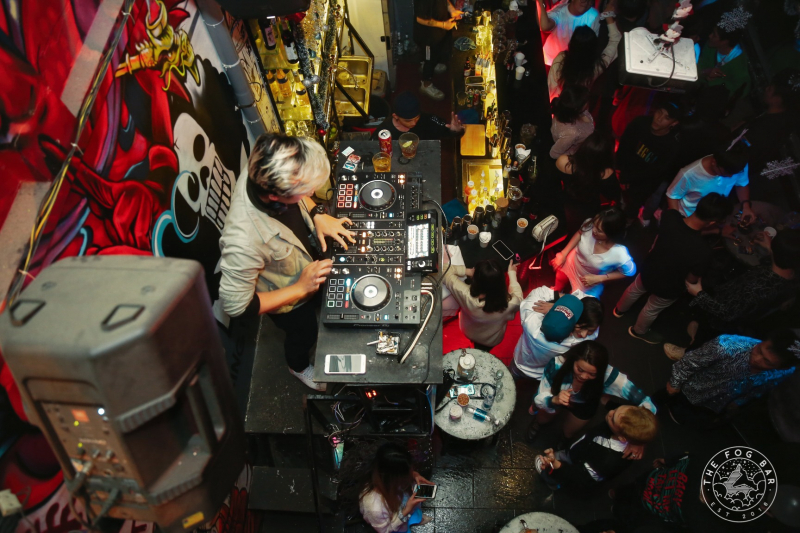 Photo by facebook @TheFogBar
Address: 76 Truong Cong Dinh
Best for: Solo, Couple
Phone: 0263 3755 333
Conversations (0)
Join the conversation
Conversations
Join the conversation
ALL COMMENTS (0)
There are no comments. Add your comment to start the conversation.
read next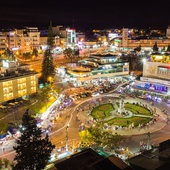 Dalat has long been known as a retreat for the nobility of Vietnam and is the perfect getaway for those seeking natural beauty and relaxation.