The 11 Local Restaurants In Dalat For First-time Visitors
Food is one of the elements that makes Dalat such a great place to visit. Thanks to the cool weather, fresh produce is readily available and reflected well on restaurants menu. To be clear, there are a great many colonial villas and five star hotels for fine dining with breathtaking views. However, if you want to know the thriving local gastronomy, follow the locals. 
Nem Nuong Dung Loc
Nem Nuong Dung Loc is a clean, friendly and small restaurant located in a quiet setting. The resto offers local specialty nem nuong which is grilled fresh spring roll. The ingredients are grilled pork with a variety of vegetables and herbs of your own choice and you get roll it yourself. As finishing touch, the roll is dipped into thick peanut sauce for an amazing balance of flavor and texture.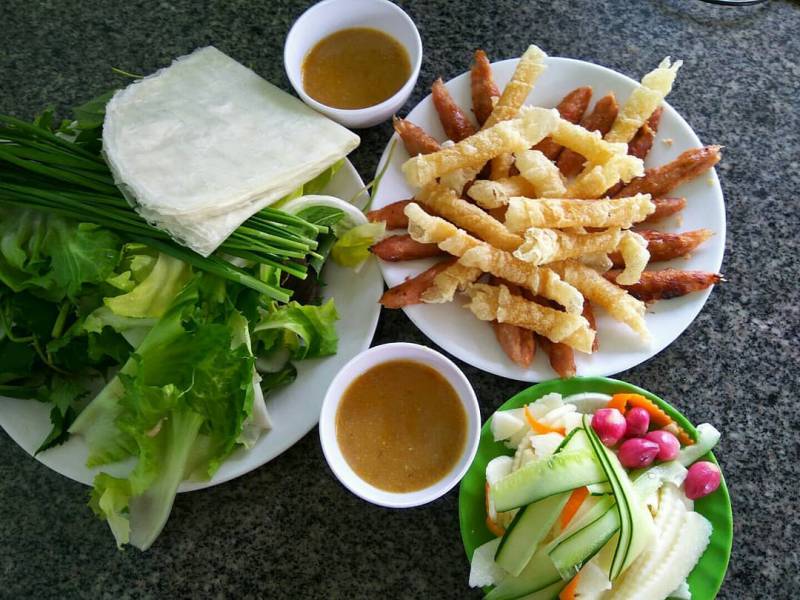 A plate of nem nuong ready to serve
Opening Time: 09:00-21:00
Address: B14 Hoang Van Thu
Tel: 091623 3196
Tiem Mi Tau Cao
Originally from China, mi hoanh thanh (wonton noodle soup) has made its way into Vietnam's food scene with adaptation. The dish comes with ground pork, pork dumplings and slices of pork in sweet savory broth. Tiem Mi Tau Cao serves the dish in an open setting where you can enjoy the dish while do people watching. It is very popular among the locals and particularly busy in the morning.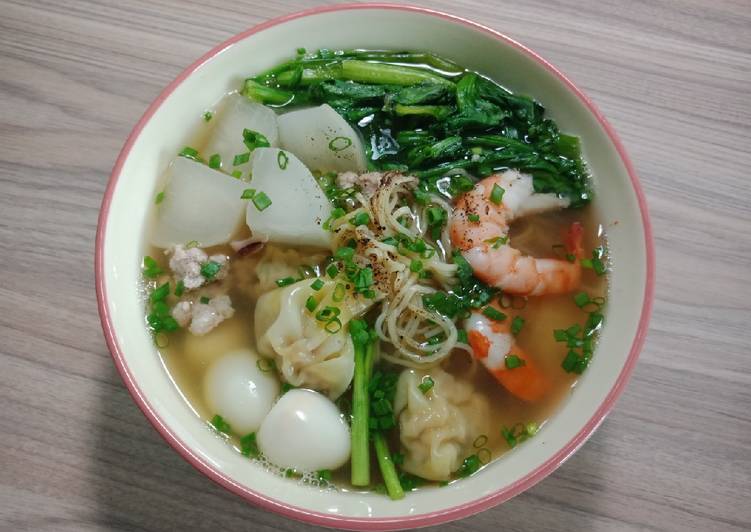 Photo: cookpad.com
Opening Time: 06:00-20:45
Address: 217 Phan Dinh Phung
Tel: 026 3382 0104
Mi Quang Thanh
Even though 'mi quang' is a central Vietnamese dish, it is very popular in Dalat too. The restaurant does not do any advertisement, people know the food is good and pass on by word of mouth. There is a small adjustment in the dish, in Dalat they put a large piece of pig's trotter in the bowl. Besides, the dish is known for its thick yellow noodles with a tasty broth.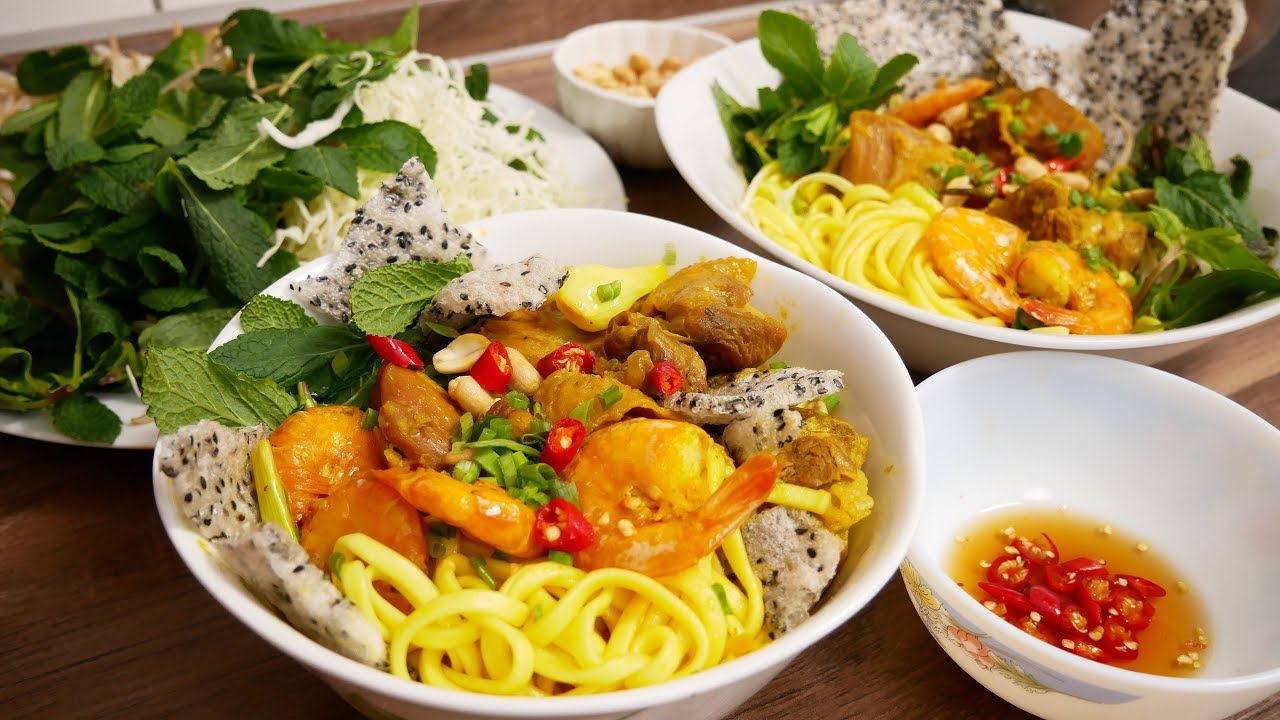 Photo: Internet
Opening Time: 16:00-23:00
Address: 58C Phan Đình Phùng
Xuan Huong Lake Street Food Vendors
Locals go to Xuan Huong Lake for recreational activities, though it turns into a night kitchen in the evening. Food vendors set up their stalls along the lake and open until early midnight. Over the weekend, certain streets parts are turned into walking areas making it easier to stroll around. Locals usually enjoy the barbecued squid, boiled shellfish and beef rice noodles with hot soy drinks. All of these dishes are rather cheap and very tasty. Opening Time: 17:00-22:00
Address: Xuan Huong Lake
Hoa Sen
Hoa Sen is a vegetarian restaurant with an extensive range of dishes on the menu. Their cuisine is freshly prepared and has a colorful appearance. The restaurant focuses on fresh vegetables from the local farmers which are cooked simple instead of fake meat meals. If guests want to try Vietnamese traditional food they also have it in vegetarian version. Some of the recommended dishes are fried aubergine in lemongrass sauce, steamed mustard leaf and lotus seed rice.
Opening Time: 06:00-21:00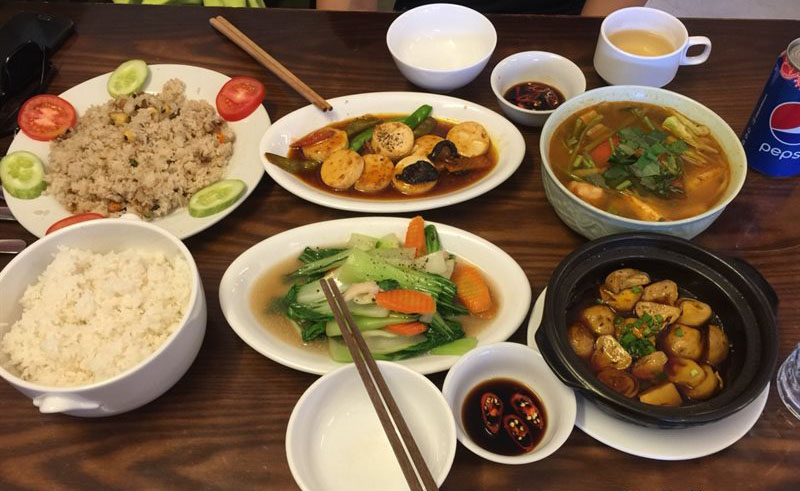 Photo: Internet
Address: 62 Phan Dinh Phung
Tel: 06 3356 7999
Lien Hoa
Lien Hoa is a bakery and restaurant filled with many delicious food. On the ground floor visitors can find all sorts of baked bread. They vary from cakes to croissants and baguettes. The restaurant is situated on the first floor. It has a wide range of Vietnamese dishes on the menu. The most recommended dish is the beef stew with ingredients like beef, carrots and lemongrass. The nice and spicy aroma bowl of beef is eaten together with a warm baguette. 
Opening Time: 06:00-21:00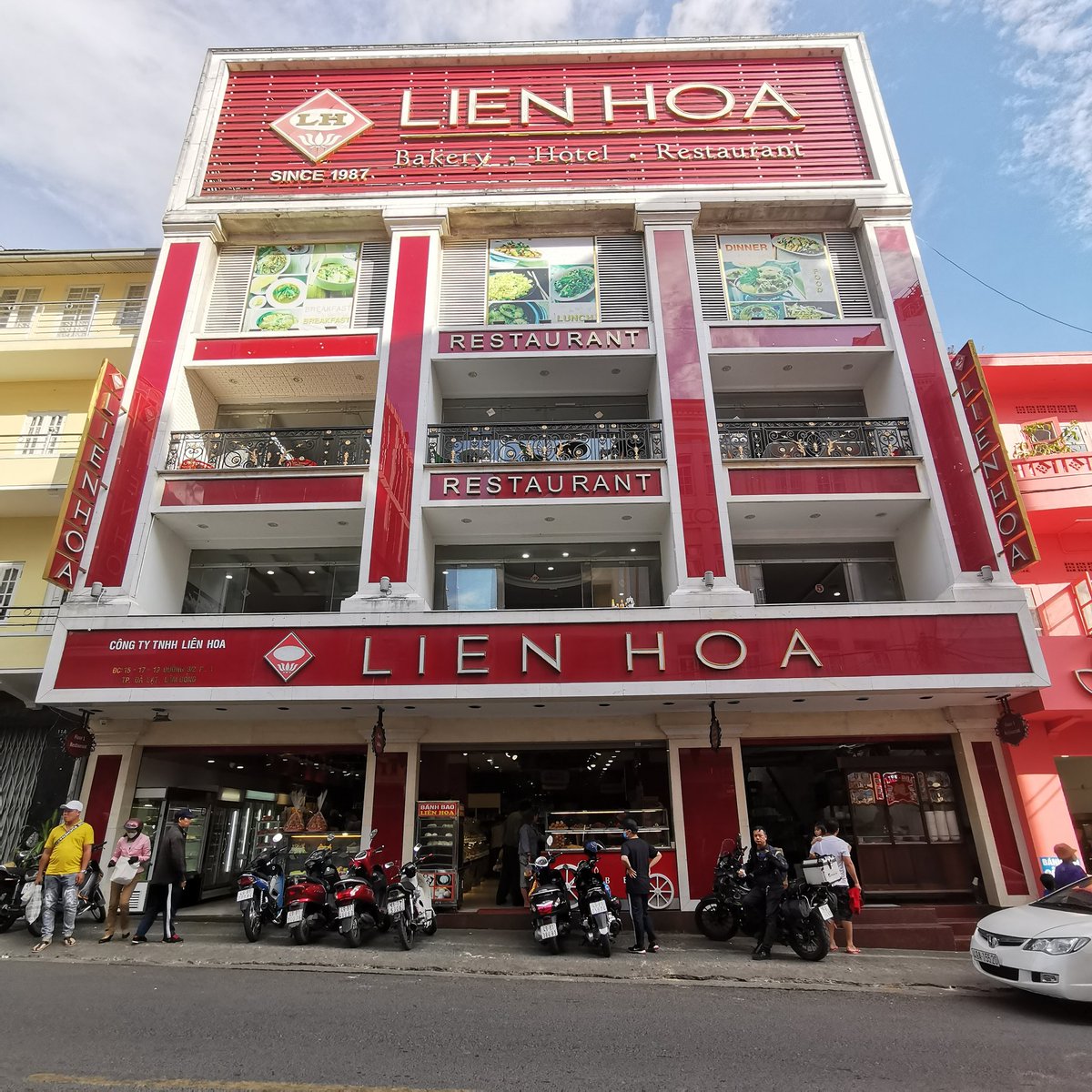 Photo: twitter
Address: 15-17 Ba Thang Hai
Tel: 092 564 82 89 
Trong Dong
Family run restaurant Trong Dong gives you a home feeling due to its simple decoration of common paintings and plaid tablecloths on the dining tables. Their regional Vietnamese cuisine is the highlights. The menu includes local dishes such as stir fried beef and fresh spring rolls. They are also very flexible in making adjustments to the meal if it is not according to your wish. Opening Time: 11:00-22:00
Address: 220 Phan Dinh Phung
Tel: 06 3382 1889
Goc Ha Thanh
Goc Ha Thanh is considered as one of the most popular restaurant in Da Lat. They offer authentic Vietnamese cuisine at affordable prices. Must try dishes are fresh spring rolls, fish in clay pot, chicken with coconut curry and homemade yoghurt. Vegetarian meals are also on the menus which are very generous portions.
Opening Time: 07:00-22:00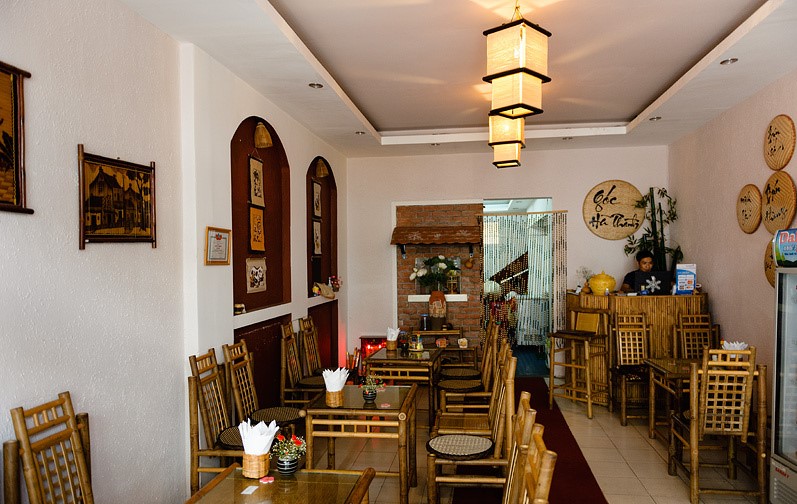 Photo: Internet
Address: 53 Truong Cong Dinh
Tel: 06 3355 3369 
Artist Alley
Couples on honeymoon like to go to Artist Alley, because of its romantic atmosphere. There is live music gently being played in the background which creates a cozy vibe. The restaurant serves both French and Vietnamese cuisine. Dishes come in large portions with many vegetarian options available. Their specialties are avocado salad, beef steak and chicken curry with steamed rice.
Opening Time: 10:00-20:00
Address: 86 Truong Cong Dinh
Tel: 09 4166 2207
One More Café
This place is decorated in Aussie-style with simple decoration and comfortable seats. Visitors can enjoy full meals here or homemade cakes and pastries. On the menu are eggs benedict, smoked salmon and sandwich steak. Though their specialties are the desserts consisting of carrot cake and tiramisu.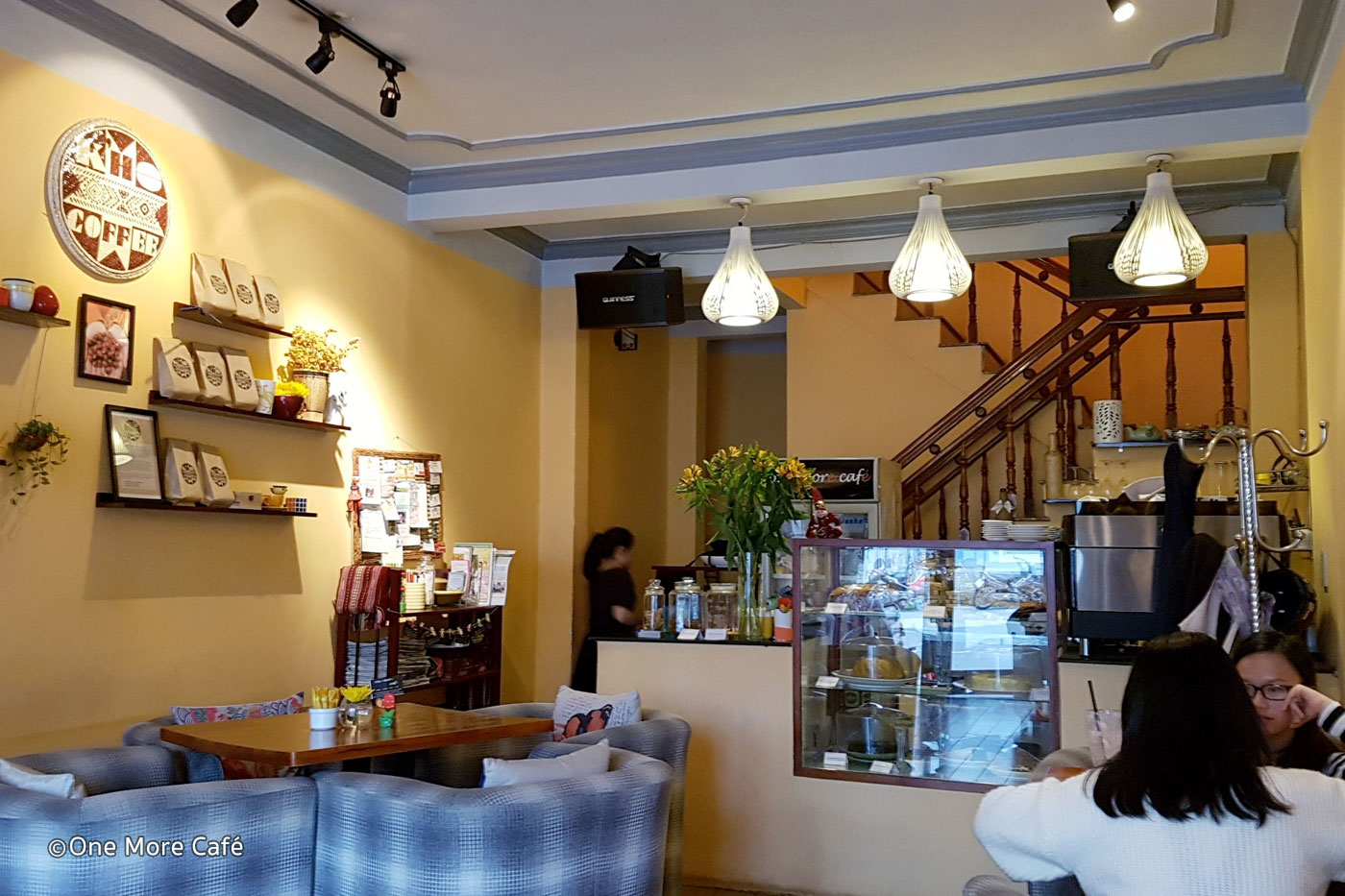 Photo by @One More Cafe
Opening Time: 10:00-21:00
Address: 77 Hai Ba Trung
Tel: 012 6757 4814
Le Rabelais
One of the best high-class dining spots is at Le Rabelais. The restaurant is styled in elegant decoration with dazzling flowers on each table. Among couples and honeymooners this is a very popular place to dine due to its romantic setting. They have a strict dress code, so make sure to be in the appropriate clothing. Their recommended dishes are grilled shrimp with vanilla sauce, steamed lobster in chili and oyster chowder. 
Photo : tripadvisor.com
Opening Time: 06:00-22:00
Address: 2 Tran Phu
Tel: 0 63 382 5444
Conversations (0)
Join the conversation
Conversations
Join the conversation
ALL COMMENTS (0)
There are no comments. Add your comment to start the conversation.
read next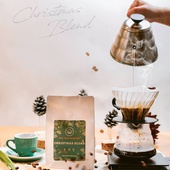 Da Lat is the heaven of cafés where you can have fun gatherings with friends, enjoy the best-quality coffee of the highland while watching the slower-paced lifestyle of the city.