7 Best Restaurants in Daklak To Put On Your List
Daklak might not yet be a famous tourism hub in Vietnam, but it also means that you could totally feel the unspoiled atmosphere and enjoy your visit in the most local way. Traveling to Daklak, in addition to the rich and unique culture, the extraordinary highland cuisine is a highlight that you don't want to miss during your stay. Check out these 7 outstanding choices that definitely surprise your taste buds in Daklak!
Hoa Mai Dien Trang
This restaurant must be on top of your list for highland cuisine in Daklak. Embracing all specialties throughout the country, it is a spectacular opportunity to enjoy an authentic Vietnamese meal. The main ingredients including poultry and livestock are mostly raised in highland farms, which results in firmed, yet fleshy texture of the meat, creating a superior flavour than production from intensive animal farming. The restaurant is extremely spacious with both outdoor shared areas and private rooms so that you can choose your best seats to enjoy delectable rustic cuisine.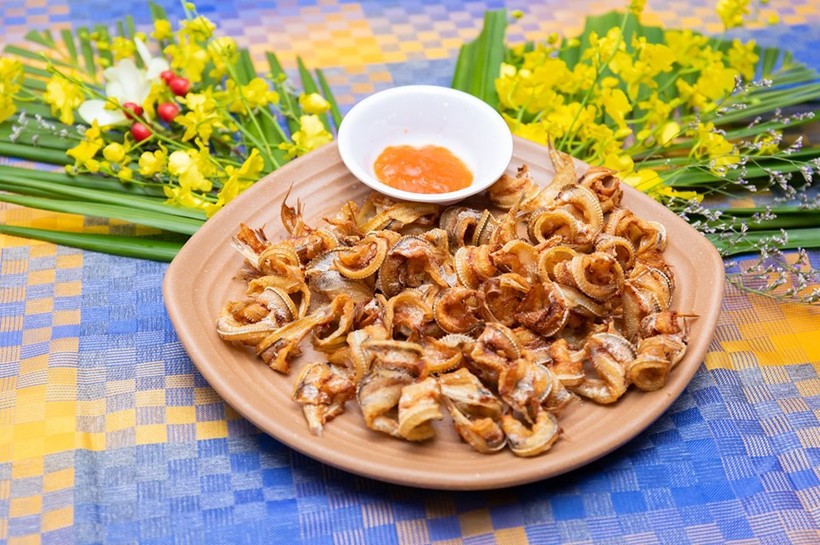 Photo: kenhhomestay.com
Address: 339 Nguyen Dinh Chieu Street, Tan Loi Ward, Buon Ma Thuot City, Daklak
Opening hours: 9.00AM – 11.00PM
Thanh Tram
Local cuisine of Daklak is strongly influenced by other neighboring regions because of the migration from such areas, bringing more lives and also more culture to the city. Nem Nuong (Grilled Pork Roll) is one of the Southern traditional dish, which later became Daklak's favourite. Located in the city centre, which is walkable from Buon Ma Thuot Market, Thanh Tram, offering an open and friendly space, is so far the most recommended from local people when you ask for this dish in Daklak. The dish is simple with grilled pork sausage, fried rolls, rice noodles, herbs and veggies, all wrapped in rice paper. The peanut sauce is made by the owner himself, which is always hot when served to your table.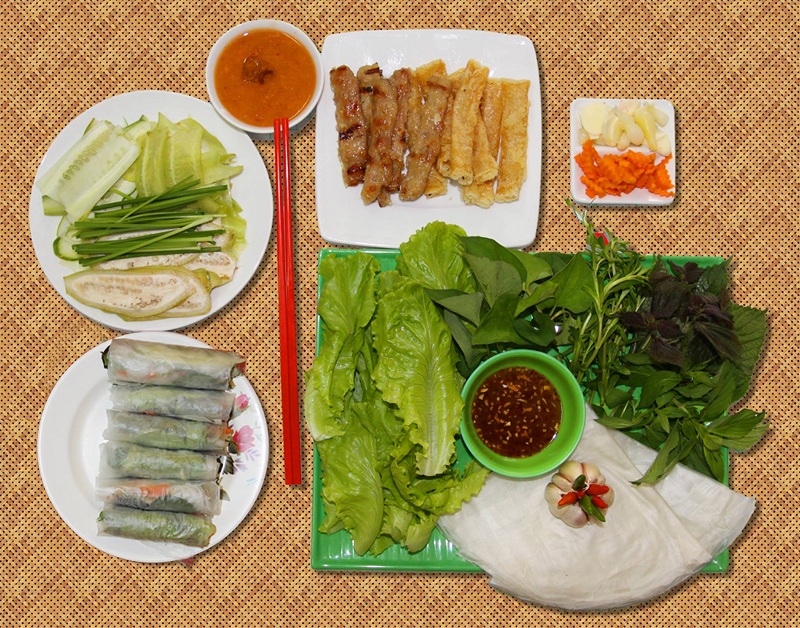 Photo: foodie.com.vn
Address: 20-22 Ly Thuong Kiet Street, Thong Nhat Ward, Buon Ma Thuot City, Daklak
Opening hours: 8.00AM – 10.00PM
Ca Te
One of the specialties that you should try when staying in Daklak is grilled beef with tamarind sauce, exclusively served at Ca Te Restaurant. The tender and juicy beef slices are spreaded over with a layer of homemade tamarind sauce, usually accompanied by onions, tomatoes to increase aroma and avoid being bored when eaten. According to the restaurant owner, tamarind sauce is made from 52 spices and beef marinated with 9 spices. The server will provide you a small stove and cast iron pan to cook by yourself. Besides this special dish, the menu is rich with other delicious dishes such as jellyfish salad, stewed frog with bitter eggplant, and salty fish fried rice.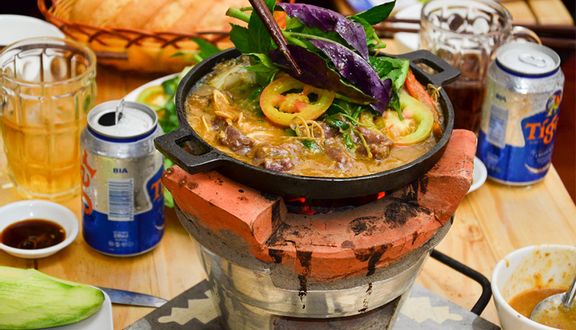 Photo: foody
Address: 140 Le Thanh Tong Street, Tan Loi Ward, Buon Ma Thuot City, Daklak
Opening hours: 9.00AM – 10.00PM
Zone 8
Are you struggling with a dining selection? Or do you want to try as many local dishes as possible? Zone 8 is an excellent choice for a delectable feast with a splendid assortment of food from both local and foreign cuisine. This is a serviced complex where you can find hundred different dishes from several food vendors. Similar to the Time Out Market in Lisbon or Makansutra Gluttons Bay in Singapore, the complex contains dozens of food courts and a shared seating area. You can walk around for a "shopping" to order your favourites, pay and wait until the dishes are served. Not only Vietnamese traditional food is presented, you can find here Korean, Thai or Western highlighted cuisine on the same table.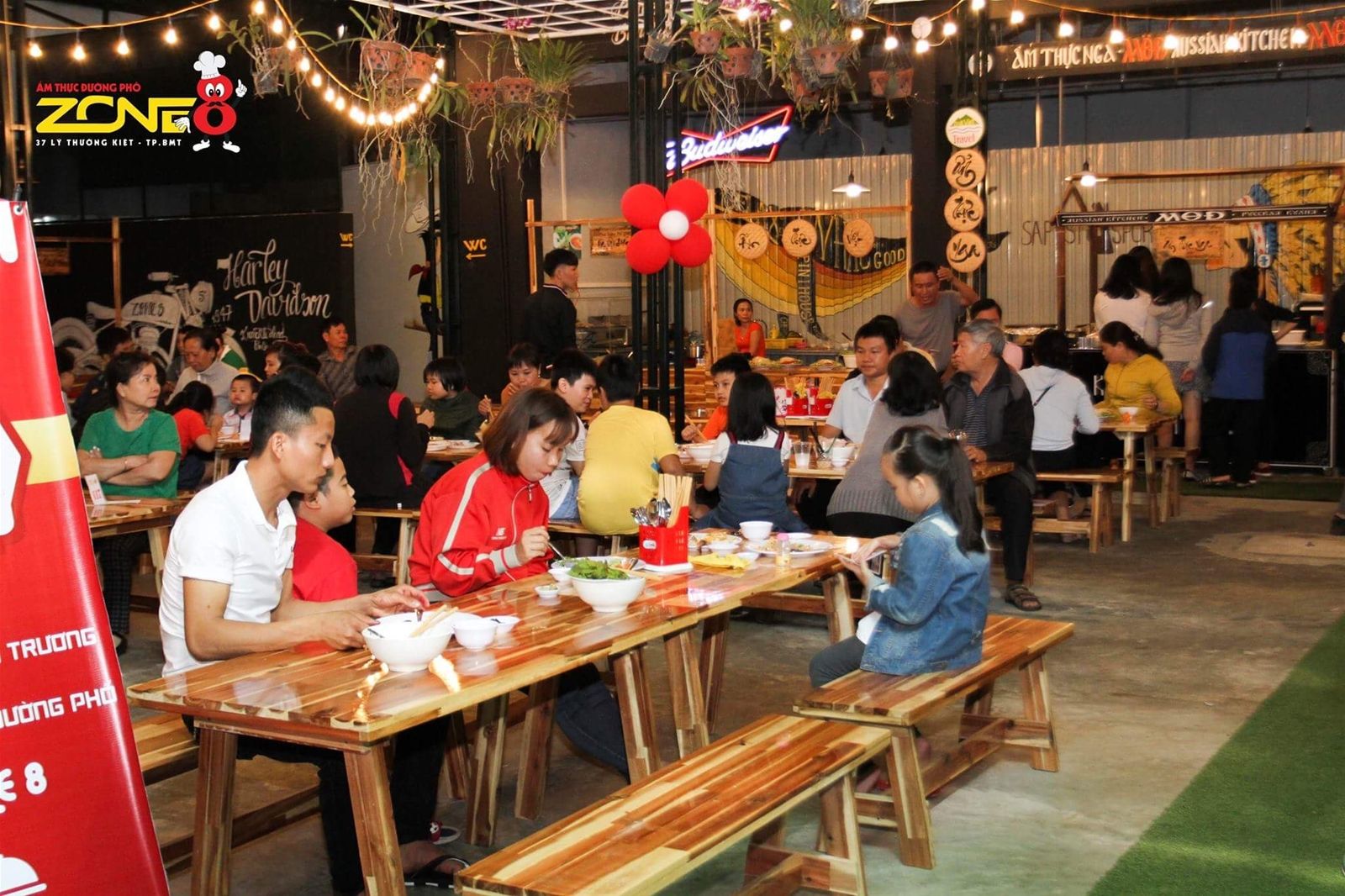 Photo: foody
Address: 37 Ly Thuong Kiet Street, Thong Nhat Ward, Buon Ma Thuot City, Daklak
Opening hours: 6.00AM – 11.00PM
Ban Me Cellars
Featuring the concept of a vintage European wine cellar, Ban Me Wine Cellars create a unique dining experience when combining traditional highland cuisine with exquisite selection of wine. Despite its Western look, the restaurant specializes in typical dishes of the Central Highland region such as local beef salad, grilled ribs, stewed chicken with green peppers, braised venison, etc. All the dishes are marinated in local traditional herbs and spices, bringing the one-of-a-kind taste that you cannot find anywhere else. Great array of wine from all over the world is available to be surprisingly paired with indigenous plates. Apart from the cozy and intimate atmosphere inside, you can enjoy the cool weather of the highland when dining on the rooftop seats after sunset, totally escaping from the city bustling.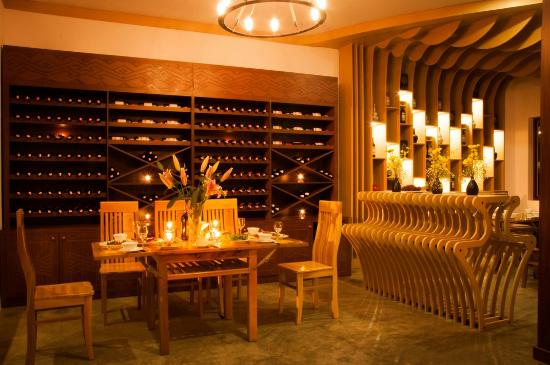 Photo: Tripadvisor
Address: 1 Bui Thi Xuan Street, Tu An Ward, Buon Ma Thuot City, Daklak
Opening hours: 10.00AM – 11.00PM
Phuong Dung Hotpot Restaurant
Beside the highland livestock farms, the great Srepok river is also a home of rich aquaculture, providing an extensive resource for Daklak cuisine. Once you stay in Daklak, don't miss the chance to taste delicious fishery dishes. Sweet and sour hemibagrus hotpot, of the catfish family, is totally a spotlight among several options. In each pot, fresh hemibagrus is served together with vegetables such as mustard green, chrysanthemum, dill, etc. The fleshy, sweet fish slices combining with the refreshing taste of vegetables create a flavorful flow in your mouth. Phuong Dung restaurant is by far the best place for this hotpot with specific techniques and fresh resources of hemibagrus, which will deliver the most genius taste to diners.
 Photo: foody
Address: No 126 Highway 14, Buon Ma Thuot City, Daklak
Opening hours: 8.00AM – 10.00PM
La Garden Restaurant
Sometimes during your trip, if you ever miss the fries and burgers, take a visit to La Garden Restaurant for decent international cuisine. Being the favourite choices of foreign visitors, the restaurant wears a familiar vibe with cozy lights and Western styled decoration. Serving a stumptuous array of both foreign including burgers, grilled ribs, and other local dishes, certainly there is always an option for you. Drinking selections are wide with draft beers, wine, cocktails and great choices of non-alcohol drinks.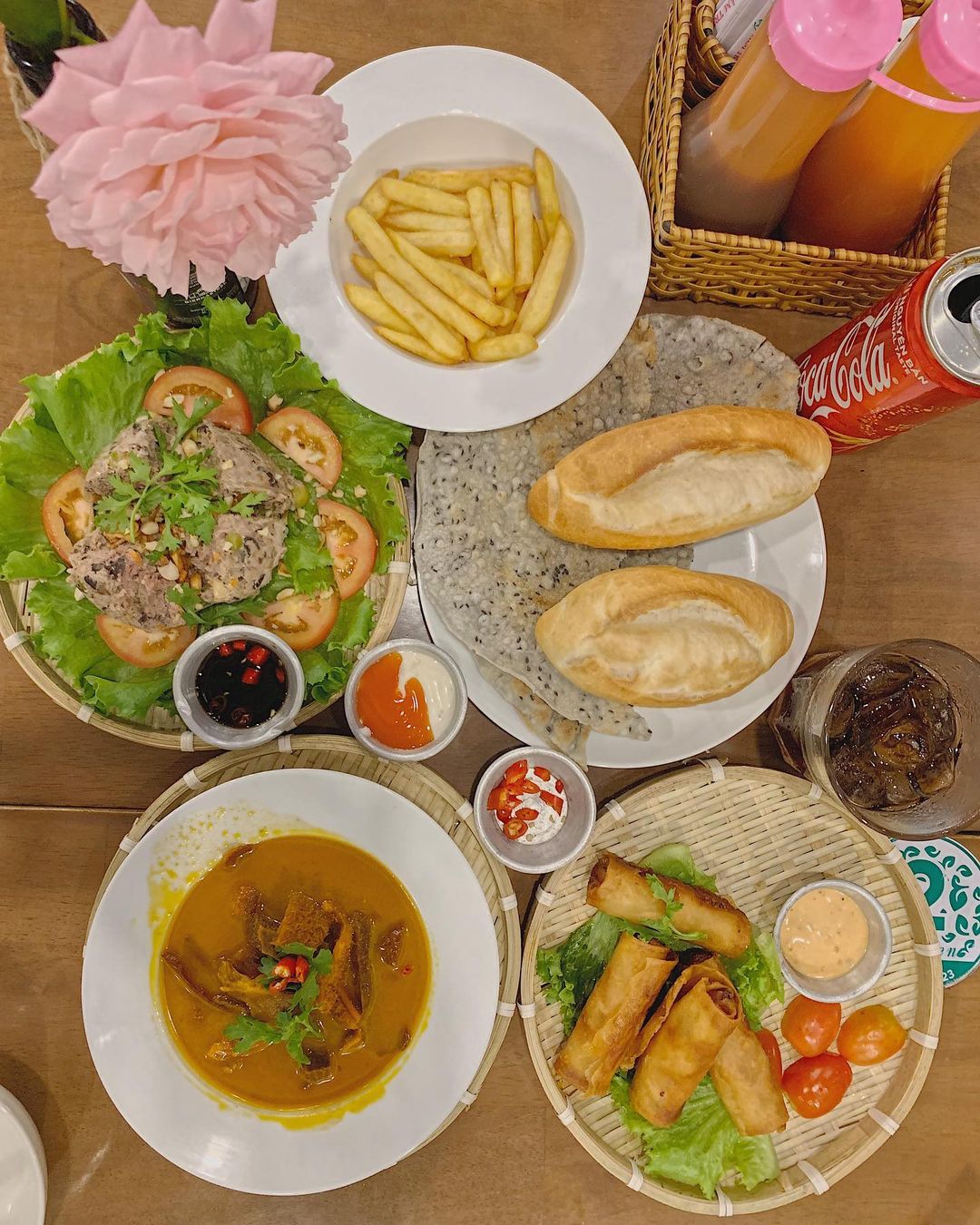 Photo: @iamnhan_timmy___
Available English speaker staff is a plus that would be very helpful in delivering fantastic service as well as providing support for your trip in Daklak.
Address: 55 Nguyen Khuyen Street, Tan Loi Ward, Buon Ma Thuot City, Daklak
Opening hours: 11.00AM – 11.00PM
Conversations (0)
Join the conversation
Conversations
Join the conversation
ALL COMMENTS (0)
There are no comments. Add your comment to start the conversation.
read next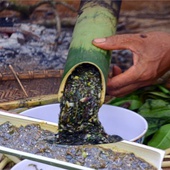 According to the old leaders of the village, Thut Soup is a traditional dish which holds an important position in the lives of the M'Nong ethnic group.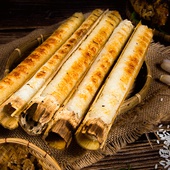 Bamboo Rice is considered as the food that represents Tay Nguyen, because it embraces the most elegant taste of the cool streams and the fragrance of the border-less bamboo forests.