Danang International Airport (DAD)
Location
Danang International Airport (DAD) is located in Hai Chau, a county of Danang city, about 5km from the city center. Though this is the third biggest airport after Tan Son Nhat International Airport (SGN) and Noi Bai International Airport (HAN), it is much smaller in size and volume of arrivals than the other two.
Danang International Airport was built in 1940 and served as an important military base until the Reunification in 1975. As of December 2011, the old airport base was closed and replaced by a brand new building nearby.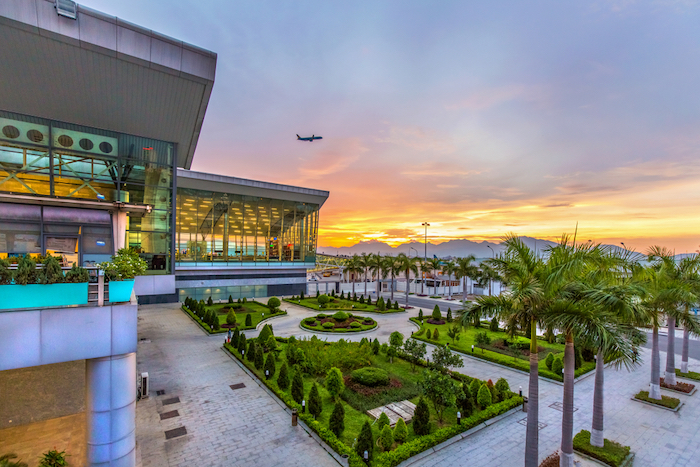 Danang Airport
The new airport currently in use contains two parallel runways with the length of approximately 3,050m each way, which can accommodate larger airplanes such as Boeing 747s, 767s, AirBus 330s, 340s or Antonov 124. With the capacity of six million passengers per year, the new airport has a lot more modern facility and services.
The traffic volume in Danang International Airport is about 100 to 150 flights a day from more than 10 airlines. From Danang International Airport, it is easy to travel domestically to other destinations such as Hanoi, Ho Chi Minh City, Pleiku, Qui Nhon with Vietnam Airlines or Jetstar Pacific.
Along with the domestic airways, there are many international flights, mostly from South East Asia and East Asia, like Seoul – Danang (Korean Air and Asiana Airlines), Guangzhou – Danang (China Southern Airlines) or Singapore – Danang (SilkAir). The airport is expected to receive more flights from popular destinations in adjacent territories such as Hong Kong, Japan or Thailand in the near future.
Shopping at Danang Airport
One of the common features of international airports in Vietnam, including Danang airport, is that these airports are very poor in shopping opportunities. At Danang Airport, there is only one minuscule shopping center at the domestic terminal for departure, which offers some local products for passengers to purchase from convenient products to special products like clothes and accessories or electric devices.
Passengers who would like to acquire some unique souvenirs from Vietnam, souvenir shops are ideal places for them to purchase some. These shops have an OK range of Vietnamese traditional products like special foods, local handicrafts or silk cloth for passengers to bring back to their homeland.
Another area where passengers can do shopping at Danang Airport is international departure lounge where some duty free shops are located. These shops offer some international brands of clothing and accessories, alcohol, jewelry and electric devices. The price at these places is a little cheaper because no tax is added. Still, do not wait until you arrive at the airport to shop.
Dining at Danang Airport
Danang Airport provides some options of light meals and drink for passengers to consider when waiting for taking off or after a tiring flight. Similar to other international airport such as Tan Son Nhat Airport of Ho Chi Minh City or Hanoi Noi Bai Airport, there are few food courts and restaurants inside this airport. On the first floor of the airport, there is one sit-down restaurant named Lucky, offering both Vietnamese and Western menu, along with a few other fast food chains selling sandwiches and quick snacks. Most drinks offered is in packaged option so do not expect much here.
It is strongly recommended that you get meals in the city before departing for the airport. One small tip is that along the road Nguyen Tri Phuong that is half a km from the airport, there are plenty of choices: you can try any of these restaurants, all of which offer authentic Vietnamese dish at excellent quality and reasonable price and thus always packed with the locals. Some recommended ones are: Hong Phuc Rice 164-166 Nguyen Tri Phuong or Ba Bong Restaurant - 112 Nguyen Tri Phuong.
Business Lounge at Danang Airport
Compared to other business lounge at Tan Son Nhat (Ho Chi Minh City) or Noi Bai Internation Airport (Hanoi) this special service at Danang Airport is far less luxurious and modern. However, it still provides additional services for business passengers to deserve their extra payment.
VIP passengers are offered hot dishes though the choices are rather limitted. Passengers who love tranquil atmosphere can have a cocktail at the bar or taste desert on private area. For passengers who want to have a look at their work or deal with urgent cases, working area with modern facilities including Wifi internet and office machine is opened for them to do their jobs. In addition, passengers who prefer relaxing, sleeping area are available for them to use.
From Da Nang Airport to city center
Da Nang Airport is only 5km away from the city center and 8km from the beach resort areas. Taxis are currently the most convenient way to get from the airport to downtown area. You can flag one off as you exit the airport. Taxi rate is about $5 to hotels in downtown Danang and $8 to beach front resorts.
Travelers' Review Of Danang's Airport
The new terminal with modern facilities and more convenient area has brought a whole new change to how tourists are welcomed into Danang. Not only the appearance of Danang International Airport but also its service are enhanced significantly.
Goods:
It does not take passengers much time to find and collect their luggage. The main reason is that there are still limited flights, both domestic and international, arrive at this airport daily, so that the process to check and return baggage for passengers is much more expedited than other international airports in Vietnam.
The airport is located close to center of Danang City with distance of 5 km; hence passengers do not have to be on a long car ride after hours on the plane. This feature is extremely helpful to passengers of late flights as they can quickly relax at their hotels after an exhausting long flight. Compared with beach city like Nha Trang, the close proximity from the airport to the city center is definitely a bonus. There is wide range of cabs for passengers to choose from at the main entrance of this airport. Mai Linh Taxi or Airport Taxi is reputable taxi providers that customers should consider.
Bads:
Limited venues for dining and shopping that leave passengers with very few choice to fill their appetite or luggage case.
Conversations (0)
Join the conversation
Conversations
Join the conversation
ALL COMMENTS (0)
There are no comments. Add your comment to start the conversation.
read next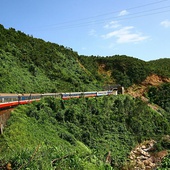 At the middle point of Vietnam, Da Nang is well served by various means of transportation.
It is fairly easy to navigate the city of Da Nang.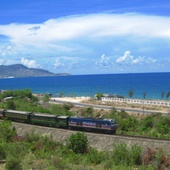 Danang is easily reached by train from other major destinations in Vietnam.