Binh Duong
A fast-paced, booming young city with fabulous recreational amenities.
Binh Duong is a province in the Southeastern part of Vietnam. It borders with Binh Phuoc to the North, Ho Chi Minh City (Saigon) to the South and Southwest, Tay Ninh to the West and Dong Nai to the East.
Back in history, Binh Duong used to be a part of Song Be province, which was divided into Binh Duong and Binh Phuoc in 1997. It was discovered at the same time with Saigon-Dong Nai in the territory expand to the South process led by Nguyen Huu Canh. Due to special historical events, there are up to 15 ethnic groups living in Binh Duong. Apart from the Kinh, the Hoa people are the most populated followed by Khmer and other ethnic people.
Do and See
Though Binh Duong is more suitable for expats who come to live and work rather than to travel, there are still some interesting cultural activities that are significant for Binh Duong province and cannot be missed.
Chua Ba Thien Hau Festival
This is an annual festival, organized on Tet Nguyen Tieu ( January 15th of Lunar Calendar). The festival is quite important among Hoa community not only in Binh Duong but also throughout Vietnam (in Ho Chi Minh City, it takes place in China Town, District 5). Beside the main celebrations held in Ba Pagoda, some sub-celebrations will be on at Bung Market. People join the festival with spiritual belief it will bring them prosperity and luck for the upcoming year. It is not uncommon that people act "borrowing money" from Ba- the Lady. Money is put in a red envelop which is then taken by every pilgrim. It is believed that the money taken from Ba Pagoda, though it is just a small amount, it can bring luck and success and generate much more in business for the new year. For those who borrowed money in the previous year, they can return the red envelop and take the new one.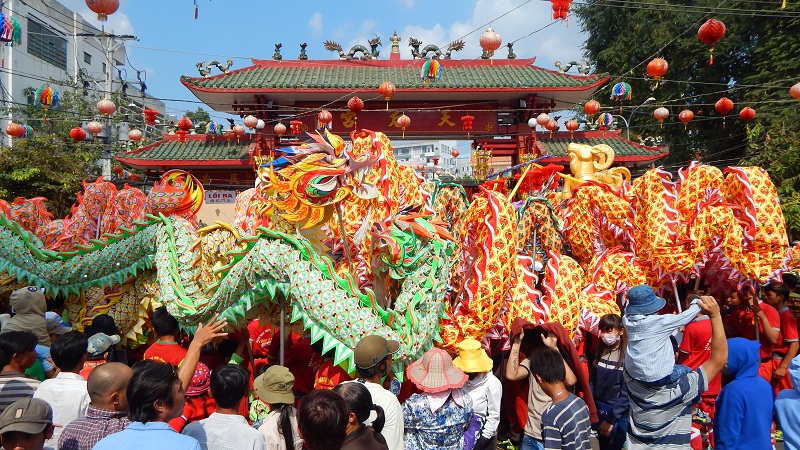 Photo: midori-park.com
Fruit Garden in Lai Thieu
For those who love eating tropical fruits but could not afford a trip to Mekong delta province, Fruit Garden in Lai Thieu can satisfy you somehow. The fruit Lai Thieu is most famous for is mangosteen. Save your stomach and be ready for a fruit buffet in Lai Thieu.
Crafts village
Binh Duong is also famous for skilful craftworks villages: ceramics and pottery, wooden shoe, wood sculpture, lacquer, etc. If you are curious about how to make these stuffs manually, you should pay a visit to Binh Duong Province. Minh Long ceramics, Binh Nham Wooden Shoe village, Phu Tho Wood Sculpture village, Tuong Binh Hiep Binh Lacquer village are recommended places to visit.
Dai Nam Van Hien Theme Park
If you already visited Dam Sen or Suoi Tien and still want to add 1 more place in the theme park list, Dai Nam Van Hien Theme Park should be in. It is much larger than Dam Sen or Suoi Tien. There are also lots of outdoor games which are really suitable for family-travel or picnicking with your friends. However, it has just been in operation for some years, the trees aren't mature enough to shed shadows for visitors when it comes noon. Therefore, it is quite hot at noon and the sun shines too brightly, too. Be sure to wear sun-cream and drink adequate water to prevent dehydration or heat stroke.
Read more about Dai Nam park.


Photo: vietnamdiscovery.com
Eat
Beo Cake at Bung Market
There are lots of dishes you can find at Bung Market. However, Beo Cake with Bi(shredded pork)should be on top of your list. Shredded pork is cooked in coconut juice before being as an add-on to serve with Beo Cake increase the tastiness of the dish.
Besides, you can also try Bun Bi ( Vermicelli with Shredded Pork) or Bi Cuon ( Shredded Pork Fresh Rolls) for variation.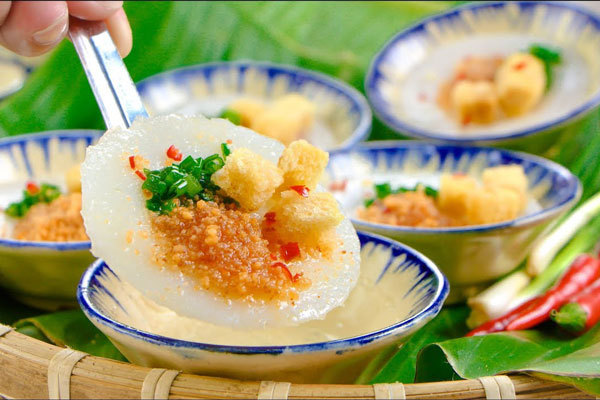 Photo by @ktpham.9564
Bun Tom at Chau Truc Village
Binh Duong is also famous for its unique taste in Bun Tom (Vermicelli with shrimp). Bun is not the same as other kinds of bun you have ever tried in Saigon or other provinces which has been made in ahead of time before you actually eat it. With Bun Tom, the seller only makes and boils Bun right after he/she receives orders. Shrimp is cooked in a special way to enhance your taste, too. Make sure you don't miss the special dish when visiting Binh Duong.
** Cover Photo: Quang nguyen vinh / Shutterstock.com
READ MORE
Weather / Temperature:
30.31°C
Humidity
60%
Wind
2.06 km/h
Sunrise
06:02 AM
Best Of Binh Duong
See, Eat, Sleep, Shop, Stay - The Best of Binh Duong
Vietnam's Most Popular Destinations