Up and Running at 4AM
The gym nowadays has become much more than just about working out.
For the absent-minded travelers who forget to book their hotel and arrive in Hanoi in the early morning, lost and confused, the one and probably only thing to do is watching, and wondering about people who get up at 4am to do exercise. And the big surprise is that number is not a few. To the amazement of many health devotees, this is indeed a people that love to move it.
For once, Vietnamese sure like to get up early. This is one major difference that westerners visiting the country will soon find out. Despite western lifestyle starting to creep into the heart of some young people, the middle-aged and older crowd and many under 30 still like to go to bed early and get up at dawn. Parks in the early morning are jam-packed with people of different ages. Young men glidingly run with their shirts off and teenage girls joyously pass the shuttlecock while men and women in their late 60s calmingly enjoy their morning jog.
Besides the already over-healthy rice-dominant diet, it can be said that Vietnamese are very concerned about exercises too. There are all sorts of makeshift gym around in Vietnam. The most widely-found is guys using home-made dumbbell, pull-up bar and few other gymnastic tools. The trademark creativity of the Vietnamese also kicks in when all sorts of public furnishing were utilized as work-out tools. One can easily spot men doing crunches with their legs tucked behind some stone bench and others pulling up on a tree branch. Such make-due creativity is unorthodox and quite amazing to watch. Despite such exercise being injury-prone, to these energetic young men, the benefit seems to outweigh the risk.
Proper gyms are hard to come by in the country. There are many smaller and low-cost ones which can be found most everywhere, that carry more equipments than those of makeshift nature. The downside is that these facilities often lack certified trainers, have no instructions and it is a game where one is for his own. Most of them are crowed with overzealous young men who hope to gain enough muscles in 3 months to impress women. Many resort to the use of illegal smuggled steroid that passes through inner circles. Some other expensive venues, like the world-famous California Fitness in Ho Chi Minh City and recently-opened Elite Fitness in Hanoi, have stricter rules and also feature higher quality equipments, completed with qualified trainers. Such facilities draw both men and women of different ages and usually affluent nature.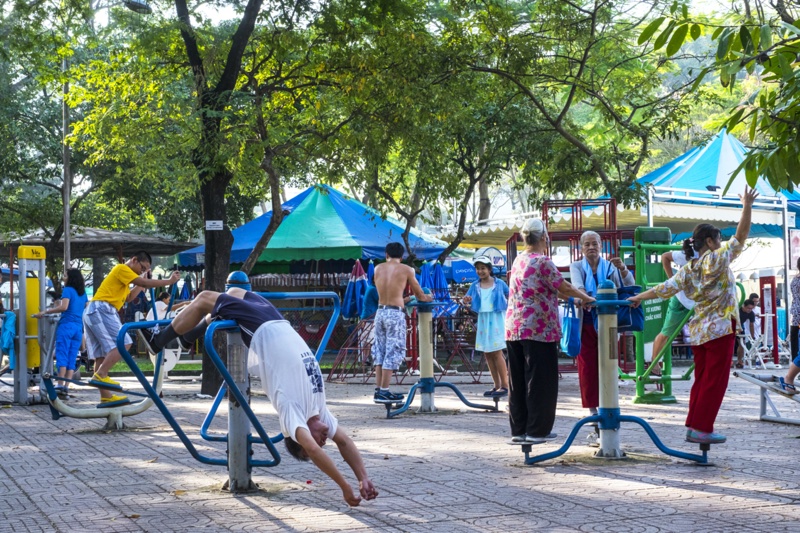 People doing exercise in the park in Vietnam
Besides the obvious choice of going to an upscale center, the women have their low-cost places too. Aerobics is the most common type of exercise for both young girls still in their teen and women of age. The number of aerobics gym once rivals that of men's gym. And there are also the street classes, where dozens of women literally fill the sidewalk and move to the beats of the loudspeaker. Many westerners, and Vietnamese alike, comment on such "fascinating" sight that is very well unique to the country. These days, other types have popped up and drawn in loyal followers. Yoga has gradually gained its prestige through time, but never managed to become the trend. Belly dancing has its golden heyday back in 2009. Now it comes the era of pole and chair dancing. Due to the exotic origin of these types, and facing criticism from the conservative Vietnamese society, practitioners often tend to not disclose their passion. Many simply tell husbands (or boyfriends) that they are "just going to the gym".
Ballroom dancing is also hot among the locals, but this one sees a rift in its followers. While many young enthusiasts prefer vigorous and rather-sexy types like salsa or tango, the middle-aged crowd much enjoys slower and more intimate vibes. Like aerobics, there are the street and the roofed classes. The attendance fees are often quite low. Unlike aerobics, which many do before going to work, most of the dancing is in the late afternoon, when one looks to unwind prior to heading home for dinner.
For the older folks who can not stand the vigor of youth exercises, there is always tai-chi to count on. In the morning, crowds numbered in the hundred gather and practice the ancient art. It is said to improve concentration and overall good health. There are many different tai-chi moves, some are pure bodily movement, while some others feature hand fans or blades. The slower pace allows for precise gestures and is also less physically demanding of the practitioners. This can explain why the older folks are very devoted to tai-chi.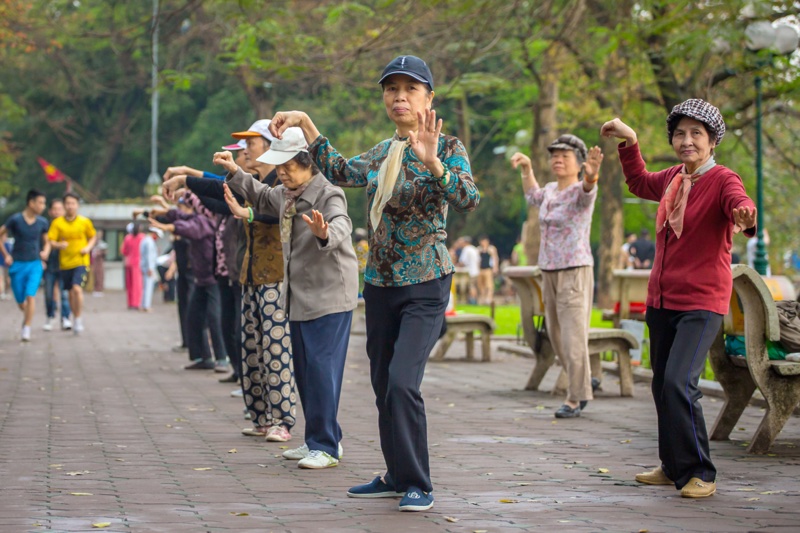 Group of Vietnamese seniors practice Tai Chi
One can decide either to like the idea or not, but everywhere, going to the gym is as much about getting healthy as about meeting and socializing with others. For the youngsters, this one reads "a chance to flirt". It is never difficult to find teenage girls in short skirts toting their racquets just walking around Hoan Kiem lake. As one local playfully puts: "to play with the balls", the track is not always about running. Sometimes it is indeed a "matching" ground, and while it is not an exclusive club for the youth, for the majority of older folks, the many "gyms" in Vietnam occasionally pair up soul mates. Others come to discuss recent events and to check on friends. As Vietnamese tend to stay with the children in their retirement, some retirees come for the comfort and companionship such places offer in their mostly doing-nothing days. The gym nowadays has become much more than just about working out.
With the new western lifestyle slowly crawling into the mind of people, Vietnam will likely see a much divided population when it comes to ways to stay healthy. Yet, one will not need nostalgia to bring back the sight of the old man waving his blade in the morning mist on the shore of West lake any time soon. It is here to stay!
Conversations (0)
Join the conversation
Conversations
Join the conversation
ALL COMMENTS (0)
There are no comments. Add your comment to start the conversation.
read next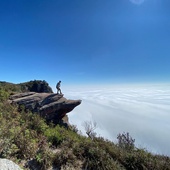 Moc Chau Town is among the top-rated tourist destinations in northern Vietnam brimming with ultramodern and natural sightseeing attractions.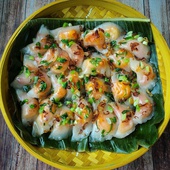 Vietnamese cuisine has long been known as among the most abundant and delicious cuisines in the world.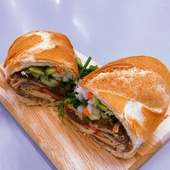 Long queues of Saigoneses, tourists, and shippers in front of the "banh mi" Huynh Hoa shop have long become a familiar scene every afternoon.