Hit me up, Jam me in
Who could expect one of the most dreaded things about one-thousand-years-old Hanoi is that one could get hit by a bus at any moment?
Who could expect one of the most dreaded things about one-thousand-years-old Hanoi is that one could get hit by a bus at any moment?
I came home from years in the United States. I changed, or as my buddies liked to put it, Americanized. It was quite exciting, yet very exotic to be back and again be part of what I was once. I remembered seeing the streets that I once as a teenager sped in on my bike with awe. Definitely not the orderly way Americans drive! In the winter of 2006 alone I almost got hit on multiple occasions by all sorts of vehicle. My driving lessons in Oregon did not prepare me for the swamp of vehicles coming my way or the tail-swaggering women that like to cut across my path once too often either.
Driving a car in Hanoi is like working magic. The 40 km crawling pilgrimage to work that my father undertakes everyday often takes more than an hour, with half spent on the first 10km of the urban jungle. Car drivers often follow rules nicely enough, or face an inexpensive ticket that is more annoying than punishing. It is the mopeds trying to be patties between sandwiching cars that are the real pain. Even skilled drivers find it hard to inch forward. Getting stuck in traffic that only allows moving couple feet at a time can be tiresome and straight out brewing temper. Life just gets easier an hour later when one reaches the office and starts the busy workday. As one descends into gasoline-fuming madness first thing in the morning, then cheers up with nasty office tasks, it is quite surprising the Hanoians manage to keep sane.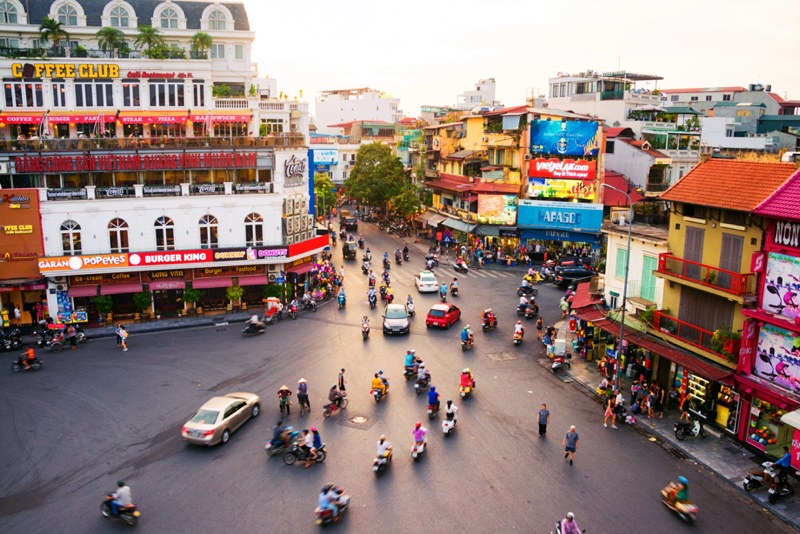 Traffic in the city center in Hanoi
It is truly a mad world of motorbikes gone berserk, where everyone is for his own. Watching from atop, the usual traffic sight of rush hour Hanoi is that of a colony of ants moving through bottlenecks after bottlenecks. That swamp of cars and mopeds going at will and slither into any available space is famously dubbed as an "organized chaos". Somehow for the majority of people it is still doable and we just complain for the sake of it, but once in a while some dude tailgates his Toyota onto some other dude's Hyundai and the two get out and start a verbally abusive confrontation in the middle of traffic and drive everyone else nuts. Sometimes fists and wrenches will start flying, and occasionally one dude will pop the other if the police do not find their way through traffic fast enough to come and intervene.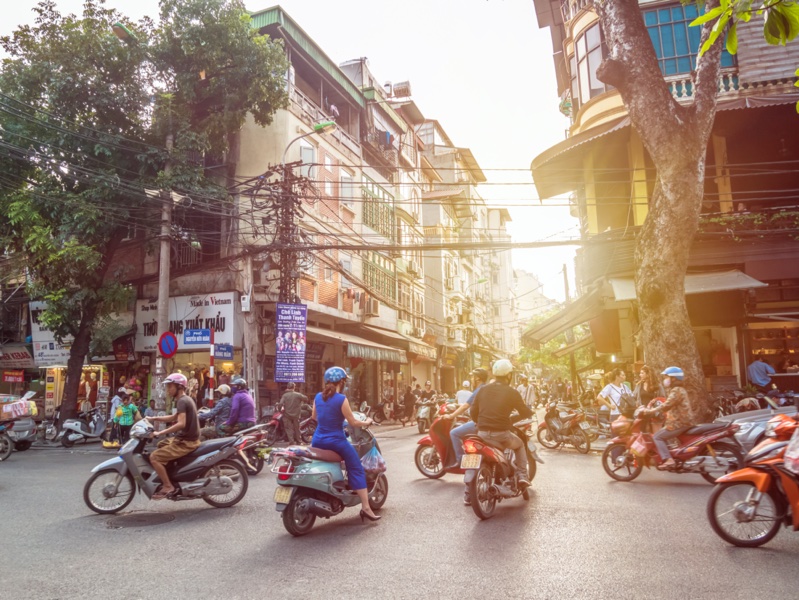 Busy traffic with motobikes in Hanoi
There are problems with even the ordinary moped-riding folks. Some ride well, follow the rules and play safe, but there are the ones that do not have license and those who are high enough to not care about anyone else. And there are the people who simply do not know how to ride for sake. Once too often one sees beautiful young women struggling with their oversized mopeds, whose feet cant even touch the ground.
In short-on-entertainment Vietnam, young people utilize everything they have in hand to have a good time. In this case, cheap mopeds and narrow busy streets are not bad ideas either, as they will make a fat one out of it. Fast and Furious: Veering Thunder is out long before the first one of the series. Back in the early 2000s, the cavalry is basically resurrected as a new version of the legendary SBC and some good majority of this task force is dedicated to stopping street races. The thrill for the youngsters must have been overwhelming, as the heyday of illegal street racing at times sees up to hundreds of bikes going full throttle across most all cities of Vietnam.
Young and foolish enough at the time, however I have never had the courage to actually participate in an illegal race. While it is true that I always have a taste for speed, it is reserved for the highway, not in the middle of busy old town. Those young kids have some meticulous skills to let loose and chase thrill in such a way. While my stock Honda Wave maxes out at around 110 after a shameful 15 seconds on the highway, many of the young daredevils mod their vehicles and bring up the clock substantially. While obviously not a racer, I can still safely assume that I am not a big fan of the busy narrow streets in the middle of thousand-year-old Hanoi. My Harley will see his days on the winding lonely hillsides of the northwest region. On the other hand, certainly there are people that enjoy the busy traffic. The racing sensation is no longer hip these days, but poor loyalists do cling on for its undeniable charm. Now and then one sees some of the foreign nutjobs drunk enough on "bia hoi" join in the fun too.
True to their nature of making due with whatever they have, bystanders make good use of the occasions watching racers speeding by too. Free entertainment for many that is! The top guys have a case here though. While it is fun to watch when all is going smoothly, the very next turn can prove fatal. It is not too common that kids die from accidents, as the police can manage their work well enough, but it can be ugly when it happens. Sometimes pedestrians or bystanders take the hit and entertainment for some just turns into sorrow for many.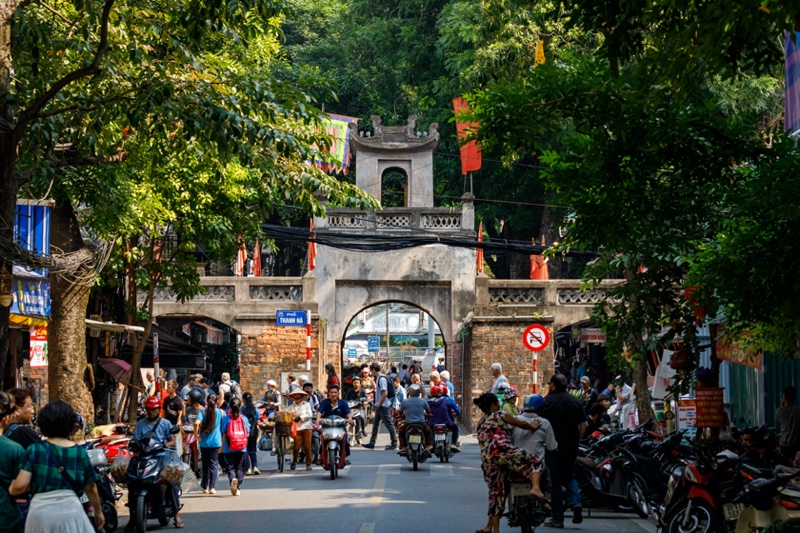 Traffic in Hanoi
Being a pedestrian in the city is pretty much like a quail waiting to catch up with his buddies across the freeway. People do not slam on the brake for quails, and here in Hanoi, people, be them driving cars or riding mopeds, do not stop for pedestrians. Cross at your own risk! Sneak in, slide out, run across, head into, jump for the sidewalk... Do what it takes to get where you want and to keep yourself alive. Think reason, do not trust your instinct and pray. People will try to veer away from pedestrians, but do not count on it! Ask Seymour Papert, the MIT scientist that pioneers artificial intelligence but does not seem to understand the intelligence of Hanoi's motorcyclists. After the late 2006 accident, until this day, he is still in recovery.
Really, don't count on it!
Conversations (0)
Join the conversation
Conversations
Join the conversation
ALL COMMENTS (0)
There are no comments. Add your comment to start the conversation.
read next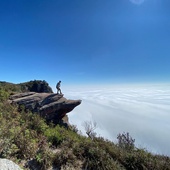 Moc Chau Town is among the top-rated tourist destinations in northern Vietnam brimming with ultramodern and natural sightseeing attractions.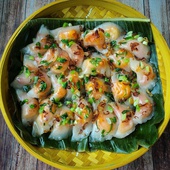 Vietnamese cuisine has long been known as among the most abundant and delicious cuisines in the world.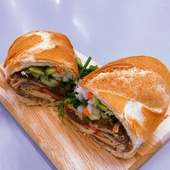 Long queues of Saigoneses, tourists, and shippers in front of the "banh mi" Huynh Hoa shop have long become a familiar scene every afternoon.