Consider A Visit To Halong Bay in 2022? These Are The 7 Best Cruises To Take!
As soon as Vietnam Government decided to remove the COVID-19 vaccine certificates and quarantine requirements for foreigners when entering Vietnam, Halong Bay continues to become one of the hottest travel hubs in 2022.
It comes without saying that Halong Bay is the ideal place for both entertainment-lovers and privacy-seekers. The UNESCO recognized heritage site is just more than 2 hours from Hanoi Capital center and is renowned for the spectacular landscapes of limestone islands and islets, the unique karst formation, rustic life of ancient fishing villages, and varied activities on the water. In order to experience the best of Halong Bay, travelers find no other way but to join an overnight cruise tour with all meals and travel fares included. These are the 7 Best Cruises if you are considering a visit to Halong Bay in 2022 that you will never want to miss out on!
1. Heritage Binh Chuan Cruise
Inspired by the very first ship of a Vietnamese businessman called Bach Thai Buoi over 100 years ago, Heritage Binh Chuan Cruise is reminiscent of the Indochine time in Vietnam. The cruise was built in 2019 with 4 decks including 20 deluxe cabins and all necessary amenities for a comfortable stay. Each room is spacious at the size of 33 - 46sqm and offers a stunning view from the private balcony. There are 4 types of rooms which are Delta Suite, Ocean Suite, Regal Suite, and Captain Suite. If you have a loose budget, Ocean Suites with a bit higher price or Regal and Captain Suite at the front of the cruise will be the best options for you. Another plus is that the cruise has 2 connecting rooms on the second floor which can accommodate up to 4 adults and 2 children, the ideal option for families to share the privacy together.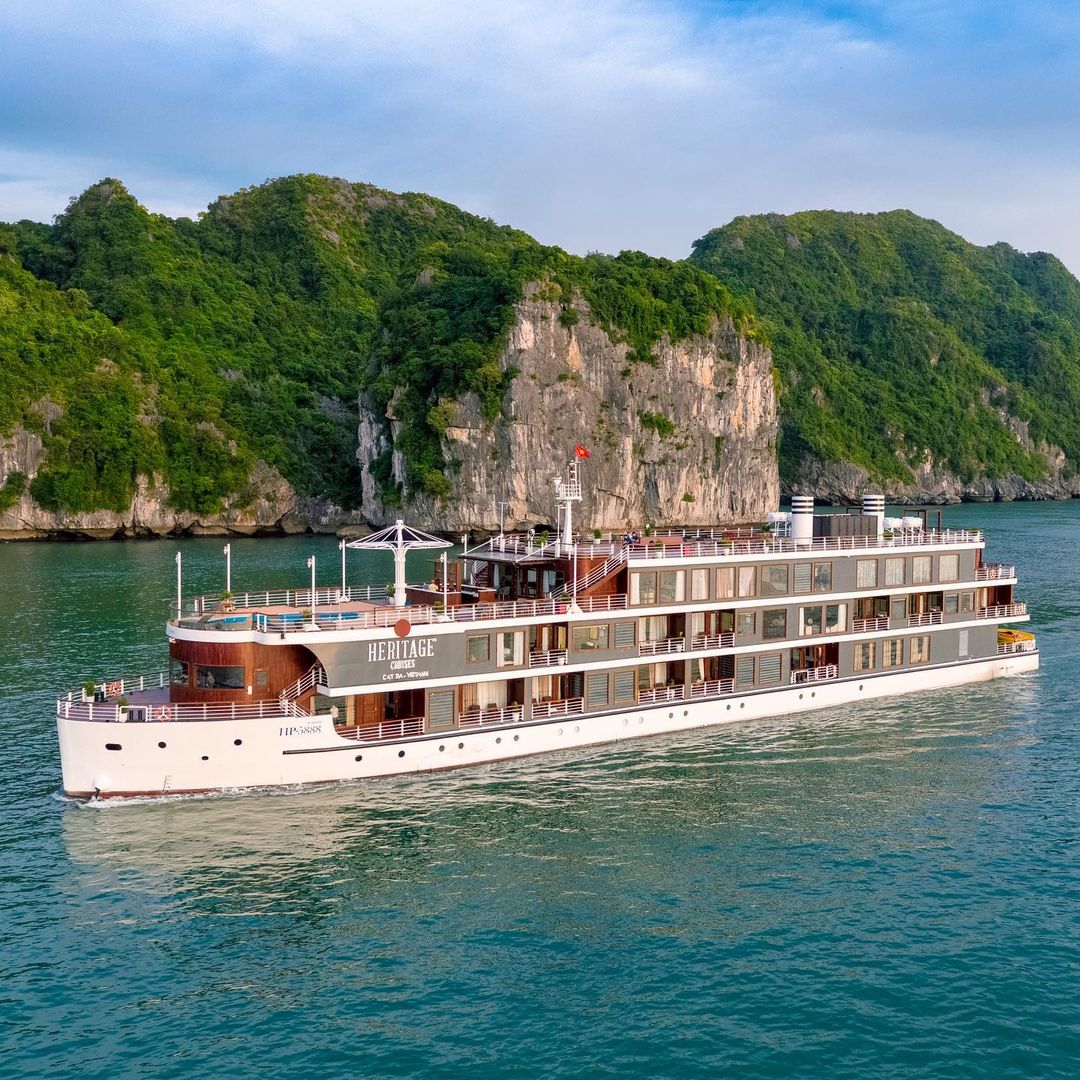 Heritage Binh Chuan Cruise - Photo: @heritagecruises
Heritage Binh Chuan Cruise includes 5-star services and facilities for guests namely a luxury ocean view restaurant, a wine cellar, a lounge bar, an outdoor swimming pool, an art gallery, a piano lounge, and a spa. Guests have a bunch of activities options for 2 days - 1 night or 3 days-2 nights program such as hiking, swimming, kayaking, sunbathing, learning cooking Vietnamese food, riding around the local village, etc.
2. Orchid Premium Cruise
If you are looking for an ultra-luxury with maximum privacy cruise, Orchid Premium cruise is among the top options you should never ignore. Published in 2019, Orchid Premium is the most newly-launched cruise of Pelican Groups - a reputable cruise company in Halong Bay. The cruise has only 5 cabins with an extra-large size from 45 up to 96sqm. All cabins have a private balcony, an ensuite bathroom with a breath-taking ocean view, a large and comfy bed, and no shortage of amenities such as LCD-TV, wardrobe, bathrobes, safe box, desk, hairdryers, etc.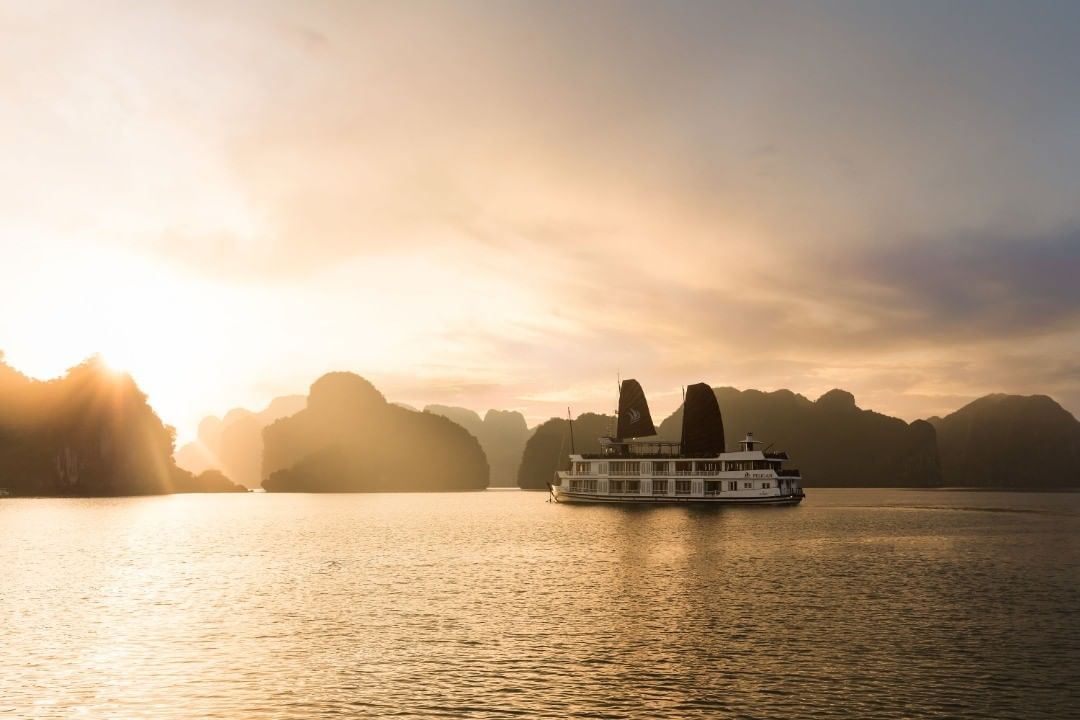 Orchid Premium Cruise - Photo: @orchidcruises.halongbay
Enjoy the perfect luxury when immersing in the outdoor jacuzzi pool on the top deck while watching the speechless view of the bay, savoring the best cuisine from Vietnam combined with international flavors, and enjoy the maximum privacy from your cabin's balcony with some glasses of cocktails. The cruise offers also a deluxe spa and gym for workout exercises and body and beauty care.
With the contemporary mixed with traditional design, the wooden ship brings antique vibes in the luxury traits.
If you are a big fan of kayaking, swimming, or simply relaxing, this is the right choice for you. 
3. Mon Cheri Cruise
Mon Cheri is among the first cruises operating in Lan Ha Bay - the forgotten heaven or the stunning neighbor area of Halong Bay. The cruise departs from Got Pier which is just 2 hours from Hanoi center. Mon Cheri Cruise does not include too many or too few cabins, ensuring to keep the necessary privacy for travelers but still provide an intimate and social atmosphere among guests. The 18-cabin cruise is a combination of Vietnamese features and European elements. Each cabin is large at around 40 - 70 sqm size and includes a private balcony and ensuite bathroom. The cruise makes your experience more complete with a large window in order for you to wake up with the sunshine and go to sleep with the romantic ocean view.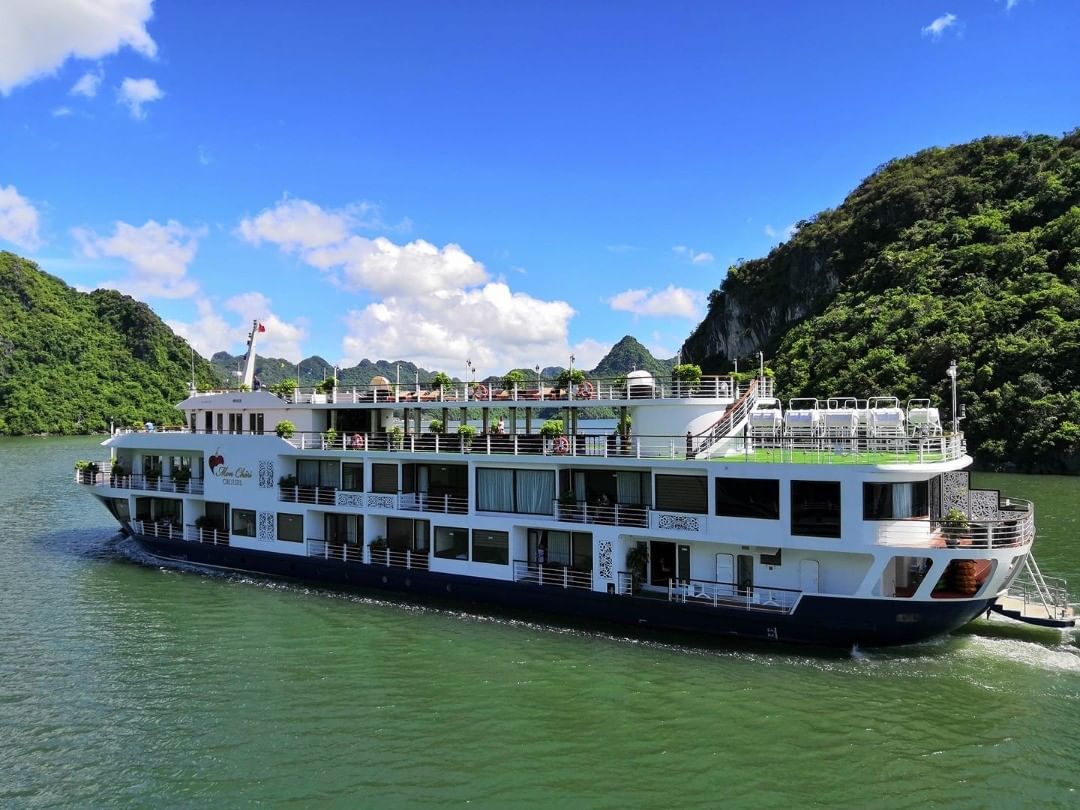 Mon Cheri Cruise - Photo: @moncheri_cruises
A swimming pool with an artificial waterfall, a mini-golf course, a spa and gym, and a spacious restaurant is all you need for an entertaining vacation. However, kayaking, swimming, cooking demonstration, or squid fishing are other activities that you would absolutely enjoy.
4. Scarlet Pearl Cruise
Like the pearl on the ocean, Scarlet Pearl Cruise promises to win your heart from first sight. Launched in 2019, the ship is covered by a striking white color and has a modern design. The cruise takes the theme "pearl farming" from the local life on Halong bay to bring an elegant design and a second-to-none cruise experience to travelers.
23 cabins are categorized into 4 types full of state-of-the-art amenities. The standard cabin is 28sqm while the most luxurious one is up to 150sqm in size. The floor-to-ceiling windows are in addition to an open private balcony, surely providing you with the best view of the vast ocean.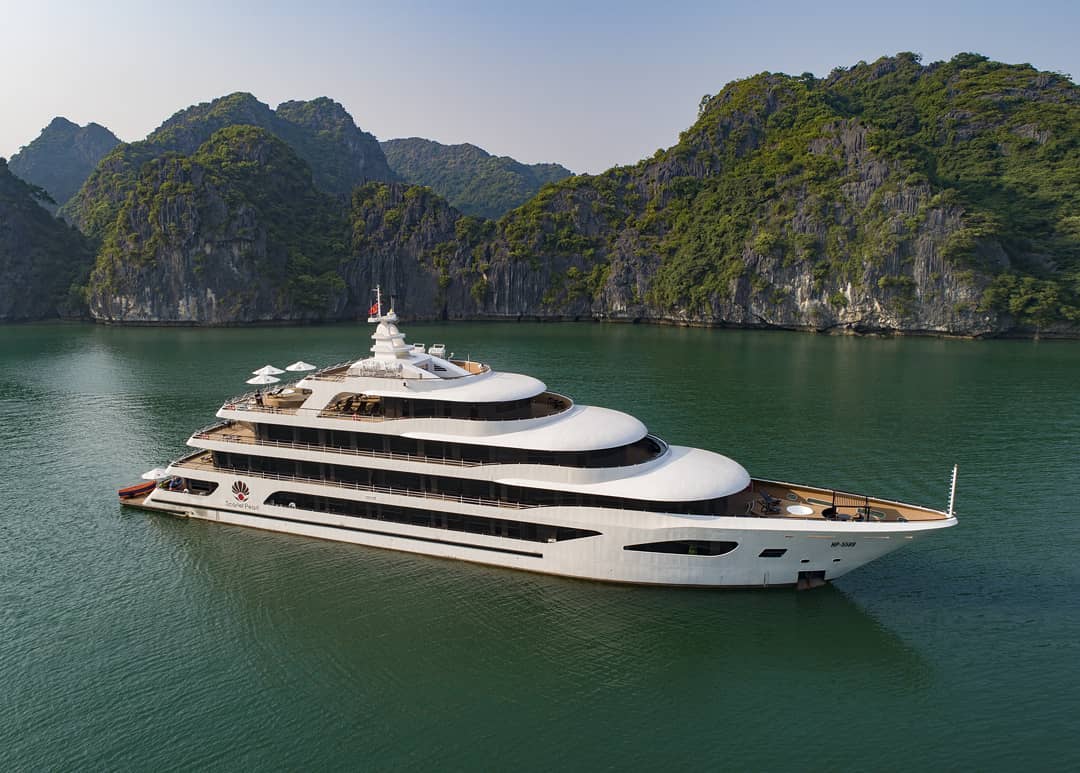 Scarlet Pearl Cruise - Photo: @scarletpearlcruise
Let Tahiti restaurant treat you to sumptuous meals on the 3rd deck of the cruise. What is better than savoring the Vietnamese mixed international cuisine made from the freshest ingredients while watching the beauty of the bay. You can not refuse restful moments at Akoya Spa where your body and mind will be rejuvenated. A Pearl Museum makes Scarlet Pearl apart from others. You can witness delicate and beautiful pearls made by the locals and learn about traditional pearl farming here.
Besides a bunch of things to try onboard, don't miss out on off-board activities that you would definitely be excited about. A trip to Dark - Bright cave by kayaking or simply enjoying the peace on the bamboo boat rowed by a local. A dip in the seawater at an untouched area to swipe all stresses away. That would be the highlight of your trip to Vietnam.
5. Indochine Cruise
The name "Indochine" has partly revealed the concept of the cruise. Featuring the Indochina style, the cruise amazes travelers from exterior to interior, the sophisticated decor of the wall, the corridor, the restaurant, and the guests' rooms. 
There are up to 43 cabins with multiple options for single, couples, or families. Each cabin brings travelers to the old-time but still puts the comfort of travelers on high priority with modern amenities. Ranging from 32 to 80sqm, you can relax with a soft cushion on the bed, ensuite bathroom, a private balcony for natural indulgence, and many others.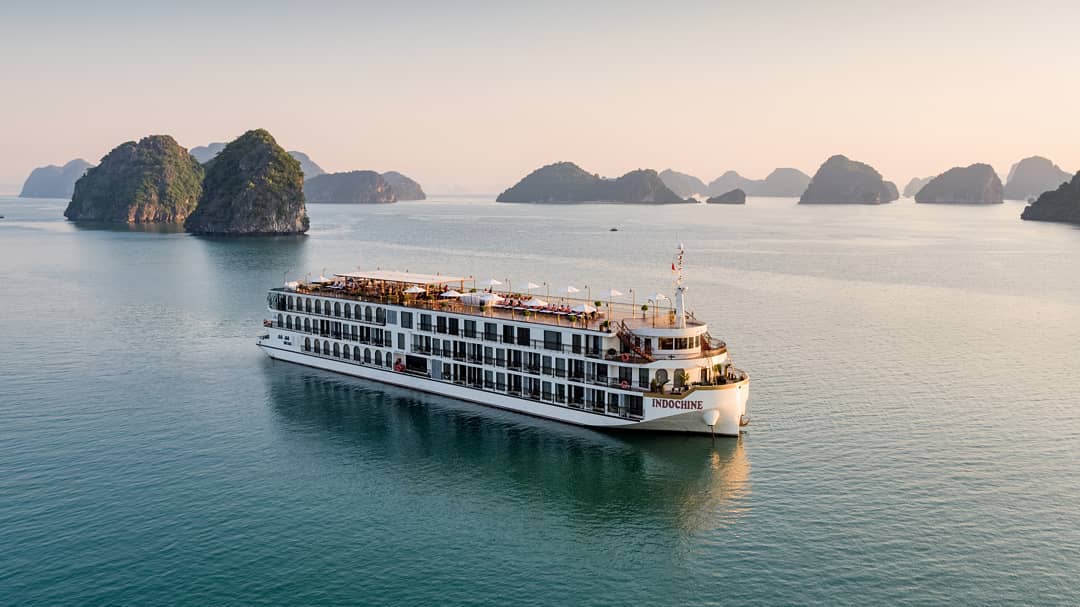 Indochine Cruise - Photo: @indochine.cruise
The 5-star steel boat also has a gym and spa where you can stay fit during your vacation and pamper yourself in massage treatments.
Indochine Cruise brings you to the most untouched area where you can immerse in the pure nature, feel the cool sea breeze, swim in the blue jaded water, and kayak through caves. A biking tour is very interesting to see a rustic village on Cat ba island. Otherwise, an electric car is available for you.
6. Ambassador Cruise
Debuting in 2018, Ambassador Cruise is likely a miniature floating hotel on Halong Bay. Among the biggest cruises on the bay, Ambassador Cruise includes 46 high-grade cabins in 5 decks. The highlight of the cruise must mention a 2-storey sundeck which maximizes the unwinding space for travelers and give a better view of the bay from the higher position. 
Ambassador Cruise - Photo: @ambassadorcruises
The cruise is renowned for its top-notch gastronomy. With a unique menu and experienced chef, the cruise has always been highly rated by former travelers.
You can enjoy relaxing moments with a glass of wine in the ocean-view jacuzzi pool at sunset time, join the yoga session in the early morning, try making Vietnamese food, or try your luck with squid fishing in the evening.
Ambassador gives travelers a chance to discover the biggest and most beautiful cave in Halong Bay called Sung Sot Cave ("Surprising" cave), hike to the top of the Titop island to watch a 360-degree view of the bay and kayak in Tung Sau Village area. The itinerary promisingly keeps you excited for the whole trip.
7. Capella Cruise
Capella Cruise is among the newest ships on Halong Bay and Lan Ha bay that promises a 5-star journey with the most updated services. Operated since 2020, the cruise attracts the most hardened travelers with its varied onboard and offboard activities. Some of the onboard activities that you hardly find in other options such as soaking in a 4-season swimming pool & jacuzzi, enjoying the floating ocean pool and inflatable water slide, playing mini-golf, having fun with friends in Cigar and Poker Club. Besides, a well-organized itinerary includes many off-board activities namely kayaking, swimming, sitting on a sampan boat to visit the cave, or biking.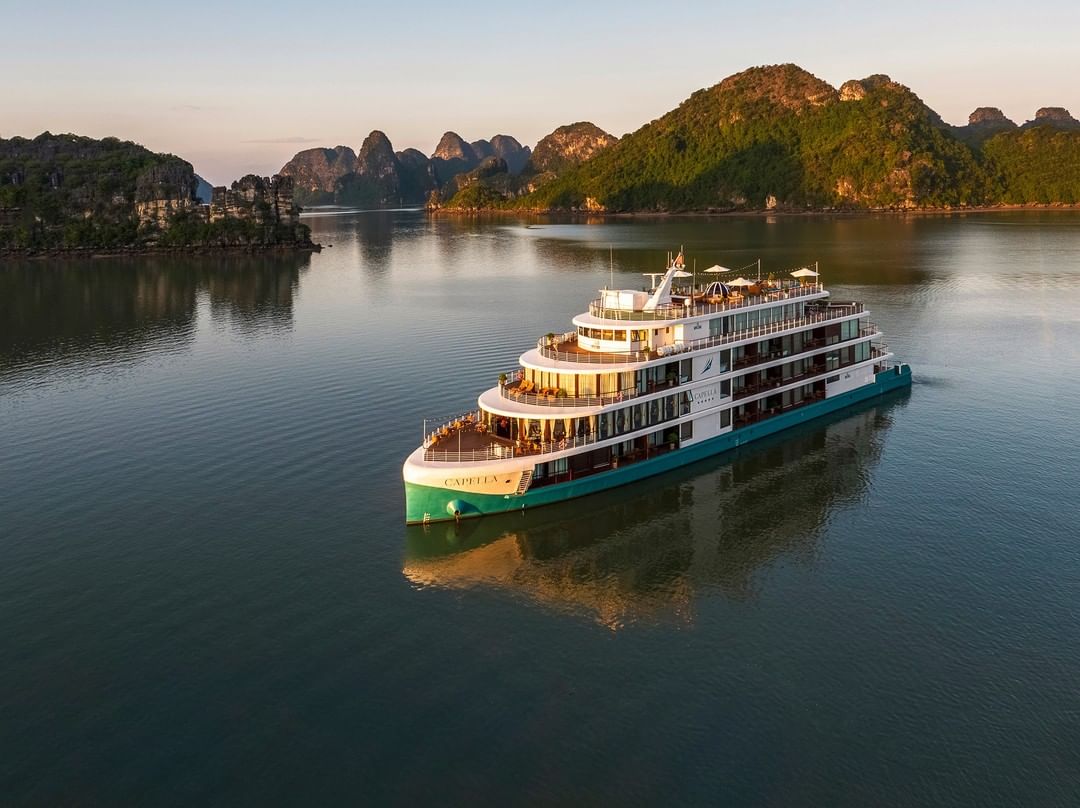 Capella Cruise - Photo: @capella_cruise_official
Capella Cruise features an elegant retro design but is full of modern facilities placed in 6 decks. There are a total of 30 cabins with full-sized windows and a spacious private balcony in each. Harmony of the Sea Restaurant is located on the 2nd deck while Spirit of the Sea Lounge is on the 4th one. Not just activities, the featured gastronomy is also a highlight of the cruise that every guest loves.
Whether you prefer a relaxing trip with all luxury amenities or a full-activity program to discover Halong Bay and Lan Ha Bay, Capella Cruise fits you at best.
Conversations (0)
Join the conversation
Conversations
Join the conversation
ALL COMMENTS (0)
There are no comments. Add your comment to start the conversation.
read next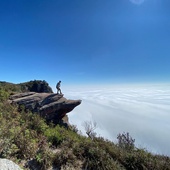 Moc Chau Town is among the top-rated tourist destinations in northern Vietnam brimming with ultramodern and natural sightseeing attractions.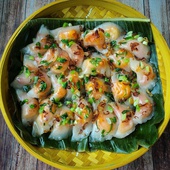 Vietnamese cuisine has long been known as among the most abundant and delicious cuisines in the world.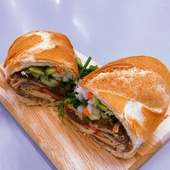 Long queues of Saigoneses, tourists, and shippers in front of the "banh mi" Huynh Hoa shop have long become a familiar scene every afternoon.