6 Flavourful Wraps For a Taste of Ho Chi Minh City
With their only similarity lies in the large number of green contents, however the following dishes are favorite snacks of many Saigonese, for their delicious and healthy take.
Cá Lóc Nướng - Hay-grilled Whole Snakehead
The first one on our list is the very proud staple of southern dining. Enthusiasts will tell that this comes hand in hand with their rice liquor. It is among the very first dish of early settlers of the marsh land.
The recipe is rather easy to make: impale the poor living fellow with a bamboo stick, head to tail, put it in the hay (or other dry plant leaves) fire, keep turning until the scales are burnt to a dark ashy black. Remove the beyond-recognition scales and enjoy the steamy smoky tender, firm textured white meat.
This dish is best served with tamarind fish sauce, with a few slices of red hot chili pepper. The meat is wrapped in with a variety of different local vegetables. One can choose to add in or leave out a few according to his taste. Some of the veges are baby mango slices, bean sprout, star fruit (rather a must), green early banana and other condiments.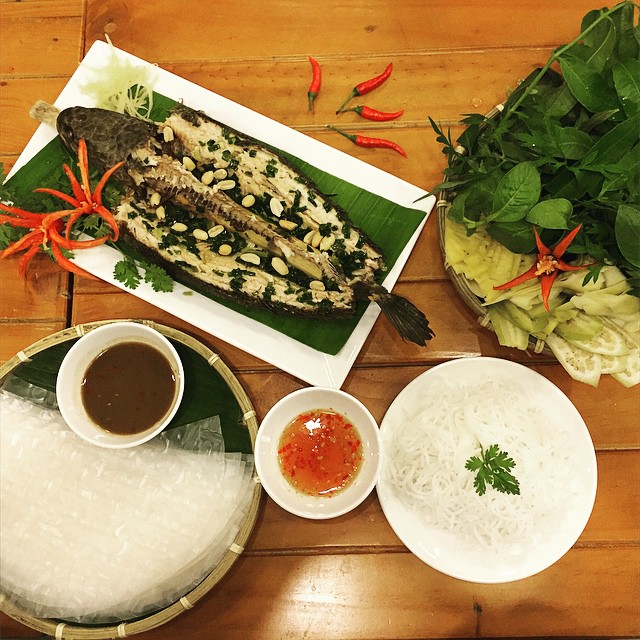 Ca Loc Nuong - Photo: @loveoffoods
Bò Bía - Vegetables and Sausage Wrap
A typical "bo bia" cart is rather simple, since the ingredients are modest to say the least: string-cut jicama, varieties of herb, Chinese sausage and dried shredded pork. Vendors often push their carts out and about in most every corner of Ho Chi Minh city. People can dine on the street, or buy couple rolls for the midday snack. With its seemingly nutrition-scant filling, one may take quite a number before realizing too late that he has just spoiled his dinner. Perhaps the dipping sauce has something to do with that mindlessness: it is a golden mix of the trademark sauce with nose-tempting fried shallot and crunchy finely roasted peanuts.
The snack is common and can be found most everywhere, but students do have quite an appetite for it, so seek them out for the best chance of satisfying a sudden crave.
Note that "bo bia" means a totally different snack in the north, which has nothing in common with the southern type.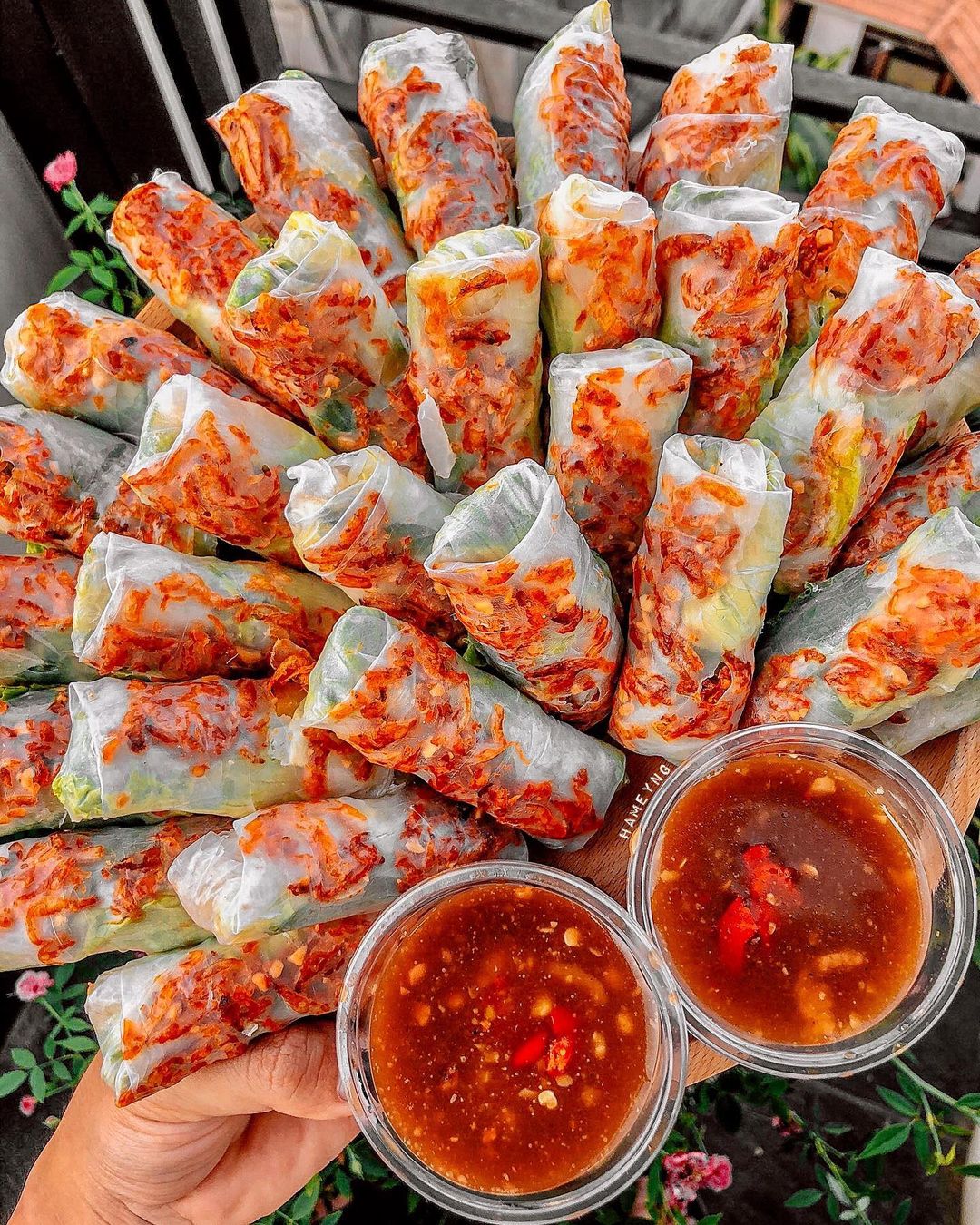 Bo Bia - Photo: @hetmydiscovery
Gỏi Cuốn - Fresh Summer Rolls
Goi cuon is what it is mostly known for, and the snack's name will probably soon follow "pho" into becoming an international staple. It is a cold snack that is often made en mass and served cold. There is no need to go further describing the heavenly taste of goi cuon, with its fresh whole shrimp and the biting texture of pork. It is one bite to remember for one life.
There are two types of dipping sauce, but how anyone can ditch the soul-defining peanut butter sauce for the common fish sauce is beyond one's imagination. It is not an overstatement that for all the goodness goi cuon manages to pack in, it is the peanut sauce that is the soul of the dish. It brings out the light in the indulgent neurons, opens up all the flavors and combines all that is onto a match made in heaven.
Just please remember to spare the main course! The roll is only meant to be a snack/appetizer.
Where to find one? That's about as tough as finding a place that carries pho.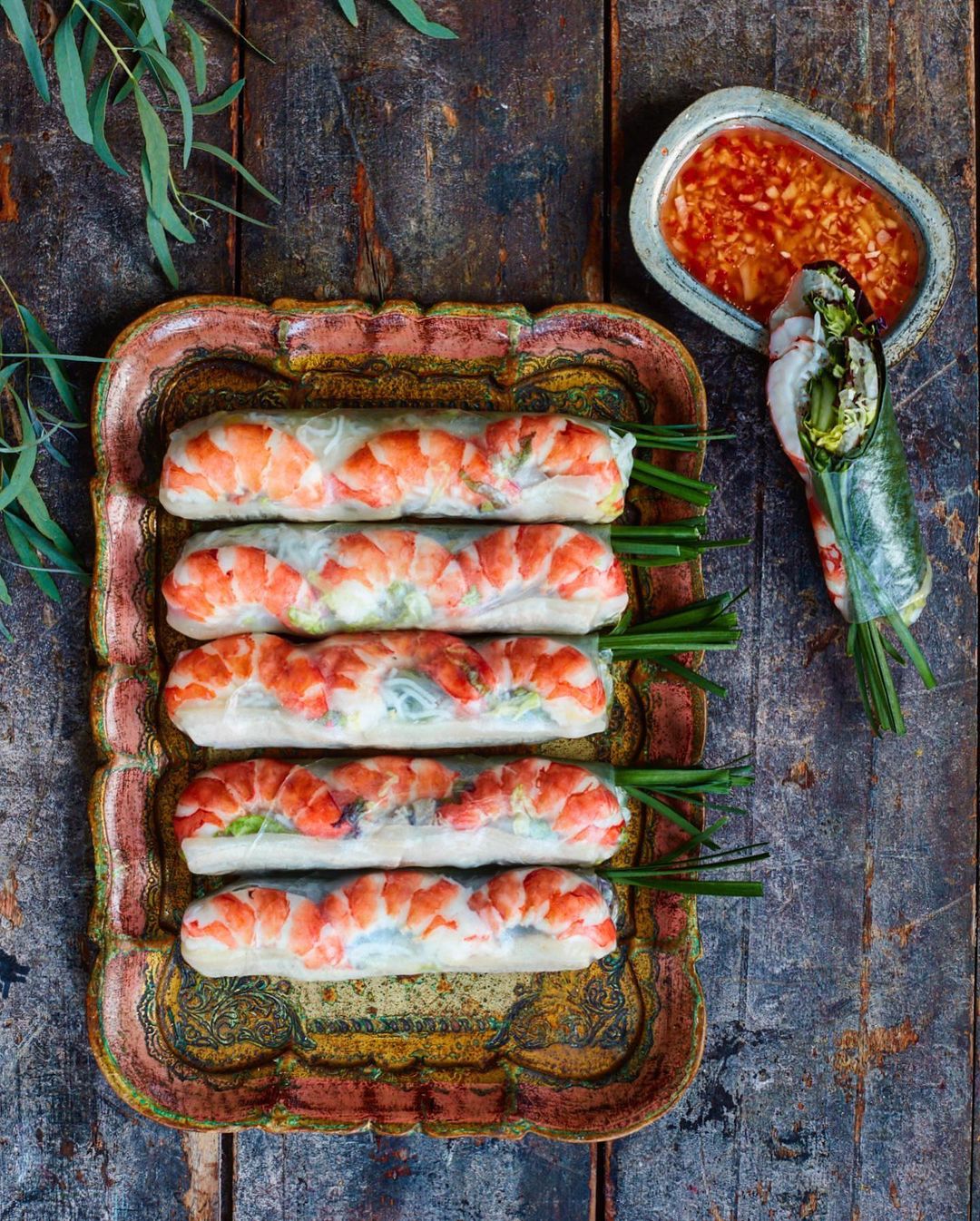 Goi Cuon - Photo: @chef_thuy_pham
Bánh Xèo - Pan-fried Rolls/ Vietnamese Crepes
There are couple varieties of this fried roll in Ho Chi Minh city, from the authentic native to the central types. A good bánh xèo has a thin crunchy fried outer wrapping, uniformly golden yellow in color. Its shrimp and pork filling is nicely done, but the bean sprout must still have that soft and juicy freshness. The sprout cools down what Vietnamese otherwise judge as a combination of "hot" ingredients – ones that pack much fat and protein.
One wraps bánh xèo in rice paper with a good number of other fresh uncooked herbs, including the all too familiar lettuce. That will definitely cool down all the cholesterol just right.
For locals, the dipping sauce sometimes may just be what either makes or breaks a bánh xèo. Each vendor has her own secret of the trade, and probably will not tell a stranger anytime soon. Generally speaking, it is a "right" combination of fish sauce, coconut milk, vinegar, sugar, chilly pepper, garlic and lemon… give or take a few? First timers will probably just "wow".
Recommendation: Ăn là Ghiền, Mười Xiềm restaurants are popular banh xeo chains in Ho Chi Minh City.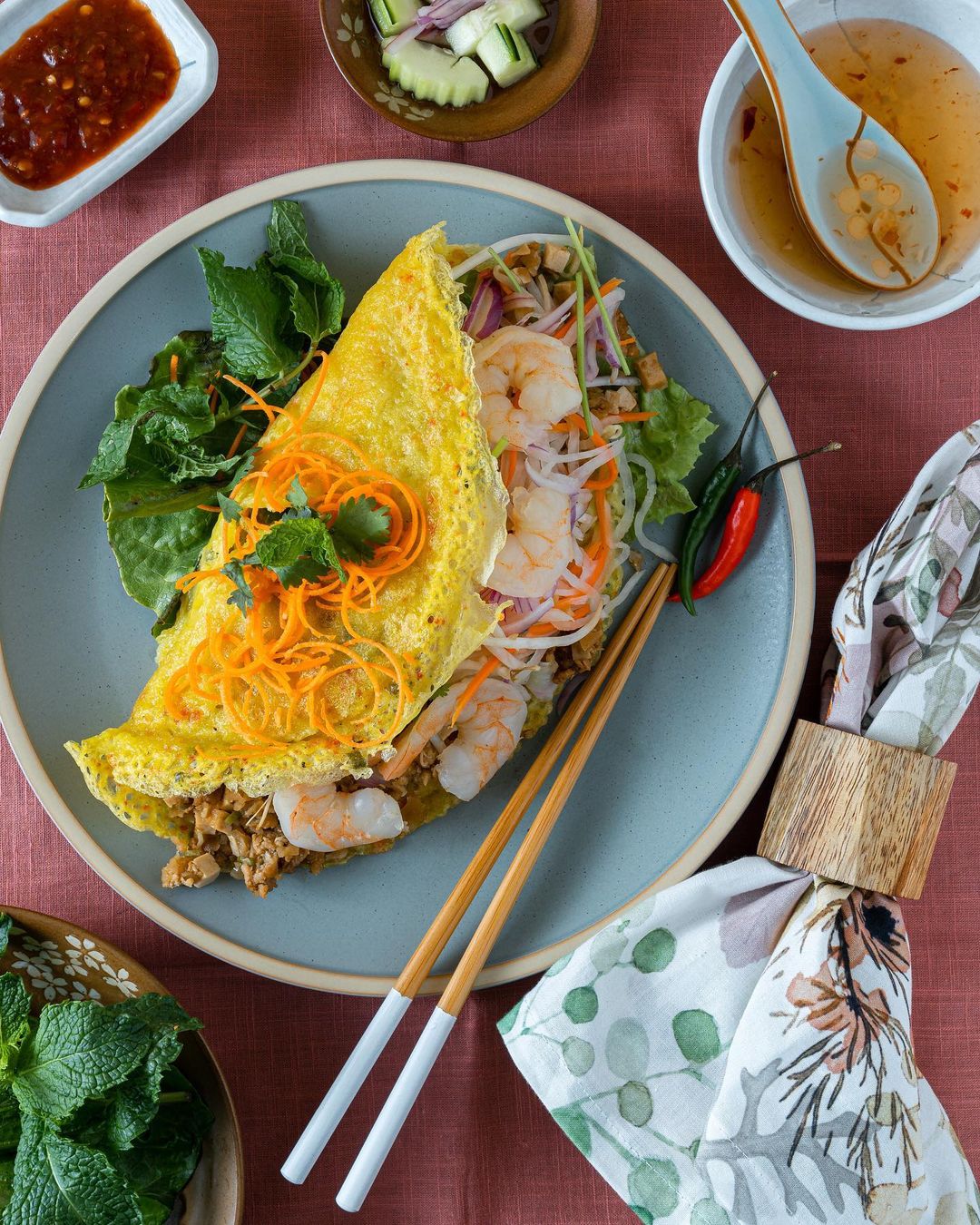 Banh Xeo - Photo: @wanderingchopstix
Nem Nướng - Coal- BBQed Pork Rolls
There are also many types of BBQ nem in Ho Chi Minh City, ones that originate from Long An, Nha Trang, Ninh Hoa and so on... each with its own uniqueness. The core nem from competing brands can taste slightly different here and there, but not entirely off, since it is the soul of the wrap. Herb varieties mostly stay the same, and make up the majority of the filling indeed. It is another "mostly cool" snack, but note that nem is also the most processed on the list.
Chefs will not roll this for diners, so prepare to master the art! The good roll is tight, seamless and packing in all the good stuff.
This is a favorite drinking snack, so seek out the boozing crowd and join them.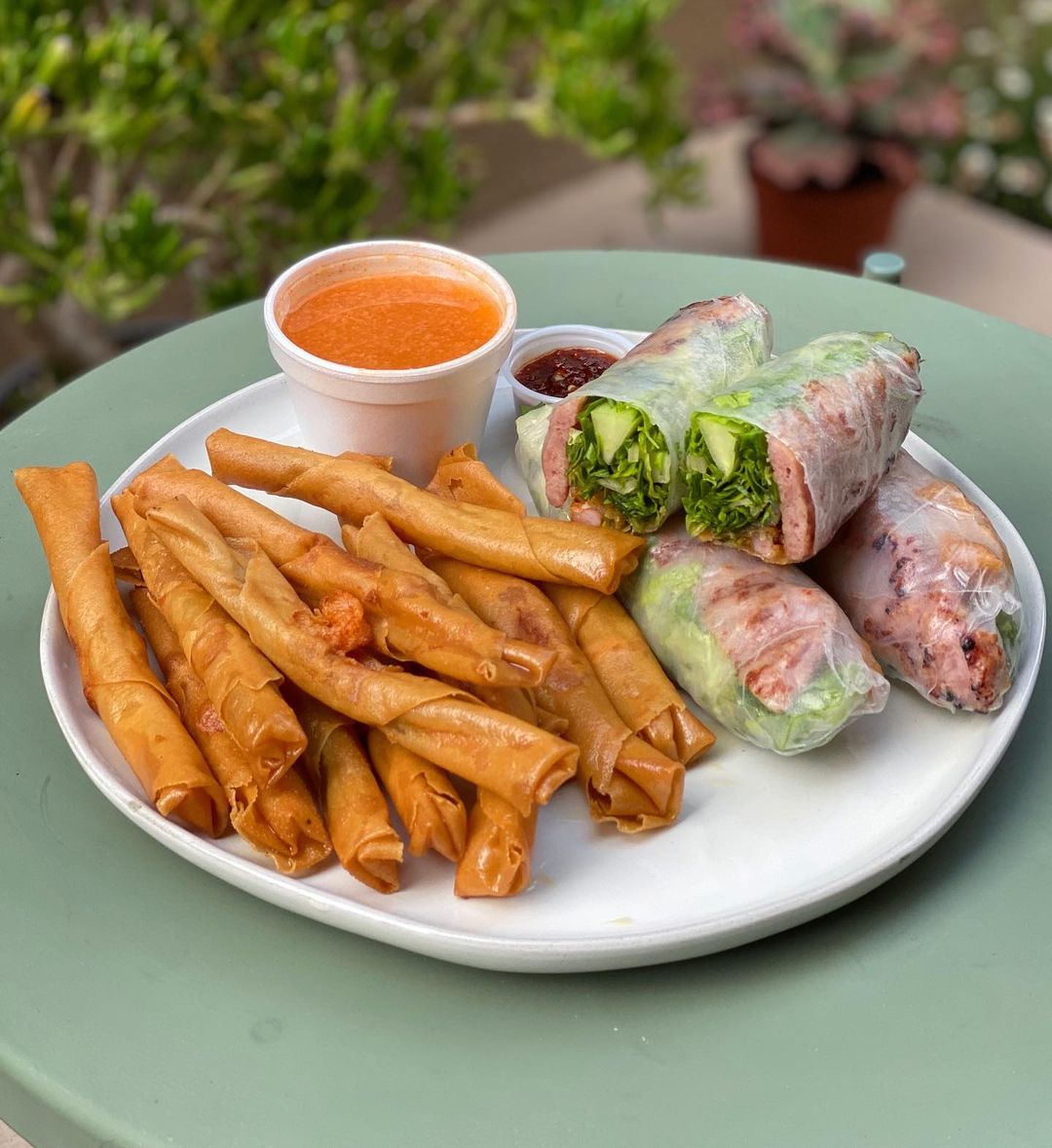 Nem Nuong - Photo: @foodmento
Thịt Heo Cuốn Bánh Tráng - Trang Bang Rolls
It happens elsewhere, but miracle is born in the small forgotten town of Trang Bang, Tay Ninh province. No one comes in town without trying it, and it is indeed the sole purpose of many people to come in the first place. The roll is utterly simple to make, but it is still more common in the southern land since many of the ingredients are only native here. It consists of thin slices of non-fat pork, varieties of herb and the famous wrap which the rolls take its name from. It is rumored that Trang Bang folks know best how to make rice wrapping, and their secret recipe is kept under watchful eyes.
To tell to truth, every ingredient of the dish is rather dull and nothing to get excited about. Some herbs are almost inedible if consumed alone. But to put every single one of them into a complete roll, the combination opens up the senses! It is a sudden explosion that seems to wake even the long-slumbering taste buds. It is as if the door to another half of those unused nerves has been busted open, unable to stand the force of the flow of saliva.
Well, that is a bit much, but do trust that it IS good!!!
Go to Trang Bang for the authentic experience. It is a little further away from Cu Chi tunnel. You will not regret the trip!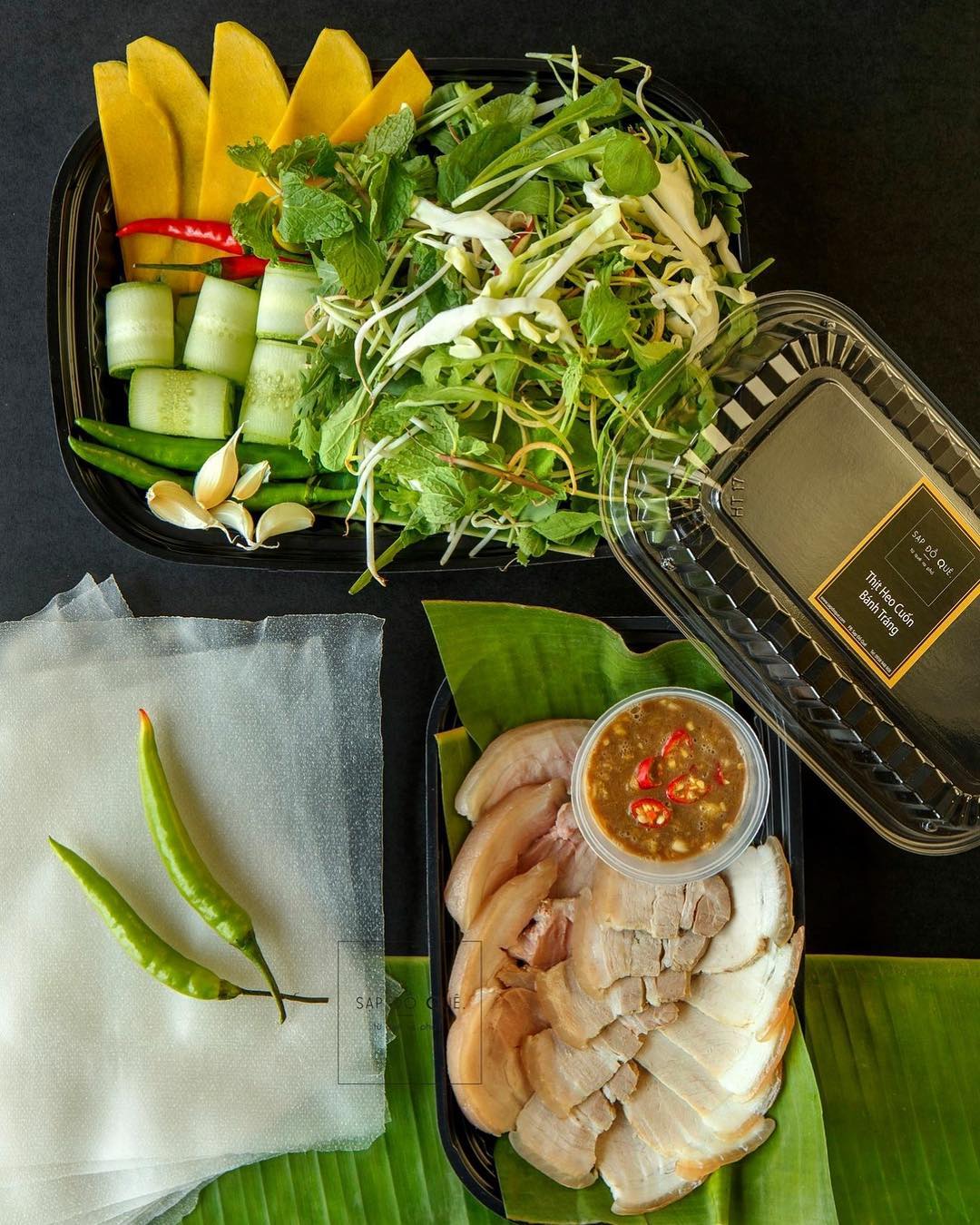 Thi Heo Cuon Banh Trang - Photo: @tra_huynh
Conversations (0)
Join the conversation
Conversations
Join the conversation
ALL COMMENTS (0)
There are no comments. Add your comment to start the conversation.
read next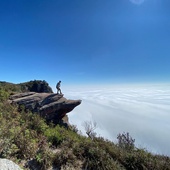 Moc Chau Town is among the top-rated tourist destinations in northern Vietnam brimming with ultramodern and natural sightseeing attractions.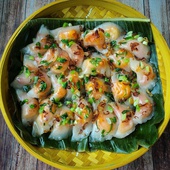 Vietnamese cuisine has long been known as among the most abundant and delicious cuisines in the world.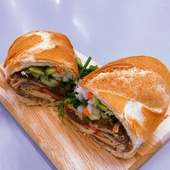 Long queues of Saigoneses, tourists, and shippers in front of the "banh mi" Huynh Hoa shop have long become a familiar scene every afternoon.