The 5 Halong Cruises That Will Blow Your Mind
Boasting one of the most desirable tourist destinations in northern Vietnam, Halong Bay receives a considerable flow of tourists every year. Despite the existing myriad of choices, the newly launched cruises continue to amaze new and returning travelers by the astonishing level of luxury and premium facilities. Most of these new cruises depart from Got Ferry in Hai Phong city, which reduce the travel time by half and offer a much more tranquil and less touristy approach to touring the Bay.
1. Ginger Cruise
Ginger Cruise has been the prime name among all cruises in Halong Bay ever since tourism starts flourishing in Halong Bay in the early 2000. As the cruise sees the largest renovation of its lifetime, it now stands out exquisitely amongst the best cruises in Halong Bay as a symbol of elegance, splendor and perfection. A new enchanting vessel of Heritage Line cruise company, Ginger is fitted with attentive services and a full range of safety equipment and devices, which contributes greatly to a plesant and comfortable voyage. The 3-deck cruise is exclusively designed under the theme of Indochinese – Vietnamese featuring 12 spacious and modern suites with warm timber floors and well-sized balconies for sea viewing. Moreover, library lounge, 360-degree-light-flooded restaurant with live cooking framed by an outdoor alfresco area will bring guests the utmost comforts onboard. The cruise sails to primitive Lan Ha Bay where one can visit Viet Hai village, take a bike trip along small paved roads, socialize with the locals, and explore more about their daily life.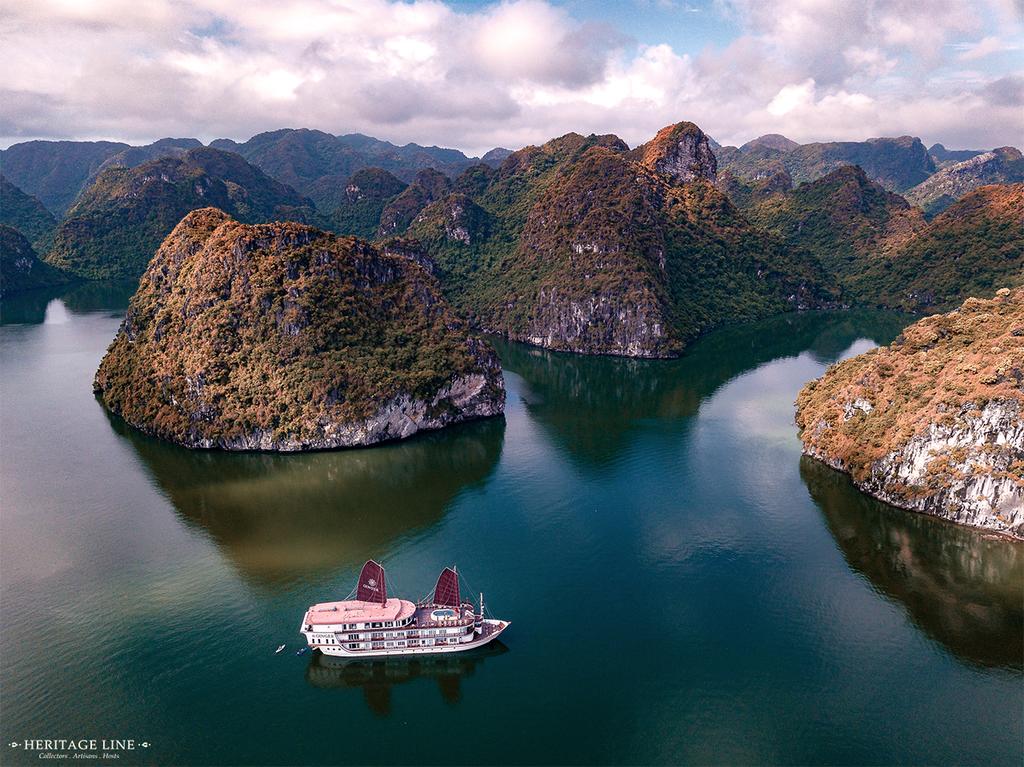 Launching date: Ginger cruise is about to set sail in July 2018.
2. Stellar of the Seas
Stellar of Seas is regarded as one of the best authentic modern design cruise liners in Halong Bay offering a new standard of contemporary luxury. This 4-deck cruise is home to 22 elegant and well-appointed rooms including 11 Junior Suites with private balcony, 02 Executive Suites with private sun terrace, 08 Senior Suites with private balcony, and a President Suite with large private sun terrace. In addition, a variety of modern comforts such as the superb dining room, the panoramic bar, the wine and cigars cellar, seasonal swimming pool, a mini golf course and a beauty spa definitely make your holiday truly wonderful and unforgettable. The cruise takes you on an ultimately elite route from Halong Bay to Lan Ha Bay and stop over some less touristy attractions such as Ba Trai Dao natural beach, Viet Hai Village and Sang Toi Cave where you can escape from busy traffic and indulge in a lot of interesting water activities.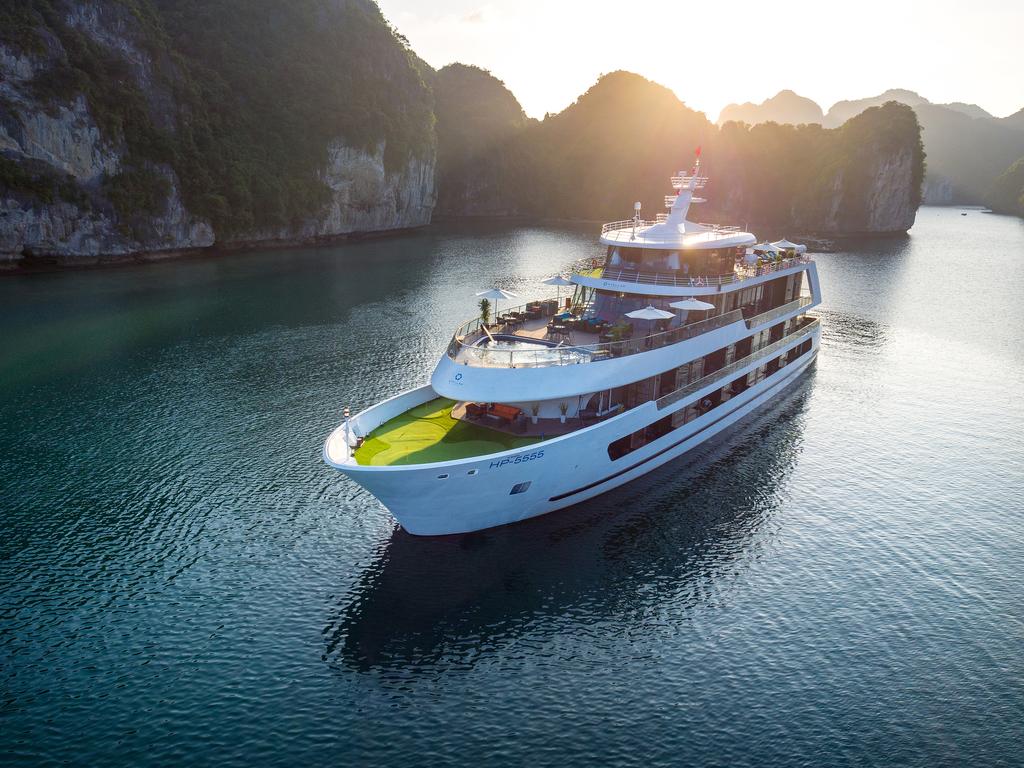 Launching date: Stellar of the Seas will start its first journey in October 2018.  
3. Peony Cruises
The brand new Peony Cruise is among the leading line of 5-star cruises in Halong Bay guaranteeing to offer travellers a trip of a lifetime. Visitors will absolutely find them satisfying with outstanding features, high level of customer service and an unbeatable relaxing environment. Peony cruises house 20 luxurious and well-furnished cabins offering guests the best place for an indulgent night's sleep corresponding with a private balcony for you to chill out and enjoy great sea view. Significantly, departure from Got Ferry, it takes only 2 hours instead of 4 hours like other cruises to transfer to Halong Bay allowing tourists to have more precious time travelling and exploring. Joining Peony cruises with an enchanting itinerary though impressive Halong Bay and less-travelled Lan Ha Bay enables tourists to unwind and discover untouched areas, experience fishing with locals and listen to their stories as well as take great photos that other ordinary cruises cannot offer.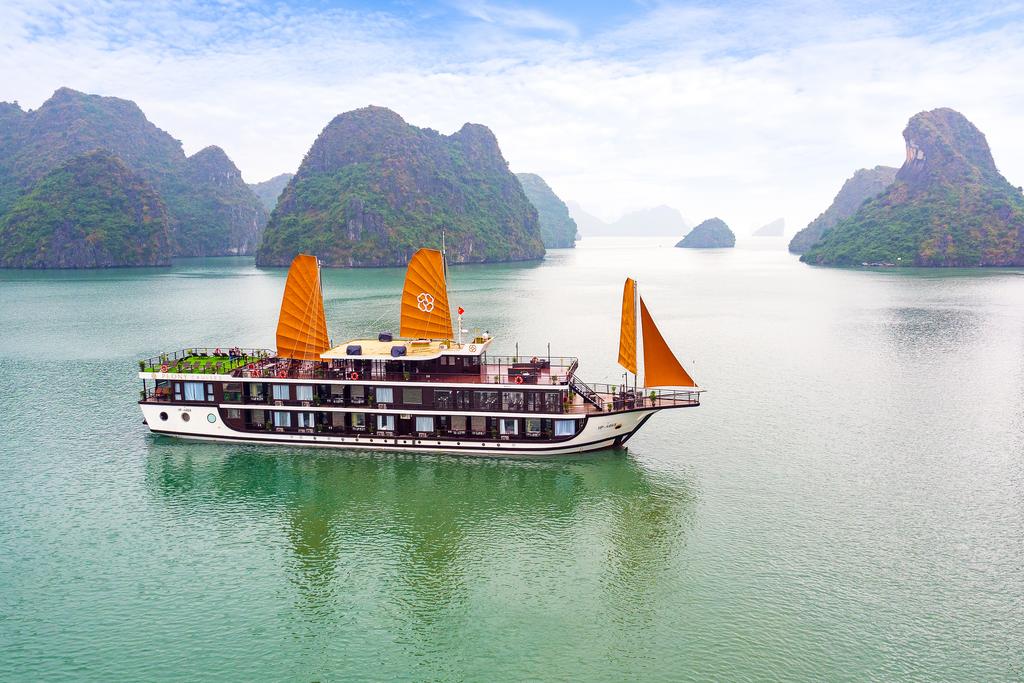 Launching date: Peony Cruise announces in launching date in October 2018. The second Peony was launched in December 2018. Both cruises become very popular thanks to its great value and it is always a good idea to book in advance. You can request to be placed in Peony 1 or Peony 2 although both have similar room configuration (see further information on how to book Peony cruise trip).
4. Mon Cheri cruise
If you are looking for an ultimate luxurious cruise in Halong Bay, the first upscale Mon Cheri cruise is given a top priority. Mon Cheri boasts a brand new cruise liner which differentiates itself from other cruises as the latest and fastest non wooden vessel in the Lan Ha Bay area. This newly-launched cruise provides ultra large, flawless cabins and unrivalled services for your best onboard experience. You can enjoy mouth-watering dishes in an elegant setting of the unique Halal kitchen serving best of Vietnamese and international fusion delights while discovering amazing sceneries of Halong Bay at its finest. Free 24/24 fitness center and spa offer you an ideal place for indulgence and refreshment. Additionally, Mon Cheri cruise is a definitive time-saving option for passengers to enjoy the trip with only 2 hour transfer duration from Hai Phong pier to Halong Bay.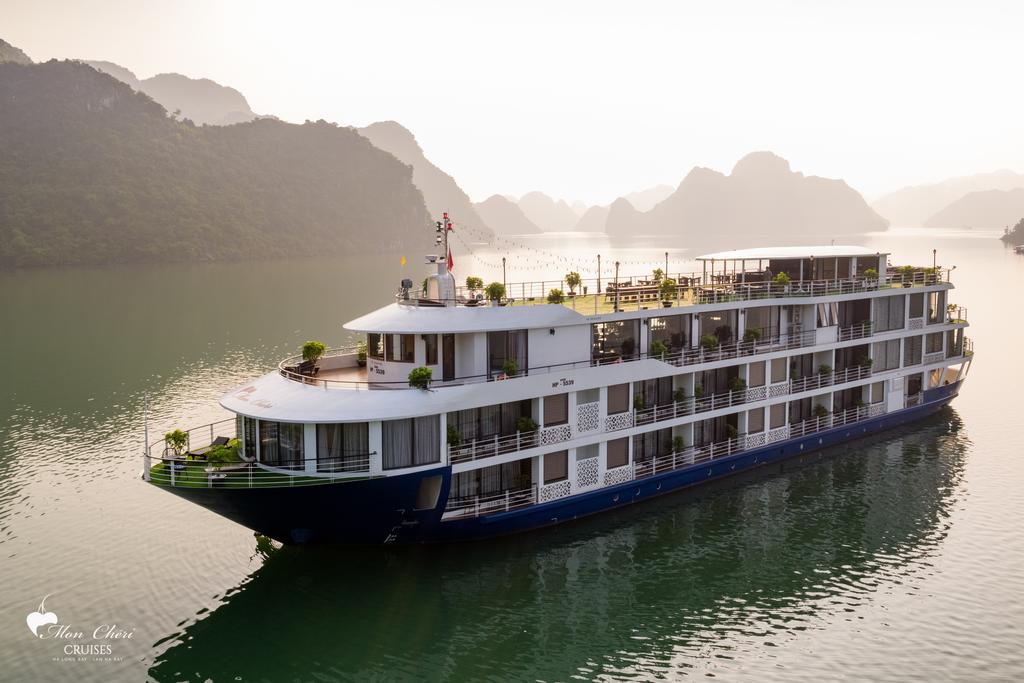 Launching date: Mon Cheri Cruise has been offering trip since late February 2018 with great appraisal.
5. Perla Dawn
Perla Dawn, the latest cruise member of LaFairy Sails fleet is another ideal option for tourists offering luxury overnight accommodation and a pure combination between modern and traditional allure. Despite being a newly-established liner, Perla Dawn will bring you back to the past with a sense of nostalgia partly because of its traditional setting and wooden details, showing Vietnamese cultures. The cruise contains 18 cabins with private balcony for uninterrupted view of Halong Bay. Onboard, there are a lot of interesting activities waiting for you such as cooking demonstration, squid fishing and Tai Chi session for early risers. The cruise offers a shorter transfer time of 2 hours departing from Hai Phong pier. With Perla Dawn cruise, you will have a chance to admire fantastic rock formations rising up along the sailing route to Lan Ha Bay, discover stunning caves and participate in several water activities like kayaking and swimming in Tra Bau area.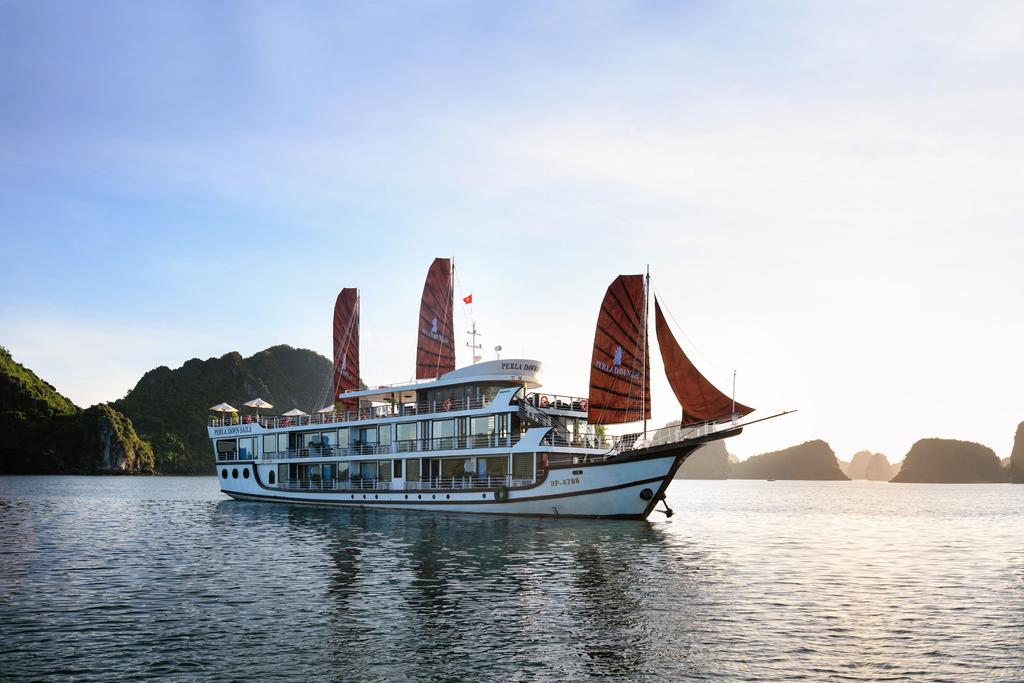 Launching date: Perla Dawn cruise was in July 2018 with great opening promotions.
Conversations (0)
Join the conversation
Conversations
Join the conversation
ALL COMMENTS (0)
There are no comments. Add your comment to start the conversation.
read next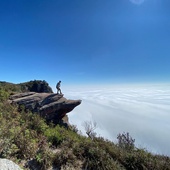 Moc Chau Town is among the top-rated tourist destinations in northern Vietnam brimming with ultramodern and natural sightseeing attractions.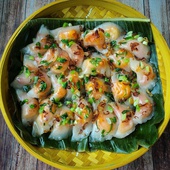 Vietnamese cuisine has long been known as among the most abundant and delicious cuisines in the world.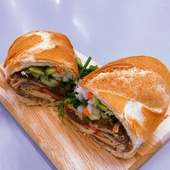 Long queues of Saigoneses, tourists, and shippers in front of the "banh mi" Huynh Hoa shop have long become a familiar scene every afternoon.