Tam Dao National Park
Tam Dao has thrived with popularity as a Dalat in the North, but few travelers know about the existence of a more gentle kind of spooky attraction of this land. It calls for the name Tam Dao National Park.
Tam Dao has thrived with popularity as a Dalat of the North, but few travelers know about the existence of a more gentle kind of spooky attraction of this land. It calls for the name Tam Dao National Park.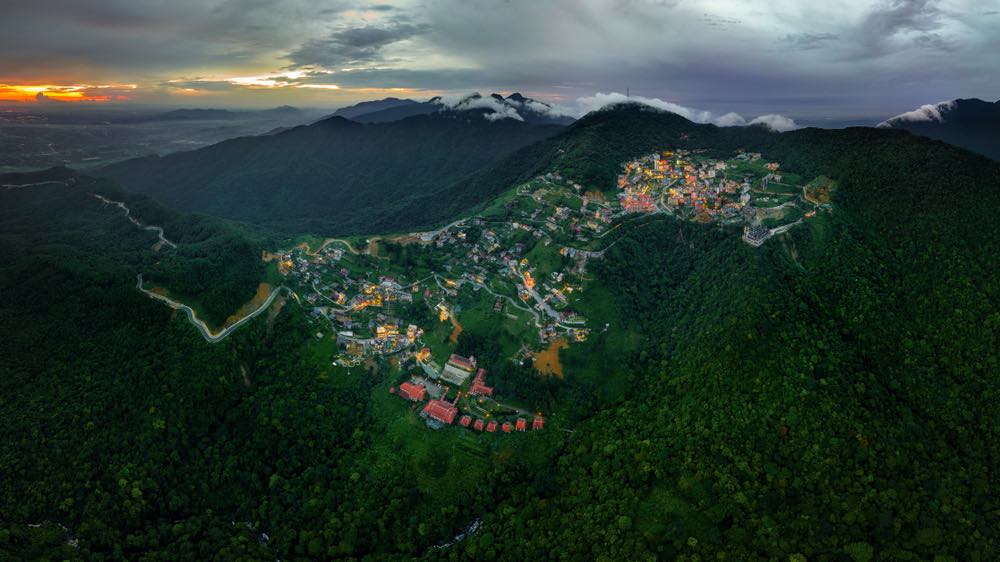 Tam Dao circled by lush green mountains and hills

The park mends its way through a vast green land of three provinces, opened for preservation and tourism purposes. With a total area of about 35.000 ha, mainly green forests, it is the largest ecological park in all Northern regions. Thanks to staying low under the tourist radar, Tam Dao National Park keeps its best conditions for adventure-souls.
Location and terrain
The park is nestled inside Tam Dao ranges, with areas stretching to three provinces, Vinh Phuc, Thai Nguyen, and Tuyen Quang. It is 70km north of Hanoi and 1.5km far from the Tam Dao town center. The park stays rather close to residential areas but is still able to maintain its quietness. The topography of Tam Dao National Park is characterized by 20 sharp peaks and very steep slopes, with an altitude over 1000m. The huge mountain reaches a length of 80km in the Northwest - Southeast direction and is divided into two distinct zones, East and West. The climate between the two sees big differences because of the dissimilar rainfall.
Biodiversity values
The land's diverse climate has led to its richness in ecosystems, flora, and fauna abundance.
In particular, vegetation varies with over 1200 species. A few prominent types can be mentioned, such as Kim Giao (Nageia fleuryi), Lim Xanh (Erythrophleum fordii), Kim Tuyen orchid, Rau Hum (Tacca chantrieri), etc. Some are rare wood, while some declare medical uses. There are 42 types endemic to Tam Dao and 64 others rare to many places.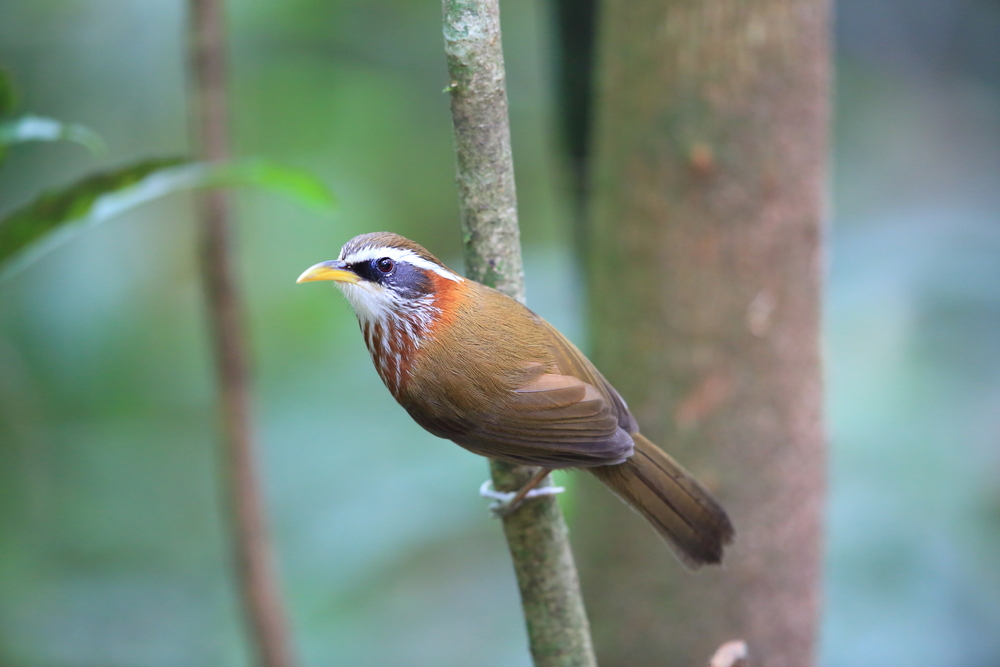 Streak-breasted scimitar babbler
Meanwhile, Tam Dao park inhabits over 163 fauna species, some of which embrace high scientific values such as swordtail butterfly, ray-finned fish, flying squirrel, silver pheasant, and especially Tonkin leaf monkey (white-cheeked black monkey.
In all, the ecosystem of Tam Dao National Park sure holds valuable values to human life.
Things to do
Trekking along the lost tracks
Those who once finished Tam Dao National Park route all admit that the trekking here is unique and worth the exploration. Some may relish this experience more than conquering Mount Fansipan. Returning in one day or extending the stay overnight by camping are both possible. However, as the path is adventurous, it is also easy to get lost. A professional guide is a must during your trekking.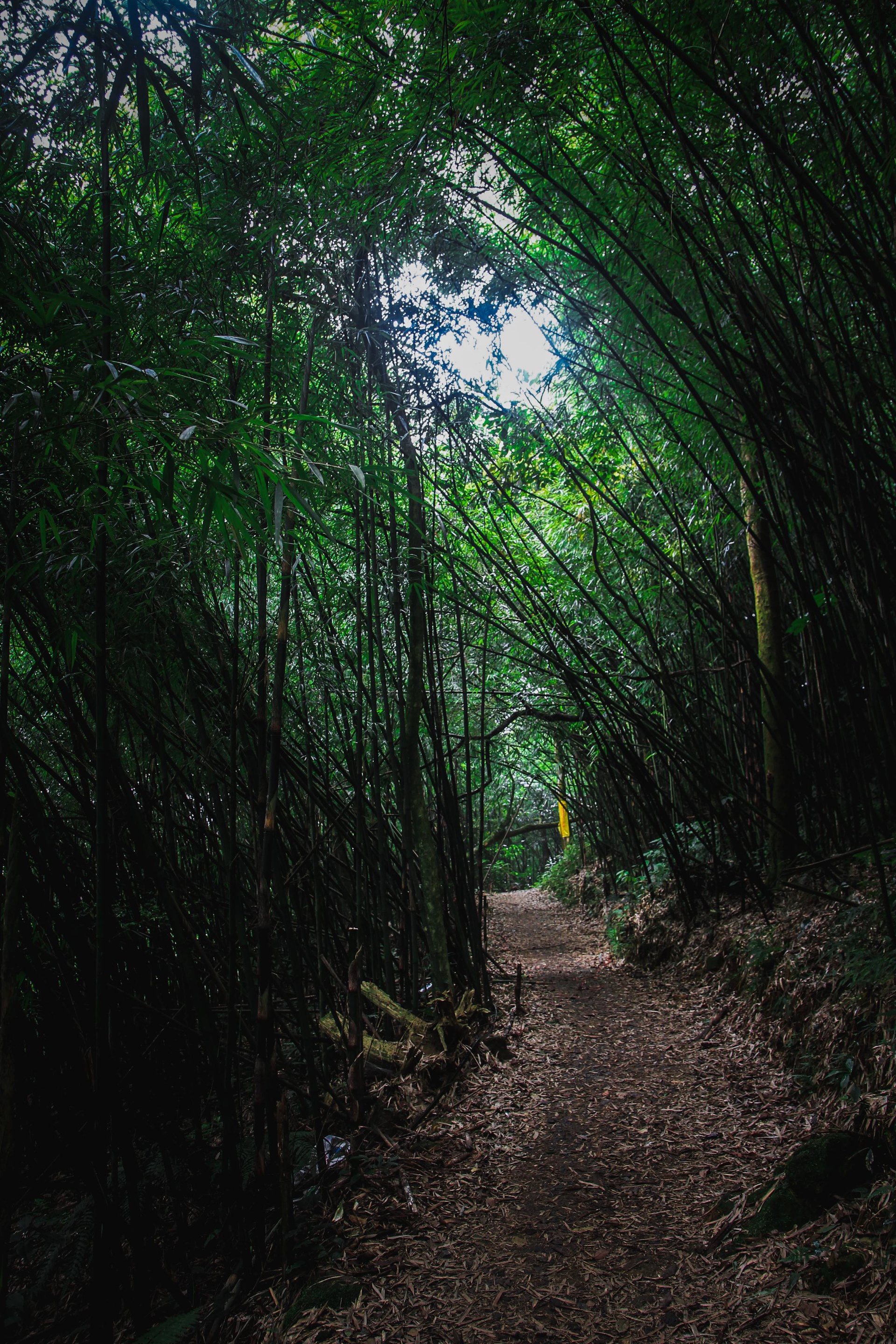 Trails in the park - Photo: Zing.vn

The first thing to touch your senses may be the clean air and chill winds. The surroundings are made of greens and clouds, among nature marking ideally for a relaxing and recharged trip. Thanks to the natural terrain and high humidity, the primitive forests wear a fantasy look by hundreds of giant old trees surfaced by thin moss from roots to tops.
The green forest constantly changes appearance from high tropical rain trunks, to low trees and bushes. You may cross arches of conifers, corridors of green vine-roads along the way. Reaching the top peak - two famous ones are Thien Thi and Thach Ban - you will see tremendous straight-stand bamboo.
All vehicles are banned from trespassing the forest. With the protection of climate and without the disturbance of engines, Tam Dao National Park is secluded enough for a comfortable trekking trip.
Visiting national park attractions
During your trekking trip, you can pass by numerous attractions. Or better yet, set a route to specific sites from the beginning to enjoy your desired experience.
For nature wonders, there are Silver Fall, Heaven Gate, Xa Huong Lake and Rung Rinh Peak, and many more. Human works include Ba Chua Thuong Ngan (Forest Mother) Temple, Vietnam bears rescue center, Tam Dao town, etc. Among them, Tam Dao TV station, situated on a high peak, stands out with romantic scenery.
How to get there
With a close distance to Hanoi, it is easy to visit Tam Dao National Park in one day. It only takes a maximum of 2 hours on bus, car, motorbike, taxi, or train to get here.
By bus
Newway and Tien Thinh: the company provides round-trip service between Hanoi and Tam Dao by 200.000 per person. Buses are departed from My Dinh bus station.
Nhat Nam: Pick-up and drop-off places are based on agreement.
Public bus: 07/58 Hanoi bus connects Cau Giay/ Long Bien to Tam Dao. From Vinh Phuc stop, continue to ride on 01 or 07 Vinh Phuc bus to Tam Dao mountain foot. Then call for a taxi to your destination. Consider Mai Linh, Huy Hoang, and Thinh Hung brands.
By private vehicles
Travel by private car or motorbike is the most flexible means to Tam Dao National Park. Starting from Hanoi city center, follow Noi Bai international route or Me Linh Road (toll fee included), then continue with Highway 5 (Noi Bai - Lao Cai express), and turn to 2B National Road after seeing Vinh Yen city. Trust the road signs and you will arrive in no time.
However, as the mountain roads have many sharp turns, and high slopes, be careful of your speed and beware of the opposite vehicles. By train
With only 35.000 VND you can catch a Hanoi - Lao Cai train and stop by Vinh Yen station. It takes about 45 minutes from the station, by taxi or bus to Tam Dao Park.
By taxi
Long way taxis are also available, but the price can be high compared to other transportations, about 1.000.000 VND one turn.
Best time to visit
The park receives weather benefits from the high altitude. The temperature can be said to be comfortable almost every month with high humidity.
Covered in greenery, this park is an ideal place for novice trekkers and climbers.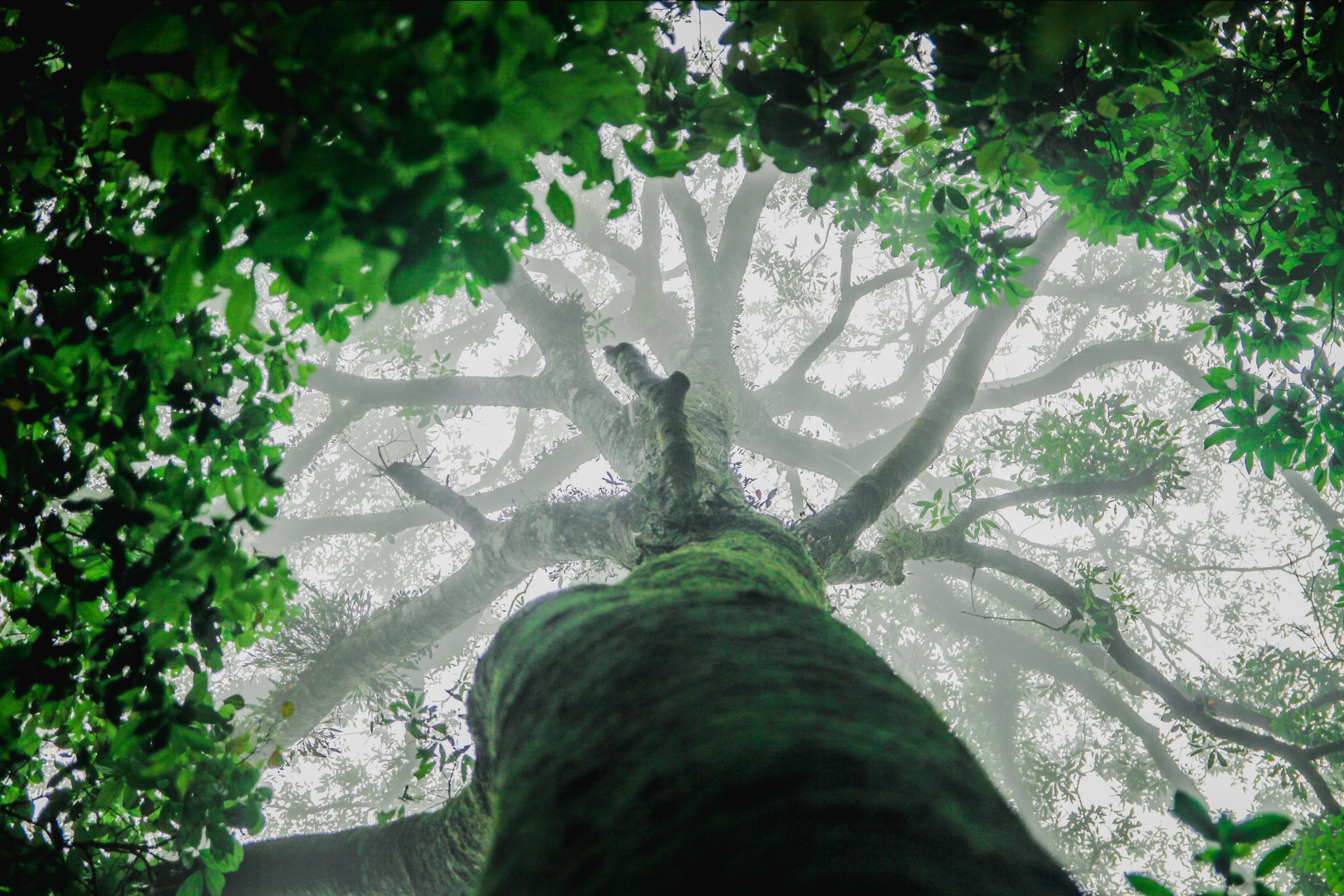 A great retreat to be back to nature

The best time to visit Tam Dao National Park is from June to August. While other provinces in the North suffer from heatstroke, Tam Dao remains chilly with a clear sky and bright sun. The park shall make a perfect summer get-away. Remember to check the weather forecast to avoid rainy days. Avoid traveling to the park from November to March. In winter, the park is covered in thick fog, making forest paths treacherous to conquer.
Eat and stay
The specialty of Tam Dao is Su Su (chayote). A green type of cooking vegetables that are grown everywhere on the land. It contributes to many dishes of the locals, but the most delicious is stir-fried chayote and garlic.
Other than chayote, coming to Tam Dao National Park, travelers can visit local restaurants or the night market and order black pork kebab, grilled potatoes or eggs, Com Lam (bamboo sticky rice), and ground-buried chicken.
To make the most out of your national park trip, you can consider spending a night camping under the stars. This stay is highly recommended after a sweating day. Noisy cities sound and unspeakable pressures can be rid of by the serene nature. But remember only set out your tools in the allowed areas and stay away from the fire. Book beforehand with the park management authorities.
There are many standard hotels located in the center of town. You can book for Sofia, Hanviet, Royal Huy, etc. Villa/ homestay can also be a fantastic accommodation option for your trip and maybe a more leisure one. Le Bleu, Dream House, Ca Rem, Cloudy Garden, Up in the Air, and writer Nguyen Quy Duc homestay are some center-located examples.
Other Travel Tips
Raincoats or water-proof outfits are recommended to keep warm and dry due to low temperature and high humidity
It is advised to bring along to prevent cold and other forest diseases.
Follow your travel group. Never walk alone
Useful Information
Location: Vinh Yen Of Vinh Phuc Province
Best for: Family, couple
Entrance: Free
Hours: All hours
Distance to city center: 0.0km (0.0 mi)
Conversations (0)
Join the conversation
Conversations
Join the conversation
ALL COMMENTS (0)
There are no comments. Add your comment to start the conversation.
read next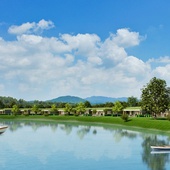 Dai Lai Lake is approximately 40km north of Hanoi, towards Noi Bai International Airport direction. The lake belongs to Vinh Yen borough, Vinh Phuc province. It takes approximately 1 hour to get from Hanoi downtown to Dai Lai lake area.