Dai Lai Lake
Dai Lai Lake is approximately 40km north of Hanoi, towards Noi Bai International Airport direction. The lake belongs to Vinh Yen borough, Vinh Phuc province. It takes approximately 1 hour to get from Hanoi downtown to Dai Lai lake area.
An artificial reservoir turned into a weekend paradise
Hanoi has its excitement and its fearsomeness. Buzzing all around are the narrow noisy streets of the thousand-year old quarter. Crazy as it is, one may still get lost in its glamour. At the same time, as the booze wanes off, one may just find himself longing for a peaceful serenity that seems so impossible to locate in this fast-pace exotic land. Look no further than a mere 25 miles to the north of town! Welcome to the emerald water of Dai Lai lake.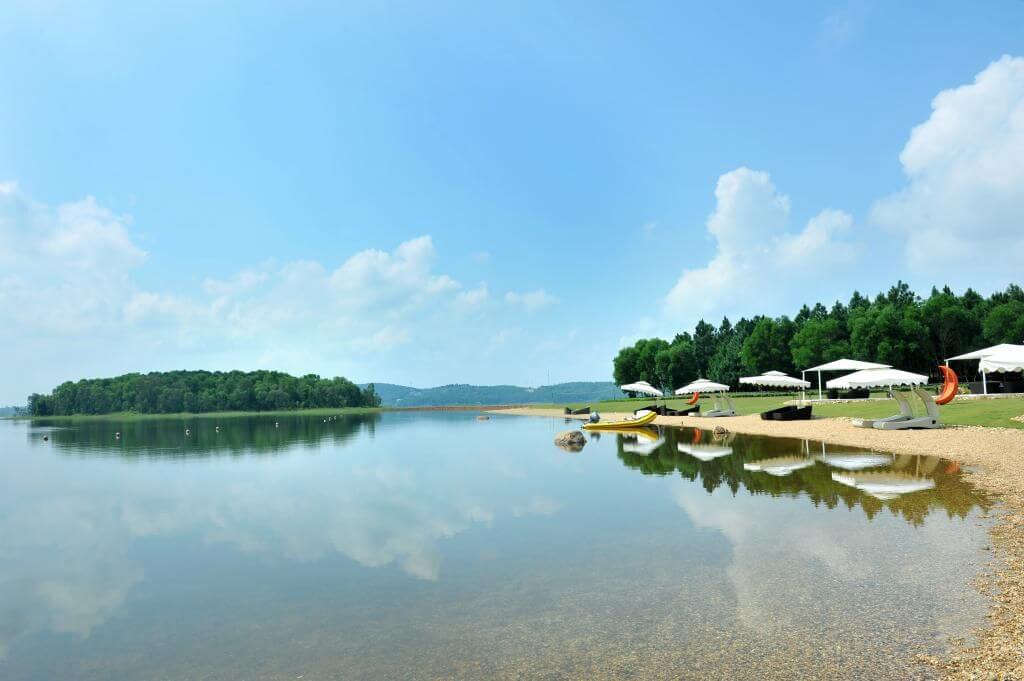 Dai Lai Lake - great for canoeing and water based activity

Enjoying its close proximity to the capital, Dai Lai has recently seen a boost in the number of visitors. Motels rise up and offer weekend warriors a spot to enjoy life just a bit, free of all responsibility. Still at its infancy, the services here are nowhere near top of the line, or to be fair, comfortable. The one big plus one has to give is that while government has all the temptation to pollute the lake, it manages to resist. The water is still shining in its glory, swimmable for the most part. So much owes to the truth that a company has recently built an upscale resort on the shore, completed with beach, water sports and water front properties. The Flamingo Dai Lai resort's services come at a hefty price, and for the most part are reserved for residents and guests with prior reservation only. Its spacious villas, large gardens and the overall luxurious landscape more resemble a European resort town than one of Vietnamese origin.
Outside of the private Flamingo, one can still find many other accommodations on the shore, with most being more affordable than the resort. Good things come at a price, so it should be reasonable that one knows what is expectedly coming his way. Vietnam, after all, is not known for outstanding customer service.
The perfect get-away that does not involve going to the airport
The serenity of the calm water and the refreshingly pure air, thanks to the surrounding mountains and vast forest, as opposed to the choking exhaust of Hanoi's motorcycles, are the reason more and more people come to its shore with each passing season. Locals often chose to dip in the lake's water, or go boating around for just one Sunday afternoon. Dai Lai lake may just be harboring the first steps of a boating culture in Vietnam.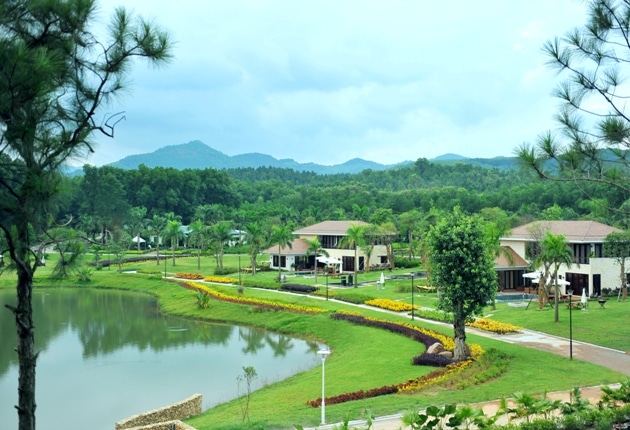 Resorts and Villas readily available for your staycation

On the other hand, visitors who love hiking and climbing mountain can challenge themselves with an adventure across the woods to Nhe Pass or Mo Qua Mountain, both famous for their uprightly high cliffs. The friendly locals are often very willing to lend help if asked for direction. Also, the historical Old Castle of Nguyen Danh Phuong that was established more than 300 years ago during the time of King Le – Lord Trinh chaotic rivalry may prove exciting to history buffs.
For ones that have been in Hanoi for too long and need a break from its initial bustling awesomeness, come no further!
Useful Information
Location: Dai Lai Lake
Best for: Family
Entrance: Free
Hours: All hours
Distance to city center: 10.3km (6.4 mi)
Conversations (0)
Join the conversation
Conversations
Join the conversation
ALL COMMENTS (0)
There are no comments. Add your comment to start the conversation.
read next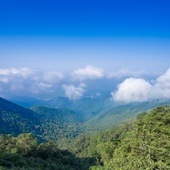 According to many locals, Tam Dao is a miniature of Sapa. However, except for the cool climate and the mountain-based location, the two sites are intrinsically different.