Nam Giao Esplanade
Emperors under feudalism often regarded themselves as "thien tu" - the sons of God. Hence, to express their respect to Father God, they often held annual offering ceremonies to worship. That's why Nam Giao Esplanade was built by King Gia Long after being crowned, in Duong Xuan Village, south of Hue City.
Location and History
That's why Nam, Giao Esplanade was built by King Gia Long after being crowned, in Duong Xuan Village, south of Hue City. It was started constructing on 25th March, 1806. At the beginning of 1807, its first God worship ceremonies were held there. Among several offering terraces of previous dynasties, Nguyen's is the only one that still exists until today.
Architecture
The open-air monument obviously reflects the old misconception of people about the universe (circular heavens and square earth), follows the principles of Yin and Yang and also represents 5 elements of the nature: Metal, Wood, Water, Fire and Earth (in order: Kim, Moc, Thuy, Hoa, Tho).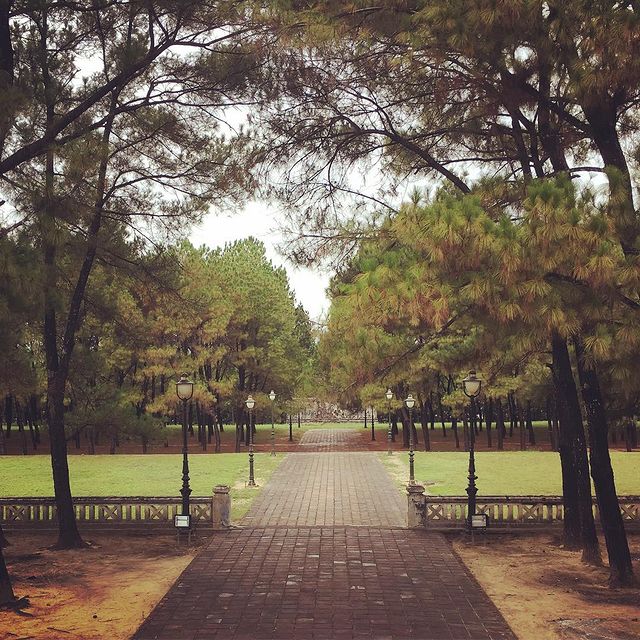 Photo by @runingawayfromhome
As well, the esplanade is designed to symbolize oriental theory of 3 agents: Heaven, Earth, Man (Thien, Dia, Nhan respectively). Each is represented by one terrace with distinctive color and shape: circular blue heaven, square yellow earth. The bottom terrace is square and red-painted which stands for Man, as there is a phrase "red child" (xich tu – con do) to call the normal people. The top terrace (Heaven) is the place to hold offering ceremonies to God, Earth and Nguyen Dynasty's ancestors and also called Vien dan. The middle one (Tung dan) is for worshipping the Sun, Moon, Stars, Cloud, Rain, Wind, Lightning, Year and Month, Mountain, Ocean, River, Lagoon, Lake, etc. and all other kinds of holy spirits throughout Vietnam. The last terrace is where to offer sacrifice.
Along with the main esplanade, there are several other building sites to support the offering ceremony like "Trai cung" (where the king stays before the ceremony), "Than tru" (the kitchen to prepare sacrifice), "Than kho" (the warehouse to place ceremony's tools).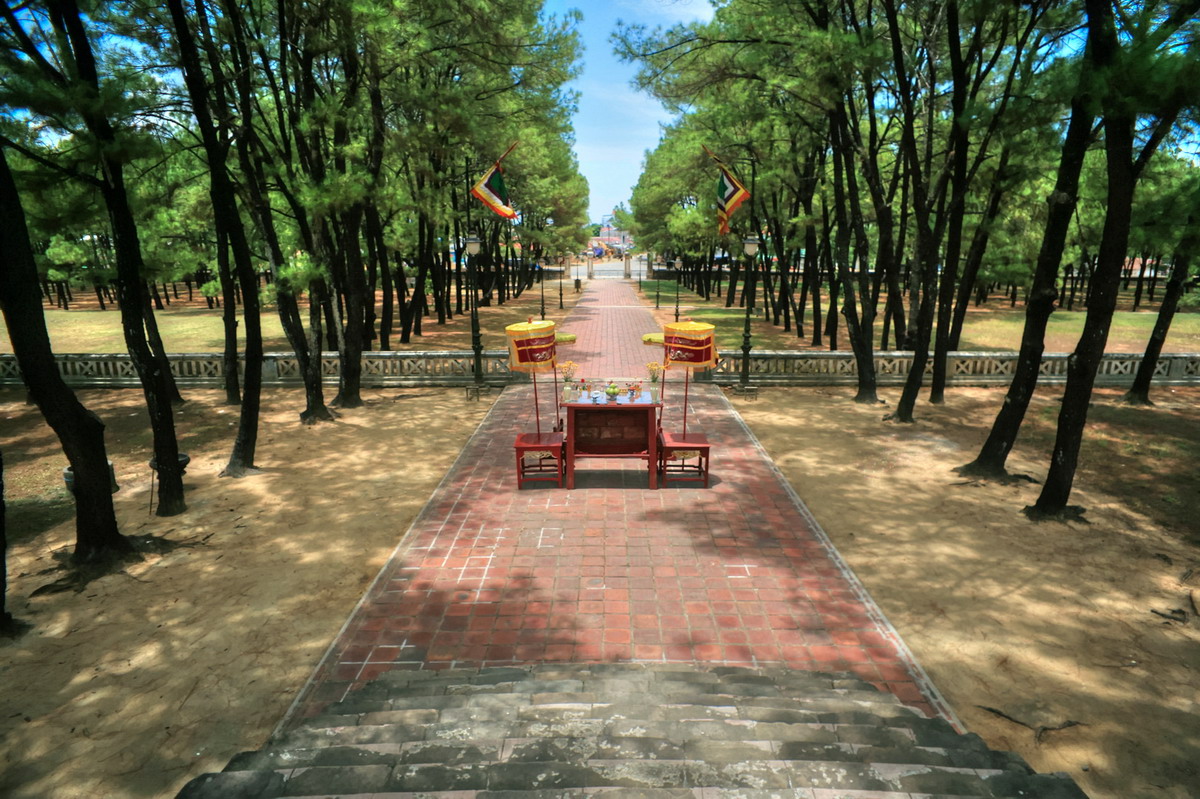 Photo: dulichhue.biz
In the past, Nam Giao Esplanade was surrounded by a thick basalt wall which has been destructed. Pine trees were also planted around, as Emperor Minh Mang has followed his father's tradition and asked all his sons and mandarins to plant their own pines with their name card on it and take care of their own trees.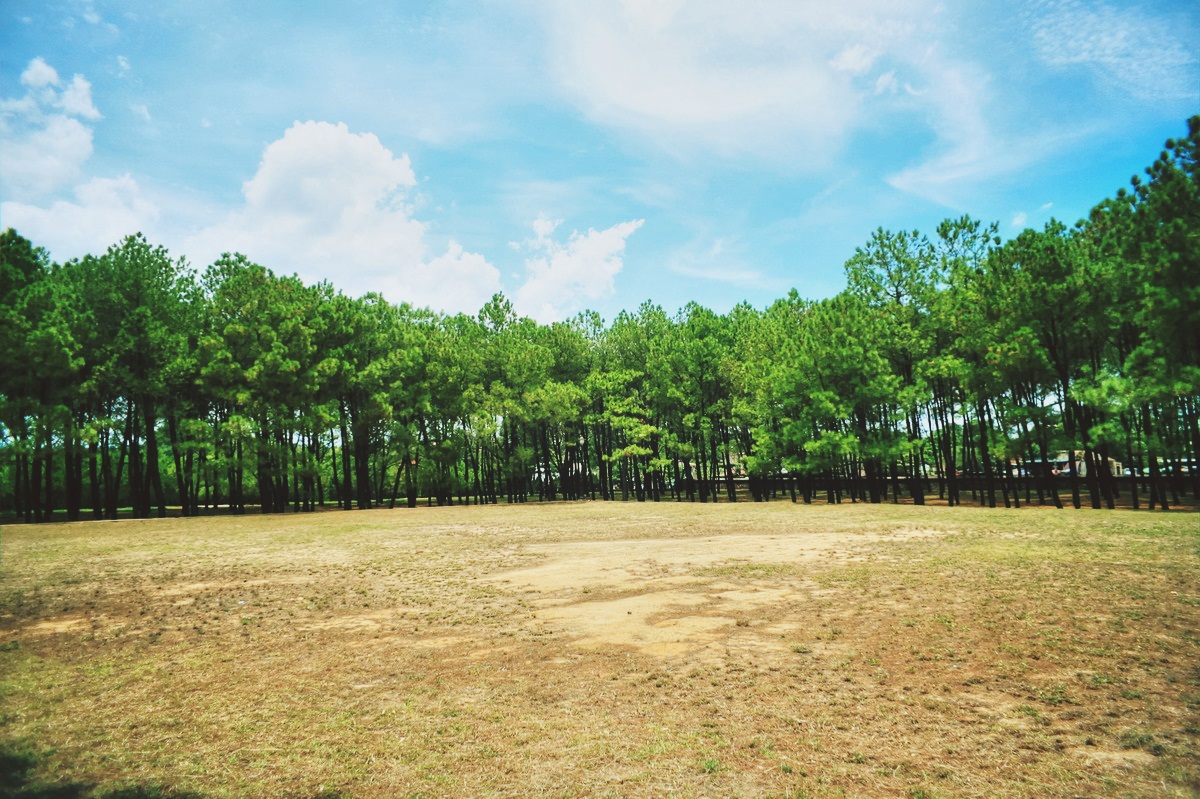 Photo: dulichhue.biz
Nam Giao Esplanade plays a very important role in religious and political life of Nguyen Dynasty. It took the Protocol and Administration Ministries many months to prepare for the ceremony. Before the sacrifice offering day, all villages and communal in Thua Thien-Hue had to complete making triumphal arches, to put alters on both sides of the route where the Emperor would pass by from Ngo Mon Noon gate to Trai Cung. During the ceremony, big flags with different colors were hung on all four doors of the esplanade: black flags on the north door, blue on the east, red on the south and white on the west. The kings often had to operate the ceremony on his owns. In case he wasn't capable, his son or one of his mandarins would be ordered to take this task.
Today, visitors can come here to understand about the religious and political belief of Oriental feudal society in general and Nguyen Dynasty in particular, which is completely different from that of Western people.
How To Get There
Follow Dien Bien Phu Street till the end. There stands the esplanade. Suggested means of transport include: bike, motorbike and car.
Best Time To Visit
The site is open for tourists all the time, but it's highly recommended to get there when the ceremony is held.
The royal ceremony is especially often restored on the occasion of Hue Festival, to pray for a peaceful country and prosperous people. This is a particular performance you can't find anywhere else. Similar ceremony will be held again in Festival Hue 2012, which will take place on April.
Useful Information
Location: Đàn Nam Giao, Huế
Best for: Family, couple, solo
Entrance: Free
Hours: 8:00AM - 5:00PM
Distance to city center: 3.0km (1.9 mi)
Conversations (0)
Join the conversation
Conversations
Join the conversation
ALL COMMENTS (0)
There are no comments. Add your comment to start the conversation.
read next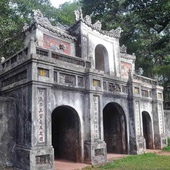 In Hue - one of Vietnam's most sacred lands of Buddhism, Tu Hieu is regarded as the largest and oldest pagoda, and also a famous sightseeing spot with historical and cultural value.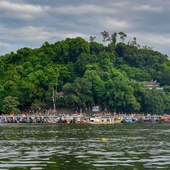 Hon Chen Temple is situated on a lovely slope of Ngoc Tran Mountain, 10km upstream from Hue Centre. The name "Ngoc Tran'' means Pearl Bowl, originating from the bowl-shape of the mountain. That also gives the temple its name: Hon Chen.
Famously being one of Vietnam's seven UNESCO World Heritage Sites, the Imperial City of Hue has long been a must-see attraction for tourists visiting a hidden charm of Vietnam.