Khai Dinh Tomb
Though the smallest, Khai Dinh Tomb is the most costly compared with other Nguyen Royal Tombs.
Location & History
After his ascendancy to throne in 1916, Emperor Khai Dinh chose the slope of Chau Chu (Chau E) Mountain, which is 10km from Hue center, to construct his "home in the other world" – according to Oriental belief. It was started bulding in 1920 and completed 11 years later, by his successor – Emperor Bao Dai.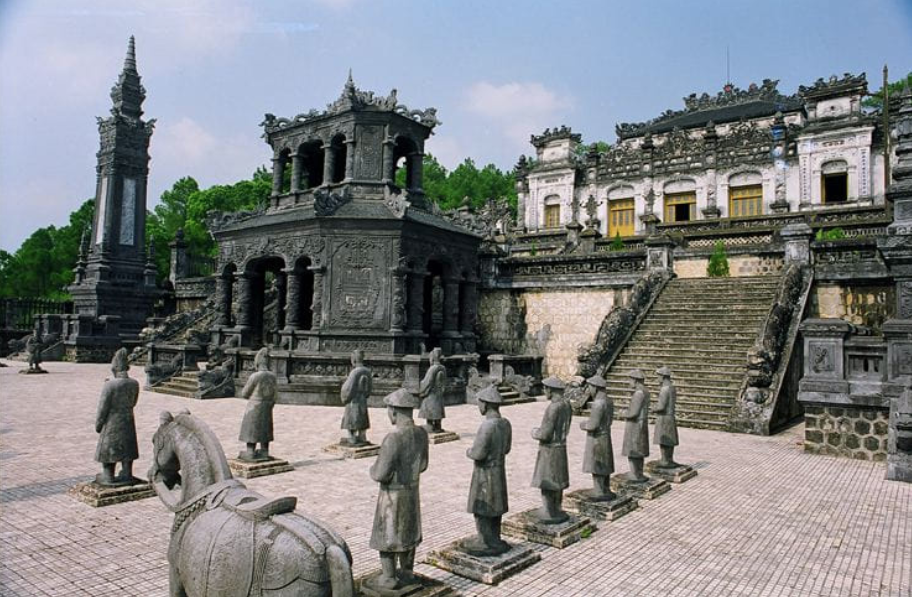 Photo by @lethuan
In order to complete the tomb, the rulers had to raise national tax to 30%. By then Vietnam sovereignty was lost to French invaders and Western culture was prevailing all over the country. Consequently Khai Dinh tomb is the result of the intermingling of Oriental and Occidental, Roman and Gothic style, Hindu and Buddhist style, as well as ancient and modern features. It's also known as Ung Lang
What To See
Despite being the smallest, Khai Dinh Tomb is the most recent and costly amongst other Nguyen royal tombs. Khai Dinh chose to build his tomb by modern materials like concrete, slates and wrought iron, hence its appearance is quite gray and imposing.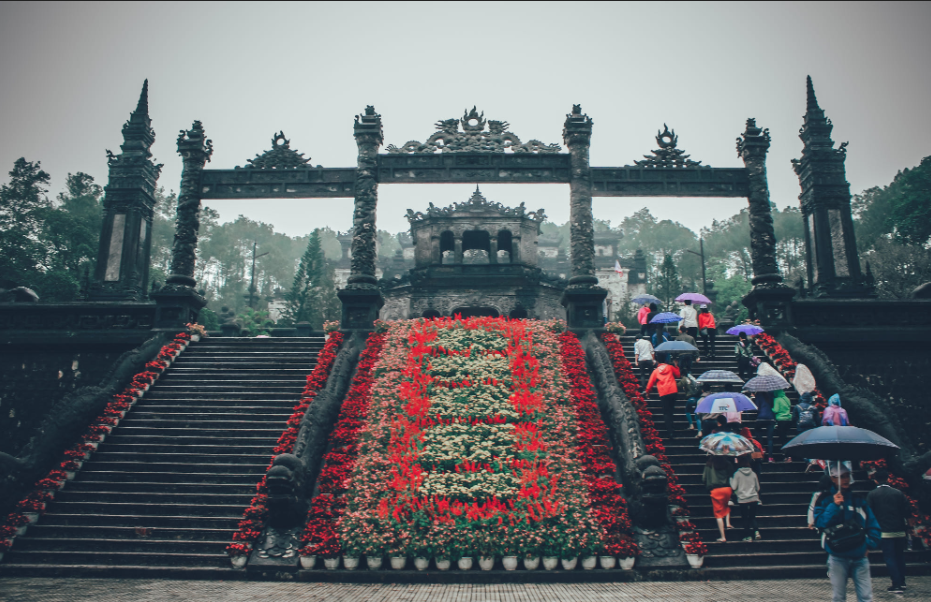 Photo by @anhtuan
At first, the main building brings about a strong Western feel, however, the landscape was arranged to reflect traditional perceptions: a balanced combination between wood, land, water and plants. Overall, it's an emerging rectangular structure with 127 steps, leaning against the mountain. The side walls are formed by the biggest sculptures of dragons in all over Vietnam. After climbing upstairs, tourists can first see the house of epitaph. The statues of madarines court (including madarines, horses, soldiers...) are placed at the courtyard.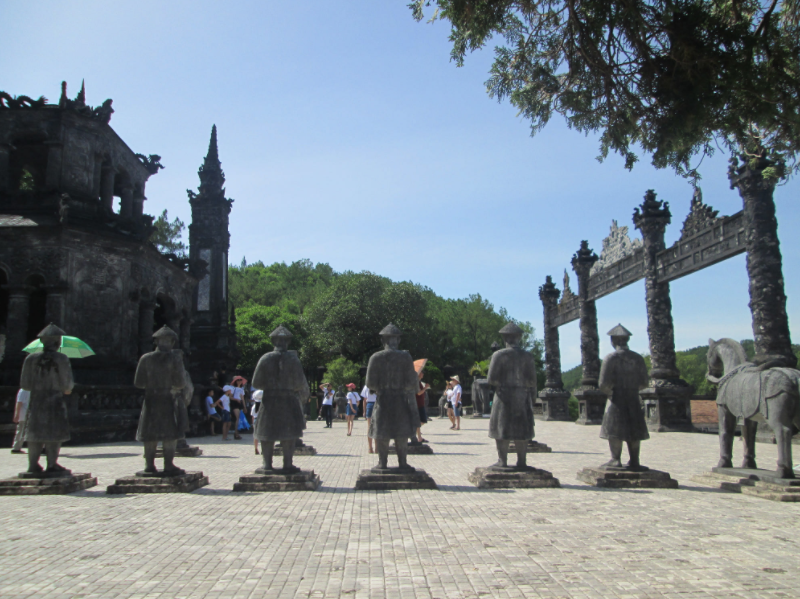 Photo by @BeTong
The most notable place in Khai Dinh Tomb is Thien Dinh Palace, which contains bronze statues and steles of the King. Walls are densely decorated and inlaid with elaborate glass and porcelain designs. The most highlighted feature of this room is the intricate painting on the ceiling, illustrating nine dragons amidst fleeting clouds. Inside the tomb, there are two statues modelled the King: the one on the throne was sculptured in Paris in 1920 by Ducuing and Barbedienne.
When To Get There
All tourist sites in here are opened all year long. Entrance fee is even free on big holidays such as the first of Lunar New Year and National Day (September 2nd). Khai Dinh Tomb opens from 7.30AM to 5.00AM
How To Get There
The tomb is about 7km away from the center of Hue city. Travelers are recommended to get there by motorbike or taxi.
Useful Information
Location: Lăng Khải Định, Huế
Best for: Family, couple
Entrance: Free
Hours: 7:30 AM - 5:00 PM
Distance to city center: 7.2km (4.5 mi)
Conversations (0)
Join the conversation
Conversations
Join the conversation
ALL COMMENTS (0)
There are no comments. Add your comment to start the conversation.
read next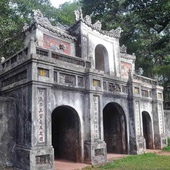 In Hue - one of Vietnam's most sacred lands of Buddhism, Tu Hieu is regarded as the largest and oldest pagoda, and also a famous sightseeing spot with historical and cultural value.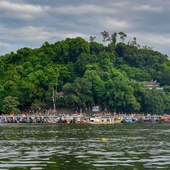 Hon Chen Temple is situated on a lovely slope of Ngoc Tran Mountain, 10km upstream from Hue Centre. The name "Ngoc Tran'' means Pearl Bowl, originating from the bowl-shape of the mountain. That also gives the temple its name: Hon Chen.
Famously being one of Vietnam's seven UNESCO World Heritage Sites, the Imperial City of Hue has long been a must-see attraction for tourists visiting a hidden charm of Vietnam.