Dong Khanh Tomb
The construction of Dong Khanh tomb met with many obstacles. It prolonged over 35 years and 4 kings, which saw a mix of influence in the tomb's architecture.
Location & History
The tomb is located near Cu Si Hamlet, now Thuong Hai Village, Thuy Xuan Commune, Hue City. It's only 5km from the city center. The construction of Dong Khanh Tomb met with many obstacles, prolonged over 35 years and 4 kings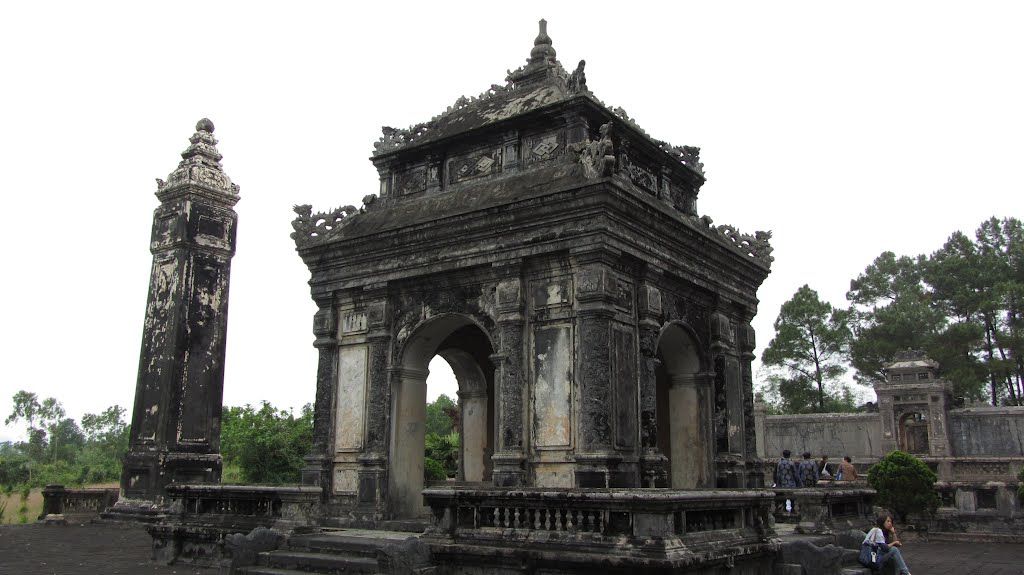 Photo baoxaydung.com.vn
Also an adopted son of King Tu Duc, King Dong Khanh was sworn to throne by the French colonists. After being crowned, he ordered to build a temple called Truy Tu Temple inside the tomb of his father – Kien Thai Vuong. Since he didn't expect himself to pass away at the age of 25 (3 years after taking power), he did not plan for his tomb. When King Thanh Thai continued the kingship, the country was at an unstable phase of development thus King Dong Khanh also was worshipped in Truy Tu Temple, which was then renamed as Ngung Hy Temple. His corpse was buried simply on a hill named "Ho Thuan Son", 30m to the west of Ngung Hy Temple. The whole tomb area was called Tu Lang. The building process had to be halted many times and most of the construction work was only completed under the reign of Khai Dinh – Dong Khanh's son, in 1917.
What To See
The complicated history of building resulted in a mix of influence in this monument's architecture. One of the most notable sites in the complex is Ngung Hy Temple - a twin mansion typical of Hue Citadel but backed by a third house, which makes it into a triplet complex. The temple is well-equipped with typical royal furniture and calligraphy. Besides the traditional aspects, Ngung Hy also opened up to a new era of arts inspired by both Western and Eastern traits. Remarkably, there were 24 drawings illustrating the Chinese story named "Nhi thap tu hieu" - 24 examples of filial sons and daughters.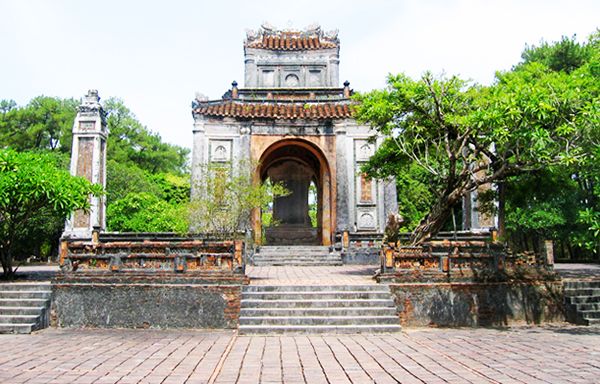 Photo: giavethamquan.com
On the contrary, the tomb area's design was almost influenced by Western style, from its architectural peculiarities or decorative models to the building materials. The Stele Pavilion was constructed with cement, tile bricks and bricks instead of stone.
How To Get There
The tomb opens all year round from 7.30Am to 5.00PM. It's about 200m from Tu Duc Tomb and tourists can get there easily by bike, taxi or motorbike.
Useful Information
Location: Thủy Xuân Commune, Huế
Best for: Family, Solo
Entrance: Free
Hours: 7:30 - 17:00
Distance to city center: 4.5km (2.8 mi)
Conversations (0)
Join the conversation
Conversations
Join the conversation
ALL COMMENTS (0)
There are no comments. Add your comment to start the conversation.
read next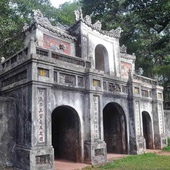 In Hue - one of Vietnam's most sacred lands of Buddhism, Tu Hieu is regarded as the largest and oldest pagoda, and also a famous sightseeing spot with historical and cultural value.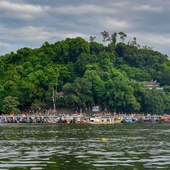 Hon Chen Temple is situated on a lovely slope of Ngoc Tran Mountain, 10km upstream from Hue Centre. The name "Ngoc Tran'' means Pearl Bowl, originating from the bowl-shape of the mountain. That also gives the temple its name: Hon Chen.
Famously being one of Vietnam's seven UNESCO World Heritage Sites, the Imperial City of Hue has long been a must-see attraction for tourists visiting a hidden charm of Vietnam.