Vietnam Train Travel: A Complete Guide
Vietnam's major provinces are well-connected by the train system. If you have a flexible schedule and want to save a few bucks, you can try travelling by train instead of airplane. There are three main train lines in Vietnam: the North-South route (connect Hanoi and Saigon), the Northwest Route (connecting Hanoi and Sapa) and the Northeast Route (connecting Hanoi and Lang Son - bordering with China).
The Railway System in Vietnam was established over a hundred years ago in the past century, and then recovered and further developed by the Vietnamese Government after 1975. The Vietnamese railway system now has the total length of about 2.600km, connecting most cities and provinces all over Vietnam, including many cultural, societal and tourism destinations from the North to the South of Vietnam. The domestic railway system is also linked with the Chinese railway that allows the train to come across the borderline and reach stations in Yunnan and Guangxi.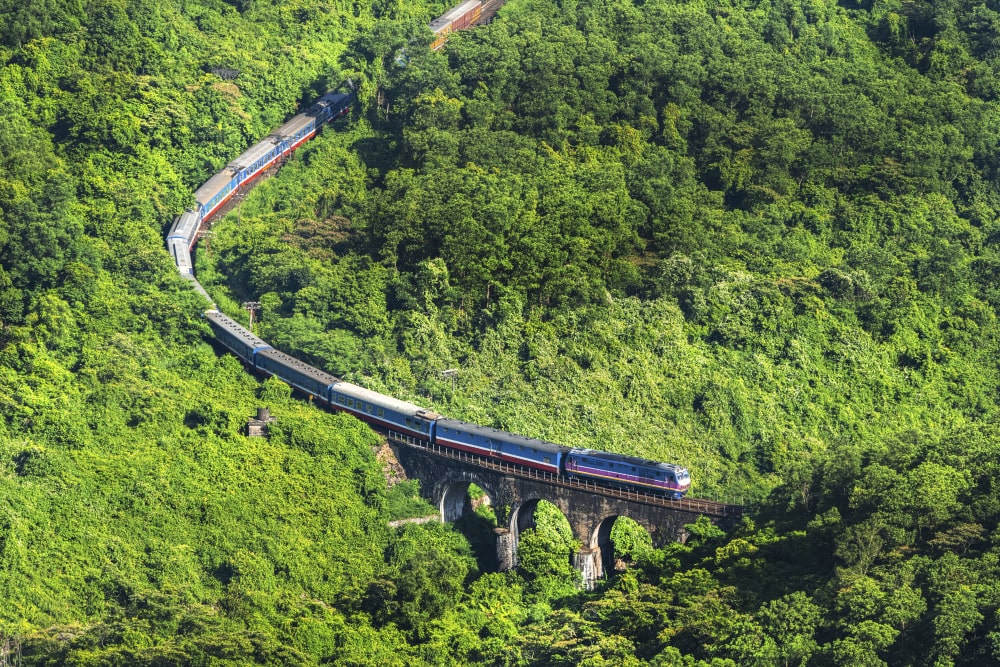 The scenic route from Hue to Danang a second-to-none experience

If you want an inexpensive yet exciting trip to travel along Vietnam from the North to the South, train could be a perfect choice. Many parts of the railways system in Vietnam go along or even through mountains, forests, valleys, plain and sea, so you would certainly have chance to contemplate the incredibly magnificent and fascinating scenery. Also, the speed of the train is not too high, just enough for you to enjoy breathtaking views outside the windows, taking some pictures or videos and having memorable moments in your trips. But one thing that you should keep in mind is to watch out all of your properties and luggage because there might be some robbers on the train who wait for the carelessness of the passengers to steal their belongings (read Safety guide for Vietnam).
Believe it or not, more than half of your trip time will be spent on transportation. Using night train or overnight flights will thus become a great solution for those who have a short holiday. Popular train routes from Hanoi to Sapa, Hanoi to Hue and Ho Chi Minh City to Hanoi all offer night train options. It is mostly a comfortable trip and relatively safer than using coach or open tour bus, though the price can be higher.
Currently, Vietnam Railways System (VRS) monopolize on all routes. The North-South train (formally named as Tau Thong Nhat or Reunification Railways) stops in almost all provinces, except for the Central Highland area. VRS also collaborates with private businesses to organize luxurious cabin option to tourists travelling from Hanoi to Sa Pa. There are almost every price level for your pocket and travel needs.  
Safety and Security
There is no major warning about safety on train. However, if you go with a budget option of travelling overnight with a soft or hard-seat, hold on tight to your valuable possessions instead of placing them on the compartment above your head or under your seat. Pickpockets get in and out of the train, in between the stations. With the berth option, the only concern is about the level of noise from next door cabin- you never know who you share your compartment with.
What is traveling by train in Vietnam like?
Travelling by train in Vietnam is truly an unforgettable local experience. The biggest advantage of this means of transportation is the reasonable price and safety. The fare is half of airplane's and only slightly more expensive than bus. Rustic as it is, the slow train goes along or even through mountains, forests, valleys and even ocean, which helps everyone enjoy Vietnam's authentic natural vista. Moreover, spending a few hours on train is an interesting way to make friends with local and have a closer view about their daily life. Your travelling fellows come from every part of the society: students, workers, small business owners, and of course, tourists and you will have more chances to talk to them than when you travel on air.
In some certain routes, train is essential means to get to the destination. For example, to get from Hanoi to Sapa, the road remains rough and train provides an economic and time saving option to travel between the two. For those who want more than just the basic train amenities, there is an abundance of choices from 4 berth wooden panelled cabin to a cheap soft-seat, which can satisfy the needs of the most demanding passengers. 
Even for short trips such as the 3 hour one between Hue and Hoi An (which stops in Danang station), travelling by train is still something worth considering. The hours sitting on Russian style train will expose you to breathtaking landscape of mountains and oceans on the way, and the slow speed means that you can use your camera to full. 
What you may not like about train travel in Vietnam
There are things you should be aware of.
Before heading to the station and hop on the train, you should keep in mind that train in Vietnam will not be as modern, superfast and clean as the expresses in Japan or Singapore, since Vietnam's railway system was established more than a hundred years ago with occasional maintenance. The hard wooden seat makes it impossible for passengers to change the seat's angle and lie down; while the soft seat, though has been covered with a layer of vinyl, is quite small and narrow. Passengers may feel uncomfortable with these two kinds of seats, especially during the long trip.
The carriage is often packed with people and sometimes too noisy, and tourists are expected to take great care of their luggage on their own, even if they buy tickets to sleep in berth in private cabin. Limited train services includes light blanket for passengers in cabin and a mobile food stall offering porridge, instant noodle and junk foods. In long routes, lunch boxes are available, but the food often gets cold and the dining space is inconvenient. There is only one toilet each carriage, so it may be overloaded or run out of water in the morning.
In other words, train travel may not be the most comfort choice for a long trip, such as those from Hanoi to Ho Chi Minh City and vice versa, but if you are really into an adventure, take your chances!
Seats and Berths
Take a look at what the conditions for each seating category is like to make wisest purchase!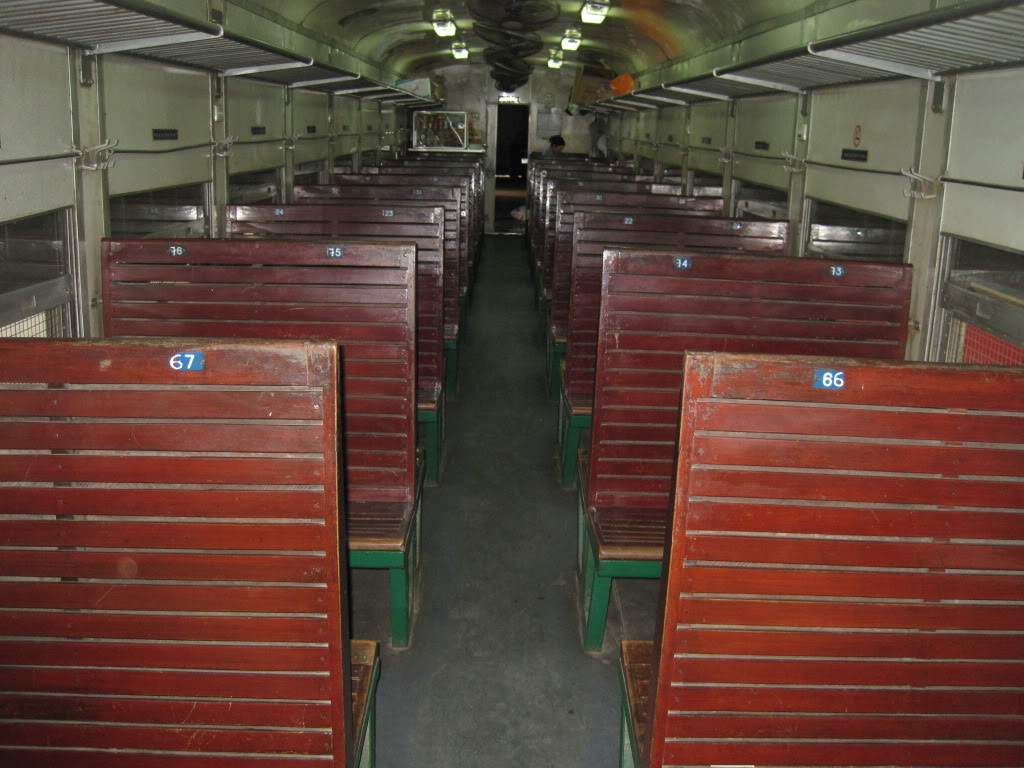 The hard seat...

The soft seat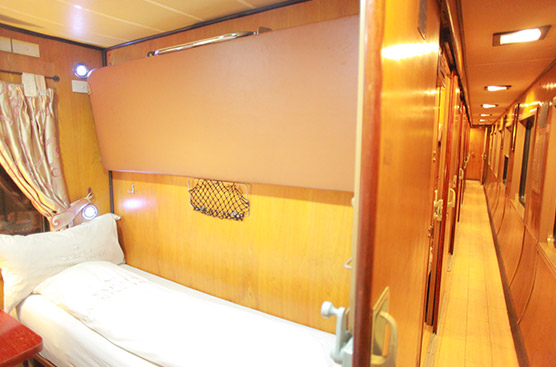 Train from Hanoi to Sapa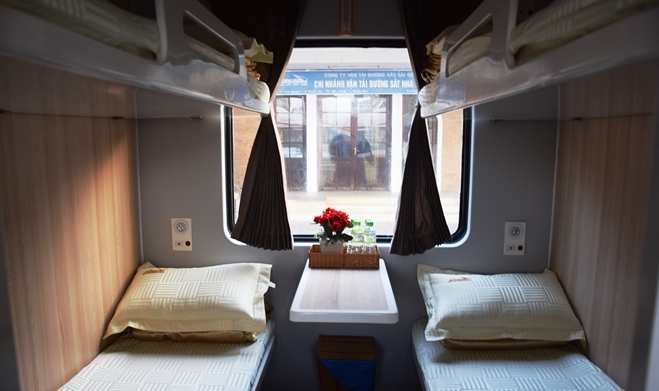 The newly inaugurated train from Saigon to Nha Trang and vice versa
How to get your train tickets
There are many ways for you to buy a train ticket in Vietnam.
The traditional method is to buy directly at train stations. It is easy to purchase the ticket this way because all you need to do is to come to stations, check the information about your desired trips in the board and then buy tickets from the tickets sellers. The disadvantage with this way of purchase is the sometimes long queue. Also, train ticket sale agents do not always understand English so you should write down of your desired destination just in case. The advantage of buying the ticket off the counter is cheaper price.
A more convenient method is to book online through tourism websites. There are several websites that support booking train tickets online with English interface  or private travel companies. But it will be better for you to ask your tour agency for booking train tickets because they are quite familiar and experienced in this work.
What you should know as you consider a train trip in Vietnam
• Book the ticket in advance to choose the best seat!
• Bring along some food for a late night supper if you are afraid of food quality on train. A large towel can be used as the blanket and keep you warm throughout the long trip.
• If you sleep in hard or soft seat, prepare a neck pillow.
• Do not bring too much baggage; you cannot have a good sleep while watching over your belongings all the time.
• Keep some small notes ready to pay for the taxi going to the station or buy junk food.
• Do some light exercise every couple of hour for blood circulation and getting rid of weariness.
• Do not buy food and souvenirs at transit stations along the road.
• If there is problem with your seat or food quality, do not hesitate to ask the coach's conductor.
Related Guide
• Vietnam North-South Express Train
• Train stations in Hanoi, Ho Chi Minh City and Hue
Conversations (0)
Join the conversation
Conversations
Join the conversation
ALL COMMENTS (0)
There are no comments. Add your comment to start the conversation.