Driving Tips: What To Do & NOT To Do
DO - Be Prepared
Before you embark on your journey, it's essential to be well-prepared. The most important thing is to stay safe. Invest in a helmet that fits you well and no matter how hot it is, always wear it. Traffic comes from all sides, so always double-check the road's clear before making a turn.
Your most essential items are water and gas. Always have several liters of water with you and replenish it at every opportunity. Aim to refill your gas tank whenever it dips below half of its capacity. Carry a healthy reserve of gas with you because the last thing you want is to be stranded somewhere in the middle of nowhere on a mountain. Fruits, nuts, and other snacks are always a good idea as well; you'll need to stay well-nourished to keep focused.
Be prepared for all kinds of weather on your motorcycle trip. Even though Vietnam is a hot country, temperatures in the mountains can quickly dip, and you might get chilly. Bring rain gear, sunscreen, and sunglasses. For some of the busier parts of Vietnam, you should bring a good face mask as pollution levels can be worse than you're used to.
DO - Take Your Time
It's usually better to approach the trip by doing a full day of driving and then to have a rest day rather than going a little bit every day. This method will give you enough time to rest and enjoy each point of your trip, but ultimately it's up to your personal preference.
DON'T - Panic
Being stopped by the police is something that you want to be prepared for when riding a motorcycle in Vietnam. Even with the right documentation, the police might still try to shake you down. Don't panic. If the police pull you over, immediately take your key out of the bike's ignition and put it in your pocket. If the police ask to see your license, show it but do not give it to them. Pretend you don't speak any English, and they might let you go.
With more persistent police officers, you may have to bribe them. Never let anyone know how much money you have on you, but carry one 100.000 VND bill in one pocket and a 200.000 VND bill in the other. Either one should be enough to get the police to back down. As previously mentioned: you should have a Vietnamese license to drive in Vietnam, but enforcement is lax, and travelers are usually fine without one.
Finally, enjoy every moment of your trip. Take your time riding from A to B. When you reach a destination, stop and smell the roses! Take the time to experience authentic Vietnamese life and explore the best bits of the country. When done right, a motorcycle trip across Vietnam will give you memories to last a lifetime.
Conversations (0)
Join the conversation
Conversations
Join the conversation
ALL COMMENTS (0)
There are no comments. Add your comment to start the conversation.
read next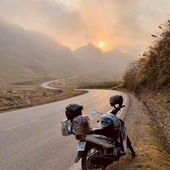 If you are brave enough, a motorbike adventure to mountainous area may be a great way to experience Vietnam.
All you need to know about renting a motorbike in Vietnam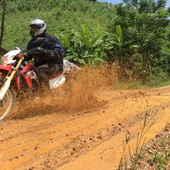 Motorbike is considered a favorite means of transportation for traveling mountainous areas for many adventurers.