Where to Go: Magnificent Motorcycle Routes Across Vietnam
These are some of the most popular routes in Vietnam and are beloved by those who traverse Vietnam by motorcycle.
Northern Vietnam
Ha Giang Loop
The Ha Giang Loop is perhaps one of the most famous routes Vietnam has to offer. In Vietnam's north, Ha Giang shares a 145-mile border with neighboring China, and the province's famous Ha Giang Loop is around a 6-to-11-hour drive (150 miles) away from Hanoi. The ride to the loop is an adventure in itself, but the province's most famous road is 4C, more commonly known as the "Road to Happiness."
The Ha Giang loop is around 190 miles in total and would take you at least four days to complete. On the way, you will encounter mind-blowing landscapes and countless spots offering up incredible views. Mountain passes, limestone peaks, springs, valleys, caves, and caverns, Ha Giang is a scenic wonder. The area is home to countless minorities like the H'Mong, Tay, and Lo Lo people. Each of these minorities has a unique history, traditions, and festivals, making Ha Giang an exceptionally culturally diverse area to explore. Market towns like Dong Van warrant a stop to take in all this diversity and experience the local way of life.
As the loop contains countless hairpin turns and winding mountain roads, this route isn't ideal for beginners. Avoid going in the rainy season; instead, travel the loop between October and May. The weather in Vietnam can be quite unpredictable, so be prepared and always consider your safety first.
Cao Bang
You can travel directly from Hanoi to Ha Giang, but how about taking a more adventurous, long way round?
Cao Bang borders Ha Giang province and is the perfect place to use as a base for making trips to surrounding towns. Cao Bang is, just like Ha Giang, around a 6-to-11-hour drive (150 miles) away from Hanoi. You can do a loop north-west of Cao Bang city, taking the DT 204 or drive east and pay a visit to the Ban Gioc-Detian Falls. This waterfall is one of Northern Vietnam's highlights, and you should not miss it on your motorcycle trip.
Ban Gioc-Detian Falls is in two halves - one half sits in Vietnam and the other half in China. Both halves lie on the Quay Son river, and they're part of the Non Nuoc Cao Bang UNESCO geopark.
Take the QL 34 road from Cao Bang town to Ha Giang town and take in the scenery. Driving through Cao Bang and Ha Giang in tandem is a must-do to make your motorcycle trip across the north of Vietnam all the more memorable.
Routes Not To Take In The North Of Vietnam
There's one motorcycle route in Northern Vietnam that can prove a real chore: Hanoi's route to Ha Long Bay. Avoid driving this way as the roads are hectic and tedious to drive on. If you want to visit Ha Long Bay, avoid a frustrating drive, store your bike, and take the bus instead.
Central Vietnam
Hoi An to Hue
Both Hoi An and Hue are ancient cities with a well-preserved history. Hoi An used to be a fishing town that conducted trade with other Asian nations throughout history, and Hue is the old seat of the former emperor of Vietnam. The fascinating history of these two cities is reflected deeply in their modern culture and architecture. Drive from Hoi An to Hue and stop in both places for a few days as these towns are each well worth a visit. Besides the cities, central Vietnam is a gorgeous area to drive through.
On this route, about an hour after leaving Hoi An, you'll reach Da Nang, one of Vietnam's best and biggest coastal cities. The pace of life is slower here than in Hanoi and Saigon, and in general, it's a lovely place to stay still and relax for a few days. Take some time in Da Nang to rest, soak up the sun, and enjoy the city.
Sandwiched between Hoi An and Da Nang, you'll find the Marble Mountains. These mountains are beautiful and filled with temples and shrines. It's also one of the last areas where the Vietcong remained hidden during the war. Park your bike at the bottom of the mountains and explore the rest on foot. It's a long way up, with many stairs, so be sure to take water and plenty of rest. Let your curiosity lead you up the mountains to find tons of hidden trails and backways. Choose to follow any route you like; none will leave you disappointed.
North of Da Nang, you'll find the famous Hai Van mountain pass, arguably one of the best coastal roads the world has to offer. "Hai Van," roughly translated, means something like 'passing through the cloud of the ocean.' This dreamy name is inspired by the mist that frequently rises from the South China Sea on sweltering days.
If you take this route, you'll drive up winding roads with the ocean behind you. The views in this area are out of this world. As you ascend the mountains, the landscape will change to a lush jungle forest. Don't rush this part of the trip; there's too much beauty you risk missing.
As soon as you pass the Hai Van pass, make a stop at the idyllic Lang Co lagoon or continue your way to the historic town of Hue.
It's best to drive this route between January to June as the weather tends to be more forgiving. You can do the Hai Van Pass in a day as it's only around 80 miles long. However, there's so much to see and do along the way, and so many beautiful sideroads, that travelers could easily spend five or six days driving this road.
Ho Chi Minh Trail
One of the most well-known roads in Vietnam is the Ho Chi Minh trail. No one truly knows where the road starts or finishes as its route is based on one was initially an old supply route used in the war.
Beginning somewhere in the south of Vietnam, the trail's bulk goes through the country's center. This route is light on traffic, and this way is a safe choice for beginners. However, with roads spanning a distance of over 200 miles, this is one of the longest roads in Vietnam, and it can take up to a few weeks to drive its length. Make sure you consider the size and length of the road and plan your accommodation and rest stops accordingly.
If you're coming from Hue, the Ho Chi Minh Trail is easily reachable by taking the QL49 west as you leave Hue to Hong Quang. This connection makes this route a perfect companion to the Hoi An – Hue route.
As you drive north on the Ho Chi Minh Trail, you will ride on the Phong Nha to Khe Sanh road, which takes you past the Phong Nha Ke Bang National Park. If you have time to stop in any of Vietnam's national parks, make it this one. Phong Nha Ke Bang is home to the world's largest cave, the majestic, cavernous Son Doong cave.
Another beautiful section of this part of the journey is on the QL14 road from Prao to Phong Nha, cutting right through central Vietnam. This part of the trail is stunning, and you'll want to take your time while you're driving through this part of Vietnam. Prao is about 45 miles (3-4 hours) west of Da Nang via the QL14G road.
This part of the journey is where the Ho Chi Minh Trail starts to sparkle. The landscape consists of mountain vistas, meandering rivers, wide-open straights, lush green jungle, and plenty of mind-blowing bridges to cross.
The best time to take the Ho Chi Minh trail is typically between March and September. However, as the course is so long, this road crosses the many different weather systems of Vietnam, and weather can change quickly, keep an eye on the weather forecast, and be prepared.
Even though this leg of the Ho Chi Minh road is quite remote, it's well accessible, and it's not a hard or tough drive. The Ho Chi Minh Trail should be a top choice for anyone embarking on a motorcycle trip across Vietnam.
Southern Vietnam
Home to the Mekong delta and Saigon, South Vietnam is the most populous part of Vietnam. Driving in southern Vietnam, you may notice the scenery and people change in the blink of an eye. One town to the next feels completely different. If you embark on your journey from Saigon, leave the madness behind and head northeast to start your journey.
Cat Tien to Dalat
Cat Tien is a national park about 70 miles (4-8 hours) north of Saigon and could be the perfect spot to start your motorcycle adventure in southern Vietnam. Once a dense tropical forest, the park now mainly consists of bamboo and grassland and is easy to drive through.
From Cat Tien, you can let the DT725 road lead you to the picturesque mountain town of Dalat. Along the way, you'll see the lakes, forests, meandering mountain roads that make Dalat famous. Close to Dalat, the DT725 spills onto the QL27 highway. After a short stretch on this road, the DT725 will continue back into Dalat.
Dalat used to be a mountain retreat for colonial settlers, but more recently, the area is known for its flowers, architecture, and general peace and tranquility. The entire 130-mile trip is doable in a day or two, but it's better to take your time and spend at least four days on this leg of your journey. Soak in the mountainous beauty and breathe in the fresh air.
Going down the mountain from Dalat to the beach town Nha Trang is a beautiful drive that you can easily complete in under a day. Nha Trang is a great base to continue your adventure into the central part of Vietnam.
Mui Ne to Nha Trang
Mui Ne is an old fishing town that has seen a rise in tourism in recent years. Nowadays tourists visit the old town to stay at the resorts and enjoy the beaches. Mui Ne is well connected in southern Vietnam, making it a perfect spot to start touring.
Mui Ne's road to Nha Trang takes you right along the coast and is truly a gorgeous ride. The route is about 180 miles long and should take you a few days to complete. While in the area, it's best to avoid the QL1A highway. This road goes straight from Mui Ne to Nha Trang, but it's all business and no scenery.
A better route is to take the DT716. This way is a little complicated but worthwhile as it will take you right down the coast up the Nha Trang. After taking the DT716, get onto the QL1A and ride it for a small stretch. When the QL1A bends away from the ocean, continue your route on the Duong Van Bien Ninh Thuan road. This road will take you through hills right by the coast and then flow into the DT 702, a road lauded by other motorbike travelers as stunningly beautiful. This particular leg will take you closest to the ocean, exactly where you want to be on a motorcycle road trip.
The road ends in Cam Ranh, a town just south of Nha Trang from where it's only a small distance to Nha Trang.
Routes Not To Take In The South Of Vietnam
While you're driving around the south, it's advisable to steer clear of the Mekong Delta. The Mekong Delta is densely populated, and going through it can be a nightmare. Congestion and pollution will add unnecessary stressors to your trip, so it's best to avoid driving around this area.
There's a lazy beach town a 6-hour drive south east of Saigon, called Vung Tau. Usually, this little haven is well-worth visiting, not, however, by motorbike. Like the Mekong Delta, Saigon's route to Vung Tao is a busy one; it's heavily congested and polluted. If you wish to visit Vung Tau, you should store your bike in Saigon and take a high-speed ferry.
Time frame
As with any trip, you can make it as long or as short as you want. If you're on a bit of a tight schedule, it might be a good idea to choose a part of Vietnam and fully explore that one. You can complete each part of the country (north, central, south) comfortably in two weeks.
For the full experience, spend two months driving from north to south or vice versa. You'll be telling the story for the rest of your life; that's a guarantee.
Conversations (0)
Join the conversation
Conversations
Join the conversation
ALL COMMENTS (0)
There are no comments. Add your comment to start the conversation.
read next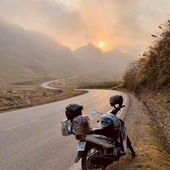 If you are brave enough, a motorbike adventure to mountainous area may be a great way to experience Vietnam.
All you need to know about renting a motorbike in Vietnam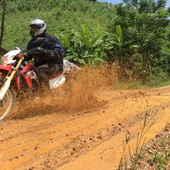 Motorbike is considered a favorite means of transportation for traveling mountainous areas for many adventurers.