Com Tam-Broken Rice
If you walk around Saigon streets, you can easily recognize a dish that is always served in any Vietnamese food store or restaurant - Com Tam (Broken rice)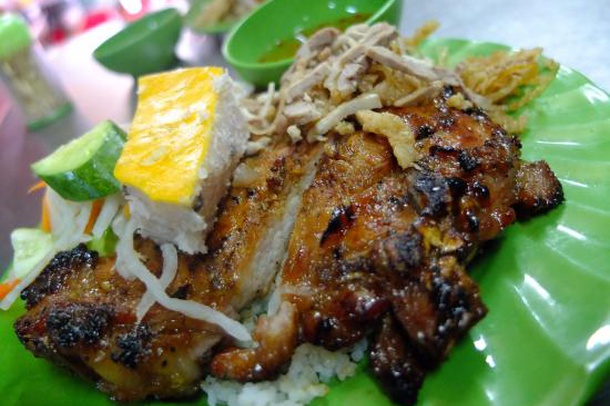 Overview
If you walk around Saigon streets, you can easily recognize an omnipresent dish that has always been highly recommended by locals and in foreign guidebooks. The sign says it right: Com Tam (Broken rice)
Vietnamese Broken rice (Com Tam) is a traditional dish in the South of Vietnam, especially in Saigon. It was served as breakfast, lunch or dinner. Its origin is quite interesting: The farmers used to have Com Tam thanks its cheap price, the grains are left-over during drying and milling process. Therefore, it is used for brewers, rice flour or animal feed because the price is much cheaper than whole grain. That's the reason why farmer use it up to make "Broken rice" dish. Day by day, people find that many kinds of broken rice has the same quality as the whole price in terms of tasty, smell,… then they decided to use it to make the popular "Broken rice" dish as you now know.
Photo of Com Tam by theravenouscouple.com
Gradually Com Tam has become a prefered dish by most Southerners and found anywhere from city markets, street vendors to luxurious restaurants. The dish rose to such popularity today probably because of its unforgettable taste made from simple ingredients. A dish of Broken Rice includes pork chops (suon nuong), shredded pork skin (bi), steamed pork and egg patty (cha trung), a sunny side up fried egg placed over cooked broken rice. Then sliced spring onions fried in hot oil will be sprinkled on top of the dish. Pickle carrot and daikon, sliced cucumber are arranged at the corner of the dish. Another essential part that makes up the dish is dipping sauce, a mixture of fish sauce, sugar, lime and chili.
Apparently the price also increases together with its fame and it is harder to find an authentic and "best" one. If you want to enjoy a "really good" Broken rice, don't hesitate to pass by "Com Tam Ba Ghien" located at 84 Dang Van Ngu Street , Ward 10, Phu Nhuan District, Ho Chi Minh city. The average price is about VND 30,000 ($1.5) per dish. The rush hours of this place are after 8 a.m., after 11a.m. and after 6p.m. If you don't want to wait for so long, make sure to come before then!
Another good place is Com tam Cali , Com tam Moc, Com tam Thuan Kieu restaurant chains. You may find a restaurant that near your hotel in a short list below:
Com Tam Cali
Add 1: 32 Nguyen Trai Street, District 1
Add 2: 35Bis Le Thanh Ton Street, District 1
Add 3: 449 Vo Van Tan Street,District 3
Com Tam Moc
Add 1: 85 Lý Tự Trọng Street, Bến Thành Ward, District 1
Add 2: 48 Lê Thánh Tôn Street, District 1
Add 3: 82 Nguyễn Du Street, District 1
Com Tam Thuan Kieu
Add 1: 46 Dinh Tien Hoang Street, Da Kao Ward, District 1
Add 2: 114 Yersin Street, Nguyen Thai Binh Ward, District 1
Add 3: 54 Thuan Kieu Street, Ward 4, District 11
Facilities & Services
Non-smoking restaurant
Air conditioning
Credit card / Debit card accepted
Take away
Comments (0)
Your comment...
Conversations
Join the conversation
ALL COMMENTS (0)
There are no comments. Add your comment to start the conversation.