Day Cake - A Traditional Staple Of Hmong People
The Tet Holiday of the Mong ethnic group would never been accomplished without Dày Cake, the speciality that nature has given to these people. As a symbol of the round Earth with a fresh environment, Dày Cake is a delicious dish that only Mong people can cook properly.
All ingredients used to make this dish come from nature. First of all, people must choose the best Nep Nuong Rice in highest hills. They filter this soft, fragrant and pure rice before drying it under the sunlight. However, because intense sunlight can possibly break the rice and take away its scent, people usually dry the rice only in early morning or late afternoon. The dried rice will still maintain a thin cover, which embedded the scent inside the small seeds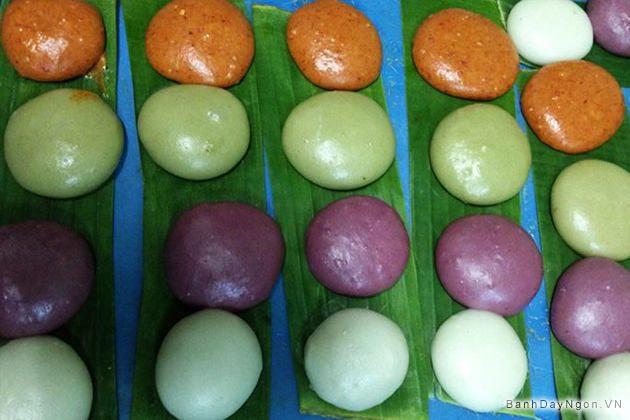 Photo banhdayngon.vn
The rice is then cooked in big pots until the fragrant spread all over the places. Then, the rice will be ground by the strongest young men while women start to prepare the leaves to wrap the cakes. They choose a special type of leaves called Giong. Each of the leaves is washed carefully with water from the beginning of the springs and cleaned again with cloths.
When the men finish their grinding job, the dough is given to the skillful women. Interestingly, the more ground the rice is, the whiter the dough becomes. Each piece of the hot and spotless dough is placed on a Giong leaf and wrapped carefully.
The final Dày Cake has an immaculately white color, which makes it much more noticeable and tempting on the green leaves. As the cake can be preserved for a pretty long time, we can serve it in many different ways, in different occasions. However, in Dien Bien, the most popular dishes are Grilled Dày Cake with Honey or Dried Dày Cake. Eating this wonderful specialty is a great experience, but never indulge yourself! Otherwise, you would never stop!
Conversations (0)
Join the conversation
Conversations
Join the conversation
ALL COMMENTS (0)
There are no comments. Add your comment to start the conversation.
read next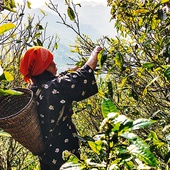 Ta Xua Tea originates from Ta Xua, a village locating about 14km away from Bac Yen district in Son La.