10 Best City Hotels For Your Stay in Hue
The elegant imperial city of Hue is packed with attractive tourist attractions: the poetic Huong River, Trang Tien Bridge or Thien Mu Pagoda, Bach Ma National Park, Thai Hoa Palace, the Forbidden city, not to mention the great many restaurants, night clubs and souvenir shops. A stay in the central part of Hue will give you close access to everything. City hotels differ in style and price, but most will be within a reasonable budget. Below are some of the best to pick for your holiday.
Imperial Hotel
The Imperial Hotel is well famed as the first international five star hotel in Hue with spectacular location overlooking the elegant Huong River and walking distance to many Hue's tourist attractions. The place is an embodiment of Nguyen Dynasty's architecture with expose of colorful patterns, modern facilities and antique decorations. The hotel offers several pools, both personal and public, spas, lounges and entertaining centers.The rooms are spacious and fully meet the five star hotel's top-notch quality; the deluxe river view room is highly recommended with stunning view to the river. An amazing roof top bar terrace overlooking Hue is also totally worth trying. With highly trained, skillful, and extremely friendly staff, Imperial Hotel will be a great place to rest and relaxing after a tired day sightseeing the Imperial City.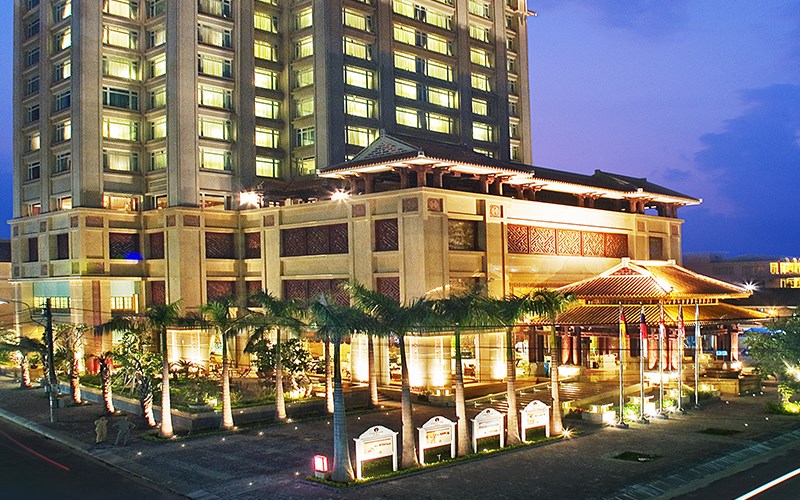 Indochine Palace Hue Hotel
Once known as Celadon Hue Hotel, the Indochine Palace is truly a great choice for boutique fans. Located right in the heart of the former royal city of Hue, Indochine Palace is embedded in a lush exotic designed garden and gives guests unique opportunities to relive, experience and enjoy the essence of Indochine culture. The place is also designed with excellent facilities for MICE (meetings, incentives, conferences, events).The rooms' interior can be regarded as fabulous with all materials are all of top quality with harmonious mixing of classical and modern decoration. As mention that the place is designed for MICE, the meeting room/gala room is truly specializes and fantastic with top-notch sound and lighting system and full equipment.
Century Riverside Hue Hotel
Century Riverside Hotel Hue is a deluxe hotel right on the bank of the elegant Perfume River with a vast area of 20,000 square meters. The place has a total of 135 rooms divided into three types of room including Suite Riverview, Deluxe Riverview and Suite Garden View, surrounded by a garden full of fruit tress and bright and colorful flower along with a green pasture looking alike a resort.With its row of luxurious rooms which are elegantly decorated ranging from standard to high class criteria suite, along with excellent service from the considerate and polite staff, the hotel commits the bring to you an impressive and satisfying journey during your stay in Vietnam.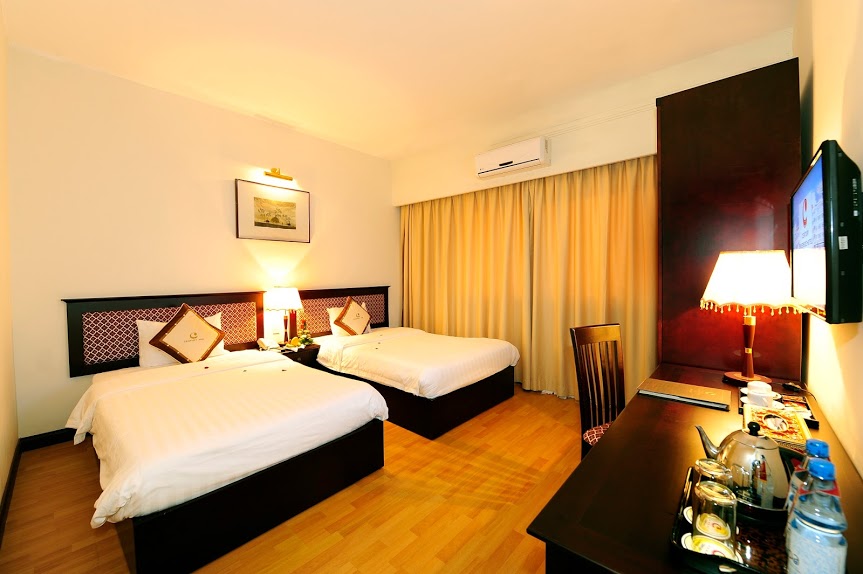 Saigon Morin Hotel
Saigon Morin Hotel is a 4 stars hotel that was constructed at the heart of Hue City. When travelers come to this hotel, they might be impressed with the luxurious and palatial outer appearance of the hotel that is placed on the background of romantic Perfume River and Truong Tien Bridge. The hotel has 130 guestrooms with windows that are directed to the street and the beautiful garden on the campus of it.All of these rooms are well-equipped with modern amenities to match international standard and ensure that guests will feel most comfortable and relaxing. Saigon Morin hotel is also fascinating with its charming restaurants that can serve various dishes of traditional Vietnamese foods or Western food, and an allure bar with romantic scenery near a blue swimming pool. However, the price of Saigon Morin is significantly more expensive than other hotels to compensate its brilliant service, with the range from USD 90 to 280 per night.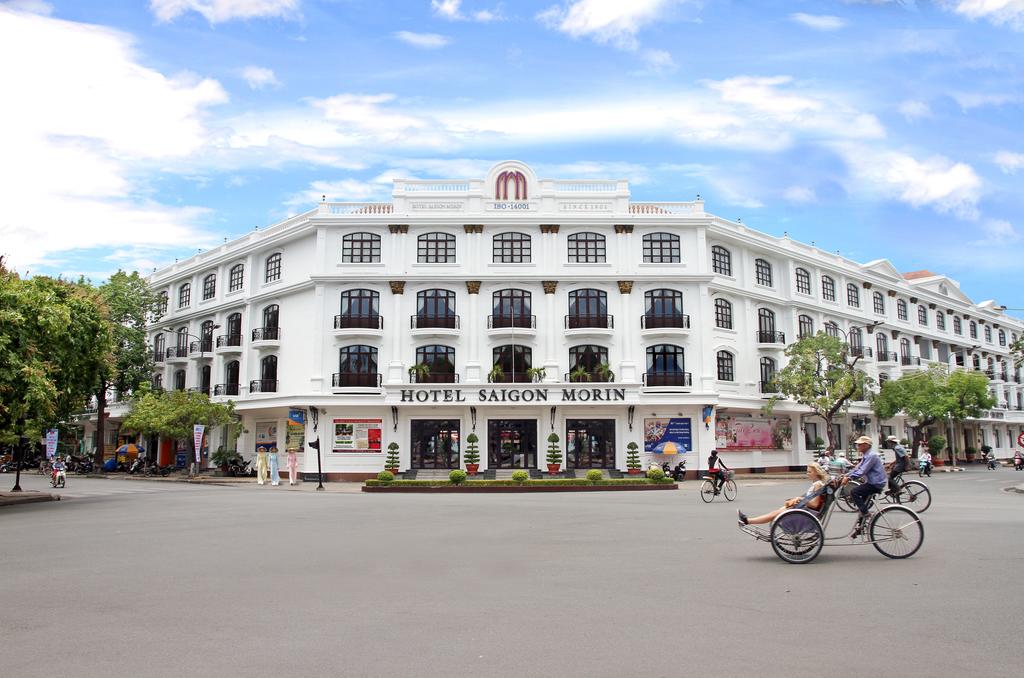 Villa Hue Hotel
Villa Hue Hotel is a 12-room boutique hotel and a practical training center for Hue Tourism College students and centrally located in the city center, which gives it easy access to the charming, poetic Huong River and also other city attractions. 
With rich décor of traditional Hue architecture, the hotel offers two choices of room including Deluxe Room and Superior Room, both of which are as spacious as about 38 square meters and features full amenities namely separate bath and shower, comfortable sitting area, mini bar and refrigerator, in room safety deposit box, satellite television, IDD telephone, Wifi connection, hair dryer, bathrobe and slippers and tea and coffee making facilities. The place sometimes gives its guests nice little touchs coming from the professional and friendly service like the free little cookies on the pillows or the turn down service. Specially, there is a cooking class by Hue Tourism College for those who want to learn about the unique Vietnamese cuisine.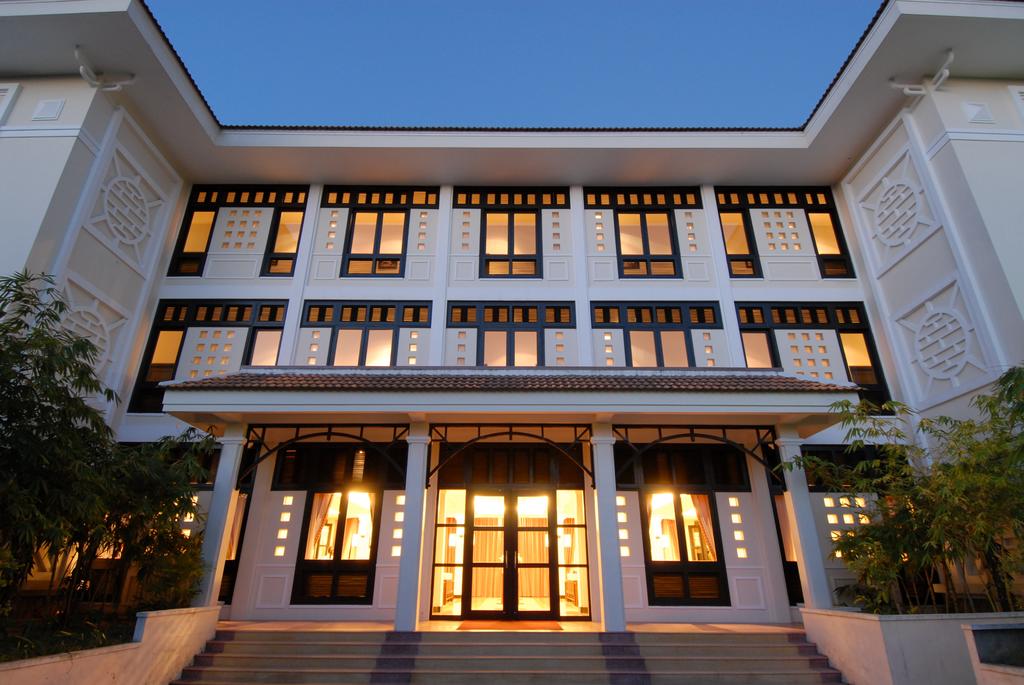 The Mondial Hue Hotel
Centrally located at a stunning position nearby the fable Huong River overlooking the royal Hue's Citadel, The Mondial offers spacious rooms with amazing view of the scenic Huong River, Ngu Binh Mountain or the 270 degree views of the bustling city with their panoramic windows.The facilities are fully equipped, including Minibar, Shower, Bath, Laptop Safe, LCD TV, Telephone, Air Conditioning, Bathroom Amenities, Toilet, Bathroom, Heating, Cable TV, Tea/Coffee Maker, Hairdryer, Wake Up Service/Alarm Clock, Bathrobe, Work Desk, Seating Area, Slippers and high speed internet. The place is also well-known for hosting events such as weddings, cocktail receptions with its flexible, modern and elegant meeting rooms along with professional service to deliver a seamless experience.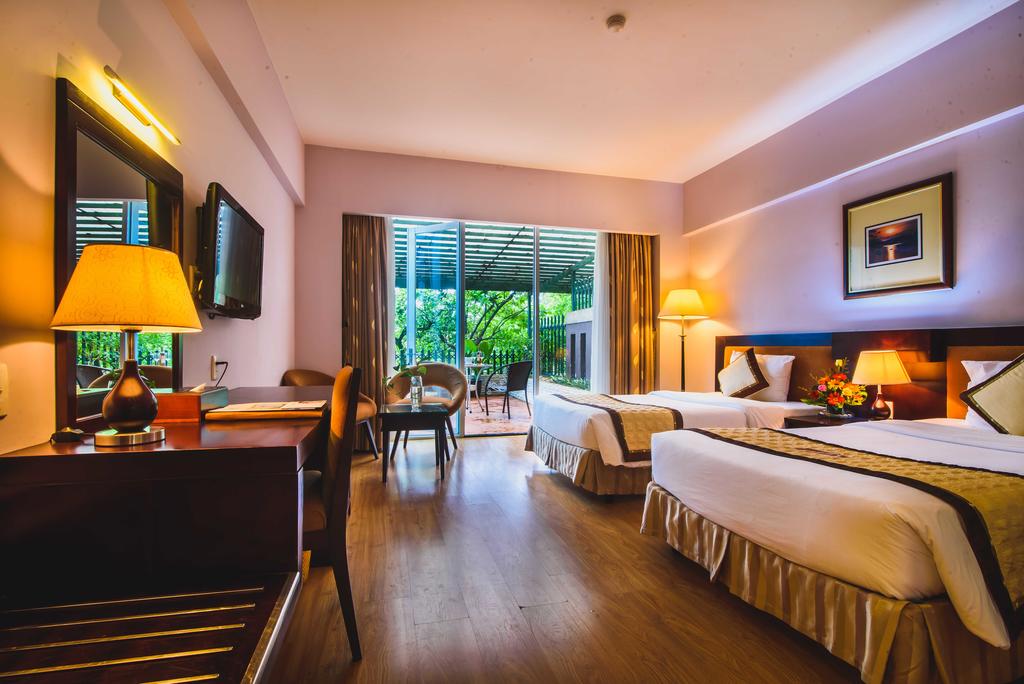 Huong Giang Hotel Resort & Spa
As suggested by its name, Huong Giang Hotel Resort and Spa, which literally means "Perfume River" in Vietnamese, locates strategically in the city center of Hue right on the poetic banks of the elegant Huong River. It is a superb place for tourists to contemplate the panoramic beauty of Hue city and also to visit countless tourist attractions in Hue.The place possesses the special trait of the Huong Giang River with a combination of the modern architecture and Hue Royal Court decoration inside mixed with the green of the tropical plants in bloom in the four seasons. 
The spacious rooms inside are exquisitely decorated and equipped with full and modern amenities, complementing with the professionally qualified personnel and elegant and caring service.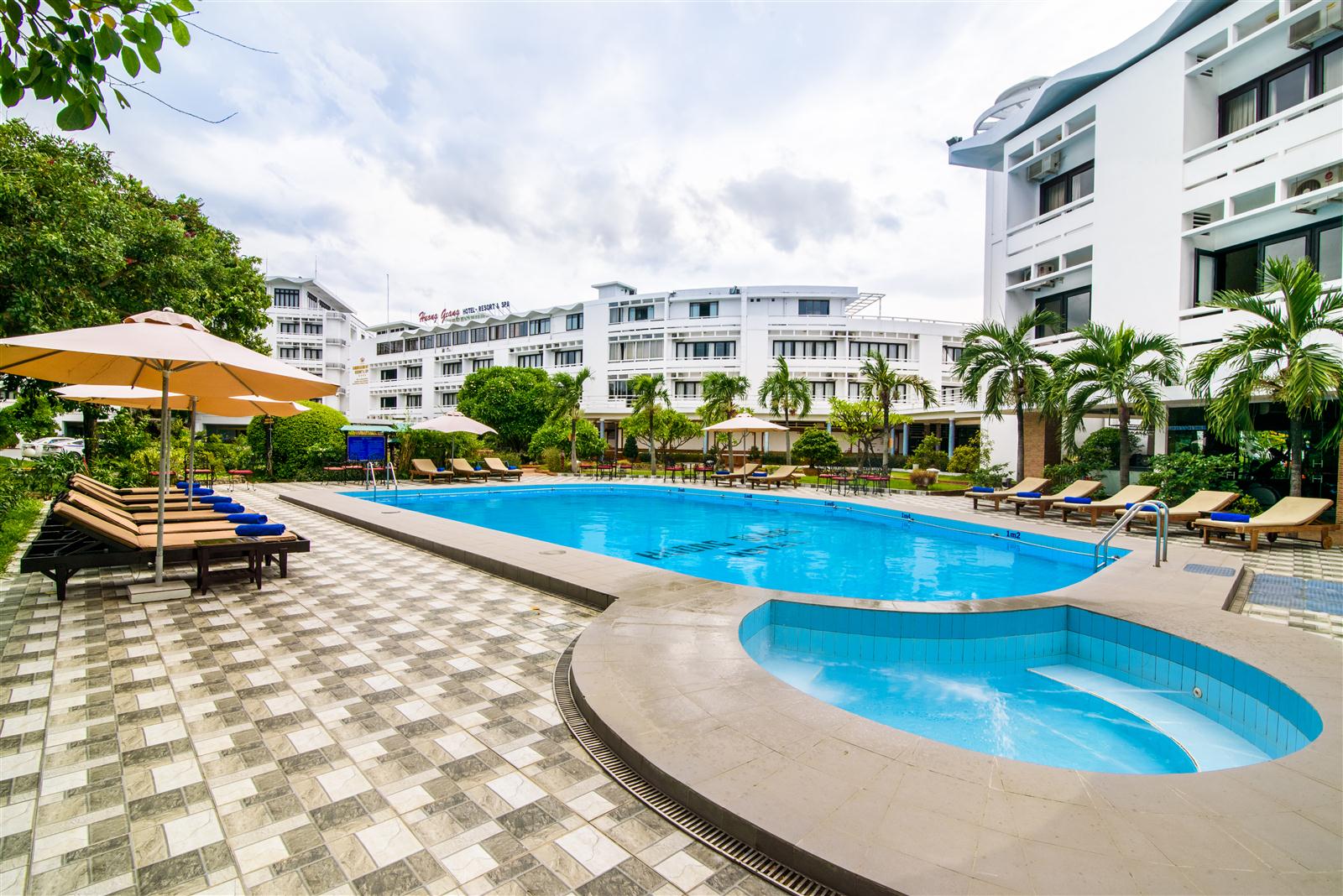 Silk Path Grand Hotel Hue
Formerly called Green Hotel Hue, Silk Path Grand is a 4-star hotel in the heart of the Imperial City that offers genuine Vietnamese hospitality with world class services and facilities. 
Expertly built in four 5-storey buildings, 199 spacious rooms and suites are fully furnished and equipped with facilities and amenities that conform to international standards. The place offers superbly designed suites, fully furnished with large living room and a bed-room fully stocked bar, separate bathrooms and a kitchen. Also there is a large 902 square meters Conference Hall with a 164m2 reception area, fully equipped with state-of-the-art audio/visual facilities including simultaneous translations. There are another four smaller functions rooms (65m2 to 130m2), conducive to smaller parties.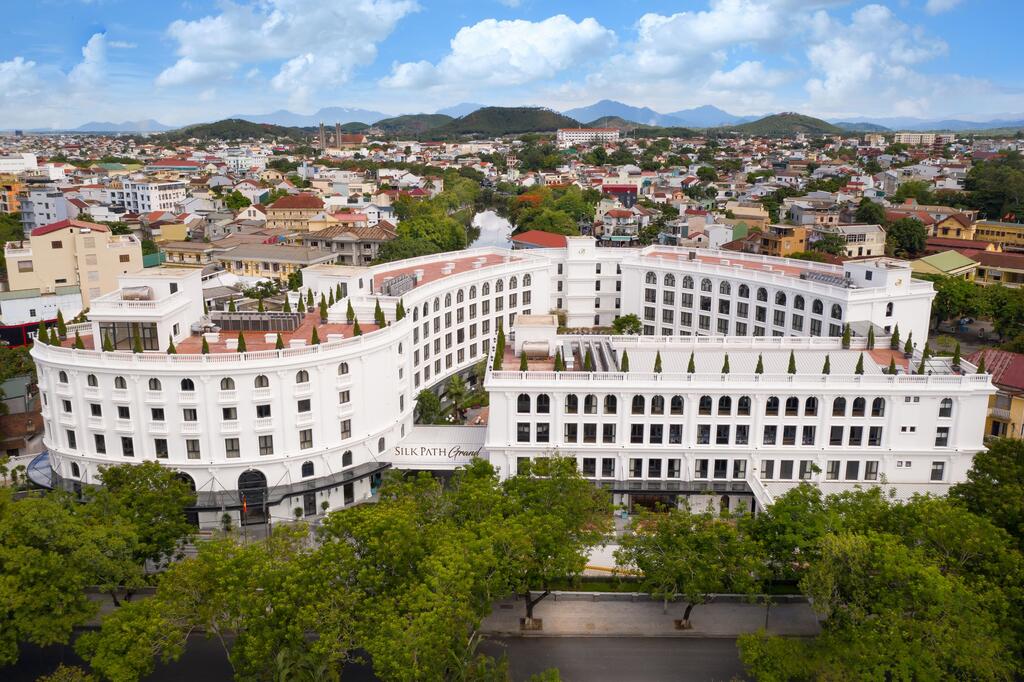 New Star Hotel Hue
New Star hosts 56 deluxe guest rooms with fully furnished amenities. The hotel also accommodates extra services such as spa and massage, restaurant and bar, and especially swimming pool on rooftop. With this remarkable services and appropriate prices, New Star Hotel should be one of considered accommodation place to foreigners when they visit Hue City.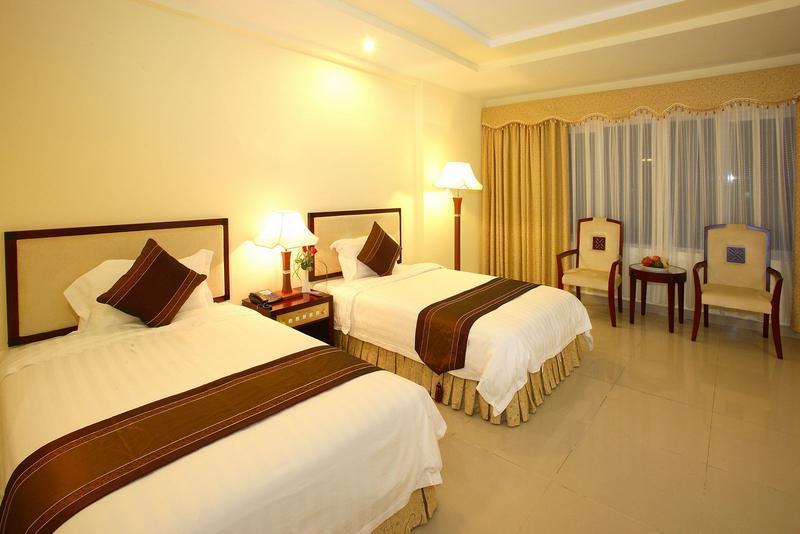 Romance Hotel Hue
Centrally located in Hue City Vietnam, Romance Hotel Hue is an elegantly designed luxury hotel Vietnam which offers an ideal location for business and leisure - just a stone throw away from Perfume River and many other popular destinations. With 113 well furnished included five kinds of room: Superior, Deluxe City View, Romance Suite, Deluxe (Mountain View/ Stadium View) and Executive Deluxe.
With full commitment to cater for clients' needs, the hotel offers full and high quality facilities like air conditioned rooms, 24-hour room service, satellite TV channels, wifi connectivity in public areas, minibar, and electronic or magnetic safes. With the slogan "A lifetime of happiness", the hotel seeks to ensure that you will have the most comfortable, enjoyable and truly unforgettable time in Romance Hotel.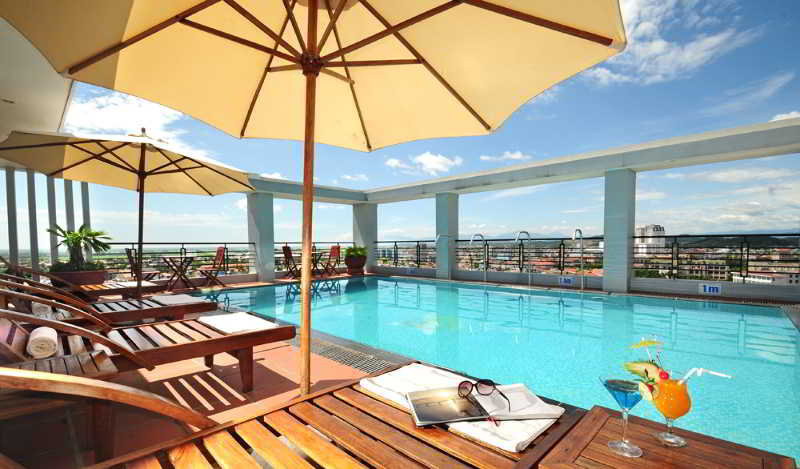 Conversations (0)
Join the conversation
Conversations
Join the conversation
ALL COMMENTS (0)
There are no comments. Add your comment to start the conversation.
read next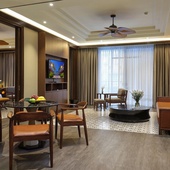 The old capital of Vietnam, Hue remains the most culturally rich and romantic city of the country. Its hotels and accommodation reflect well this vibe: you are to find the most curated travel experience by simply staying here.