5 Best Bars in Hoi An To Grab Your Drinks
Hoi An brings to mind the peaceful image of colorful tailor shops, yellow walls and thronged ancient streets. However, it would be a mistake to assume the place a sleepy town. Far from that, Hoi An at night is lit up with a vibrant and intriguing vibe, with many bars and bistros lining the downtown area. Try out these 5 recommendations of best places for cocktails in Hoi An, where you can sit down and celebrate the holiday with an exquisite drink.
Tam Tam Bar
First opened in 1996, Tam Tam Bar, along with its long establishment, has become an indisputable highlight of the ancient town. This place quickly impresses visitors at the first glance with its intriguing vibe inspired by the tropics, combined with the bold, vibrant lights that slightly remind one of Hongkong street boutique design. 
Not solely a cocktail bar, but Tam Tam does well on whatever it offers. The classic cocktail menu is surprisingly decent and satisfying, which is recommended by most visitors who have been here; the selection of Vietnamese traditional food is diverse enough to come back at any time of your trip. 
Located in a beautiful, ancient house, Tam Tam also has its own spacious outdoor lounge on the rooftop, where you can enjoy great meals while taking a look over the streets, watching daytime performance or endless lane of lantern when the night comes.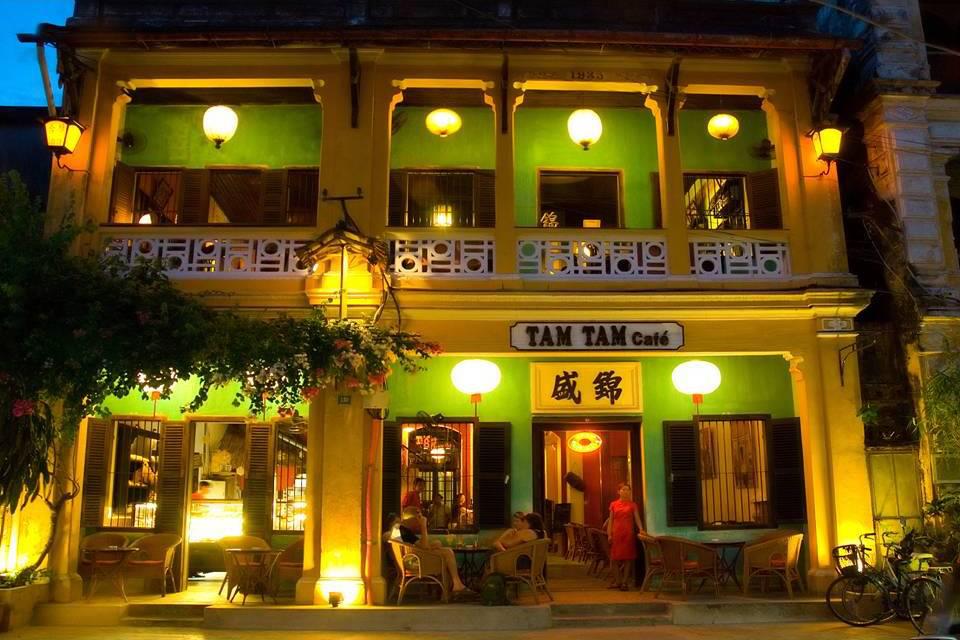 Photo: hoiandanang.com
Address: 110 Nguyen Thai Hoc Street, Minh An Ward, Hoi An
Opening hours: 8.00AM – 12.00AM
Dive Bar
Dive Bar is among the most popular nightlife destinations that attracts diving enthusiasts, local youngsters, and visitors from all over the world. As the name suggested, Dive Bar belongs to the Cham Island Diving Centre, initially opened as a gathering station for divers in the middle of Vietnam. The inner space is full of comfy living room sofa, billiard table, swimming pool, garden courtyard, and an Internet cafe so that you will always get yourself engaged while having a sip of cocktail or beer. In addition to the classic, Dive Bar offer wide selection of strange yet compelling cocktails at very reasonable price. At special hour, you can even try to create your own cocktail with the guide of friendly bartenders. The drink list varies from cocktails, draft beers to premium Vietnamese wine, which is no doubt satisfy every palate. Dive Bar kicks off its outstanding live music nights on Tuesday and Saturday evenings with local band playing different genres such as blues, reggae and even punk rock, turning this place a lively and enticing option for late-night wanderers.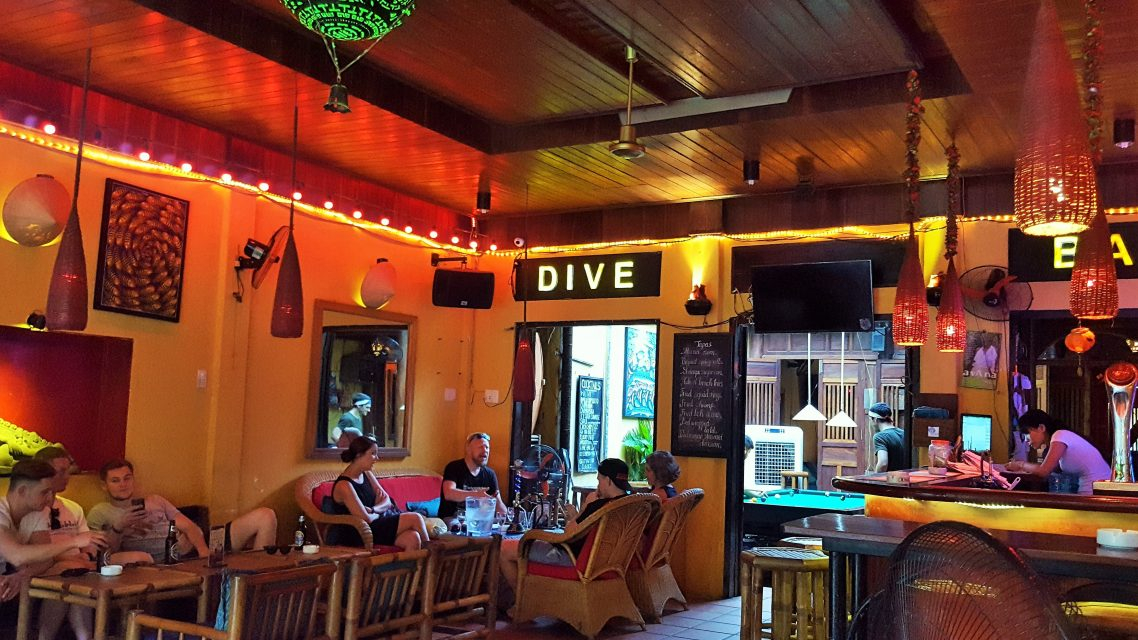 Photo: lodyhelp.com 
Address: 88 Nguyen Thai Hoc Street, Minh An Ward, Hoi An
Opening hours: 5.00PM – 2.00AM
Tadioto Whiskey Bar
Tadioto Hoi An is a brother brand of the exquisite Tadioto Hanoi, which is owned by Vietnamese famous writer Nguyen Quy Duc. This is a truly hidden gem that you would feel lucky to visit during your trip to Hoi An. Hidden in an unnamed alley of Phan Boi Chau Road, it's unlikely to be popular with tourists if you are not suggested by a savvy local. All the tourist atmosphere will disappear once you close the thick wooden door. Make your step further inside, the tranquil and aesthetic pleasure from mellow light, rustic furniture, and contemporary design immediately embraces you. Known as a place for "drinkers and thinkers", Tadioto offers both classic and namesake cocktails, made from the exclusive array of whiskey and gin, with even the most limited edition, which definitely satisfy any spirit lover. Beside cocktails and liquor, Tadioto is also a phenomenal oasis to taste Japanese sushi and ramen. Combining the antique culture and modern artful techniques, Tadioto's performance brings the sophistication of "dine & drink" to the next level.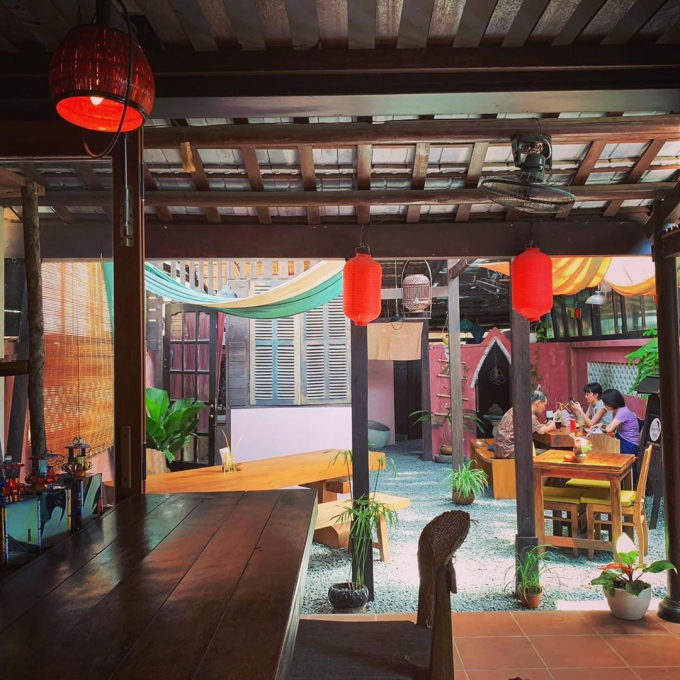 Photo: travelmag.com 
Address: 54 Phan Boi Chau Road, Cam Chau Ward, Hoi An
Opening hours: 9.00AM – 11.00PM
Before and Now
This is a beautiful view bar in Hoi An with a good location and extremely impressive view, from here you can enjoy a panoramic view of the beauty of the old town at night. Located on Le Loi Street, the bar is decorated with many colorful lanterns and walls of pop art exhibition. When first entering the gate, the catchy riffs and contagious energy of Rock music make everyone feel excited like back to the 90s. While enjoying great pairs of food and drink, including refreshing cocktails, you can participate in amusing games such as pooling, snooker or beer pong. If you're seeking for more quiet seats, the upstairs terrace has its own open area overlooking the crowded streets. Impressive happy hours promotions and friendly, kind-hearted staff are also the reason that Before and Now attracts thousands of visitors to be one of the most lively places in Hoi An.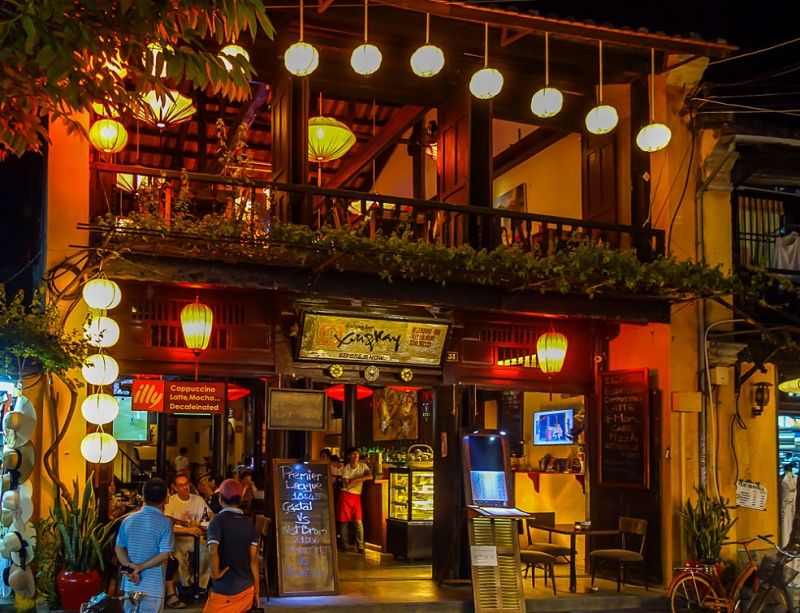 Photo: topchuan.com
Address: 51 Le Loi Street, Minh An Ward, Hoi An
Opening hours: 9.00AM – 12.00AM
Double Cat Bar
Travel far a bit from the Old Town to An Bang Beach, you probably don't want to miss exciting time at beachfront night pubs. Nightclubs and sport bars are filled with activities and fun, but if you are searching for real delicious cocktails, don't forget to visit Double Cat Bar. Typical rustic design of Vietnamese house with bamboo and wooden furniture brings a chilling laid-back vibe, surprisingly different from your hometown bar. The extensive cocktail list includes visitor's favourite classic drinks including Espresso Martini or Mojito, and unique signature touches such as Lychee Martini or Gitatini made with ginger and tamarind juice. If you want greater vibrancy, visit Double Cat on Friday to enjoy good music and tempting cocktails at the same time. Many tourists returned to this place also because of the owner's friendliness and generosity.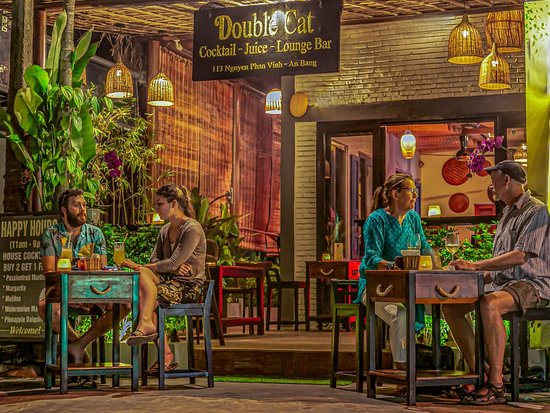 Photo: tripadvisor
Address: 113A Nguyen Phan Vinh Road, An Bang Beach, Hoi An
Opening hours: 3.00PM – 12.00AM, close on Sunday
Conversations (0)
Join the conversation
Conversations
Join the conversation
ALL COMMENTS (0)
There are no comments. Add your comment to start the conversation.
read next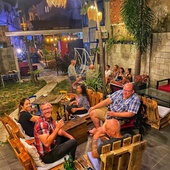 Hoi An, an old town in Vietnam, is indeed so small in size that we can explored the whole town on foot.