How to get from Tuan Chau Island to Halong International Cruise Port
Tuan Chau, one of the most striking parts of Halong Bay, has always been a spectacular spot for tourists when traveling to Quang Ninh besides Co To Island and Quan Lan Island. Every year, Tuan Chau – Halong welcomes thousands of visitors from all over the world. With marvelous landscape, picturesque beaches, fantastic amusement park and other tourism services at the highest standard, Tuan Chau, renowned as the Pearl Island, is undoubtedly a spotlight in your trip to Northern Vietnam.
Meanwhile, Halong International Cruise Port, as known as Sun International Port, is a new rising gate that offers visitors a more upgraded experience. Being a part of Sun World Halong Complex, Sun International Port is just a few kilometers from the downtown Halong and other attractions such as Halong Market, Quang Ninh Museum, etc. This is one of the busiest spots in Halong with arrivals and departures of hundreds ships and cruises from various cities and countries.
If you suddenly pop up a plan to visit Sun International Port while having your getaway in Tuan Chau, or simply need to reach Sun Port to board your cruise trip, have a look at this guide to arrange your best proper ride for you and your companions.
Taxi/Motorbike taxi
One of the easiest ways to get to Sun International Port is to grab a taxi/motorbike taxi, which would cost you around VND70,000 – VND140,000. You can call the transportation services to arrange prior to the trip if you already had a plan, or just reach the hotline and book a driver right away. There're many big transport operators you should select to avoid scams such as Mailinh Taxi, Vinasun Taxi, or Grab. Keep in mind that it is also the quickest transportation as it takes around 20 minutes to drive from Tuan Chau to the Port, which might slightly vary due to traffic conditions.
Rental scooter/bicycle
If you want to ride by yourself, a rental scooter or bicycle is not a bad idea. The cost to rent a motorbike is around VND150,000 – VND200,000 per day, depending on the type and condition of your choice; meanwhile, a bicycle can be hired at about VND20,000 per hour. The route is very convenient so that you can enjoy your ride with the beautiful view of the city. Just a reminder that the distance is around 15km, so riding a bike will probably be more energy-consumed than a scooter.
Conversations (0)
Join the conversation
Conversations
Join the conversation
ALL COMMENTS (0)
There are no comments. Add your comment to start the conversation.
read next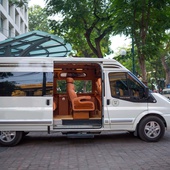 Most domestic and international travellers choose a travel agency as the Gateway to Halong Bay. For as little as $15 or as high as $80, you will have a 1to 2 day tour, including transportation- bus and boat- between Ha Noi and the Bay, meal and guided tour.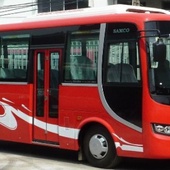 If you plan to visit Ha Long Bay the UNESCO World Heritage Site, you will have to make your way to Quang Ninh province which is 155km far from Hanoi. It will take around 3.5 hour and VND220,000 for a seat in a high quality bus going to Quang Ninh.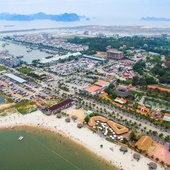 There are many routes leading to Tuan Chau across Vietnam, and if you choose to depart from Hai Phong city, a rapidly growing port city of the North, your choice will be many and all convenient.