How to get from Hai Phong to Tuan Chau Island
Besides Ha Long Bay, Co To, and Tra Co beach, Tuan Chau is also a famous tourist destination of Quang Ninh. The island gains its fame for the blue ocean, crystalized sand, and luxury resorts. There are many routes leading to Tuan Chau across Vietnam, and if you choose to depart from Hai Phong city, a rapidly growing port city of the North, your choice will be many and all convenient.
Public bus
There is no direct bus route from Hai Phong to Tuan Chau. However, visitors still can hop on Hai Phong - Mong Cai or Hai Phong - Bai Chay bus and choose the drop-off destination at Tuan Chau welcome gate. Just remember to inform the bus company or the driver before departing. After arriving at Tuan Chau gate, you can book a grab taxi or bike to go inside the island. It is a 2km bridge from the gate to the island ground.
Hai Phong has many bus stations, both near the city center and on the outskirts that operate the Hai Phong and Quang Ninh routes. The main companies run through these stations are Thang Loi, Quan Nam, Anh Huy, Minh Hieu, and An Binh.
Lac Long bus station - 20 Cu Chinh Lan, Minh Khai, Hong Bang, Hai Phong
Thuong Ly bus station - 52 Hanoi Street, So Dau, Hong Bang, Hai Phong
Niem Nghia bus station - 273 Tran Nguyen Han, Nghia Xa, Le Chan, Hai Phong
Vinh Niem bus station - 15 Bui Vien, Vinh Niem, Le Chan, Hai Phong
Shuttle bus
Another option to travel by bus from Hai Phong to Tuan Chau is through booking a limousine bus with companies such as Minh Hieu, Phuong Huy, Tam Bao Anh. This service offers to pick up at your designed location or the company's office with comfortable seats and wifi on the bus.
Whether you choose a normal bus or a limousine, there are many trips a day, and the first departure will be at the very dawn. It can take about one to one and a half hours to cover the route by bus. One way transfer from Hai Phong to Tuan Chau can cost around 50.000 to 100.000 VND depending on your bus company choice. It may be cheaper if you book a two-way transfer.
Taxi from Hai Phong to Tuan Chau
The favorite and easy option to travel from Hai Phong to Tuan Chau is taxi, especially for those who depart from Cat Bi international airport. The price for a one-way trip is around 700.000 VND, except for the airport taxi will charge you 10.000 VND more with the entrance fee. As the new highway is now put in operation, the toll fee will also be added to the total price.
Following are some reputable taxi companies in Hai Phong for you to consider.
Cat Bi airport metered taxi - Taxi parking line in front of the way out
Mai Linh Taxi - 0225.3.833.833
Hai Phong Sun Taxi - 0225.3.558.558
Tam Bac Taxi - 0225.3.81.81.81
Thong Nhat Taxi - 0225.3.591.591
Private car from Hai Phong to Tuan Chau
You can also hire a private car or rent a car with a driver to travel from Hai Phong to Tuan Chau. Driving from Cat Bi international airport to Tuan Chau through Hai Phong - Ha Long highway will take about one hour for a 45km journey. A round trip can cost you about 750.000 VND for a small car, including toll fee, entrance gate ticket, and also pick up fee if you hire a driver.
Hai Phong has various transportation companies that provide all-day transfer car service to Tuan Chau, with many car types.
Motorbike from Hai Phong to Tuan Chau
Travel by motorbike means you have to give up on the highway and ride the long way around. Although the road can take up more time, you can have the chance to enjoy Vietnam's Northern scenery along the way. Remember to ask your rental agency for a helmet before departure, you do not want to meet up with traffic police and receive a fine.
Starting from the center of Hai Phong city, go west to Tam Bac bridge. Then at the intersection, follow the 359 province road and take the first exit to 10 National Road. From there it will take you about 35km to reach Tuan Chau. The whole journey is approximately one hour 45 minutes with no toll fee. You can rent a motorbike through these addresses for 150.000 VND a day. Some of them have a motorbike shipment service, you can just wait at your hotel location and they will bring transport to you. However, do remember that as the motorbike rental companies mainly serve domestic guests, so a few of them can not communicate in English.
Hai Nam service - 2 Dong Xa, Cat Bi, Hai Phong - 096 988 68 83
Phuot store - 307 Phan Dang Luu, Kien An, Hai Phong - 096 224 53 99
An An service - 1 Le Lai, Ngo Quyen, Hai Phong - 0936 628 992
Rent motorbike - 88 Le Loi, Ngo Quyen, Hai Phong - 0898 282 406
Conversations (0)
Join the conversation
Conversations
Join the conversation
ALL COMMENTS (0)
There are no comments. Add your comment to start the conversation.
read next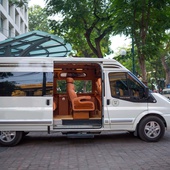 Most domestic and international travellers choose a travel agency as the Gateway to Halong Bay. For as little as $15 or as high as $80, you will have a 1to 2 day tour, including transportation- bus and boat- between Ha Noi and the Bay, meal and guided tour.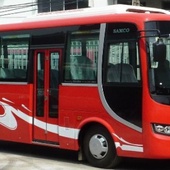 If you plan to visit Ha Long Bay the UNESCO World Heritage Site, you will have to make your way to Quang Ninh province which is 155km far from Hanoi. It will take around 3.5 hour and VND220,000 for a seat in a high quality bus going to Quang Ninh.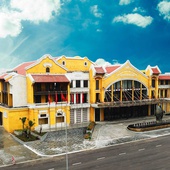 If you suddenly pop up a plan to visit Sun International Port while having your getaway in Tuan Chau, or simply need to reach Sun Port to board your cruise trip, have a look at this guide to arrange your best proper ride for you and your companions.