10 Best Mid-range Hotels To Stay In & Near Halong Bay
Ha Long Bay is one of the most famous natural world heritages in Vietnam. It has a beautiful scene and become the favorite destination for many people all around the world. The budget and mid-range hotels are scattering all over the Bai Chay area, with rates as low as $10 per room night. There is no luxury service but it has all you can ask for an adequate stay.
Mithrin Hotel Halong
Fabulous bar on the top floor with terrific views and good drink lists is one of the best parts of the hotel that you should not miss out. The dazzling lobby marrying with the elegantly modern amenities could bring a feeling of luxury and comfort. The rooms are likely to give you the sober extravagance of the comfort with large size and contemporary facilities and designs, not to mention additional treats such as in room pianos or funky seating areas exclusively for the most luxurious rooms. The tranquility is also a luxurious thing that the hotel promises to add to your recovery and relaxation trip.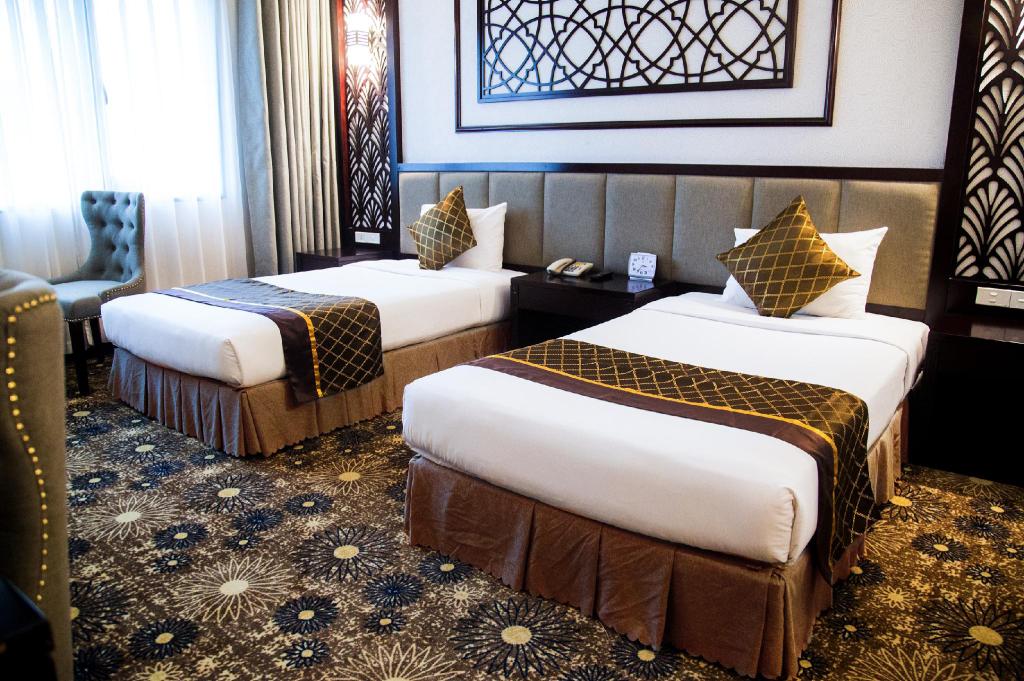 D'Lecia Ha Long Hotel
D'Lecia  Hotel in Ha Long Bay will be a marvelous part of your trip to Halong Bay. It is designed in European style that inserts a piece of modern life into your trip to a natural heritage.The hotel has a gracious amenities and the highest standards of comfort in its quite luxury rooms. Each of these rooms is complete with a view of Ha Long. Besides, you can enjoy international buffets of the restaurant. A wonderful experience is taken a step further with its international standard services and traditional hospitality unique to Ha Long and, indeed, Vietnam.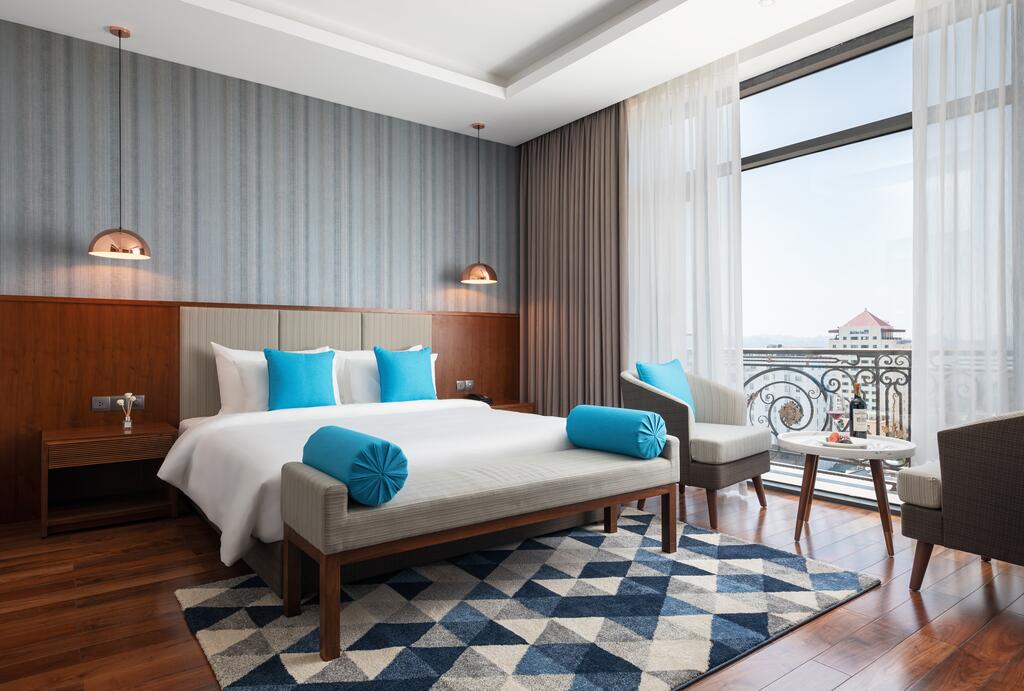 Halong Dream Hotel
Dream Hotel in Ha Long is a 4 star hotel famous for its quality. It offers 184 well-appointed guest rooms including 3 suites and a panoramic view of the World Heritage- Ha Long Bay. The hotel is located right in the center of culture, business and entertainment of Quang Ninh province as well as Ha Long City. 
Hanoi capital is about 3 hour drive from the hotel. The hotel has characteristics of the traditional French architectural style with 15 floors. Dream hotel brings you nice dreams every night staying there because all the equipment and facilities are modern and advanced: outdoor pool, jacuzzi, sauna, massage and other services. You are also meet profession and friendly staffs in the hotel. Dream Hotel is your cozy and lovely home lovely from home.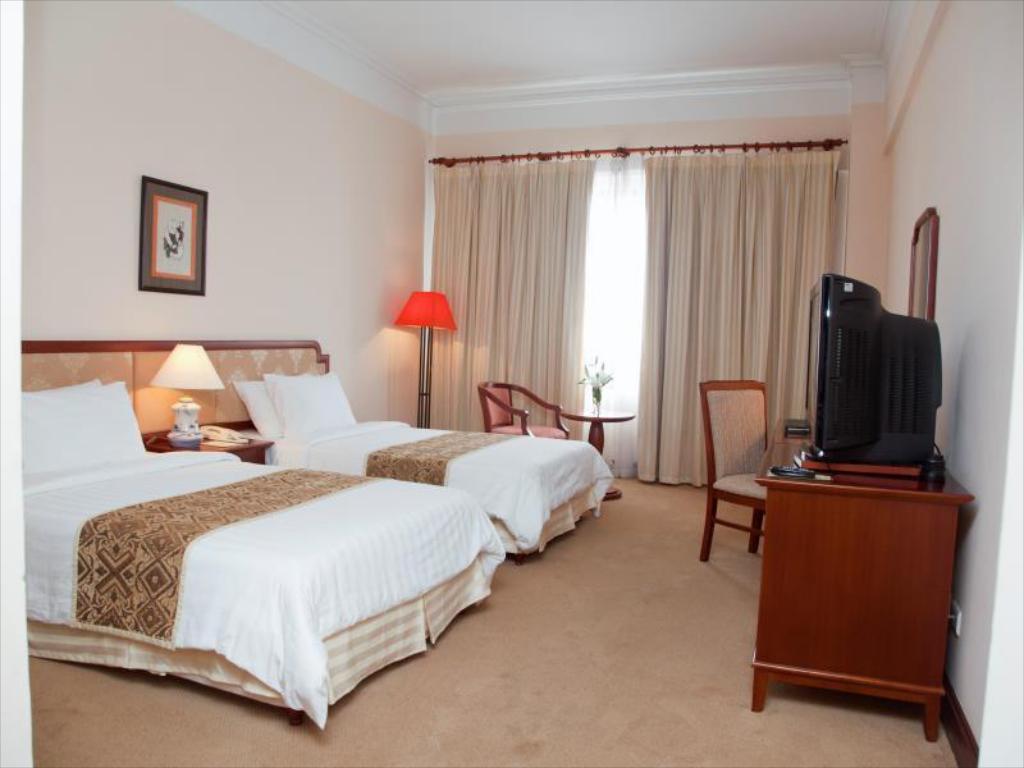 Royal Lotus Hotel
Established in the beginning of the year 2011, Royal Lotus offers 147 deluxe rooms and suites. Located inside Hung Thang area, with the straight view to Halong bay, Royal Lotus surely can bring the most convenient moments of their trips.
The accommodation of the hotel is beautiful with French influence design, decent furniture and artistic decoration, plus a large private balcony. This hotel is also a perfect place for businessmen since it owns a big hall with capacity 700 guests contains necessary facilities like projectors, speakers and micros. Nevertheless, the service quality of the hotel is high with warm hospitality and lovely attitude of the staffs.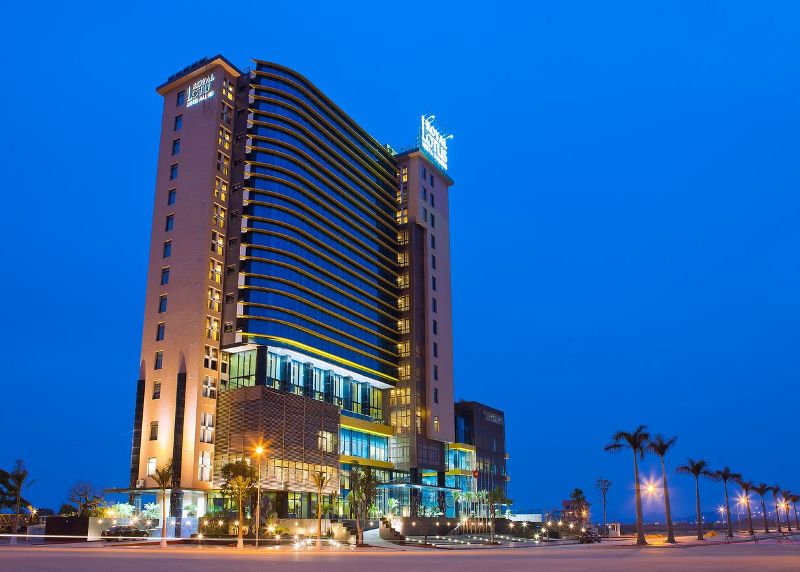 Muong Thanh Grand Halong Hotel
Muong Thanh Grand Ha Long is a 4 star hotel that belongs to the reputable nation-wide Muong Thanh Hotel chain. It can be said that this hotel possess one of the most attractive locations in Ha Long City that is adjacent to the poetic ocean with a holistic view to the whole Ha Long Bay. 
The hotel is also one of the pretigious accommodation places in Ha Long City with the capacity of 180 rooms of various kinds All rooms at this hotel are luxuriously designed with superior wooden furniture and rug floors, accompanied with deluxe and modern facilities like satellite TV, mini-bar or private bathrooms to attain the standard of a 4 star hotel. Additionally, Muong Thanh Grand Ha Long Hotel offers wide range of extra services with superior quality like karaoke, massage, swimming pool and gym to serve guests and provide them remarkable moment that they might have not experience before. It further owns a charming Blue Pearl restaurant where guests are served with diverse tasty dishes originating from Vietnamese to Western food culture.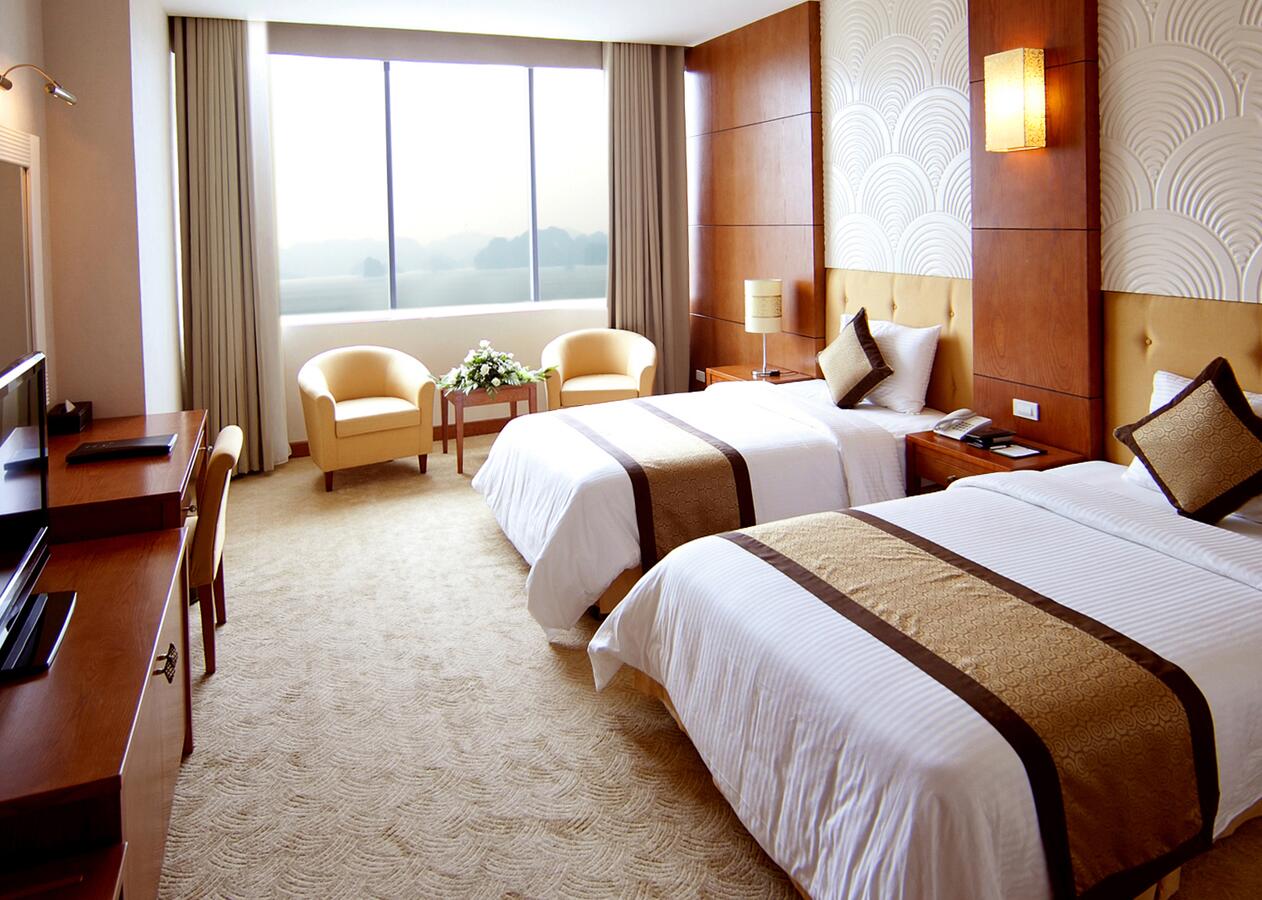 Heritage Halong Hotel
Heritage Halong Hotel features 100 rooms with special decoration as each part of the heritage that it is located next to. The architecture of the hotel is also designed to reflect Vietnam's rich historical heritage. When taking you eyes to this art design, you can choose from a casual lively atmosphere in Le Café of the hotel which opens round the clock or authentic seafood cuisine in its Dragon Palace. Tasting not only the noisy and busy life but also the non-talk beauty of the Heritage, you can find more comfort and relaxation.
Halong Pearl Hotel
Halong Pearl's main feature is the friendliness and conscientiousness of staff and their high quality service. Another notable addition is the lovely view from the hotel over the bay, although most of the time it is hazy and overcast so the view in your eyes is not as spectacular as it really is. As the hotel is minutes on foot from souvenir stalls, cafes and seafood restaurants so it is much more convenient for tourists to wander around and try new things. The food at the hotel is not bad at all, especially Pho and omelet.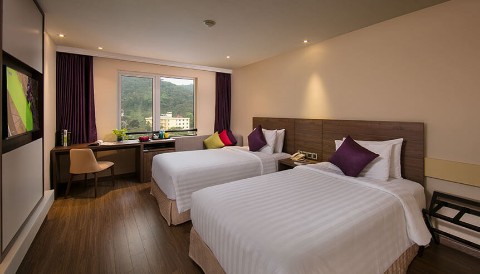 Saigon Halong Hotel
The hotel was once the biggest four star hotel in Halong Bay with more than two hundreds guest rooms coupled with 17 villas outside the main building. Guests are bound to enjoy the panoramic view of the Bay from their Deluxe and Suite rooms as those rooms are designed with floor-to-ceiling glass window and lovely balcony. Moreover, it is sure that you will find the hotel an oasis of soul design, cleanliness and luxury thanks to the ever present staff and their attentive attitude. Huge deep pool is another attractiveness of the green hotel with pine trees framed around.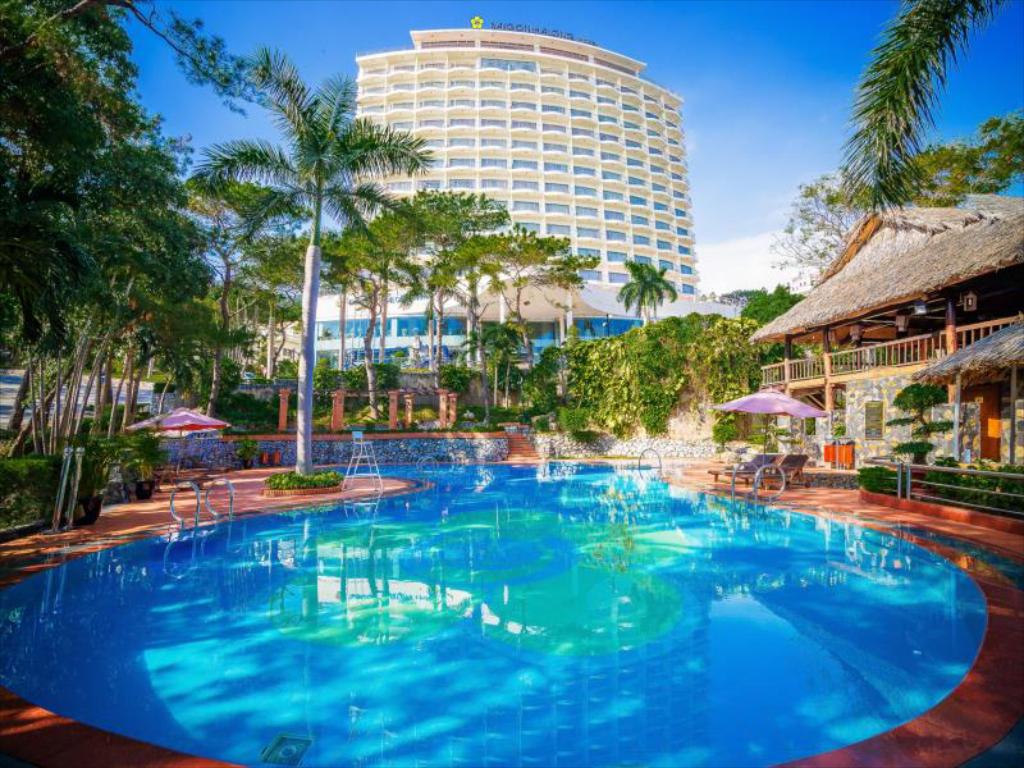 Halong Plaza Hotel
Just prepare to be charmed by the stunning view out the front of the hotel over the Bay, you certainly feel as though after only few steps, you could touch the lovely sea and the blue sky. Glossy and spacious lobby is bright and welcoming with intimate staff always available to treat you as VIPs. The rooms are large and there is nothing to complain about the cleanliness and the bathroom. The restaurant is very cozy and the buffet dinner is plentiful, diverse and appetizing. Making up for a little boring decoration of the hotel is the service which is well above expectation thanks to a team of friendly, reliable and intimate staff.
La Stella Hotel Halong
Given the amazingly cheap accommodation rate, you could not ask for more; it is well worth your money. You are certain to be treated with respect and provided with great service beyond your expectation. It is a brand new hotel well equipped with basic facilities and well managed by attentive staff. The rooms are modernly designed, spotless and offer guests splendid views overlooking the sea and the green surroundings. Although the location is a little bit isolated from the tourism area, but it is truly an ideal place to find your tranquility.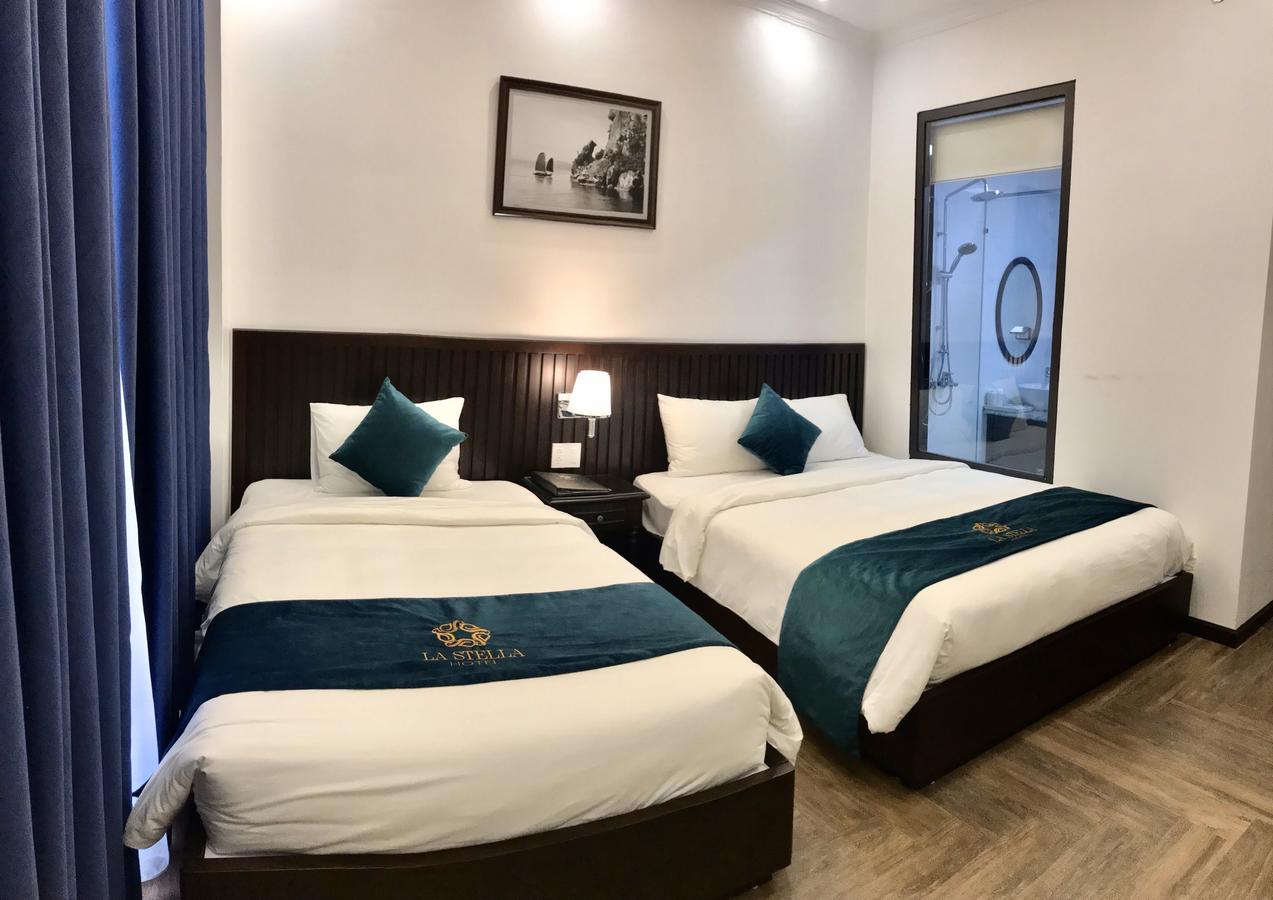 Conversations (0)
Join the conversation
Conversations
Join the conversation
ALL COMMENTS (0)
There are no comments. Add your comment to start the conversation.
read next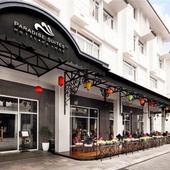 Tuan Chau Island amazes travelers for its mind-blowing location and a sheer abundance of decent hotels and resorts.