Khau Vai Love Fair
The Khau Vai Love Fair is a traditional market of ethnic people that often happens on 26/3 (Lunar Calendar). This could be one of the most unique fair in Vietnam and in the world since the product sold here is "love". The fair is a place for people in the area not only to come and enjoy the festive atmosphere, but also to flirt, date and find their true love. Although the fair is located in the valley of Nung communities, it attracts people from many other areas such as H'Mong, Dao, Tay… and ages vary from youth to elderly.
Photo : bestprice.vn
Living in mountainous areas is not very exciting due to the lack of playgrounds and the difficulty in terrain , therefore the Khau Vai Live Fair is always crowded with a very large number of participants. It is usual to see whole families, including parents, sons, and daughters-in-law, arrive at the festival; even married couples come to the fair to find some fun. The valleys become noisy and exciting with people talking and cheering amidst the sound of traditional flute and people singing to call their lovers. People tend to drink a lot till they get drunk, because this is the time when they meet their friends and loved ones after a year without seeing.
Not even the elders in Ha Giang remember when the fair started, but they do know that it originated from a love story between an H'Mong boy and a Giay girl. Their love was admirable, but also a cause of conflict between the two ethnic groups. Therefore, they had to be apart, but they promised to meet each other during the night of 26/3 annually. And then Khau Vai Love Fair began, serving as a place for everyone to find their love.
Conversations (0)
Join the conversation
Conversations
Join the conversation
ALL COMMENTS (0)
There are no comments. Add your comment to start the conversation.
read next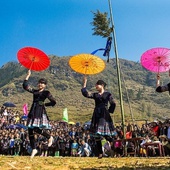 Gau Tao Festival is a religious activity of the H'Mong group in Ha Giang that occurs mostly on the Tet Holiday or when the farm rests.