Dinh Yen Temple Festival
Even though there are thousands of temples around Vietnam with thousands of annual celebrations, the Dinh Yen Temple Festival in Lap Vo District, Dong Thap Province is still a unique event that you would wish to attend.
Celebrated on the 16th day of the 4th month of a lunar year, the festival is truly an unforgettable experience for the participants regardless of their origins, ages or preferences.
The Dinh Yen Temple was erected in 1909 in An Loi A hamlet, Dinh Yen village, Lap Vo district to commemorate the good deeds of Pham Van An, the first person to discover and explore this wonderful land.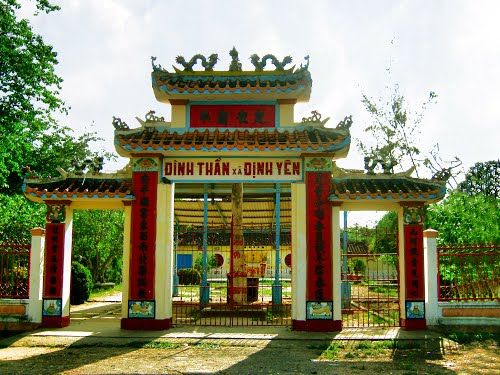 Dinh Yen Temple - Dong Thap

The temple has a traditional roof made of red bricks. Inside, the columns and the ceiling are carved with splendid patterns of dragons and lions. Right from the entrance, you can see many parallel sentences, pictures, altars ornate with gold and red paint, lotus statues, bronze drums,and horizontal lacquered paintings describing the lives and dreams of local people. The biggest altar in the center is dedicated to Thanh Hoang Bon Canh, and the ones on the two sides are dedicated to TienHien Gods. In front of the temple stands a giant tree which is surrounded with vases full of flowers, adding to the poetic scenery.
However, the most interesting thing awaiting the visitors is the Dinh Yen Temple Festival! Every year on the 16th, 17th days of the 4th month and the 15th, 16th days of the 11th month of the lunar year, the temple becomes the venue of that exciting celebration to commemorate the people who first explored this land. Coming to the temple at this time, you will be able to watch all the traditional ceremonies of a temple festival. Once you are there, a whole new world of traditional customs will open in front of your eyes, expanding your knowledge about Vietnamese intangible heritages!
Conversations (0)
Join the conversation
Conversations
Join the conversation
ALL COMMENTS (0)
There are no comments. Add your comment to start the conversation.
read next
The Go Thap Festival is the biggest and possibly the most important festival in Dong Thap Province.