Vietnamese Genealogy
Unlike many countries in North America, Europe and Australia, Vietnamese people share last names rather than first names, although they do not belong to one family.
Vietnam has quite a wide range of genealogies. The country has more than 150 genealogies (just among Viet ethnic groups only) and adding, the 53 other ethnic minorities, the number can even reach 1000. Among them, Nguyen genealogy is the most popular and ranks highest in number. They account for a large percentage of Vietnamese people, 38.4% to be more specific.
Since Nguyen dynasty is the last  feudalistic administration in Vietnam, many people with this surname are still alive until today, avoiding the tragic fate happening to Ly genealogy, Tran genealogy and Le genealogy. These genealogies all achieved the power of Emperor at one time or another, but when they had been taken down, the Emperors after them launched genocides against their families in order to strengthen the new power.
Ly dynasty was destroyed by Tran dynasty, and after that many people with Ly surname were killed. A large number of them must escape to other countries (It is said that people with Lee surname in Korean nowadays are originally from Ly dynasty of Vietnam). Tran dynasty suffered the same fate that they had brought to Ly dynasty.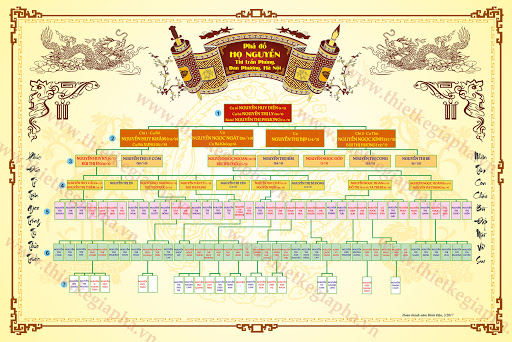 Photo : thietkegiapha.vn
After being replaced by Ho dynasty, Tran genealogy was nearly vanished due to a genocide launched by Ming dynasty (the Chinese dynasty who ruled Vietnam after Ho dynasty). A huge number of Le people were killed by Nguyen dynasty after their success in throne at 19th century. Moreover, in Nguyen dynasty, Nguyen people were offered more advantages than others, thus many people changed their surname into Nguyen.
Another reason that helps Nguyen family reach such a high ratio is that many people of different origins from Nguyen family, who were afraid of the threat of revenge, changed their surname. Right after Nguyen family, Tran family and Le family come to the second and the third largest genealogy in Vietnam with 11% and 9.5% of the total population given these name, respectively.
Pham genealogy is also a large family, making up 7% of the population. Hoang/Huynh family comes with a quite small number, 5%. Along with 5 biggest genealogies, 10 other ones together top the list of 15 biggest families of Vietnam, representing for 90% of the population.
These family names are: Phan, Vu/Vo, Dang, Bui, Do, Ho, Ngo, Kim, Duong, Ly. Ranked under 15 biggest families, more than 120 surnames share 10% of the population. Leu is the only one original surname of Vietnam. The others stem from other countries, like China, Thailand, Cambodia, Laos, etc.
Below are the most popular surnames in Vietnam and their population percentages:
| | |
| --- | --- |
| Last name | Total population |
| Nguyen | 38.4% |
| Tran | 11% |
| Le | 9.5% |
| Pham | 7% |
| Hoang/Huynh | 5% |
| Phan, Vu, Dang, Bui, Do, Ho, Ngo, Kim ... | 19.1% |
| Others | 10% |
Learn more about family relationships in Vietnam here.
Did you know: Nguyen ranked forth among the most popular surnames in the world with about 36 million people just behind Chinese common surnames: Li, Zhang and Wang.
Sources:
Comments (0)
Your comment...
Conversations
Join the conversation
ALL COMMENTS (0)
There are no comments. Add your comment to start the conversation.