Mu Cang Chai
The Embrace Of Nature
Overview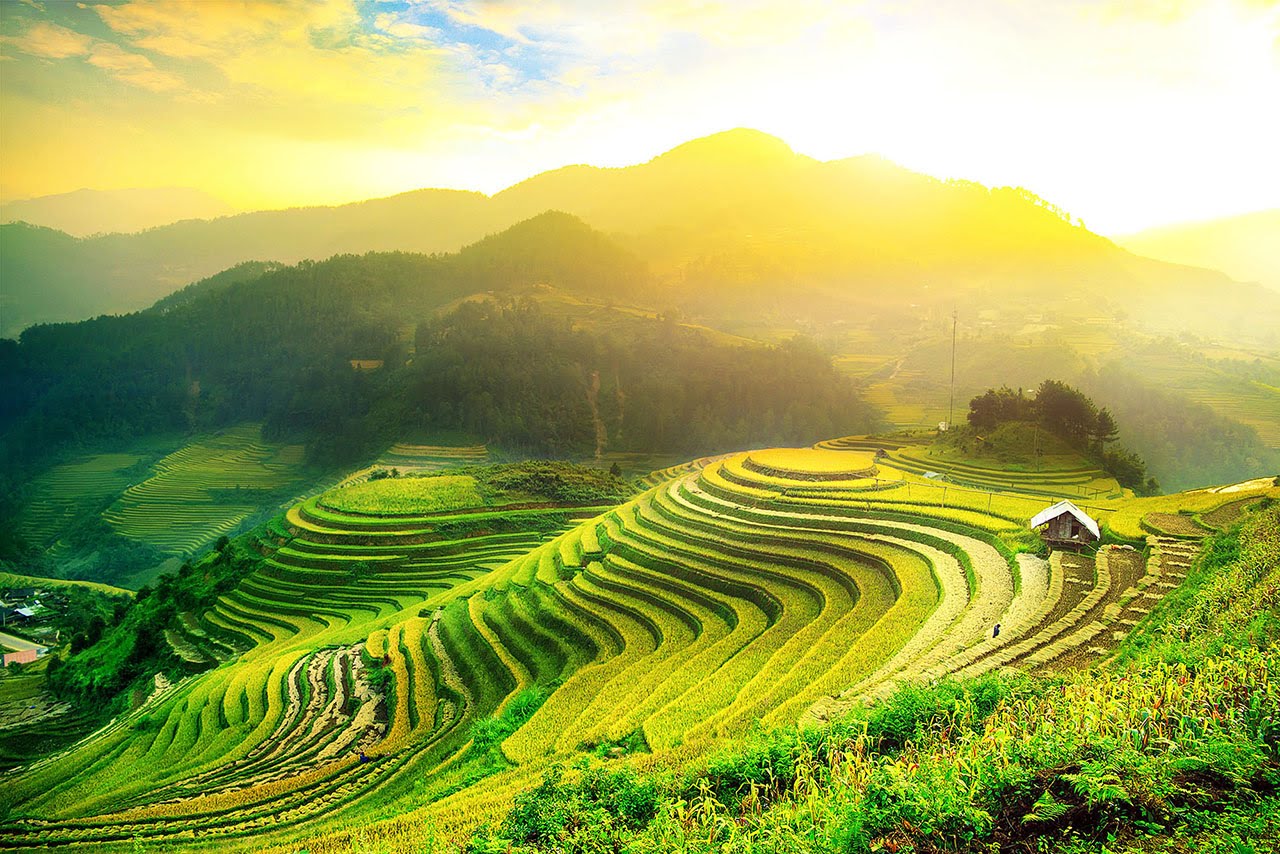 Photo: tinhte.vn
About 300km from Hanoi, Mu Cang Chai is a small mountainous town of Yen Bai province, located at the foot of the Hoang Lien Son Mountain. Newly discovered by travelers thanks to its scenic beauty, this is a place for you to not only admire the stunning rice terraced fields and majestic mountain landscapes but also experience the authentic life of ethnic minorities - a simple but very heartwarming life.
Best season to visit
The best season that makes Mu Cang Chai more and more attractive to travelers is the golden rice season. It comes from September to the middle of October. The weather at this time is very please and comfortable for wandering local villages and mountain sightseeing.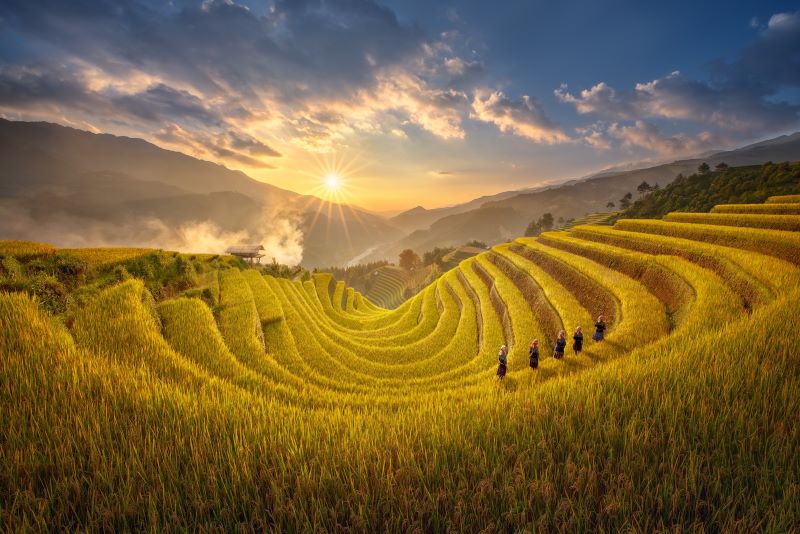 Photo: motogo.vn
Besides, the pouring season from May to June is another ideal period of time to visit Mu Cang Chai. This is summertime when you can see the rainwater flowing down from the top of the mountain into the rice fields. Under the sunshine, the terraced fields sparkle and become really eye-catching.
"Must-see" in Mu Cang Chai
Mu Cang Chai's charming beauty is displayed through terraced rice fields and the tranquility of the local villages. You can witness that scenery via many places on the way and inside the small town.
Tu Le Valley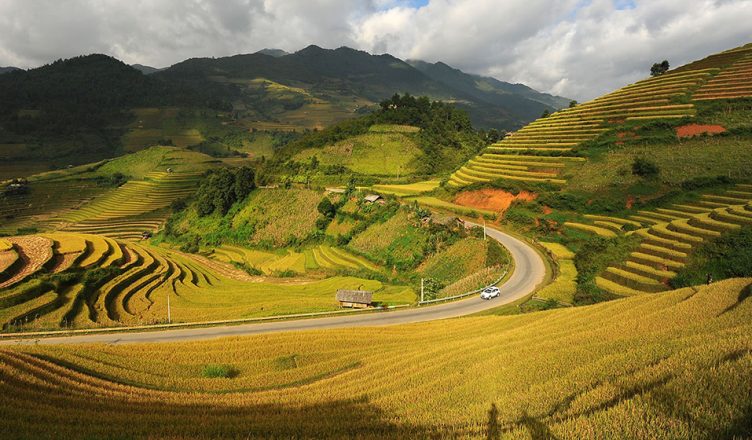 Photo: dulich24.com.vn
Lying on the way from Nghia Lo to Mu Cang Chai, Tu Le valley is surrounded by mountain and rice fields, giving you the best view of the nature. You can also visit Tien Nu cave nearby, get around Hmong villages to meet the friendly local people and learn about their rice-planting activities.
Khau Pha Pass
Conquering Khau Pha pass is one of the most exciting activities you should not miss when you travel to Mu Cang Chai.
Go through one winding road to another, stop on the street vendor to admire the rustic jungle and giant rice fields and feel the fresh air! However, this is the adventurous and dangerous stretch of road on rainy or cloudy days, so it's best to weigh in the weather before starting your visit.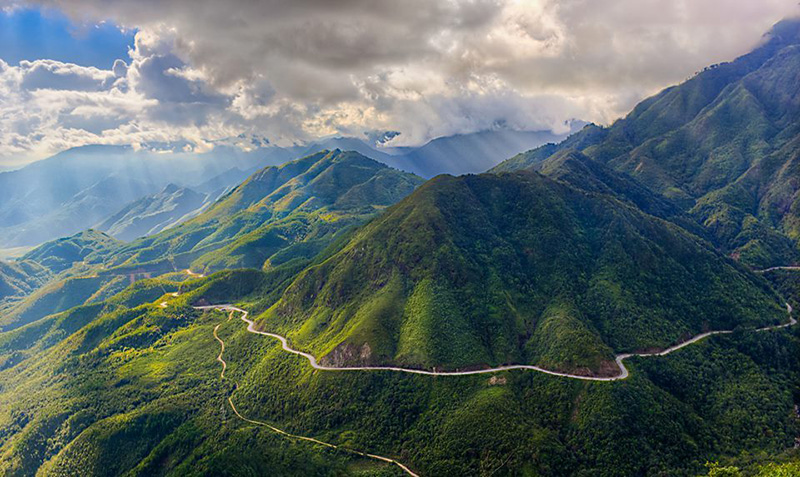 Photo: chungxe.vn
La Pan Tan Village
Having up to 700ha terraced rice fields with all the most beautiful terraced rice fields in Mu Cang Chai, La Pan Tan village was recognized as National Monument at the end of 2007. Here is also a suitable place for you to choose the accommodation and visit the famous "mam xoi" terraced rice field.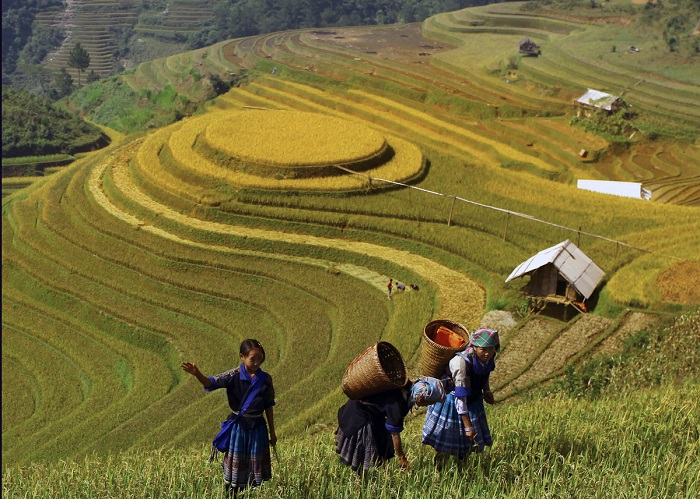 Photo : vnexpress.net
How to get there
There are 3 ways to get to Mu Cang Chai:
By public transport
Choose a limousine bus if you want to go directly to Mu Cang Chai or a bus from Hanoi to Yen Bai city, then take a taxi from there to Mu Cang Chai. If you want to save time, a night bus from Hanoi to Lai Chau which passes by Mu Cang Chai is an option for you.
By private car
Since it takes around 7 hours to go from Hanoi straight to Mu Cang Chai by car thus you can follow the highway Hanoi - Lao Cai then take a rest here before continue with O Quy Ho's pass, then Tan Uyen, Than Uyen, and reach Mu Cang Chai.
By motorbike
You can start from Trung Ha bridge in Hanoi, then go to Thanh Thuy, Tan Son and follow highway 32 straight to Nghia Lo and arrive Mu Cang Chai after around 5 hours.
Where to stay
With the huge attention of tourists, Mu Cang Chai has been being invested in facilities and accommodation from nice home-stays to luxury resorts. Depending on your budget and interest, you can choose the best place to stay.
If you prefer a local experience, a homestay with an intimate atmosphere will be the best. Some of the nice homestays are:
A Chông Homestay – La Pan Tan, Mu Cang Chai
Hello Mu Cang Chai Homestay - La Pan Tan, Mu Cang Chai
Dò Gừ Homestay
Tư Nguyệt tại Bản Thái Homestay
If you are seeking a luxury stay to have the most convenience and enjoy the best view of Mu Cang Chai, here are suggestions:
Le Champ Tu Le Resort – Tu Le, Van Chan, Yen Bai
Mu Cang Chai resort – Hua Khat, Nam Khat, Mu Cang Chai
Mu Cang Chai Eco Lodge - Hua Khat, Nam Khat, Mu Cang Chai
Useful Information
Location: Mu Cang Chai, Yen Bai
Best for: Adventure Travelers
Entrance: N/A
Hours: Day time visit is recommended
Distance to city center: 85.6km (53.2 mi)
Conversations (0)
Join the conversation
Conversations
Join the conversation
ALL COMMENTS (0)
There are no comments. Add your comment to start the conversation.
read next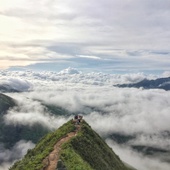 Unlike the ordinary bustling attractions in Vietnam, Ta Xua Mountain is the ideal escape place with pure air and uttermost quietness.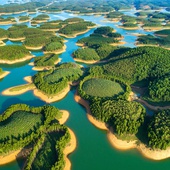 Thac Ba Lake is located in Yen Bai province, 140 km in the west of Hanoi. One part of the lake belongs to Yen Binh, while the other stands on Luc Yen District.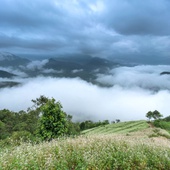 Along with O Quy Ho, Ma Pi Leng and Pha Din, Khau Pha Pass is popular known among adrenaline junkies as "One of the 4 greatest mountain passes" of Vietnam.