Ly Son Island
For first-timer visitors of Vietnam or even for local residents, Ly Son island, the so-called "Kingdom of garlic and volcanoes", might sound completely off the radar. However, in recent years, this area has become a favorite weekend jaunt for younger Vietnamese who satisfy their wanderlust with the beauty of unspoiled wilderness, untouched coastline and the charm of small towns instead of commercially fancy tourism.
How to get there and around
Situated 18.6 miles away from the mainland of Quang Ngai province, the area is a long-dormant volcano with 5 craters. Getting to this island requires various means of transportation. After a flight to Chu Lai International Airport (75 minute from Ho Chi Minh city), you can take an 1 hour taxi ride to Sa Ky Port or hire a Chu Lai - Sa Ky bus if you have a larger team.
The ride can be bumpy at times as there are still potholes here and there on the roads.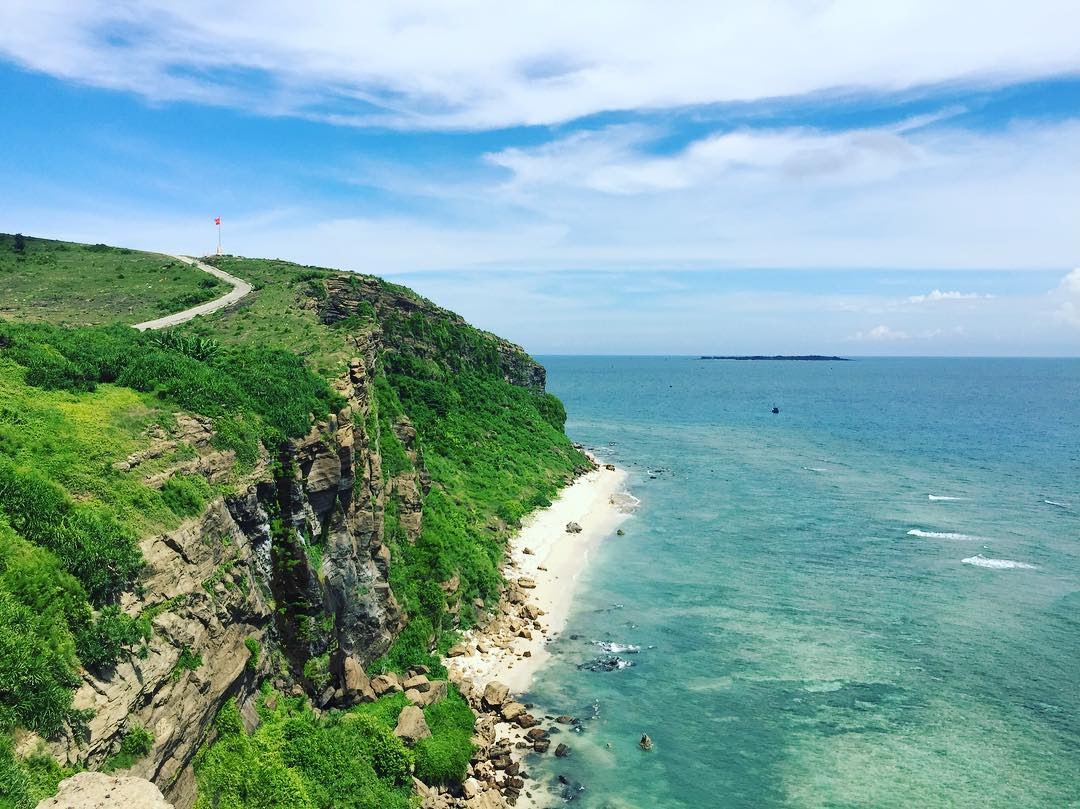 Photo : kenhthoitiet.vn
From Sa Ky, a speedboat can take you to Ly Son island after 30 minutes. Despite the fact that it leaves several times a day, the ticket is best booked 1-2 days in advance and taxi drivers are more than willing to help you out. The one way ticket prices vary from $6.50 to $7.30, depending on the speed of the boat. If you are prone to seasick, it's advisable to bring your motion sickness medication. Once you arrive at the island, do not forget to register at the port or the police station, which is a five-minute walk from the port.
Now you can start exploring Ly Son by renting a motorbike at about $6.50 per day. Booking a tour isn't necessary as the road is generally quite nice. If you are not familiar with dirt roads, booking a taxi is a good alternative.
Best time to visit
With warm weather all year round, Ly Son is quite tourism friendly. The sun is mild and warm from December to February. From June to September, it becomes sunny, hot, and humid. Water and sunscreen are hence must-haves. From September to November, it gets more rain but that would not affect your trip.
Things to see
Thoi Loi mountain
Thoi Loi mountain is one of the highest peaks of the area, boasting scenic panorama of the turquoise water coastline, black rock cliffs and towns from above. Interestingly, many brides have conquered it for their engagement photos! As you ride up the hill, you will see a flagpole. Do not go pass it, though, as the military guards on the other side in their training facility.
Cau cave
Cau cave was formed out of a volcanic eruption centuries ago. It creates a spectacular scenery where the ocean and mountain meet. As it leads to the coast, tourists can enjoy swimming and take instagrammable photos of sunset. Wearing water shoes is advisable as there are coral near the shore. To venture out to the ocean, hire a vendor at the parking area to take you on a circular wooden boat and start snorkeling through the colorful fish.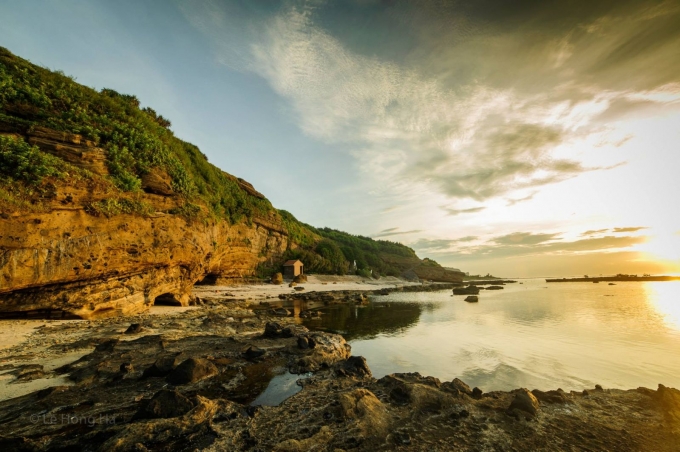 Photo by @Dao Trinh
Hang pagoda (Cave pagoda)
Hang temple, which is situated inside a natural cave of Thoi Loi mountain, is an unique temple that is made out of rock instead of wood or cement as usual. It was founded under the reign of King Le Kinh Tong about 500 years ago. If you have never seen people kneeling in prayer in a cave, this would be an one-of-a-kind experience.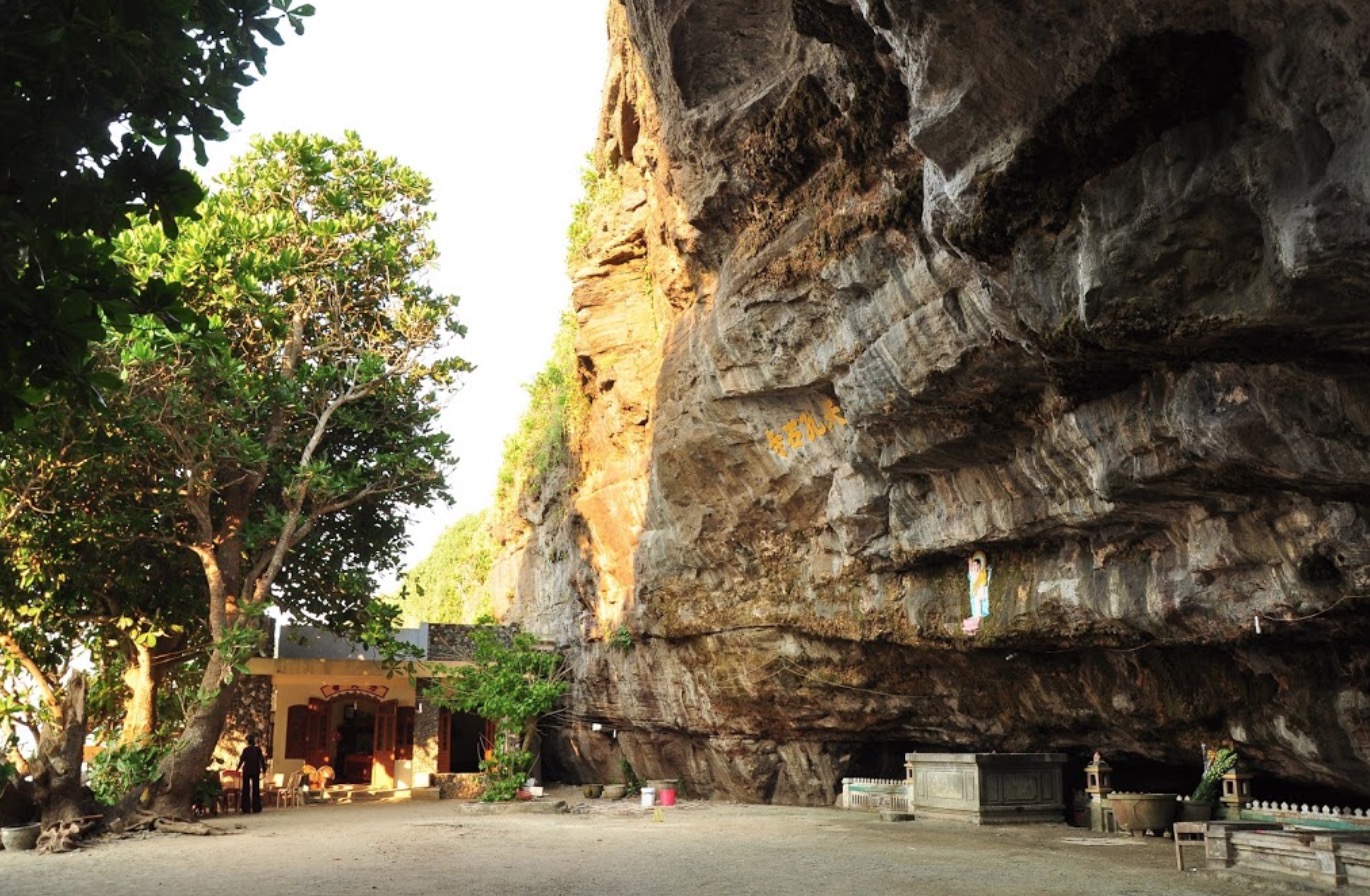 Photo by @Che Trung Hieu
To Vo gate
Located on the east side of the island, To Vo gate is an arch structure formed out of volcanic lava. It is such a rare rock formation that might have been seen only on TV so tourists often love to take this chance to take special photos. The place is less crowded early in the morning. From To Vo gate you can walk past a colorful cemetery to get to Duc temple, the next attraction.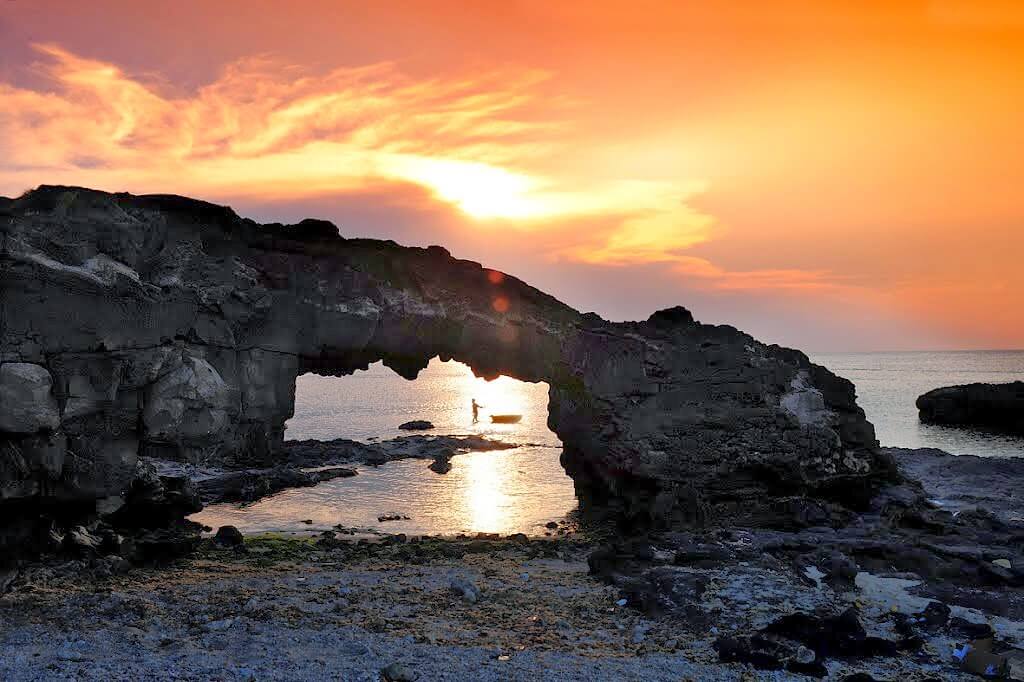 Photo : khamphalyson.vn
Duc pagoda
Located in the middle of Gieng Tien mountainside, Duc pagoda is a spot where a scenic panorama of the island can be captured. From the main gate, as you climb up the stairs, a huge 27 meter high Guanyin statue facing the ocean comes into view to amaze you. With over 100 steps, the climb can be tiring but the view you are rewarded with afterwards is definitely worth the effort.
Gieng Tien mountain
From Duc pagoda's Guanyin statue, tourists can head right, climb up the stairs and take a dirt path for 15 minutes to hike up Gieng Tieng mountain, where you are enchanted with the view of a long-dormant crater covered in a blanket of luscious green. You can also watch Duc pagoda from a different angle.
An Binh island
If you feel that insatiable craving for white sand beaches with turquoise ocean and palm trees, you will be satisfied at An Binh island. Round trip boat tickets are available at ticket agencies near the port at only $3.4. The swimming location is very scenic but the waves are relatively strong so many swimmers would consider wearing a life jacket. To get to the area of calmer water for snorkelling, you can hire a circular wooden boat to snorkel at $2.60. If you walk from the resting area to the port, endless garlic and onion fields would come into sight. Mural artworks were painted along the way to raise awareness on environment protection.
What to eat
Delicacies with garlic
Garlic is the symbol of Ly Son island and hence served generously in the food. Ly Son is renowned for its mono bulb garlic, which has gentler aroma and milder taste than normal. Garlic salad and garlic wine are good dishes to start your cuisine venture.
Seafood
Seafood is incredibly fresh and affordable on this island. Do not miss out on sea snails, abalones, cockles, giant clams, scallops, urchins, tama fish, etc., and especially conches, which is the iconic cuisine of Ly Son. Conches are usually grilled or sautéed with chili sauce and lemongrass to bring out the ocean flavor and remove the fishy smell. Spanner crab, which used to be served to only kings, is also a must-try dish. However, it is only available in October.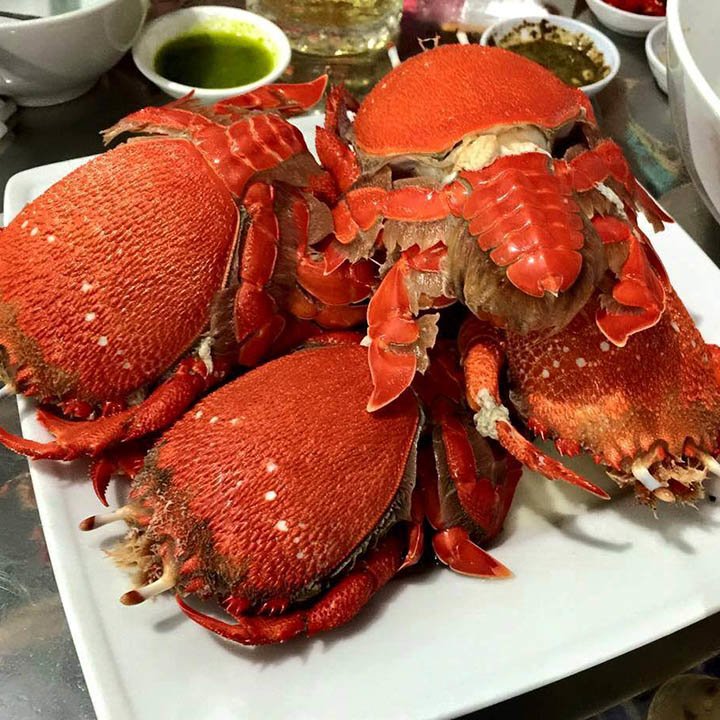 Photo : eva.vn
Glutinous rice cake wrapped in ramie leaves (Bánh ít lá gai)
This cone-shaped cake is a daily life staple in Ly Son island. The pleasant aroma of sticky rice and banana leaves fuses with the sweet rich taste of coconut extract, leaving bursting flavors in your mouth.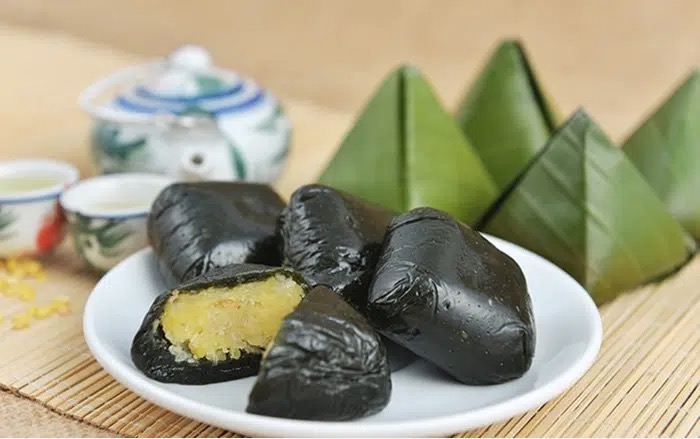 Photo : phunuvietnam.vn
Fruit smoothies
Smoothies available at food stalls near the port can be such a relief on a hot day to help you rehydrate during the trip. And all this icy freshness is incredibly reasonably priced at over $1.
Sticky rice and sandwiches
Kiosks on the way to town offer colorful sweet sticky rice with salty peanut topping and sandwiches for breakfast. The simple street food makes the most convenient, affordable and delicious breakfast.
Travel Tips
Two days is enough to explore Ly Son island as it is quite small.
Guesthouses and hotels are within walking distance from the port. The price varies from $9 to $13 per night. Booking flight tickets 1-2 months in advance would save some money.
English is not yet as commonly used on the island so learning a few Vietnamese phrases would make your trip easier.
If you plan to unplug from the chaos city life, Ly Son Island should be high on your bucket list. Endless garlic fields, mysterious pagodas, untouched beaches and funky architecture of Mother Earth would keep you immersed and recharge your batteries with positive energy to plug back to life.
Useful Information
Location: Ly Son, Quang Ngai, Vietnam
Best for: All visitors
Entrance: N/A
Hours: All Day
Distance to city center: 43.9km (27.3 mi)
Conversations (0)
Join the conversation
Conversations
Join the conversation
ALL COMMENTS (0)
There are no comments. Add your comment to start the conversation.