Cuc Phuong National Park
Located about 100 km South of Hanoi, Cuc Phuong is the first and one of the most impressive national parks in Vietnam.
Home to a diversified flora and fauna system owning typical features of tropical rain forests and highly-endangered species, Cuc Phuong National Forest is a conservation area covering an area of 25,000 hectares and located in the territory of 3 northern provinces: Ninh Binh, Hoa Binh and Thanh Hoa. On a par with the most famous primeval forests in the world, experiencing many historical changes since it became the first national park in Vietnam, Cuc Phuong National Park still retains its wild beauty and precious "treasures" endowed by Mother Nature such as fossils of Con Moong Cave, ancient trees, Cave of prehistoric man, etc.
Location
120 kilometers south of Hanoi Capital and located deep in the heart of Tam Diep mountains, Cuc Phuong National Park is bordered by 3 major Northern provinces: Ninh Binh, Hoa Binh and Thanh Hoa. Therefore, if you feel exhausted from the hustle and bustle of the city, let's change the atmosphere with a trip to the national park to enjoy a majestic, peaceful natural space along with the fresh air and regain a happy and relaxed mood.
Best time to visit
A visit to Cuc Phuong National Park will be perfect if you plan to go from the time of December to May - when the weather is cool, dry and pleasant. Visitors should avoid going during the stormy season in the north around June to August - a very dangerous time for your trekking trip at the national park.
Notably, you will be amazed at the brilliant butterfly season at the national park in May with a sparkling and colorful painting painted by millions of butterflies of all kinds, making you feel like lost in fairyland.
Best things to see
"Dong Nguoi Xua" - Cave of prehistoric man
Also known as Dang Cave, "Dong Nguoi Xua" - a precious heritage of the national park - preserves the residence and funeral traces of prehistoric people. This place can help visitors better understand the unique culture in the history of human development evolution.
Con Moong Cave
With an animal-like large protruding rock at the entrance of the cave, this cave is named Con Moong Cave which means animal cave. Once a place of residence of the ancient people because of its rich flora and fauna, the cave has a complex structure, along with a continuous intertwining of clay, mollusk crust, and coal ash streaks.
May Bac Peak
As the highest peak at Cuc Phuong National Park with an altitude of 648 meters, May Bac Peak is where you can enjoy a panoramic view of the national park's forest and plains as well as the ancient capital Hoa Lu, and Bai Dinh Pagoda. However, this place is only suitable for someone in good health because the road leading to the peak has many difficult-to-go rocky slopes.
Yen Quang Lake
Also known as Nho Quan Lake, Yen Quang Lake is a renowned tourist attraction with the lake surface as the gathering venue of various birds to swim, a small island lying in the middle of the lake along with the temple on the island. For the first time coming here, visitors will feel lost in the fairy landscape with the wild and tranquil beauty of the lake surrounded by immense forest and mountains.
Conservation centers
Cuc Phuong Botanical Garden: This is the habitat of rare and precious flora species of Cuc Phuong, Vietnam as well as the world. This garden is one of three world-class botanical gardens according to the list published in 1997. Organism Rescue, Conservation and Development Center: This is a place to rescue, conserve and develop endangered rare wildlife species in Vietnam, as well as to research, farm genetic resources and create rare plant varieties.
Cuc Phuong Museum: With more than 50 archaeological samples of animals, 122 soaked samples, 82 animal samples, 2,900 samples of insects and 12,000 specimens of flora, this place serves the storage and conservation as well as study, visit and research.
Typical ancient trees
Dang ancient tree: With a height of 45 meters, a diameter of 5 meters and a root system on the ground about 20 meters long, the tree has existed for a long time and attracts visitors with its impressive appearance. Let's try standing below the tree's shadow to experience the feeling of being small.
Thousand years old tree (Parashrea Stellata): As one of the oldest trees in the national park, this tree has a height of 50 meters, a diameter of 5 meters while its whole trunk needs at least 20 adults with their full arm length to embrace. Sau ancient tree (Dracontomelum): With an attractive shape like a solid wall, Sau ancient tree is an ideal landmark for you to relax under its giant leaf canopy while visiting when owning a height of 45 meters besides a root system separating from the tree trunk from a height of 10 meters.
Activities at Cuc Phuong National Park
Trekking
Possessing dozens of walking trails through the forest and diverse discovery contents, Cuc Phuong National Forest is the ideal place for you to take exciting trekking routes and explore the diverse ecosystem of the park, getting fascinating and unforgettable experiences. Visitors can explore on your own or based on the guidance of guides who help you better understand plants and animals there.
Kayaking
One of the favorite activities of many travelers when visiting the national park is kayaking on Mac Lake and Yen Quang Lake. With the boat swimming price of 50,000 VND/person/hour, you can get the feeling of floating on the water while admiring the gorgeous surrounding natural scenery. Besides, if you travel in a large group, everyone can hold a kayaking race, thereby stirring up the trip atmosphere.
Butterfly watching
Cuc Phuong National Park is recently known for its "specialty" as butterflies covering the sky in the late spring and early summer. As home to more than 400 species of butterflies of all kinds and colors from white to blue, brown, pink, the national park is an ideal place to explore and admire as well as research. If you want to watch the sparkling, fanciful picture "drawn" by butterflies, you should come here in late April and early May.
Cycling in the forest
As one of the popular activities in Cuc Phuong National Park, cycling not only helps you to truly feel the natural breath and explore more clearly the ecosystem here but also gives you a sense of peace after hard working days. Don't miss out on cycling experience through the national park as this can also be your opportunity to encounter rare animals.
Besides the above activities, Cuc Phuong National Park is also a suitable place to participate in bird watching experiences, observing animals, reptiles and amphibians. On the other hand, visitors can learn more about the lives of locals through community activities, or ethnic art events.
Food to try in Ninh Binh 
Tired of visiting and exploring the national park, do not worry if you want to recharge because the restaurants inside and outside Cuc Phuong forest are always ready to serve you with specialties such as mountain goat, wild boar, hill chicken. Moreover, you also have the opportunity to enjoy the famous specialties of Ninh Binh such as mountain crab, mountain snail, grasshopper, etc.
Ninh Binh goat meat
Due to Ninh Binh's mountainous terrain, goats have to run and jump a lot, leading to their meat being quite firm, low in fat with a characteristic aroma. Becoming a familiar dish for any visitors when coming to Ninh Binh, goat meat made-dishes for your options are: rare-goat salad, grilled goat meat, stir-fried goat, goat hot pot, etc.
Ninh Binh burnt rice
Referring to Ninh Binh specialties, it is impossible to ignore the burnt rice dish - a dish which is so familiar to visitors from all over the world when coming to Cuc Phuong National Park as well as Ninh Binh. A rustic and simple dish but exuding the ingenuity of the locals' hands will surely make you satisfied after exploring the national park.
Cuc Phuong bantam
Besides burnt rice, goat meat, Cuc Phuong bantam - a specialty domestic animal of Nho Quan District (Ninh Binh) - cannot be missed in your trip to Cuc Phuong National Park. Raised in the mountainous region of Cuc Phuong, plus the suitable climate and natural conditions, the chicken is fragrant and delicious. Some dishes processed from bantam for your reference are grilled chicken, boiled chicken, shredded chicken, chicken salad, etc.
Cuc Phuong mountain snail
This snail only appears from lunar March to July, and disappears like never existed on this earth from August. Cuc Phuong mountain snail is crispy, sweet with characteristic herbal aroma due to eating algae, leaves, and roots. Mountain snails can be processed into diverse dishes such as steamed snails with ginger, grilled snails, boiled snails or stir-fried snails.
Accommodation
Entrance Area
As a starting point for activities at the national park, this area offers a full range of rooms from 200,000 VND and useful services such as jungle equipment rental, bike rental, sightseeing guide, chapter ethnic performances, etc.
Mac Lake Area
About 1.5 kilometers from the gate of the national park, Mac Lake Area provides visitors a quiet and fresh relaxing space with all kinds of rooms and communal stilt houses. This is also a suitable area for large groups of people to organize campfires and cultural exchanges as well as holding parties.
Park Center
As the final point in the trekking route across the national park, Park Center with separate stilt houses and apartments is always ready to offer guests a full range of services and accommodation. You should note that there is no electricity in this place, the generator - which runs for only 4 hours per night - is used instead.
Accommodation beyond the national park
Due to a number of reasons such as insects, mosquitoes, and the solitude that prevent you from staying in the forest, homestays, hotels and resorts outside the national park are the right choice for you. Some accommodation suggestions for your reference are Cuc Phuong Resort, Emeralda Resort Ninh Binh, Hoa Lu Shack Homestay, Ninh Binh Family Homestay, etc.
How to get there
About 140 kilometers from the center of Hanoi, Cuc Phuong National Park has become an attractive destination for tourists from all four directions, so it is not difficult for you to move there. There are 2 ways for your choice: by public transports and by private transports.
By public transports
From Hanoi, you can take a bus from Giap Bat bus station to the national park. There are 2 bus owners for your reference: Duc Hanh (Tel: 0912607066) and Phu Duyen (Tel: 0988118215). The buses run directly to Cuc Phuong National Park, so it is very convenient for you because you do not have to stop at any intermediate places.
If you cannot catch the bus of the two vehicles above in time, you can take the bus to Nho Quan from Giap Bat bus station, then continue for another 10 kilometers by taxi or bus, "xe om".
By private transports
Using a private vehicle such as a car or motorbike is the most convenient way for you to get to the park with the flexibility in time and schedule. Starting from Hanoi, visitors can follow the Trang An - Hoa Lu - Bai Dinh - Dong Chuong - Cuc Phuong National Park route or follow 1A highway - Gian Khau crossroad - Nho Quan - Cuc Phuong National Park.
Related Articles
If you are interested in trekking and similar attractions like Cuc Phuong National Park, you may read the following:
5 most famous national parks of Vietnam
Cuc Phuong considered for world heritage site
9 Best places for trekking in Vietnam
Useful Information
Location: Cuc Phuong Park, Ninh Binh, Vietnam
Best for: Family, couple
Entrance: VND 60,000
Hours: All hours
Distance to city center: 38.9km (24.2 mi)
Conversations (0)
Join the conversation
Conversations
Join the conversation
ALL COMMENTS (0)
There are no comments. Add your comment to start the conversation.
read next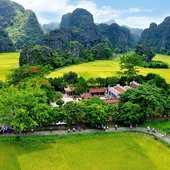 Hoa Lu, the capital of Dai Co Viet (an old name of Vietnam) under the Dinh and Le dynasties bears with it a legend.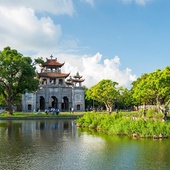 Phat Diem Stone Cathedral is one of the most famous and beautiful churches in Vietnam with special architecture: an elegant combination between Western church architecture style and Vietnamese religious buildings.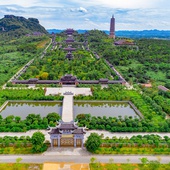 Bai Dinh Pagoda is a religious complex covering a total area of 539 hectare, with both the ancient and the newly renovated Bai Dinh pagoda, parks, car parking and lake system.