Cho Lon (District 5)
If you are interested in learning about cultural diversity in the seemingly monotonous Ho Chi Minh City, visit District 5.
Location & History
Cho Lon used to be a whole city that housed one of the first waves of Chinese settlers in the south of Vietnam before being merged with Saigon. The Chinese were the largest and wealthiest ethnic minority group in Vietnam and are well-known for their outstanding trading skills.
A Lively Ambience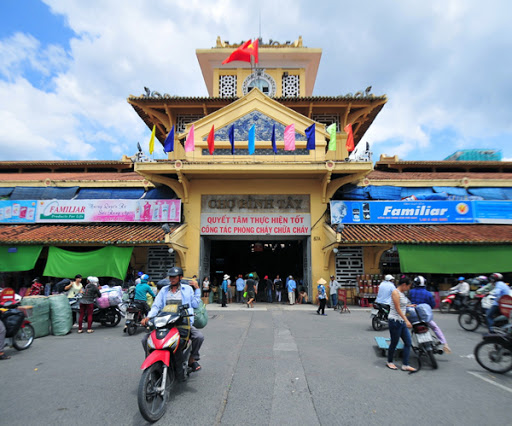 Photo: cstc.cand.com.vn
The centre of the Cho Lon area is Cho Lon, which is Vietnamese for "big market". This market, which is the oldest in Ho Chi Minh City and is a wholesale centre in the whole of Vietnam, leaving its younger touristy sister Ben Thanh market far behind in terms of the number of goods exchanged and revenue. Other than Cho Lon, many other cultural tourist attractions can offer you a glimpse of the cultural life of Chinese Vietnamese people. 
Like most Chinatowns in Southeast Asian countries, Cho Lon bristles with vibrant lanterns and beautifully decorated shophouses. Also, temples should not be overlooked. Nghia A clan house, which is dedicated to Guan Gong (Lord Guan), Quang Trieu clan house, which is dedicated to Goddess Thean Hock (Mazu), are the two most worth-visiting temples. 
For Catholics, Cha Tam Church, which is named after its founder - Pierre d'Assou, is a must-visit church in this area. The church is a perfect confluence of Gothic style and traditional Chinese architecture and is one of the oldest churches in Ho Chi Minh city.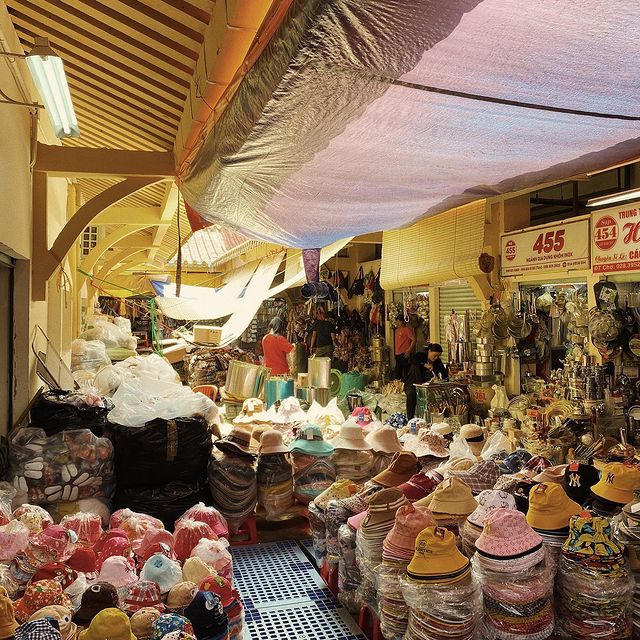 Photo by @tommy.tcn
Remember to kick off your day with mouth-watering dimsum on Ha Ton Quyen street, which is also informally known as the dimsum street as there are many eateries that sell this kind of Chinese food on this street. When in Cho Lon, don't forget to acquire some basic knowledge about the spiritual life of Chinese locals here. It is all reflected on the facades of their houses!
How To Get There
Since District 5 is close to District 1, one can easily follow Tran Hung Dao Street – the main route to get into Cho Lon. This can be done by bus number 1, stopping at Ben Thanh Bus Station or flag down a taxi to get there.
Useful Information
Location: Cho Lon, District 5, Ho Chi Minh City
Best for: Family, couple, solo
Entrance: Free
Hours: All hours
Distance to city center: 8.2km (5.1 mi)
Conversations (0)
Join the conversation
Conversations
Join the conversation
ALL COMMENTS (0)
There are no comments. Add your comment to start the conversation.
read next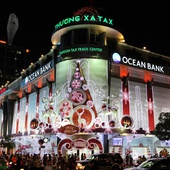 Although the building was demolished in 2016, Thuong Xa Tax merits every mention when one talks of Saigon.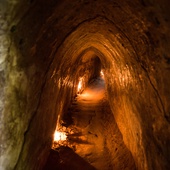 While visiting the War Remnants Museum gives you a theoretical glimpse of the Vietnam War, wandering around a small area of Cu Chi Tunnels, a popular tourist attraction in Vietnam, allows you to have real-life experiences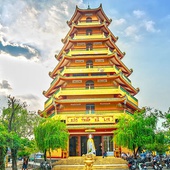 Built in 1744, Giac Lam Pagoda is one of the oldest pagodas in Ho Chi Minh city. Giac Lam Pagoda is located at 118 Lac Long Quan Street, Tan Binh District.