Cruising in Vietnam: Ocean, River and Bay
The details of getting to and around Vietnam by waterway.
Cruise trips are growing wildly in popularity and well received by both local and global tourists. It would be a big miss if you do not give some serious attention on your trip to Vietnam, given the long coastal line and the dominant waterway all throughout the country. 
International Cruise
Vietnam is a favorite international cruise destination when you are on a Southeast Asia cruise. There are many cruises, coming from various locations, that dock at Phu My, a commercial port on the South China Sea near Vung Tau, about 2.5 hours' drive from Ho Chi Minh City. This dock provides some basic facilities besides the nearby resort complex in Vung Tau which can be reached by bus or boat.

Celebrity Millennium A Popular Choice en route East - Southeast Asia

In order to explore Ho Chi Minh City hustle, most international cruises provide shuttle bus to the city centre, near the Rex Hotel, where you can visit the various historical and attractive sites in the city on foot or by taking a cab.
Recently there are also international cruises that travel from Hong Kong (Star Cruise) or other parts of the world (Millennium and Celebrity Cruise) that dock in Halong Bay, at Cai Lan port. From here it is easy to take a taxi to get to Bai Chay or Tuan Chau pier to board a smaller junk to visit the Bay or to visit further inland.
Halong Bay Cruise
If you are already staying in Vietnam and want to take a cruise trip, you can also find affordable cruise package that provides exceptional service. Halong Bay cruise normally provides a 2 day-1 night or 3 day 2 night package tour. Depending on the level of luxury you prefer, you can find information about these cruises from local travel agents, easily found in the Old-quarter.
Stellar Of The Seas Cruise in Halong Bay

Though scanning through company's website is convenient, the price is usually at 'starting price' and of top-of the list price. It would be much more informational and better for your wallet if you go directly to travel agents and negotiate for a lower price. This will help you find the most suitable package for you and have a sense of 'discount' on a deal. A typical 3 star cruise to Halong Bay costs about $80 which provides bus service to the dock, swimming, kayaking, a visit to Surprising Cave and various islets in the bay.
If you think staying on the cruise in the evening is boring since most visiting activities stop after the sky is dark, you will have to think again. You can try your luck in mid night fishing or sing your heart out in the on board karaoke session.
Mekong River Cruise
Being a country rich with natural water ways, you cannot miss a chance to go on a river cruise, especially those around the Mekong Delta in the South. Just like premium cruise, you can find a range of quality for river cruise. You can choose to go on a cruise that visit all the wonders of the south in a 2 day-1 night trip or go a full week to visit Cambodia. On a southern river cruise, you will get to see the juicy and irresistible fruit gardens and taste the fresh fruit picking from the trees. You will also see the life of people living on the river bank and their floating market.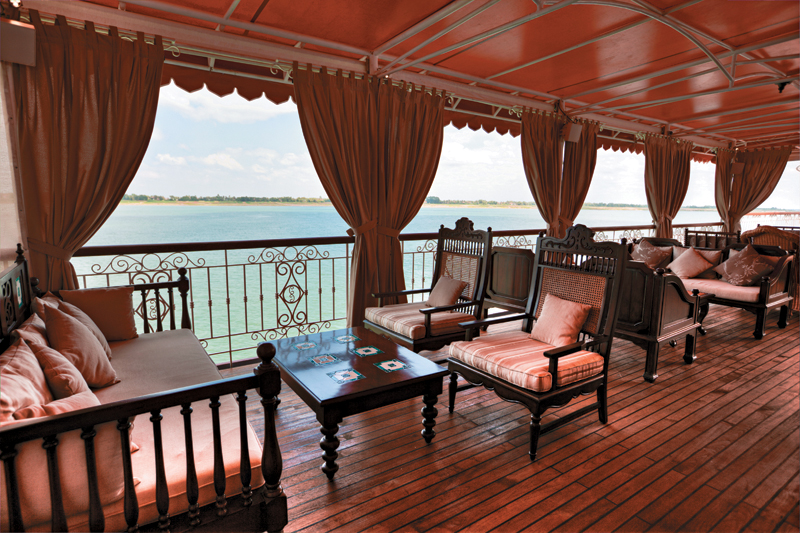 Jahan Cruise on Mekong

While Northern of Vietnam is not filled with water ways, you still can go on a day cruise on Red River or Perfume River in which you can listen to the amazing stories from the past and how the lives of the people in the area transform over the years. 
Conversations (0)
Join the conversation
Conversations
Join the conversation
ALL COMMENTS (0)
There are no comments. Add your comment to start the conversation.