10 Best Things To Do In Nha Trang
The gorgeous, budget-friendly Nha Trang City spoils its tourists with plenty of favorable conditions including picture-postcard beaches, historical sites, and delicious cuisine. Below is a detailed list of the best things to do in Nha Trang City for newcomers to have a good starting point.
1. Check-in Po Nagar Cham Towers
The century-old Po Nagar Cham Towers is a must-see historical tourist destination in Nha Trang City. This ancient religious significance was built by Cham people during the 7th and 12th century for worshiping purposes. Ruins that remain until present days include red-brick temples, a statue of goddess Yan Ino Po Nagar, and four towers with tapering roofs.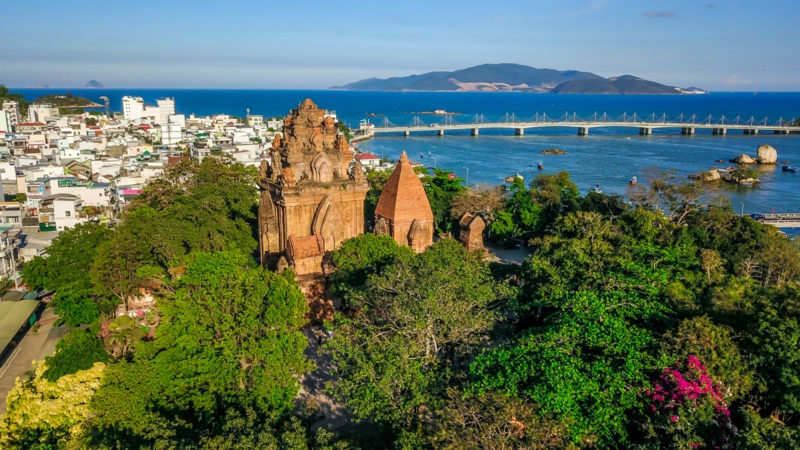 Po Nagar Cham Towers in Nha Trang
2. Diving/ snorkeling to discover biodiversity on Hon Mun Island
Hon Mun Island conjures up an alluring image of rocky coves and beautiful sandy beaches. It is highly recommended to book a guided half-day tour with snorkeling/ scuba diving activity and meal included. By taking up an island-hopping tour to Hon Mun Marine Protected Area, scuba divers and snorkelers can contemplate vast colorful coral reefs and abundant marine creatures. The island is home to up to 350 hard coral reef species. What's more, tourists can also admire spectacular scenery underwater from glass-bottom boats.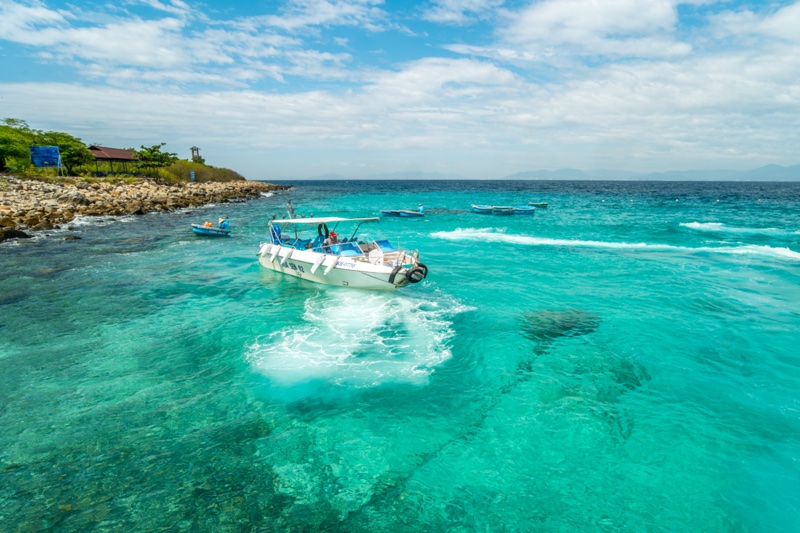 Hon Mun Island in Nha Trang
3. Visit Alexandre Yersin Museum
In the heart of Nha Trang City, Alexandre Yersin Museum attracts cultural vultures to grasp an insight of about life and legacy of Alexandre Yersin, a superb French doctor and bacteriologist who had significant contribution to Nha Trang City. He was also the founder of Vietnam's Pasteur Institutes. In this museum, you can find a wide selection of his personal belongings, letters, photographs, and laboratory equipment. The ticket fee is only 28.000 VND and you can listen to a brief introduction in French, English, and Vietnamese.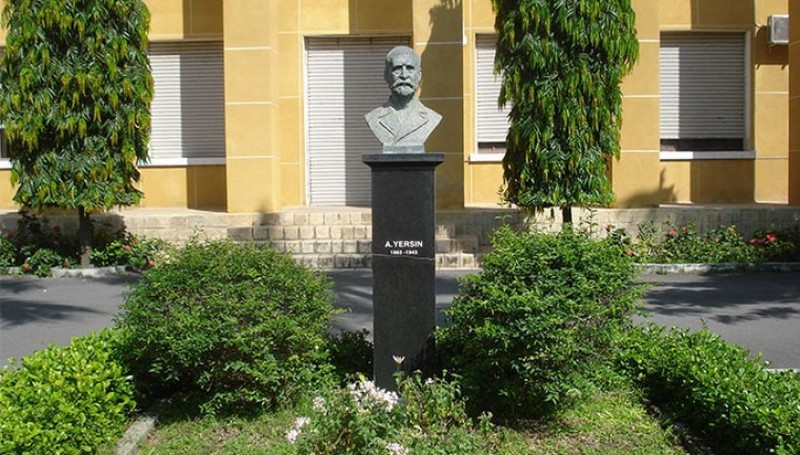 Alexandre Yersin Museum in Nha Trang - Photo: guidevietnam.org
4. Go paintballing
Nha Trang Paintball Shooting Club at 9C Tran Phu Street is a great entertainment address for groups of youngsters who enjoy paintballing. The club is spacious with an area of up to 2000 sq.m and includes many games. Players are provided guns, protective gear, and listen to the introduction before the competition.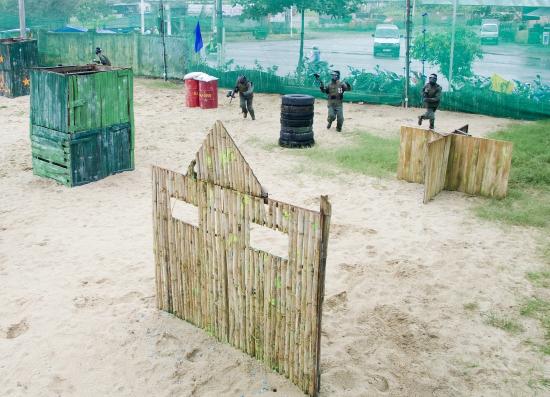 Photo: tripadvisor.com
5. Seek peace in mind at Long Son Pagoda
On the foothill of Trai Thuy Mountain, Long Son Pagoda is best enjoyed at leisure with knock-down views. Calm and sacred ambiance embraces the pagoda once you step into it. The highlight of this sanctuary is an enormous 14-meter statue of a white Buddha on the summit of the hill. It is proud to be Vietnam's largest outdoor Buddhist Sculpture and a symbol of Nha Trang City. Locals and pilgrims draw to Long Son Pagoda on the 1st and 15th day of the lunar month to worship and take part in ritual ceremonies.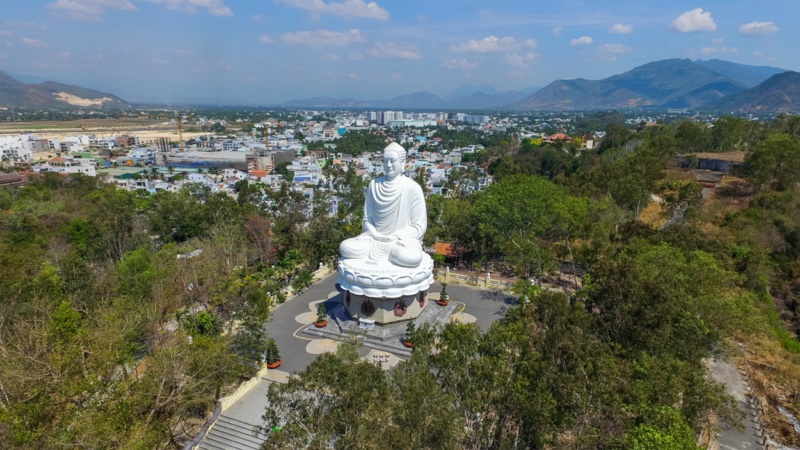 White Buddha Statue at Long Son Pagoda in Nha Trang
6. Go shopping
As an expat, you'll quickly find that shopping is your favorite activity in Nha Trang City thanks to a mixture of high-end outlets, shopping malls as well as open-air markets. For authentic Vietnamese silk, you can go to Hoang Yen Tailor while tourists looking for high-quality pearls and sumptuous jewelries can buy in Saigon Pearl, Hoang Gia Pearl, and Long Beach Pearl. Besides, commodities such as fine art handicrafts, clothing, sea food, and salaganes' nests can be found in local markets and shopping centers.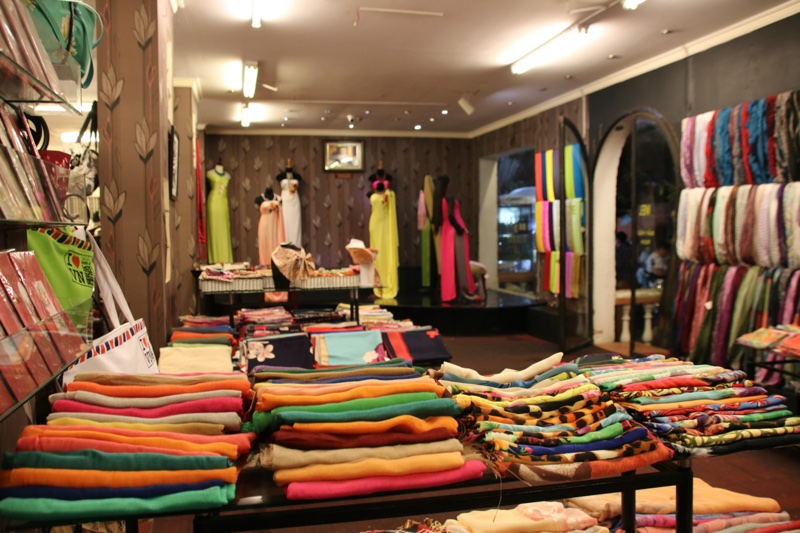 A shop with various silk goods in Nha Trang
7. Rejuvenating in Thap Ba Hot Springs and Mud Baths
Nha Trang City has many fabulous amenities to cater to wellness seekers. Notably, Thap Ba Hot Springs and Mud Baths are the best places to soothe your soul and achieve a comprehensive spa experience. Set against a verdant mountain backdrop, the natural hot mineral spring and thermal mud baths ease all fatigue and supply minerals to your body. Visitors can also relax in the swimming pools and Jacuzzis. Treatment packages are priced from 2.5 to 5 million VND with snacks, waters, and souvenirs included.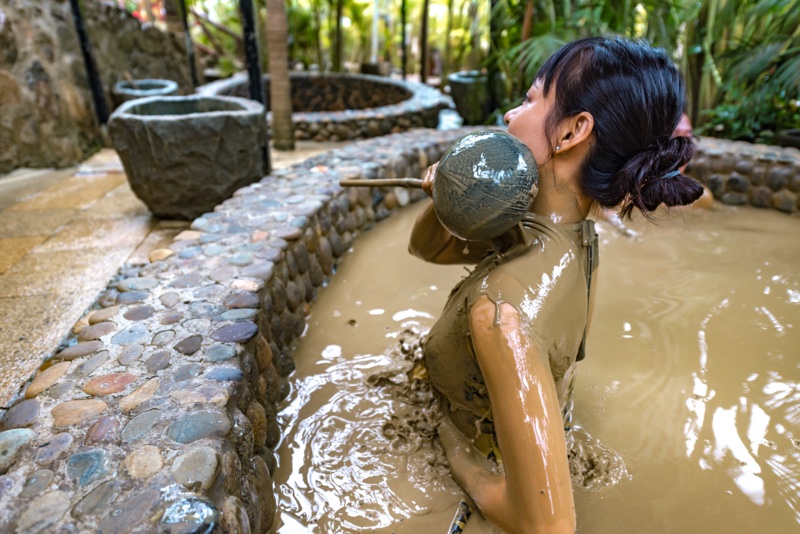 A woman experiencing mud bath in Nha Trang
8. Nha Trang Beach
Tranquil murmur of waves, crystal clear seawater, and silky strips of sand on Nha Trang Beaches are a paradise to enliven your senses. Either you head to the bustling Tran Phu or want to escape on the more remote Bai Dai Beach, you'll be treated with plenty of thrilling beach activities namely snorkeling, kite-surfing, jet-skiing, kayaking and diving. It's also wonderful to hold parties and ceremonies off the coast.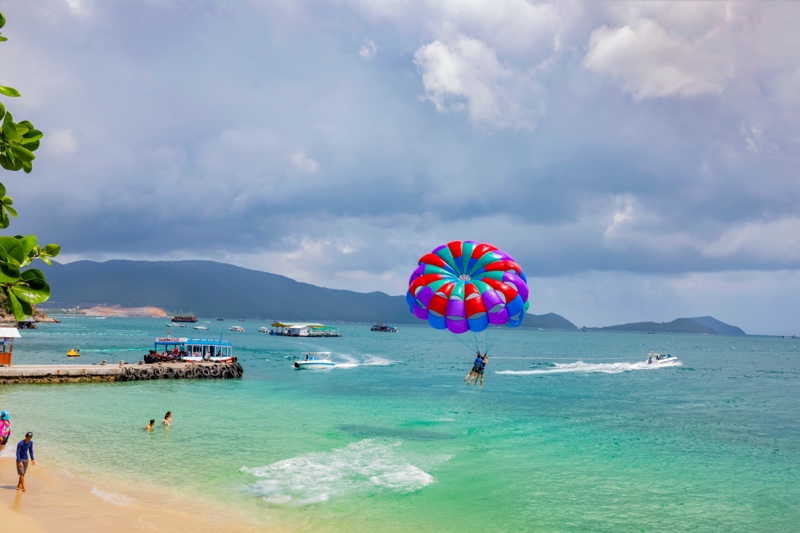 Sport activities at Nha Trang beach
9. Take a ferry ride to Monkey Island
Located 20km from Nha Trang coastline, Monkey Island is a place of intrigue and adventure. And to approach the island, you need to embark on a ferry or a boat. It takes only 15 minutes to reach the destination. Upon arrival, you can expect to get acquainted with hundreds of primates who adhere to locals, watch monkey's circus. Besides, tourists are welcome to stay in lovely bungalows, enjoy sea bathing, and swim on turquoise beaches.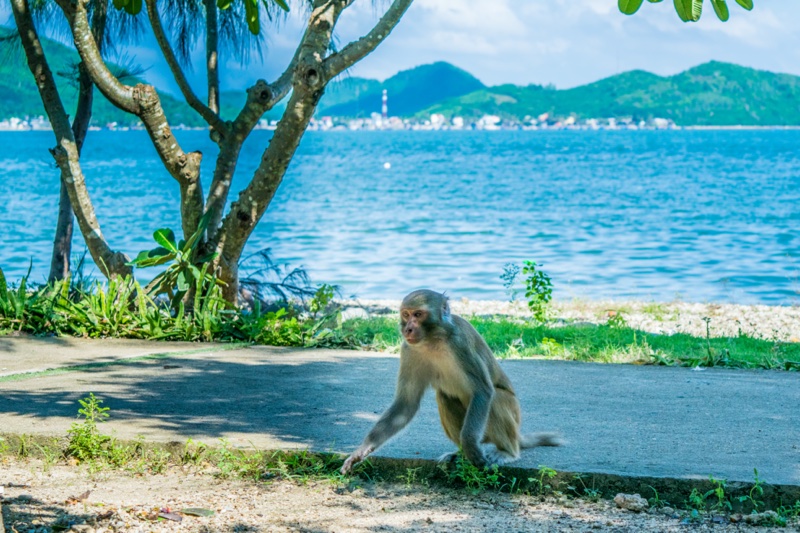 Monkey Island in Nha Trang
10. Enjoy street food
There are a few things better than wandering around Nha Trang streets and sample an immense range of street foods. You'll often see sidewalk vendors make local cuisine right in their stalls rather than in brand-name restaurants. Essential culinary experiences cannot be complete without tasting Ninh Hoa grilled pork roll, grilled beef wrapped in la lot leaves, Vietnamese crispy pancake, and fried fish vermicelli noodle.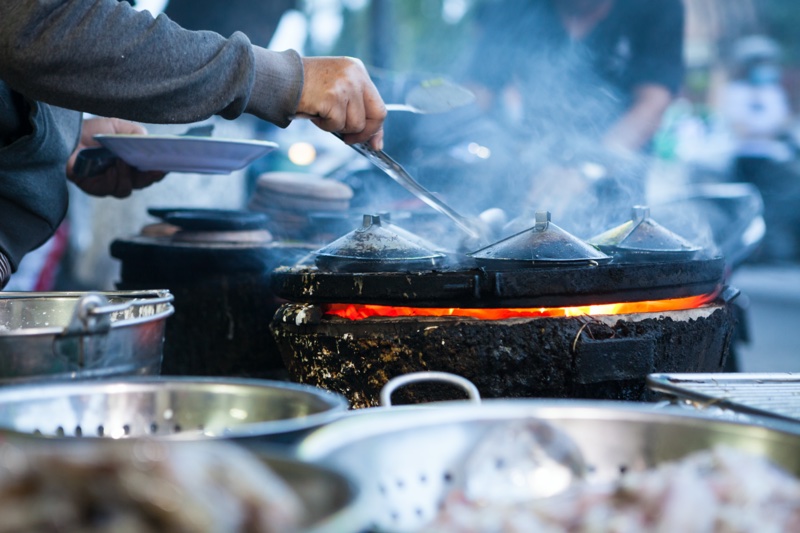 Cooking Banh Xeo in Nha Trang
Conversations (0)
Join the conversation
Conversations
Join the conversation
ALL COMMENTS (0)
There are no comments. Add your comment to start the conversation.
read next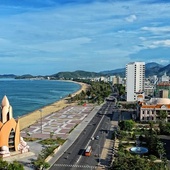 Thanks to Nha Trang's warm and comfortable weather, anytime during the year can be favorable for a trip to the tourism city.