Planning to discover Vietnam's Central Highland? Kon Tum should always be on your bucket list! Sharing the border with Laos and Cambodia on the western side, Kon Tum is renowned as a part of Indochina T-junction, with beautiful, pristine natural landscapes and rich culture. This is also a land of long-established history with a heroic revolutionary tradition, marked by several national monuments.
Kon Tum is also the home to preserve diverse traditional and cultural values of local ethnic minorities such as Bahnar, Gia Rai, Xo Dang, etc. Due to the geography which consists mostly of mountains, plateaus and forests, the population is divided into different areas, consequently leading to the culture diversity among different groups. Visiting Kon Tum, you can spot the beauty in the most primitive features of nature and human livings.
Climate & Best Time To Visit
Just like other cities within the Central Highlands, Kon Tum carries the humid subtropical climate with two seasons: dry season from November to April and rainy season from May to October. Avoid visiting Kon Tum in the rainy season, as the rainfall is really high, especially in September.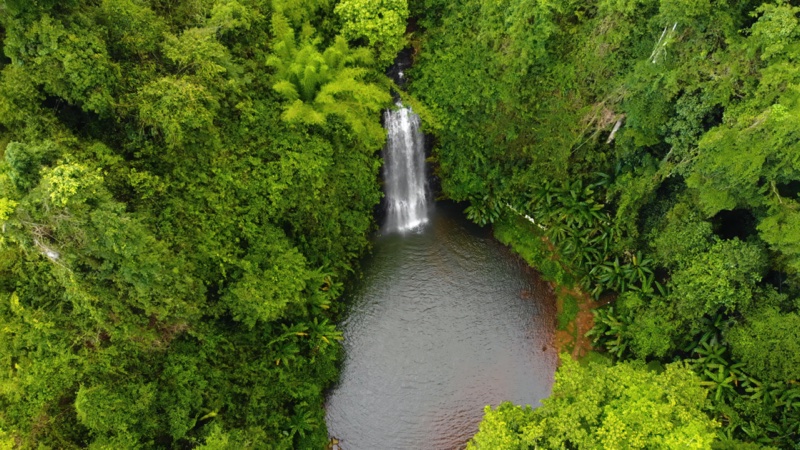 Pa Sy waterfalls in Kon Tum
During the dry season, the best time to plan your trip is December, when the weather is favorable and rain is barely spotted. It is also the blossom season as well as festival time with many interesting local traditions and activities. Afterwards, occasional rain is expected and the temperature slightly increases in the next months, but the overall climate is still pleasant. March and April are the two hottest months of the year which should be considered if you're unlikely to enjoy the heat.
Major Attractions
Highland Communal House – Kok K'lor
Located on a prime location on Tran Hung Dao Street, the Highland Communal House Kok K'lor is probably the most famous attraction in Kon Tum, which presents it as a symbol of the solidarity and community strength of indigenous people. The building has its height of 22m and length of 17m, made with traditional materials such as wood, bamboo, leaves and decorated with meticulous paintings and patterns. Being the largest communal house in the Central Highlands, the destination illustrates typical cultures of the Ba Na people, which has become a favourite stop for tourists and cultural explorers.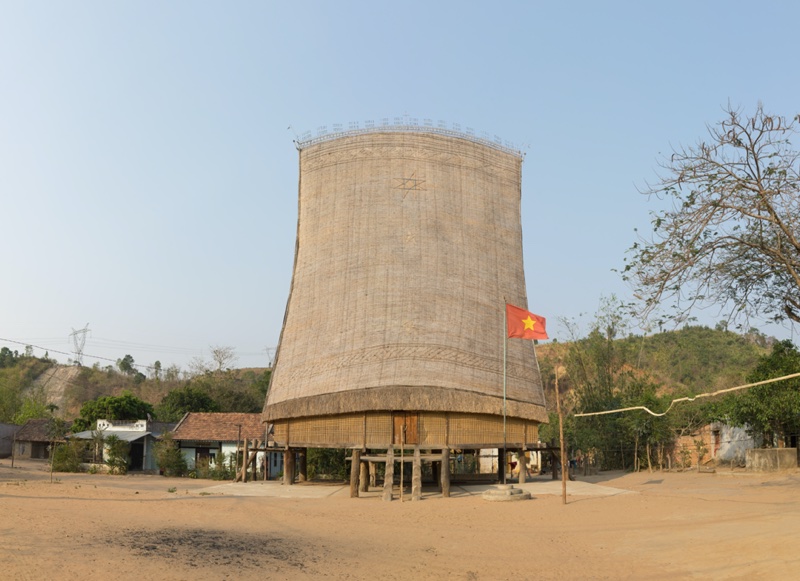 Highland Communal House
The Wooden Church
Kon Tum Cathedral, also known as the Wooden Church, was built in 1913 by French priests, now used as the cathedral, where the bishop of Kon Tum diocese is located. This church features Roman architecture and Ba Na stilt house details - a combination of European style and the culture of the Central Highlands of Vietnam. The surroundings are meticulously carved, presenting several traditional symbols and images of Central Highland's ethnic minorities.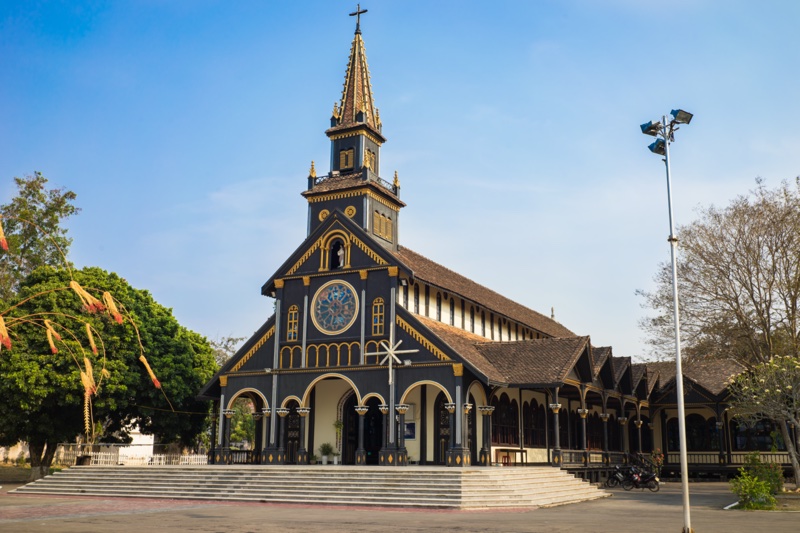 Wooden Church in Kon Tum
Kon Tum Museum
Kon Tum Museum is one of the places where you can find most information about the Central Highland. The 3-floor building stores over 20,000 objects and documents about local nature, geography, history, and culture of ethnic minorities in Kon Tum. Apart from observing the still objects, visitors can also participate in film sessions to watch lively documentary series introducing the traditional and cultural values of the 54 ethnic groups in Vietnam.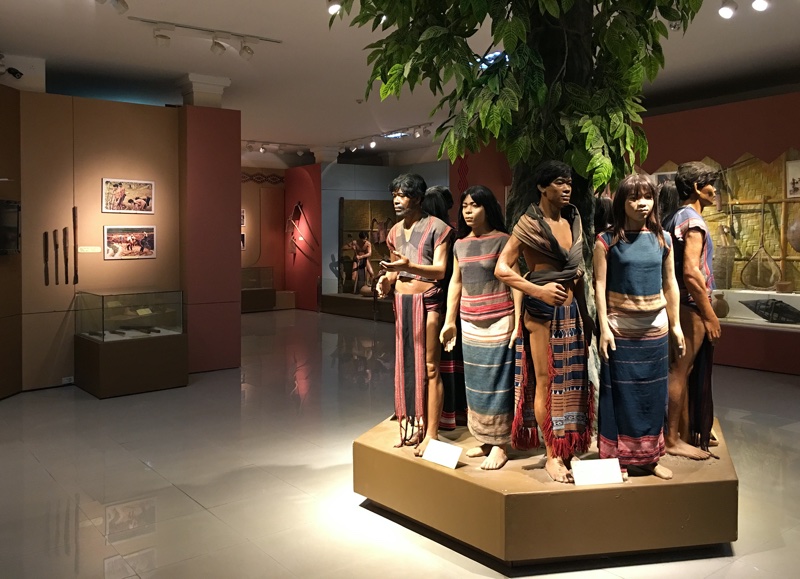 Kon Tum Museum
Mang Den Ecotourism Area
Mang Den Ecotourism Area consists of various landscapes such as pine forest, waterfall and lakes. This is a natural attraction offering you an overwhelming experience with the immense valley and pine forests, and impressive stories of the ethnic minorities' culture when you stay at the communal house. You can also take a walk to many waterfalls and springs in the area to enjoy the fresh and peaceful atmosphere. The weather is pleasant throughout the year, thus, it's absolutely a cool escape to get away from hot summer days.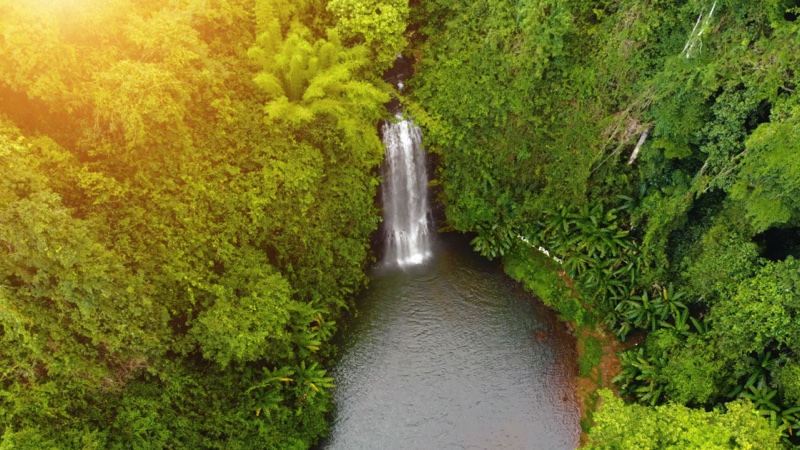 Pasy waterfall in Mang Den, Kon Tum
Chu Mom Ray National Park
Located in the West of the Central Highland, Chu Mom Ray National Park is about 30km away from the city. This is renowned as a green lung of the Highland, which currently features the richest biodiversity of Vietnam. Visitors will have an opportunity to observe the abundant ecosystem with nearly 1,500 animals and plant species, of which over 130 species were identified as endangered. Trekking tours to discover Chu Mom Ray National Park are available for adventure lovers to discover the greatness of nature.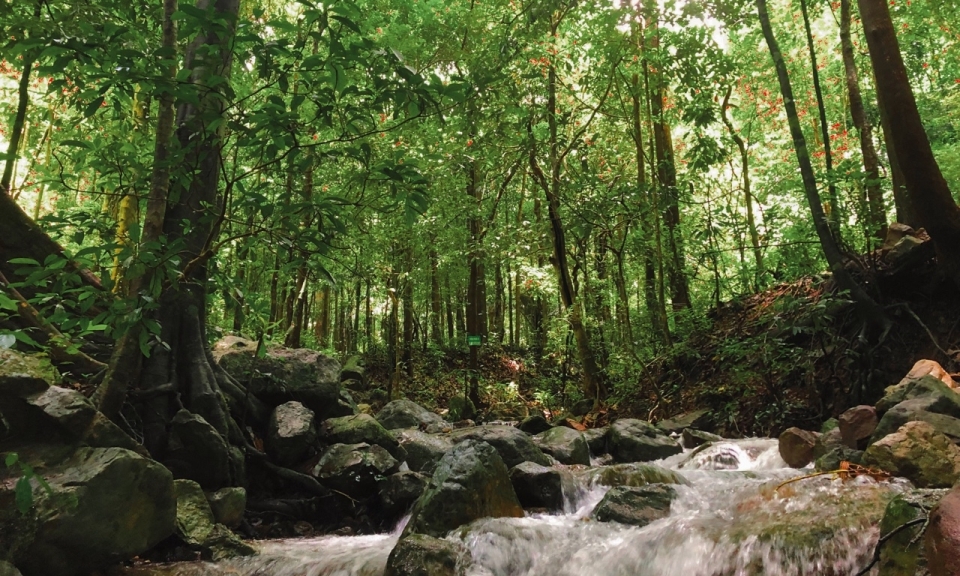 Chu Mon Ray National Park - Photo: travelmag.vn
Where To Stay
It is most convenient to stay in Kon Tum city centre as you can reach several nearby restaurants and famous attractions. There are many homestays and boutique hotels on the main streets such as Phan Dinh Phung, Duy Tan, and Truong Chinh where you can find a cozy room with sufficient amenities. If you look for a superior option, the 3-star Indochine Hotel Kon Tum is the most preferable property. The accommodation price is a real bargain, you only have to pay about $10 - $15 for a night at a homestay or boutique hotel, while staying at Indochine Hotel Kon Tum costs you $22 - $35.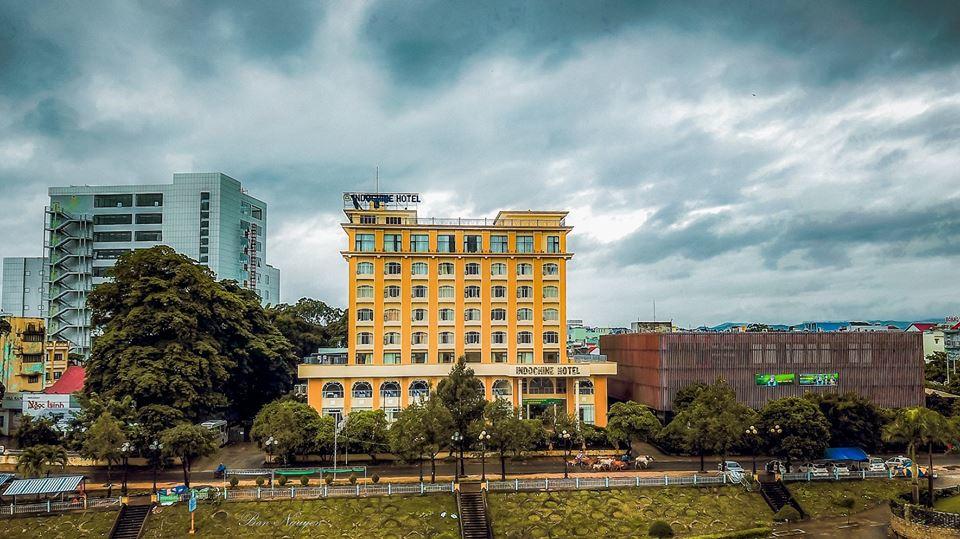 Indochine Hotel Kon Tum
How To Get There
To reach Kon Tum, there are two ways which vary regarding travel time and budget, providing you different experiences.
Traveling by airplane is recommended for tourists from Northern cities such as Hanoi, Hai Phong. As there's no regional airport in Kon Tum, you can take flights to Pleiku airport, which is about 50km away. Most domestic airlines operate flights from Hanoi which cost about $80 - $110, while it's cheaper to depart from Ho Chi Minh City or Da Nang. Flights from Da Nang are available everyday except Monday and Wednesday and cost you only about $35 for a one-way ticket. Upon arrival, you can take either taxi or shuttle bus to go from Pleiku airport to Kon Tum with a maximum fare of $2.
The second transportation method probably takes more time, yet it's more cost-saving. There are many coach services that provide daily trips with reasonable prices, from $10 to $20 for a single ticket. A more upgraded option is shuttle bus with toilet, limited soft seats provide you more comfort for overnight rides. However, the trip would take you about 20 hours if you depart from Hanoi, and 12 hours for the departure in Ho Chi Minh City, which should be concerned if your time for Kon Tum trip is limited.
READ MORE
Weather / Temperature:
°C
Humidity
%
Wind
km/h
Sunrise
Vietnam's Most Popular Destinations