Join A Cooking Class In Hue
In recent years, Vietnam is regarded as the most preferable destination of foreign tourists who plan to enjoy memorable culinary holiday. Vietnam cuisine is unique, distinctive and varies deeply from region to region. When it comes to Hue cuisine, a large number of Vietnamese hold firm to the belief that it is undoubtedly the best of the country. There are three different strands of Hue cuisine namely royal; fork and vegetarian cuisine but all three types have one thing in common which is the simplicity in ingredients but the meticulousness in cooking and serving.
The traditional culinary or the fork cuisine is by and large the most popular strand in the teaching program of cooking classes in Hue. For those who intend to explore more fully about the prestige cuisine deserving world recognition, there are a great many options to choose from: at travel agencies, hotels or restaurants.
Travel agencies
With a view to diversify existing tour service, many travel agencies in this day and age include cooking class in their tour package. It is usually a half-day class where travellers may have rewarding chance to experience every single step from ingredients selection to plate decoration. For a start, when visiting traditional food market in Hue, tourists may be dazzled by amazing sights, sounds and aromas of this busy and colourful market.
It is likely that you will have interesting social interactions with local vendors as well as acquiring useful tips to select fresh delicious Vietnamese ingredients used in the cooking class later. At the beginning, you can have a chance to know more about local herbs and aromatic vegetables and the way Hue people use their spices.
And during the lesson, accommodating chefs will provide explicit explanations step by step for foreign learners to prepare some Vietnamese well-known specialties by their self. Finally, you can savor unique traditional Vietnamese dishes you have just cooked.
Suggested travel agency: 
Green Travel Hue
Add: 02 Le Loi Str., Hue City, Vietnam.
Tel: (054) 3822323- 3824669.
Fax: (054) 3826923.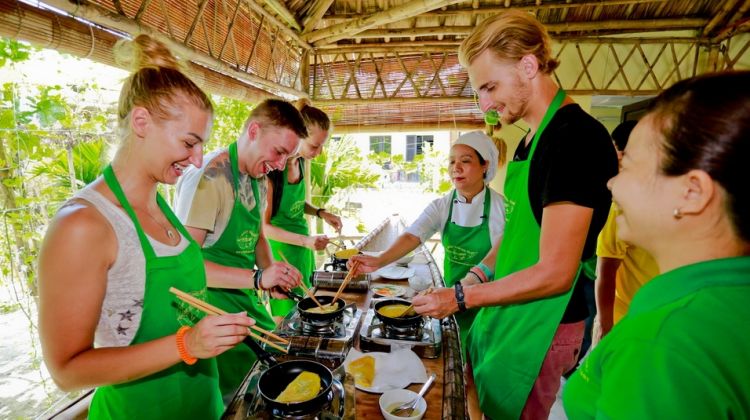 Photo: madamthu.com
Restaurants and hotels
In case convenient package tour is not your preference, you still enrol in cooking class at one of many restaurants and hotels in the imperial city of Hue. Restaurants offer more or less the same program as travel agencies; however, the cooking menu is changed on a daily basis and is the wonderful combination of daily dishes locally.
Additionally, travelers could require learning their own favourite dishes and at the end of the lesson, detail recipes are given for foreigners to practise further for a better taste next time. There are about 10 people at each class and at around 15-40 USD per person, attending cooking class in restaurants and hotels is worth considering for a memorable cultural holiday. Booking in advance is advisable.
Suggested venues:
Issy Roo Hue Restaurant
Add: 11 Pham Ngu Lao Street, Hue city, Viet Nam
Website: www.missyroohue.com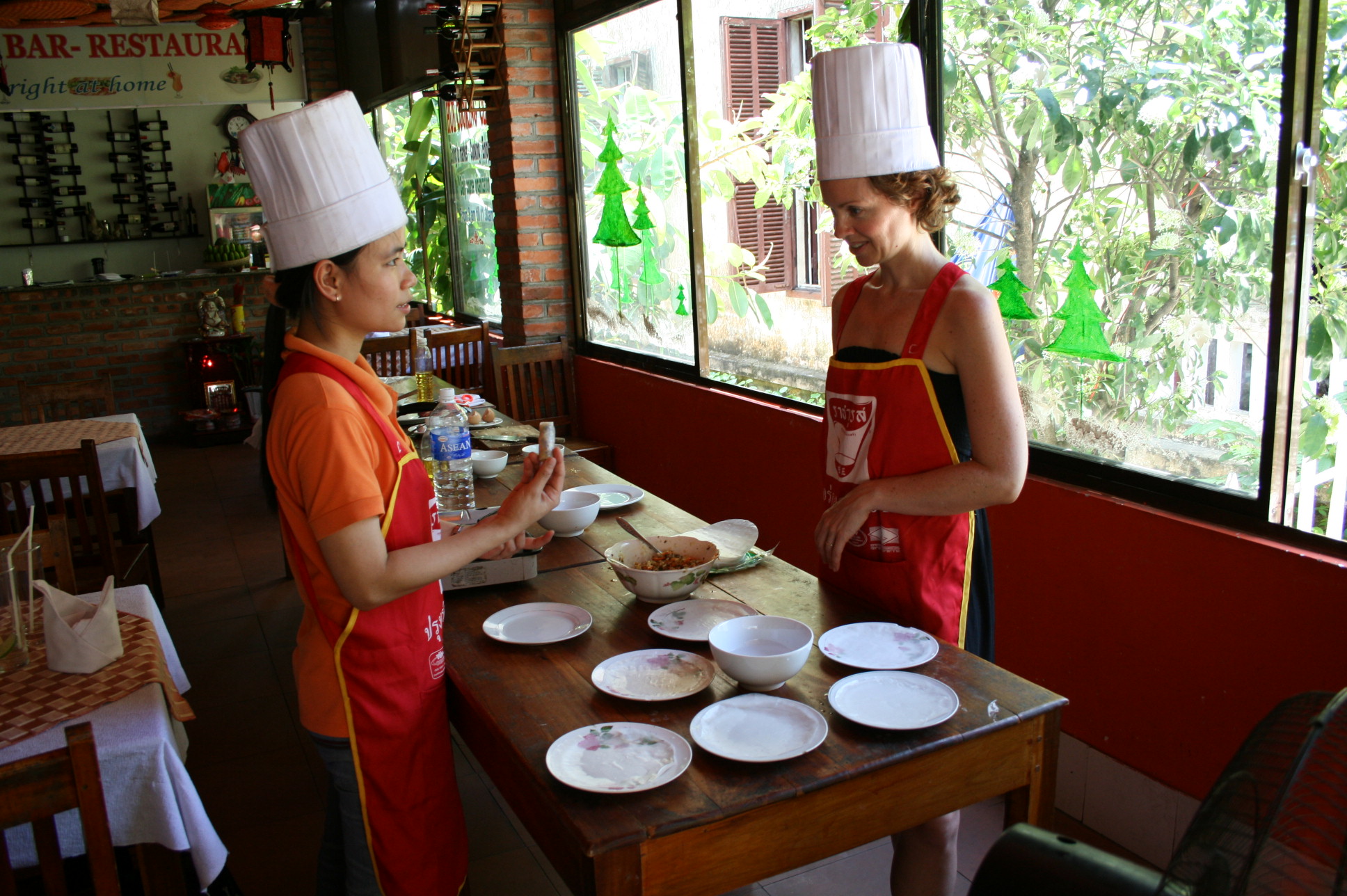 Photo: chezmoiblog.com
Villa Hue
Add: 04 Tran Quang Khai Street, Hue City, Vietnam
Website: www.villahue.com
Conversations (0)
Join the conversation
Conversations
Join the conversation
ALL COMMENTS (0)
There are no comments. Add your comment to start the conversation.