5 Best Full Day Trips To Villages In & Near Hoi An
Your visit to Vietnam will be incomplete without spending time in Hoi An – an ancient town being recognized by UNESCO as a World Cultural Heritage in 1999. As you set your first step, you will soon be overwhelmed by rustic traditional architecture, peaceful natural scenery, unique cuisine, and especially the well-preserved traditional villages. Whether you are a leisure traveler or adventure-seeker, visiting Hoi An villages should be included in your bucket list. Hereafter is Top 5 Best Villages in Hoi An you can refer for a day tour in this ancient city.
Thanh Ha Pottery Village
Appeared more than 400 years ago, Thanh Ha Pottery Village is one of the oldest craft villages in Hoi An. With familiar images of red-roof communal houses, yellow brick walls, dock and banyan tree, Thanh Ha not only represents a real Vietnamese traditional village but also expresses how carefully the local people have maintained their culture and the centuries-old trade until now.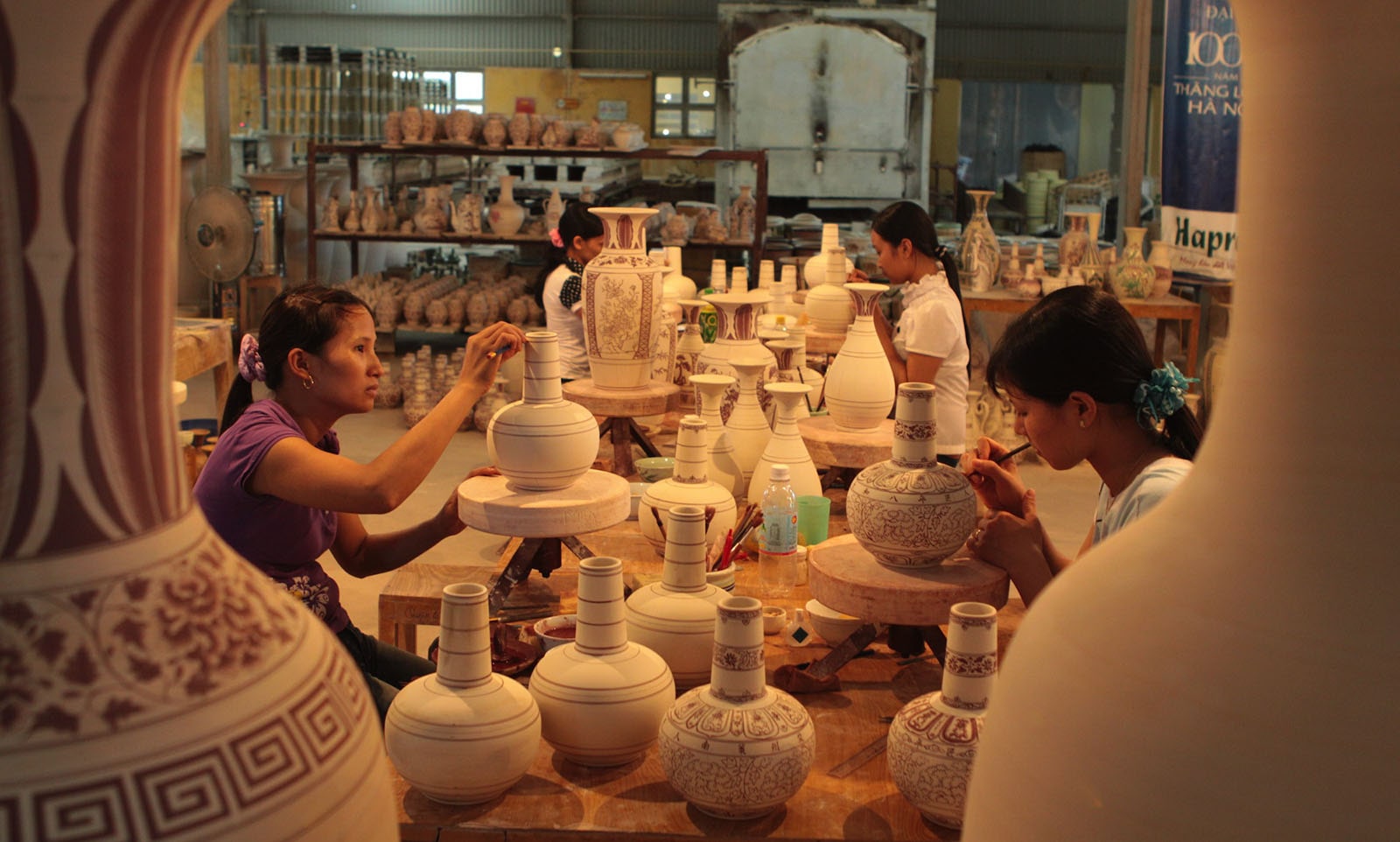 Photo: daytripvietnam.com 
Coming here, you can witness skillful hand techniques of mixing clay, molding pottery into different products like bowl, cup, vase or dishes on a pottery wheel, baking and decorating pottery. Do not only learn about history and capture some photos, you would definitely have so much fun trying to make some pottery crafts on your own which must be the most meaningful souvenir ever for your friends and family.
There are also many other attractions that you should not miss such as Thanh Ha Terracotta Park, Thanh Ha Pottery Museum, Thanh Ha Pottery Village Souvenirs or Nam Dieu Temple of the Pottery Founders.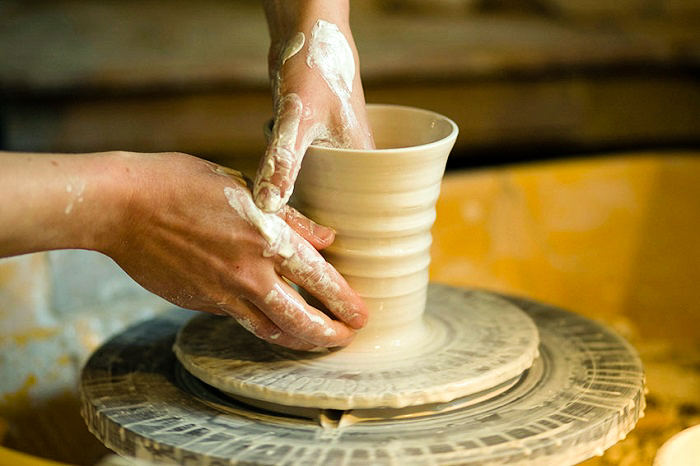 Photo: originvietnam.com
How to get there?
Thanh Ha Village is located by Thu Bon lake and just 3 km from Hoi An center, thus you can easily get there by a taxi, motorbike or bicycle. If you love sightseeing on the way, motorbike or bicycle is highly recommended. You just need to follow Hung Vuong street and turn left to Pham Phan street in around 10 minutes (by motorbike) and 30 minutes (by bike), you can reach the village.
If not, taking a taxi at the cost of around 80,000 VND/way at any point from Hoi An center, then you will find it more convenient for a walking trip around Thanh Ha village.
Information
Location: Block 5, Thanh Ha Ward, Hoi An, Quang Nam
Entrance fee: 35,000 VND/person to village and 40,000 VND/person to the museum
Open time: 8 a.m. – 5:30 p.m
Tra Que Vegetable Village
Just around 3 km from the center of Hoi An, Tra Que Vegetable Village is an ideal spot to get away from busy tourist attractions and discover rural life. Being the main source of fresh vegetables in the area, Tra Que Village shows how locals grow organic vegetables on the fertile soil. Specially, not by toxic chemicals or manure, villagers use a special farming technique of fertilizing vegetables with seaweed from the river, bringing the best flavor and quality ingredients for Hoi An cuisine. You can come to visit Tra Que Village in any season as the weather is quite pleasant all the time, however, February to April is the best time to see lush vegetable fields and join activities with the local farmers.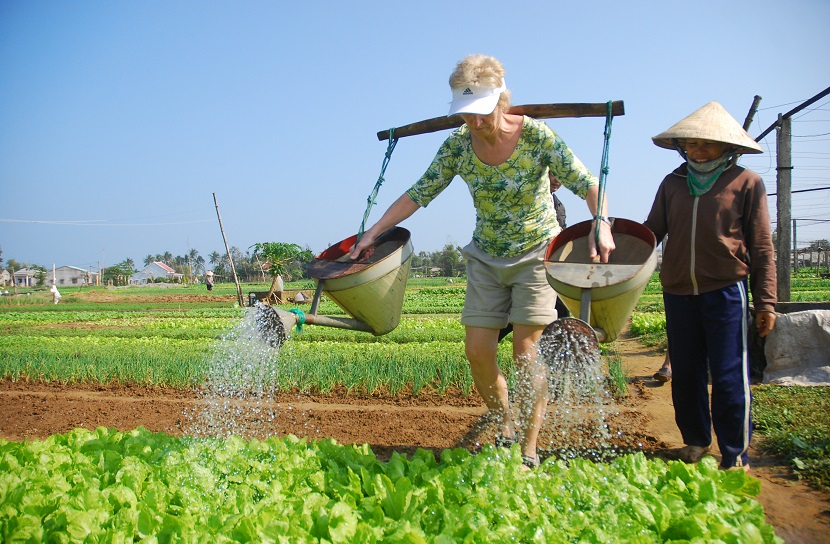 Photo: printcartranferhoian.com
There are up to 40 hectares of cultivated land planting different vegetables and herbs in Tra Que village. Wandering around the village, watching interesting farming tasks like raking, watering, or vegetable picking, talking to friendly locals, and exploring their simple lifestyle are things-to-do when coming here. Furthermore, some people love to try these tasks to understand how hard-working the locals have to work daily to make the freshest and cleanest vegetables here.
You can manage the transfer and visit Tra Que Vegetable Village on your own or book a biking tour to admire the rustic countryside and try the handwork as a farmer. Some tours also combine a village trip with a cooking class in Hoi An center.
How to get there?
Bicycle: Almost all travelers choose a bicycle to get to Tra Que Vegetable Village as it takes 10 minutes only and you can leisurely sightsee on the way. From the old town, you follow Hai Ba Trung Street, pass a bridge in a short way and see the village on the right side.
Motorbike, car, taxi: Go on the same route as biking, traveling by motorbike, car or taxi takes a shorter time. However, it is the most convenient to go around and visit the village on a bicycle.
Walking: Walking is possible to get to Tra Que Village. As it takes around 40 minutes walking for a 3-km distance, you should check out the weather before going to save energy for walking time and activities in the village.
Information:
Location: Tra Que, Cam Ha, Hoi An, Quang Nam
Entrance fee: 10,000 – 20,000 VND/person
Open time: 7 am – 5 pm
Cam Thanh Coconut village
For those who are keen on ecotourism, Cam Thanh Coconut Village is on top of recommendations when traveling to Hoi An. Located 6 km from the Eastern Hoi An old town, Cam Thanh village includes a huge forest of coconut with an area of hundreds of hectares, which plays a vital role in protecting the biodiversity and the villagers from the sea waves. January to June is the best time to come here thanks to the cool weather. If you travel in summer, make sure you prepare sunglasses, a hat and sunscreen, or visit the village in the morning to avoid the heat and the sun.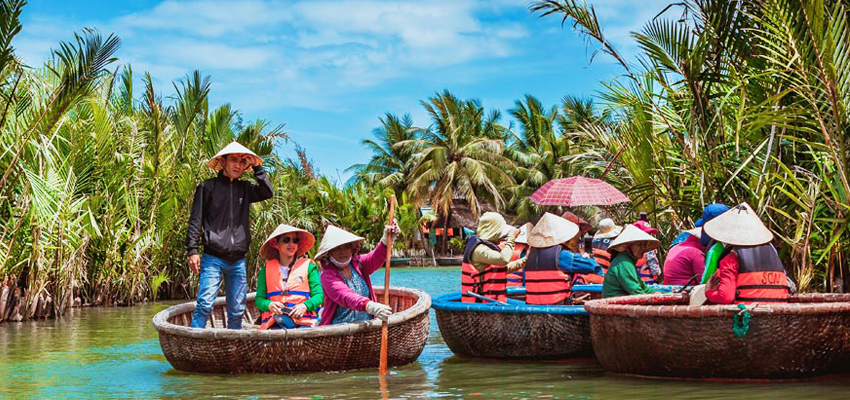 Photo: vmtravel.com.vn
If Mekong Delta in Southern Vietnam offers a chance to visit mangrove forest on a wooden boat, Cam Thanh Coconut Village makes it more special with a basket boat ("thing chai" or "thuyen thung" in Vietnamese) – a round-shaped, more shaking, and adventurous one. On the basket boat trip, you will go through a tranquil river to see the coconut palm forest in Bay Mau Forest and try some water coconut fruit. The boatman is willing to instruct you how to row the basket boat, yet it does take some time if you do not want the boat to just turn around and around.
Besides the basket boat trip, you should not miss the bamboo workshop where a lot of crafts are made from bamboo such as bicycles, chopsticks, table and chair and trying farming works as a local with vegetable watering, fish-catching or buffalo riding.
Last but not least, joining a cooking class in a local restaurant to learn how to make some traditional dishes like spring rolls, crushed rice crackers or Vietnamese rice pancakes will be one of the must-try in Cam Thanh Village.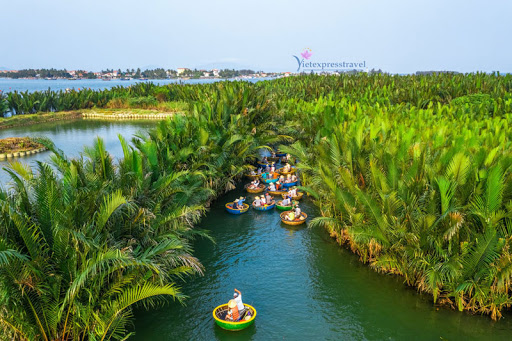 Photo: vietexpresstravel.com
How to get there?
You can visit Cam Thanh Coconut village by road or water way.
By water way: There are a lot of day tours offering the river way to Cam Thanh Village. From Hoi An market, you take the boat trip from Bach Dang dock and travel along Thu Bon river - the journey to Bay Mau forests takes around 15 minutes.
By road: From Tran Phu street, you continue with Nguyen Duy Hieu - Tran Nhan Tong – Vo Chi Cong street and go ahead to Bay Mau Coconut Forest. It costs you 10 minutes by car/motorbike or 30 minutes by bike and you can park by the ticket booth for free. Taxi costs you around 75,000 VND/way from Hoi An Ancient Town.
Information:
Location: Hamlet 3, Cam Thanh Village, Cam Thanh, Hoi An, Quang Nam
Entrance fee: 30,000 VND/person
Basket boat tour: 150,000 VND/person (50 – 60 minutes)
Open time: 9 am – 5 pm
Kim Bong Carpentry Village
Situated on the other bank of Thu Bon river, Kim Bong Carpentry Village is a must-see place if you have interest in traditional handicraft villages in Hoi An. Kim Bong is the home of many wooden artworks around the country, from the royal buildings and historical relics in the past to architectural houses or furniture at the present. Since the 16th century, artworks in Kim Bong Village have been a unique and harmonious combination of Japanese, Cham, Chinese and Vietnamese style, attracting countless worldwide traders for years.
The sound of punching and drilling is the first impression when you arrive at Kim Bong Village. Heading to the Eastern Kim Bong, you can admire the talented carpenters building ships while in the Western area, you will completely be excited for lots of wood work for house, urban sculptures and usual furniture shown in the workshop. Some of the most skillful artworks preserved for decades are incense carved with 1000 dragons by bamboo trees or the well-known Bridge Pagoda – the symbol of Hoi An. Choosing Kim Bong for a half-day visit or combining with other handicraft villages in Hoi An will be never regretful.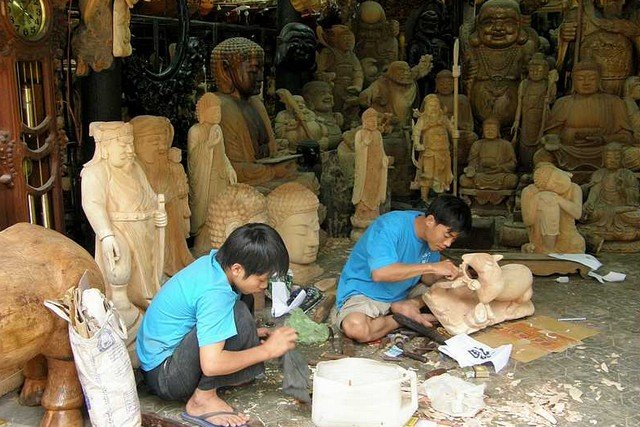 Photo: vietnam.com
How to get there?
From Hoi An ancient town, the most popular way to travel to Kim Bong Carpentry Village is by boat from Hoi An wharf on Bach Dang street. The boat follows the Hoi An – Cam Kim route in 10 minutes and gives you a stunning view of Thu Bon river.
Otherwise, you can follow Hung Vuong street, then cross Thu Bon river on Cam Kim bridge and go further 3 km to get to Kim Bong village. It takes you around 15 minutes by taxi or motorbike on an 8 km distance on this way.
Information:
Location: Cam Kim commune, Hoi An, Quang Nam
Entrance fee: Free
Hoi An Silk Village
Being one of the most dynamic trading ports in Vietnam, Hoi An is the paradise of diversified products in which silk is among the most luxurious ones and has become an iconic item of Hoi An. In fact, Hoi An Silk Village has existed for over 300 years but used to be closed around 100 years ago due to the decreased demand of customers and the high competition with many other fabric products. Nowadays, Hoi An Silk Village comes back and is a successful project not only recurring in the history and the culture of silk weaving in Hoi An to travelers but also restoring and developing the silk products for worldwide traders.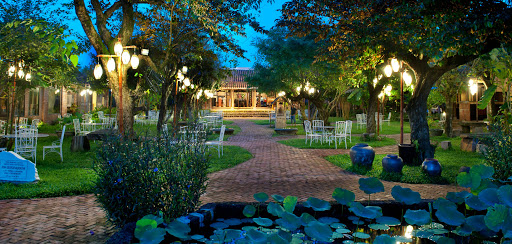 Photo: hoianilkvilla.com
Hoi An Silk Village is located inside Hoi An Silk Village Resort & Spa in the Northwestern Hoi An Ancient Town. Coming here, you can admire an exclusive silk collection of suits, vests or dresses in the showroom, explore traditional costumes of 54 ethnic groups in the museum and learn about the silk making process on a wooden loom of local artisans.
Besides, you have a chance to witness many hundred-year-old Cham mulberry trees and how locals grow silkworms for silk thread, visit Cuu Dien house, learn how to distinguish real and fake silk, and so on.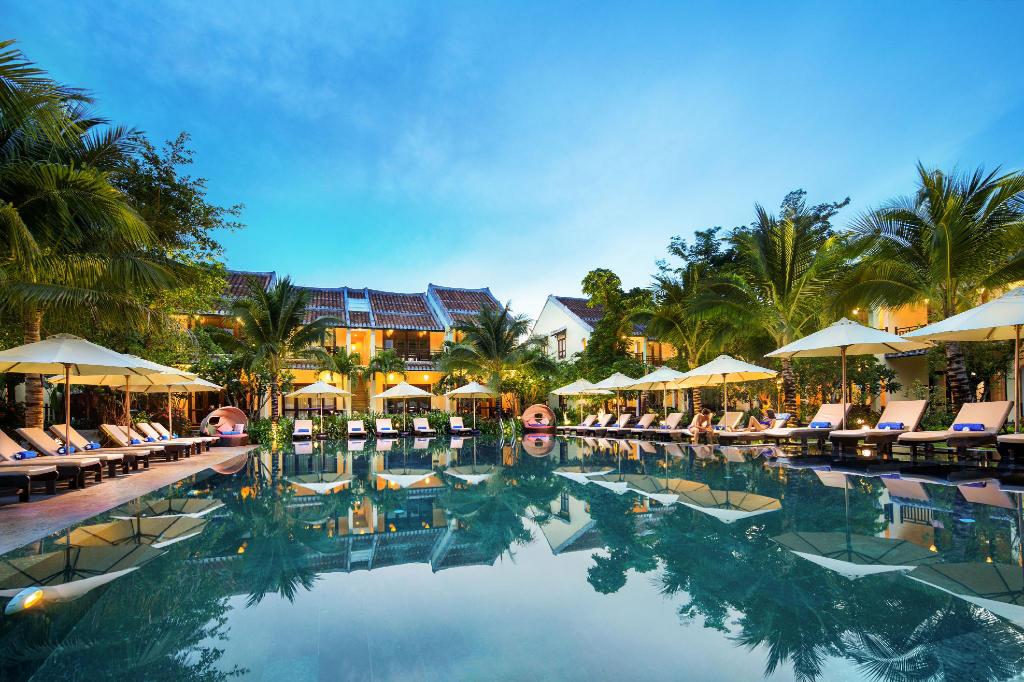 Photo: agoda.com
How to get there?
Just 2 km far away from Hoi An Ancient Town, Hoi An Silk Village can be easily reached by lots of ways like walking, bicycle, cyclo, motorbike or taxi. Following Ly Thuong Kiet street and going straight ahead to Nguyen Tat Thanh street to the Northwest, you will see the village on the right side. The most proper ways are being on foot, by bike or cyclo as you can watch every antique corner and traditional houses of Hoi An on the way through.
Information
Location: 28 Nguyen Tat Thanh, Cam Pho, Hoi An, Quang Nam
Entrance fee: 50,000 VND/person
Tour fee (optional):
45-minute tour (with guide): 100,000 VND/person
4-hour tour (with guide): 595,000 VND/person
Open time: 8 am – 9 pm
Conversations (0)
Join the conversation
Conversations
Join the conversation
ALL COMMENTS (0)
There are no comments. Add your comment to start the conversation.
read next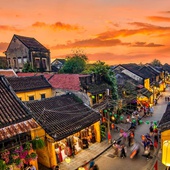 Hoi An is located about 80 km from Hue City, or about 2.5 hours by car. For those who wants to cram more into their stay, these two destinations can be combined into an itinerary that can last between 3 and 5 days.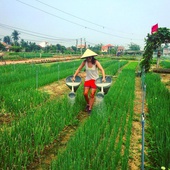 Prefer to do-it-yourself? Below are 5 must-dos in Hoi An - consider including at least one, if not all, of them in your vacation to the ancient port town.