Bui Vien Street
Location
Bui Vien street, serving as an entertainment hub for both tourists and locals, has risen to fame as one of Ho Chi Minh City's most vibrant quarters. Also known as "Pho Tay" (Western Street) or "International crossroad", Bui Vien is most popular with foreign backpackers with numerous choices of hostels and accommodations. However, if you do not sort yourself as one of them, Bui Vien is still a must in your bucket list to experience the mind-blowing nightlife when traveling to Saigon.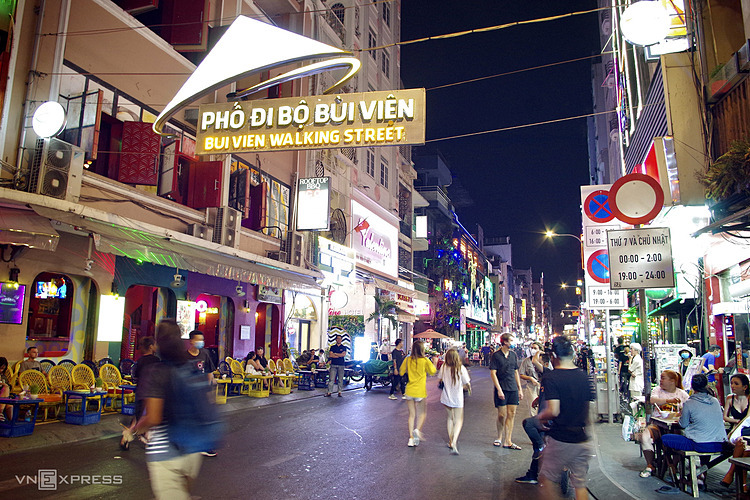 Photo : vnexpress.net
Located at the heart of District 1, Bui Vien area consists of 5 streets: Bui Vien, De Tham, Do Quang Dau, Tran Hung Dao, and Pham Ngu Lao. You can reach Bui Vien by any means of transport, both public buses and private vehicles. From Ben Thanh Market, Bui Vien is a mere 10-15 minute walk.
A brief history
Not until the 1986 Reform did Bui Vien become gradually loaded with more restaurants, shops, and hotels. An introduction of Lonely Planet in 1993 suggesting Bui Vien as one of their attractions when traveling to Vietnam, was probably the triggering point, attracting more tourists to the area and even more locals to base their business here serving up the demand. Through a constant development of almost 30 years, Bui Vien has welcomed millions of visitors from around the world for both leisure and business purposes.
Activities
Try local food
You will never get hungry in Bui Vien as there is an extensive range of restaurants and food stalls. Savoring the best of southern dishes such as Banh mi, Banh xeo, or even fresh seafood, by just wandering around the walking streets. 
Tao Pho (silken tofu with ginger syrup) and tropical fruits mix are the most recommended dessert in this area, which are surprising refreshing yet incredibly cheap.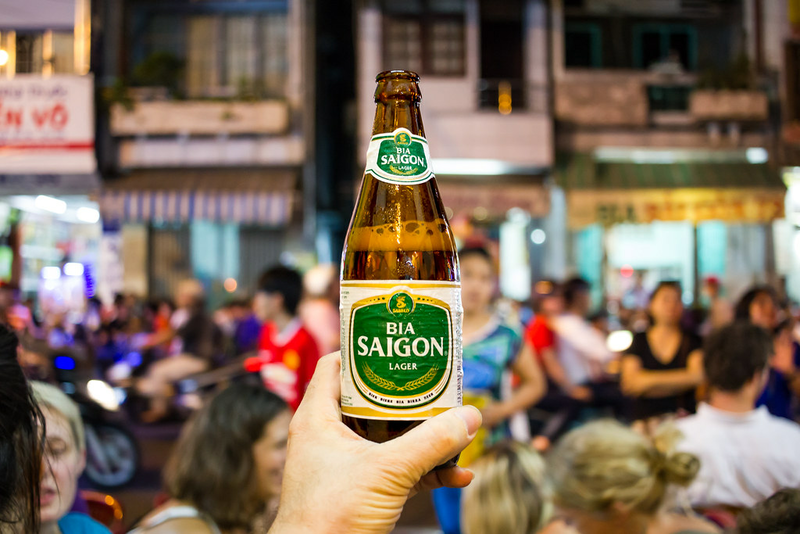 Photo : eva.vn
In additional to snacks and desserts, you can also find decent dinner at reasonable price, which is around VND100,000 – VND200,000 ($4 - $9) for a full meal including drink. A must-try piece of Saigonese cuisine is Com Tam (Broken rice with grilled pork chop), which topped with egg meatloaf, shredded pork and pickles. Order the dish and talk to some locals, you will find it compelling, as what you taste is not just food, but a slice of history and culture of the Mekong Delta area. 
If you simply look for a safer choice of international dishes, there are handful options in Bui Vien neighborhood that serve Chinese, Italian, Indian or Thai cuisine.
Chill with Saigon cafes
As a cultural junction, Bui Vien hosts both branded coffee chains and local specialty coffee boutiques. If you are searching for convenience, it's totally relatable to drop by Starbucks, Bobby Brown, Trung Nguyen or Phuc Long. On the other hand, if the hidden gems of Saigon lure you, go off the beaten track to the tranquil amid of Hanoi Corner, Nha Co 3 Lau, and Ut Lanh Cafe. Each spot wears distinct vibe of vintage, nostalgia, and serenity, but you can all keep yourself from the hustle and bustle of the endless crowd while having a sip of fine egg coffee or Bac Xiu (Vietnamese white coffee).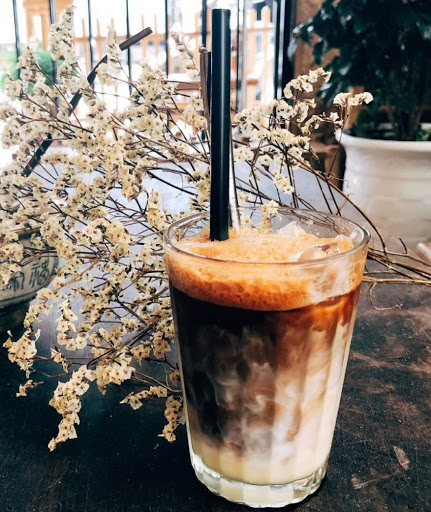 Photo by @Icaphe
One of the best places in Saigon for nightlife
What do you expect from a night walk? Neon signs flashing, music blasting, people gathering; you can find all that in Bui Vien by night. Tourists and natives from all around join in, regardless of race, gender, and language. Make a bar hopping tour to take part in the hectic atmosphere of Boheme Pub, Sahara Beer Club, and 86 Pho Tay, or chill on rooftop with city's night view at The View Rooftop Bar and Corner Sky Bar.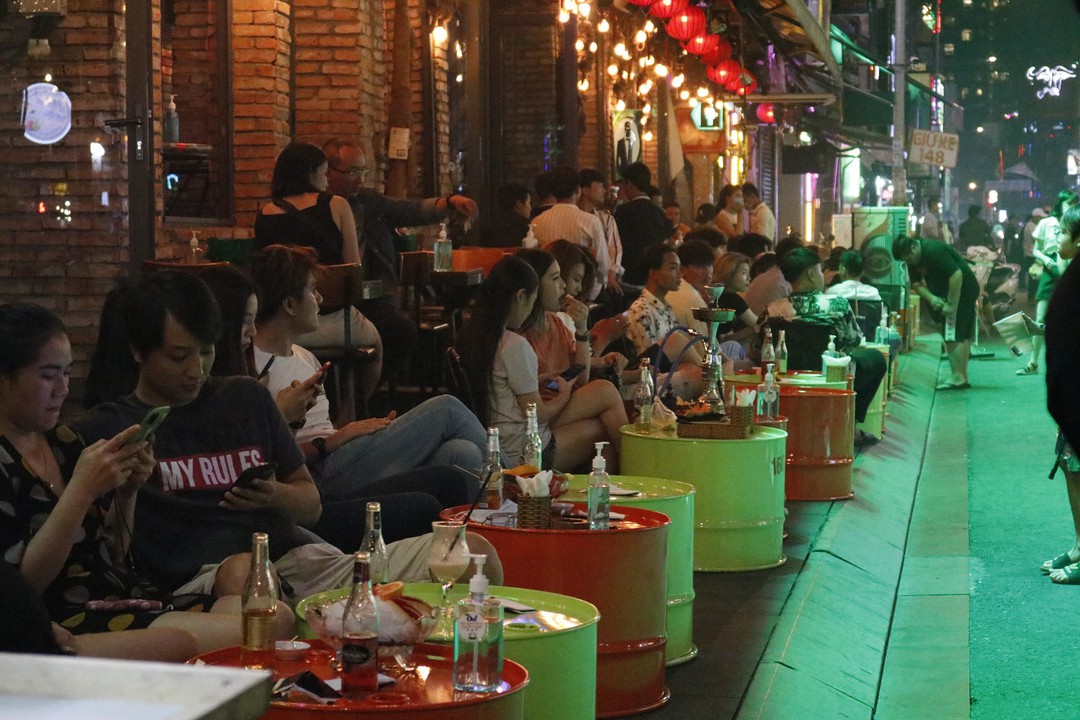 Photo : thanhnien.vn
Visitors who'd rather enjoy the fresh air and busy streets can pop in the sidewalk to grab some bites and beers. Vietnamese craft beer is also a decent option, available at famous tap rooms such as Ong Cao and The BEM Saigon. People are friendly and welcoming, so don't hesitate to smile back and make friends if there's anyone striking a conversation with you.
Survival tips
Look after your personal property 
Being a part of the exotic Bui Vien nightlife is a must-have experience in a trip to Ho Chi Minh City, especially among young tourists. Similar to many other tourist hubs, pickpockets can be anywhere among the mob. It is strongly recommended to store valuable items like mobile phones and camera in backpack or hide them from other people. Do not leave them under the radar.
Ignore the sellers
Such crowded areas are desirable for street vendors and hawkers to sell whatnot items. You can pick for yourself a souvenir or some street food; however, if you don't have intention to purchase, do not communicate. An expression of politeness may cause you annoyance as they insist on inviting you to buy something.
Ask the price before purchase
Some vendors may overcharge tourists with ridiculously unreasonable price, especially foreign tourists. Do not hesitate to ask and bargain for better pricing if you really want something.
Stay away from any conflict. 
Try your best not to involve in any group that shows negative tension. The level of aggressiveness, with alcohol, may escalate, which results to people's lack of control. When encountering a dangerous situation, just ignore and go round the crowd to continue your travel plan.
Conversations (0)
Join the conversation
Conversations
Join the conversation
ALL COMMENTS (0)
There are no comments. Add your comment to start the conversation.
read next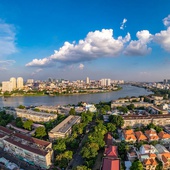 Located not too far from the city center, however, Thao Dien does not exhibit the hurl-burly pace of Saigonese life, but a distinctively chilled-out vibe of Western countryside.