A Must-Read Guide for Adventure Travelers to Dalat
Although located in the tropical zone, Dalat has its own unique temperate weather due to high altitude. The cool climate, a history of being tourism oriented by the French colonials and interesting culture, make Dalat a must-visit destination for every traveler both domestically and internationally.
Dalat is also well-known with the name of "City of Eternal Spring" since there is a wide variety of flowers (hydrangea, marigold, mimosa,...) and spectacular scenery (Xuan Huong Lake, Langbiang Mountain,...) that you can find nowhere in the country. Yet recently, it is increasingly recognized as a favorite landing space for adventure seekers. Let us shine you a light on a completely different Dalat, which is spectacular, adventurous and exciting. 
Exploring Datanla Waterfall
Located 5km from the center of Dalat, Datanla means water under the leaves in the ethnic native language. So, what can be more spectacular than a beautiful waterfall in a tropical forest?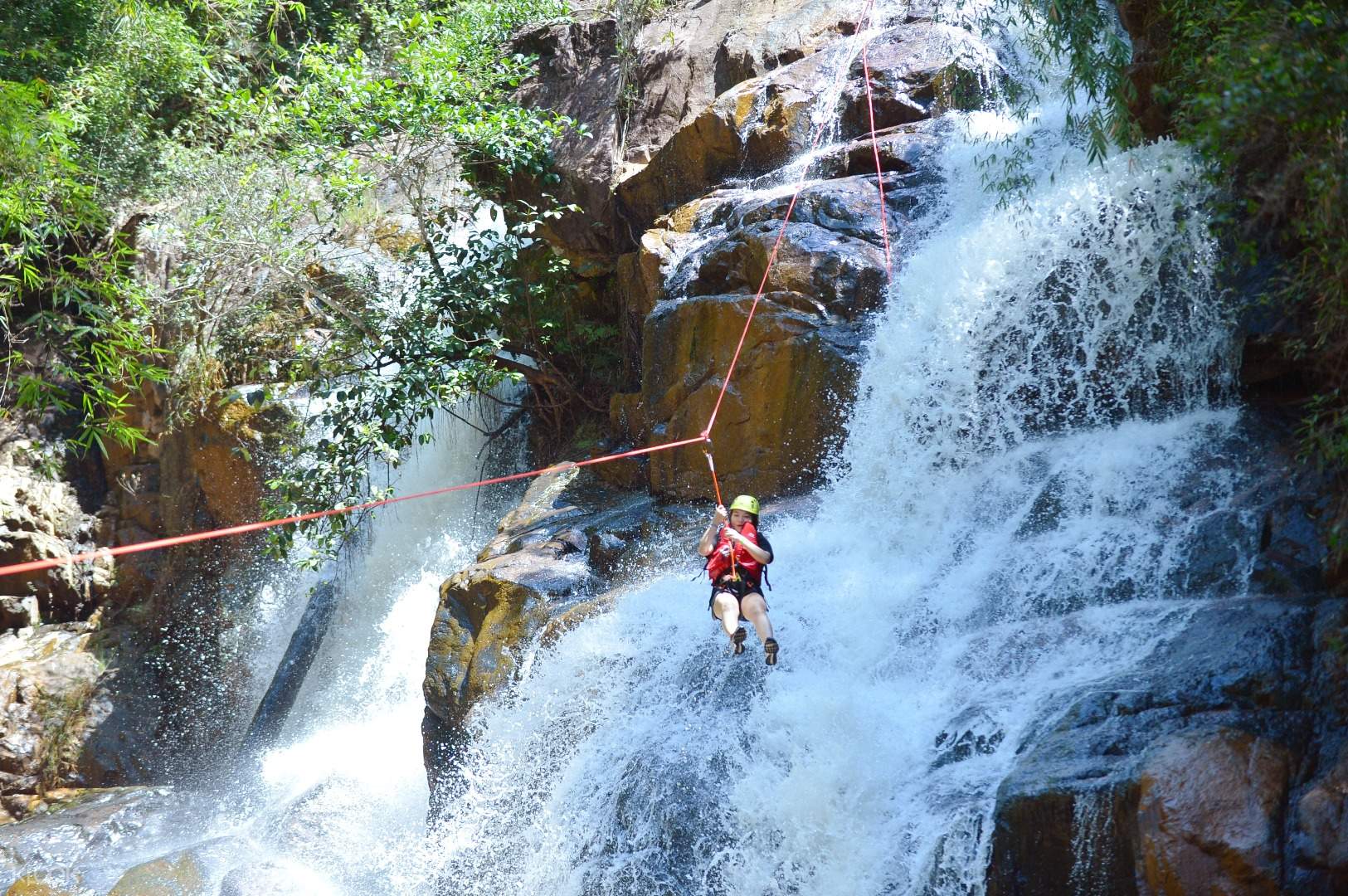 Photo : tripadvisor.com
We call it "exploring" because there are plenty of extreme sports and activities you can join here. With the help of professional tour leaders and safety gears, you can rappel against the water flow and the cliff to get to the upper area, feeling the adrenaline as you conquer nature.
Alpine Coasters
With 48 cars reaching a maximum speed of 40kph, you will get to admire one of the grandest primary forests of Vietnam.
Kayaking
If you are in love with kayaking, reward yourself with the special terrain of Datanla fall where you can sightsee at your own liking and visit nearby strawberry gardens.
High Rope/ Zipline
Zipline in Datanla fall has 6 levels, rated by difficulty. A total of 80 challenges and games, promising you a full day of fun and thrill. 
Cycling around the city to the suburbs
If you want to stretch your muscle instead of sitting on a tour bus, rent a bicycle and make your way around town. The many slopes in this highland city make a good exercise. If you are flexible for time, plan your trip in the early morning or at the sunset as the temperature and the air are most comfortable.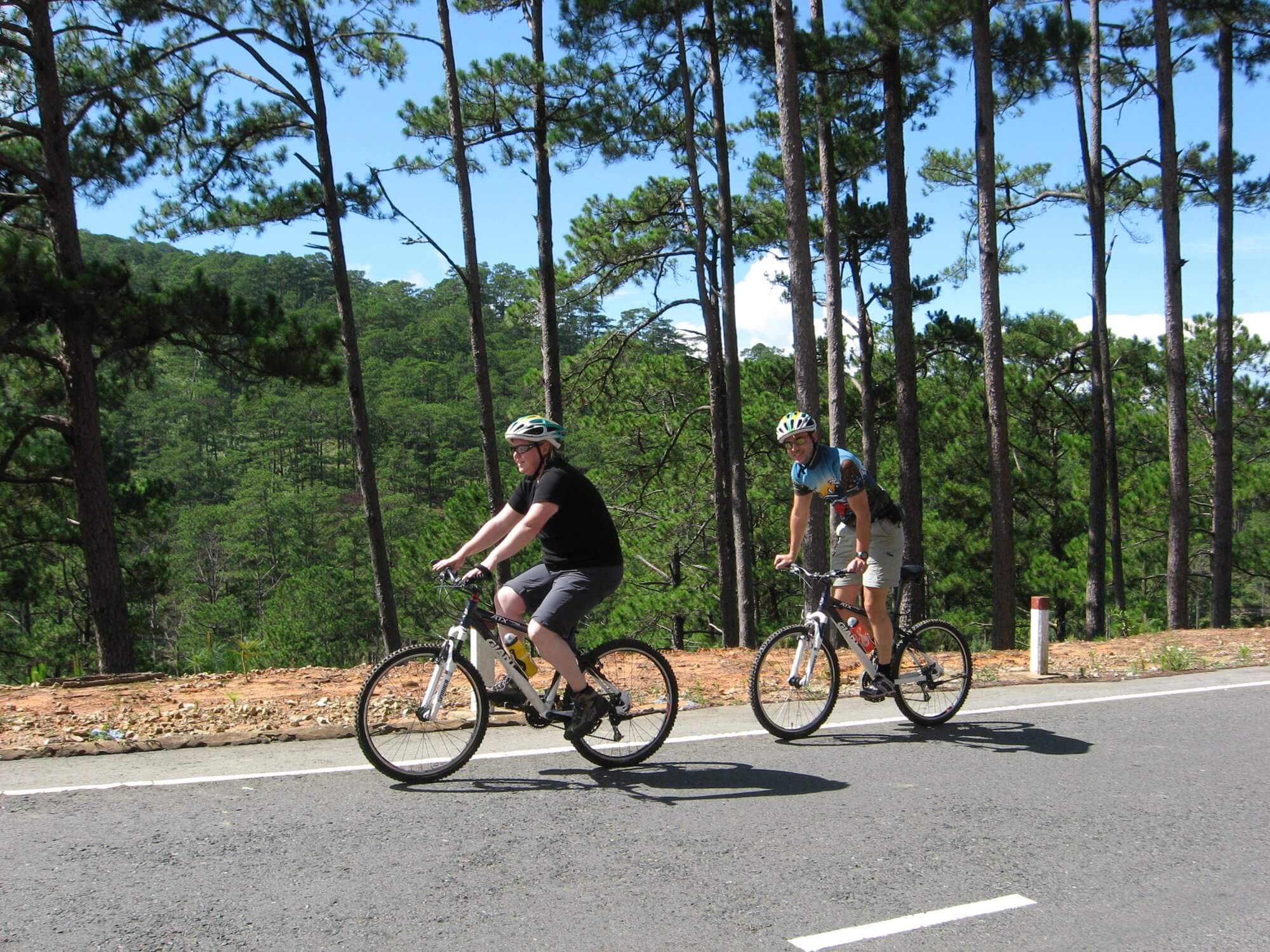 Photo : baolamdong.vn
The two most popular bike rental shops are
Pine Track Adventures, Dalat
Phat Tire Adventure Vietnam, Dalat
Imagine the ride along green pine forest and listen to the far-flung streams flowing and birds singing; or through an immense flower field, and a sloping tea garden where you can enjoy the special spring fragrance.
If you find it quite difficult to find out the best places to cycle to, just join a tour with a professional tour guide. With a tour guide, your trip will be much more interesting and you will have an opportunity to learn more about the local people and nature.
Trekking and Hiking to the Langbiang Mountain
Langbiang is a huge mountain located in Lac Duong District, 12km from Dalat. This mountain is considered to be the roof of Dalat. Its spectacular beauty has attracted hundreds thousands of tourists every year. There are many choices to get to this tourist destination, you can rent a bike or take a bus (line Dalat - Lac Duong). If you have any questions, feel free to ask the locals for directions since they are really friendly and hospitable.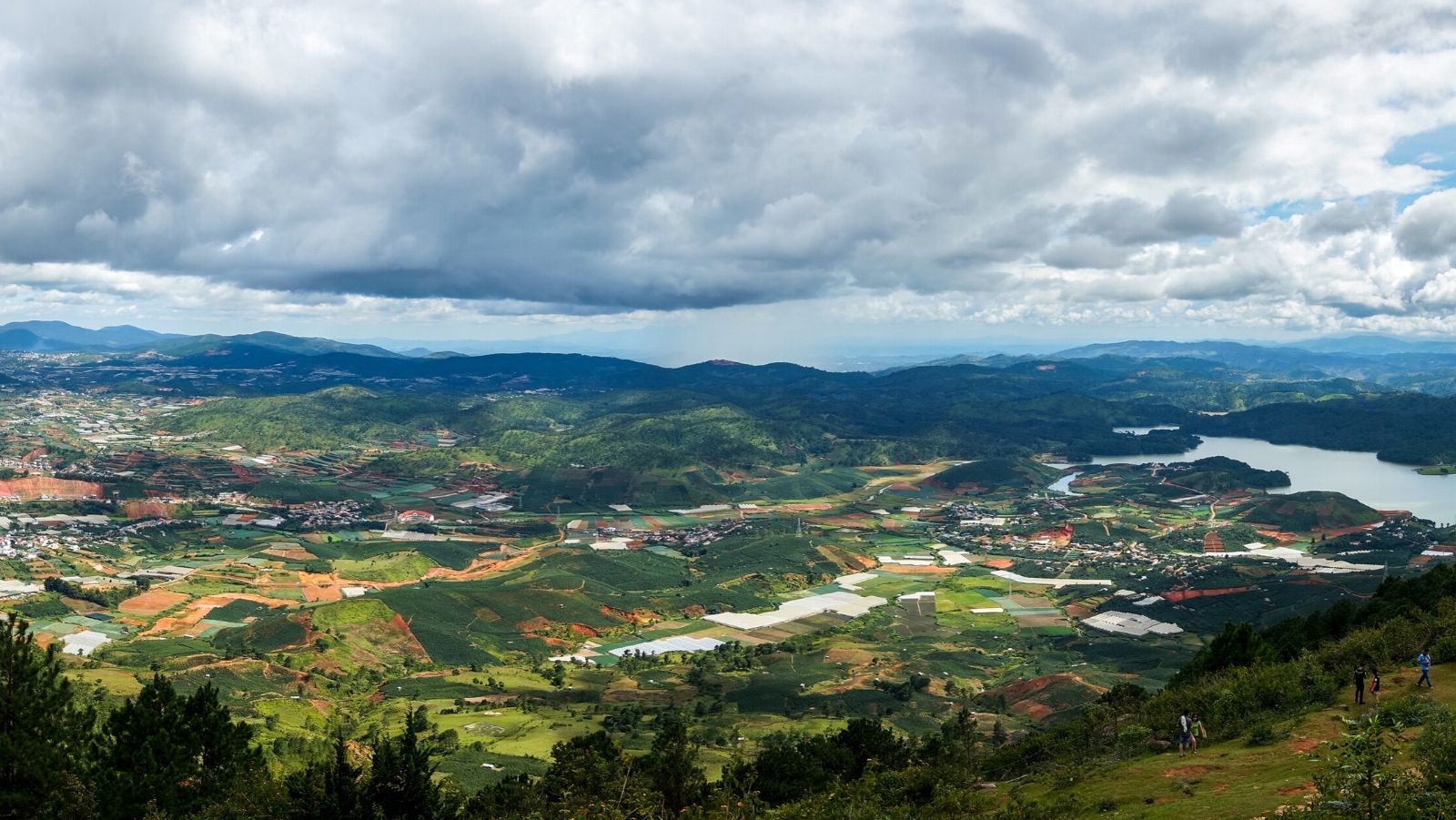 Photo : maptrotting.com
One of the most popular activities there is trekking and hiking to the Ra Da Hill (1929 meter above the sea level). There is an asphalt road to the top of the hill; this road is used for the jeeps to take the tourists to the top.
However, you can choose to go trekking instead. The trip usually takes you about 2 hours on foot. Remember to be well-prepared for your trip, bring some foods and drinks in case you get tired and watch the weather forecast in order to make sure that it is a sunny day. 
There is another hiking destination called Bidoup Nui Ba (2167 meter above the sea level). This trip is much harder due to its topographic variation but you can clearly observe the change of the vegetation along the height. We recommend that you book a tour guide in advance to make this trip safer and more interesting. Also, there are many tours available on the Internet for you to discover this exceptional place.
Camping
There are several camping sites in Dalat as various open spaces are available. Some popular camping sites among the Vietnamese tourists here: 
Thien Phuc Duc Hill
Da Phu Hill
Thung Lung Vang Resort
Tuyen Lam Lake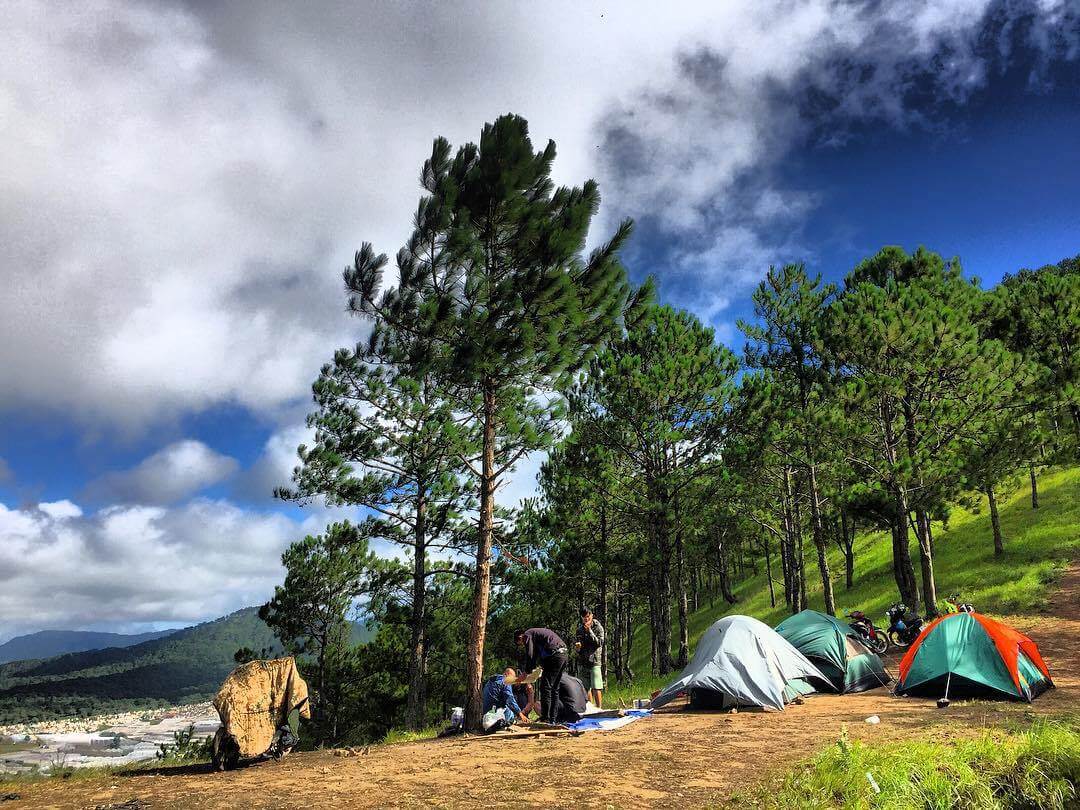 Photo : dichoidalat.com
There are a number of things to take into account before going camping. Don't forget to bring some clothes as the temperature will decrease significantly at night. Besides, as they are favourite sites among the young, it is easy for you to meet some young tourists at the campsite, have a conversation with them and your trip will be all the way more memorable.
Conversations (0)
Join the conversation
Conversations
Join the conversation
ALL COMMENTS (0)
There are no comments. Add your comment to start the conversation.
read next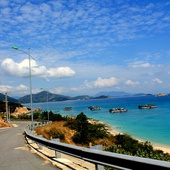 With its beautiful beaches and luxury resorts, Nha Trang is a great place to lay down your hat for a while.