10 Best Things To Do In Danang
Danang attractions are dotted throughout the city where you can dream of white-sandy beaches, wonderful recreational amenities, and sacred holy sites. Discover the top things to do in Danang City with our list below.
1. Relax and sunbathe at My Khe Beach
Just a short 5-minute drive from Danang City Center crossing the tree-lined Vo Nguyen Giap Street, you'll find yourself amidst an ideal swimming paradise called My Khe Beach. This 900-meter stretch has gentle sand slopes and cool waters. It is especially crowded in the early morning and late afternoon. Along the coastal road, there is a vast range of high-end hotels, hostels, and seafood restaurants. Building blocks create a great shade for you to rest on a hammock and lounge chair in front of the beach.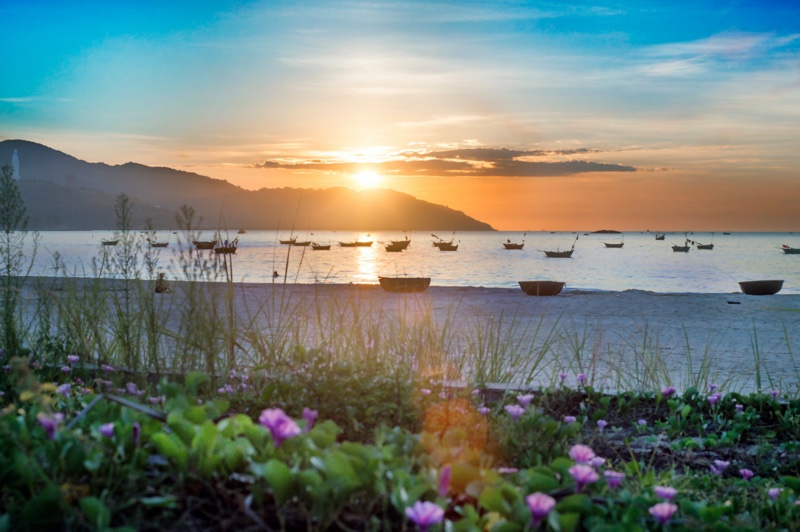 Early morning on My Khe beach
2. Admire sparkling fire and water shows at Dragon Bridge
The dazzling display of Dragon Bridge breathing fire and water is an impressive and not-to-miss show for any tourists to Danang City. This illuminating performance is taken place on weekends at 21:00 and during annual festivities. Visitors can gather at the foot of the bridge or in coffee shops and take the best photos.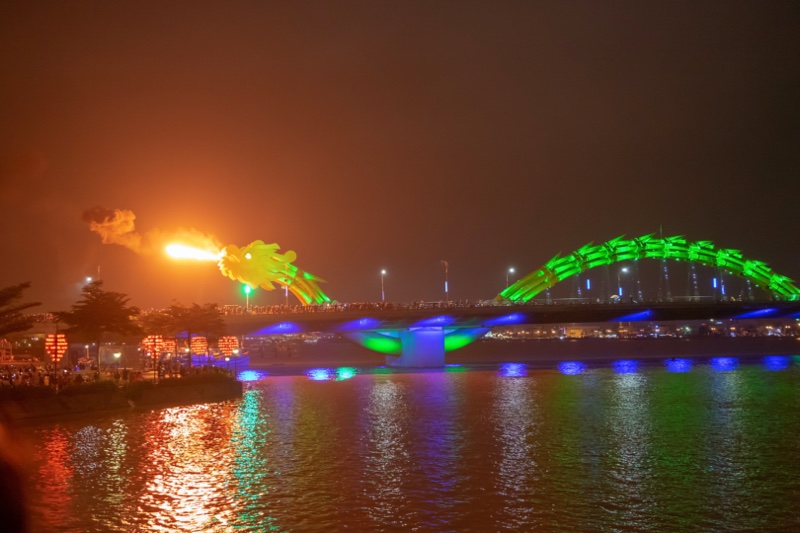 Dragon Bridge in Danang
3. Han River Bridge
Among mind-blowing suspension bridges in Vietnam, Han River Bridge, a cable-stayed swing bridge in Danang City is the most significant one. Han River Bridge showcases the city's new vitality and boosts tourism. At midnight, traffics will stop for 20 minutes waiting for the bridge swings so that shipping traffic can pass through. This is such an exciting moment that no tourists should miss filming.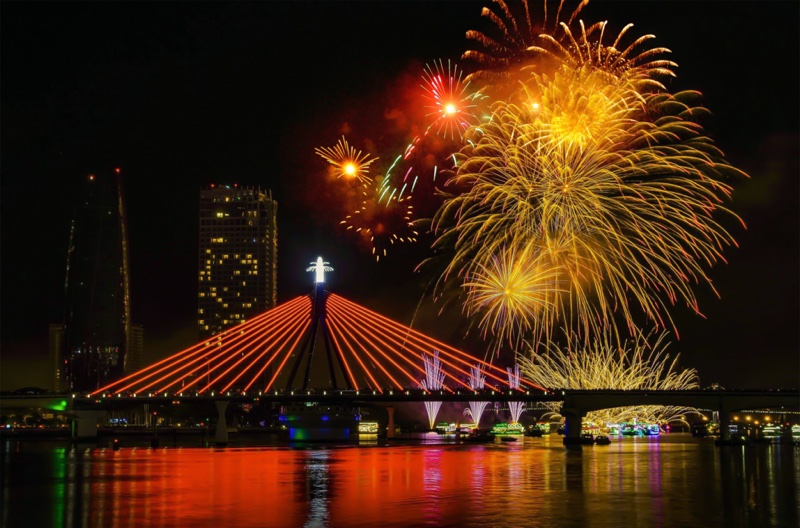 Han River Bridge in Da Nang
4. Visit Linh Ung Pagoda
Set on Son Tra Penisula overlooking the blue sea, Linh Ung - Bai But Pagoda is arguably the center of pilgrimage in Danang City. The pagoda boasts a contemporary style fused with Vietnamese traditional architecture. The main shrine features a curved roof with dragon heads. Significantly, tourists flocking there to witness Vietnam's tallest statue of Goddess of Mercy which is measured 67m high equivalent to a 30-story building.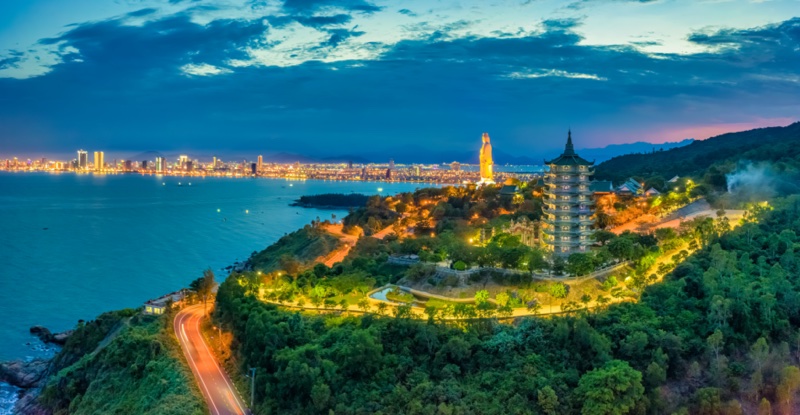 Aerial view of Linh Ung pagoda
5. Snorkeling in Cham Island
Fascinating adventures go beyond visits to prominent monuments and tourist sites. Those looking for a thrilling day out of the city should not miss the snorkeling trip to Cham Island. This kind of tour can be easily booked at Cham Island Diving Center, based in Hoi An. On a slightly cloudy day, snorkelers can expect to capture mesmerizing and pristine views on Cham Island and explore diverse marine life and colorful coral reefs.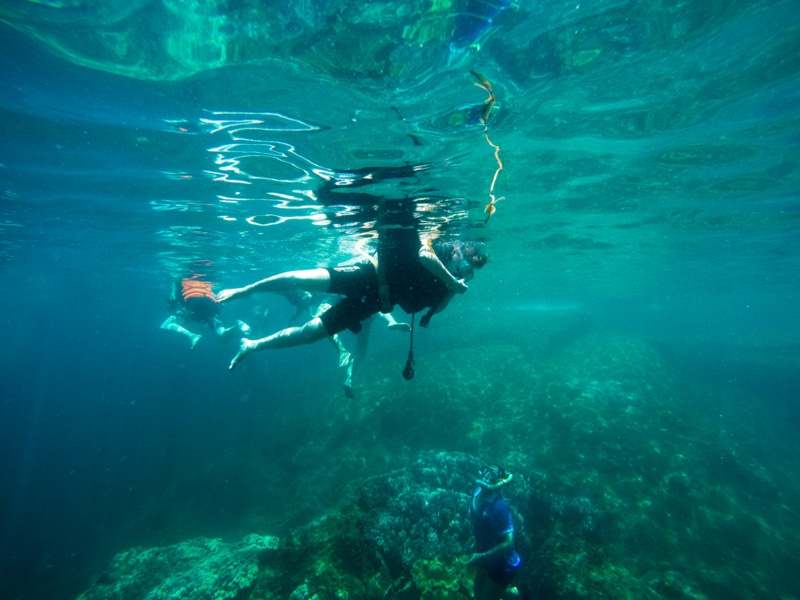 Coral reefs at Cham Island
6. Marvel at My Son Sanctuary
My Son Hindu Sanctuary is a magnificent architectural wonder in Danang City which was recognized as UNESCO World Heritage Site in 1999. A complex of stone sculptures and towers made from red bricks is a great illustration of Cham civilization. Many parts of those Hindu-themed ruins are rebuilt now and the best time to visit them is in the early morning so you can avoid harsh sunshine.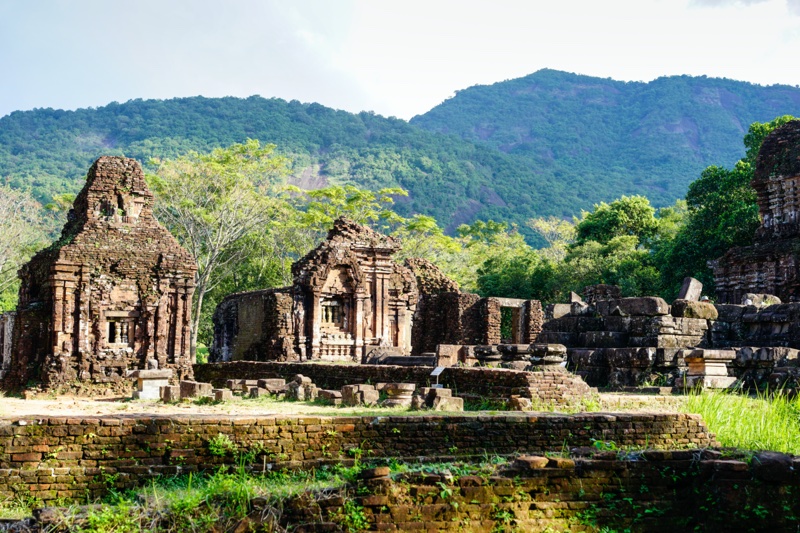 My Son Sanctuary
7. Visit Asia Park
Danang has a treasure trove of interesting places and Asia Amusement Park is perhaps the best one. In the center of the park, there is a large 115-meter Sun Wheel which can be seen from different corners of the city. It becomes extremely beautiful at night with the colorful neon lights. Fun-filled games are awash at this park such as roller coasters and cultural activities. After exhausting day playing games, tourists will be treated to delicious local and international food in the restaurants.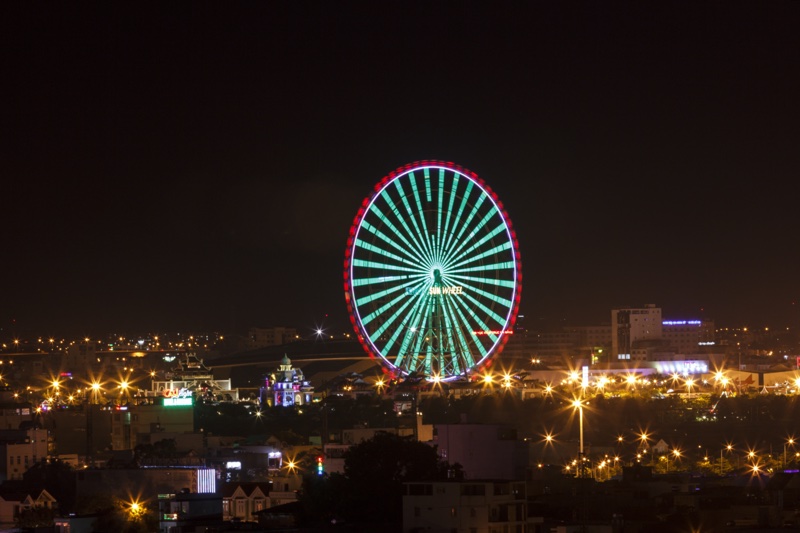 Sun Wheel at Asia Park by night in Da Nang city
8. Drunk with stiff drinks
Hosting a vast range of swanky bars, pubs, and vibrant nightclubs, Danang is a place to go for party goers and drinkers. Whether you're looking for local craft beers or sumptuous exported wine and whiskies, nightlife venues in Danang have it all. Late at night, there will also have live music performances and DJ shows. Some of the hippest bars in Danang are Sky 36, Simple Man Coffee Bar, Phuong Dong Nightclub, and Oasis Tapas Bar.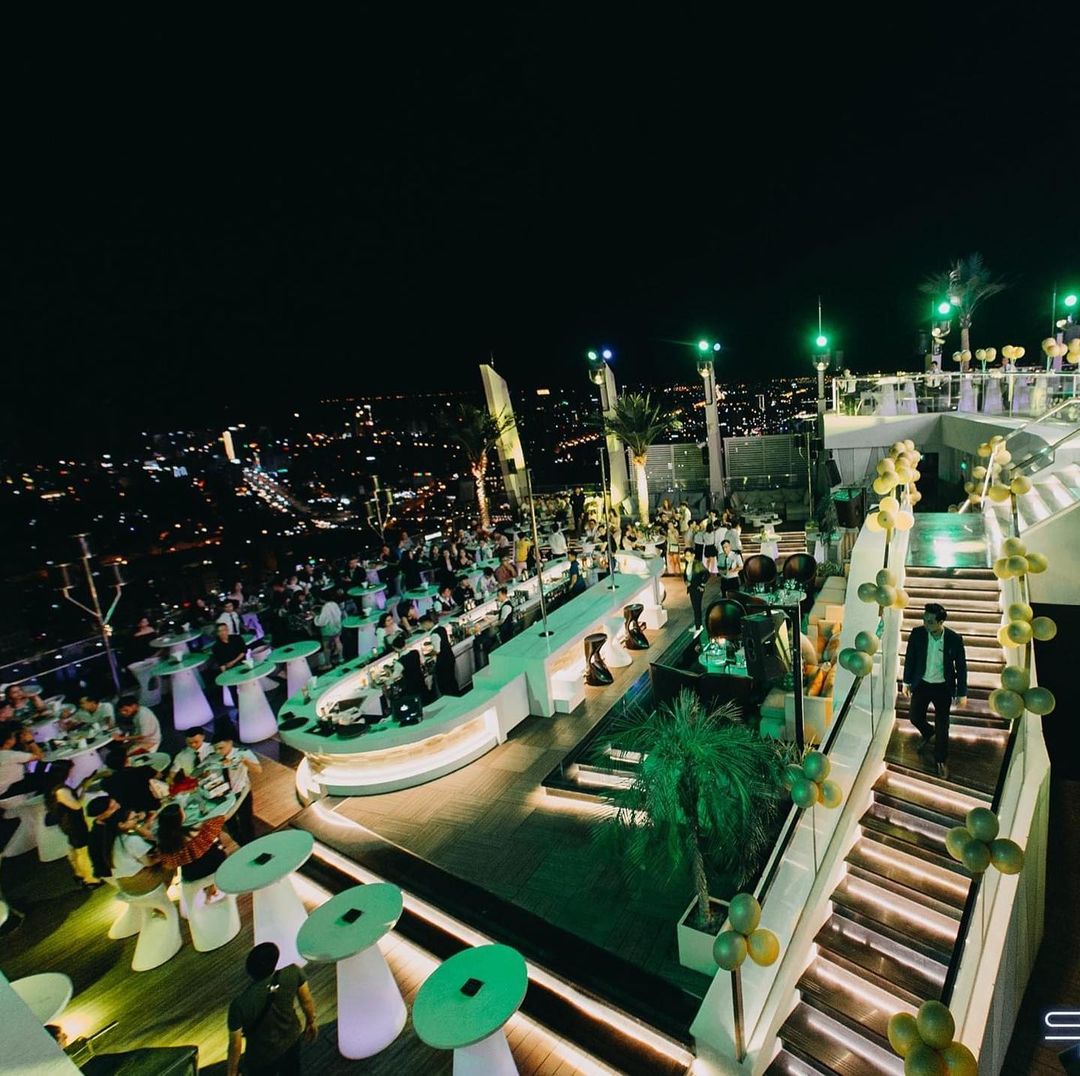 Sky 36 bar - Photo: @thinhth.kevin
9. An extraordinary motorcycle excursion to Hai Van Pass
The mesmerizing landscapes of Hai Van Pass surrounded by mighty mountains allure any adventurous motorcyclists. Challenge yourself by riding a motorbike through winding roads and curves, you will have any opportunity to soak up charming views and breathe fresh air. You can also combine this thrilling journey with a camping trip accompanied by your friends.
Hai Van pass, Vietnam
10. Check-in Ba Na Hills
Hop on the world's longest cable car system to Sun World Ba Na Hills, a large entertainment complex which is located 30km from the city center. Possessing temperate climate, stunning landscapes, and impressive architecture, Ba Na Hills draws a huge number of leisure tourists for a full day trip. There are plenty of places to see in this area including the iconic Golden Bridge, Le Jardin D'Amour Flower Garden, Debay Wine Cellar, and Wax Museum. It is said that almost every corner in Ba Na Hills is worth a beautiful photo. Round off your day with mouth-watering meals in the on-site restaurant.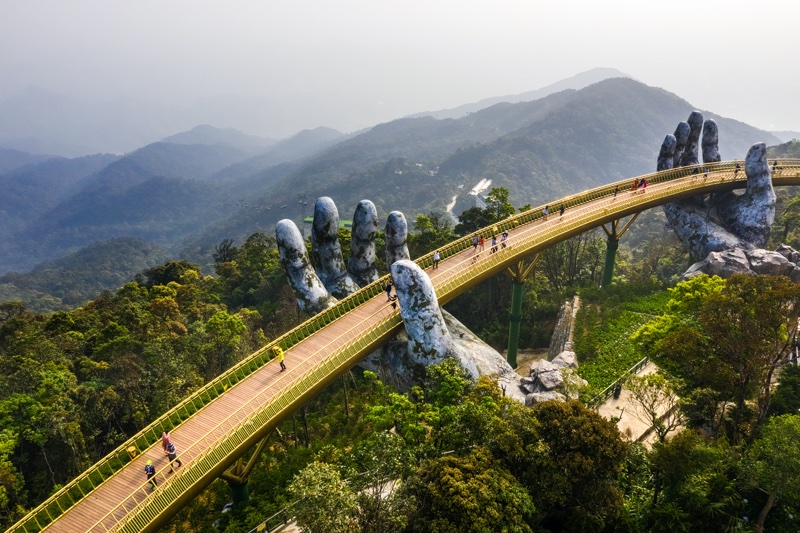 Golden Bridge on Ba Na Hills
Conversations (0)
Join the conversation
Conversations
Join the conversation
ALL COMMENTS (0)
There are no comments. Add your comment to start the conversation.