Ta Dung National Park
The Central Highlands of Vietnam has risen as a new destination that attracts the most savvy travellers by its pristine nature and rich culture of ethnic minorities. Ta Dung National Park, precedingly known as Ta Dung Nature Reserve, is a favourite spot on the journey to the Central Highlands of many people.
Located in Dak Glong District, Dak Nong Province, Ta Dung National Park is embraced by Dak Nong and Di Linh plateau. This 22000ha area is comprised of about 40 islands scattered on a giant lake, which are home for a plentiful number of natural species. Ta Dung Lake evokes the wondrous scenery of Ha Long Bay, a popular destination in Northern Vietnam, so that it's also addressed as "the inland Ha Long Bay" in the Central Highlands. Beside serving as a tourism spot, this nature reserve plays a pivotal role in the research and preservation practice of primitive environment and rare species.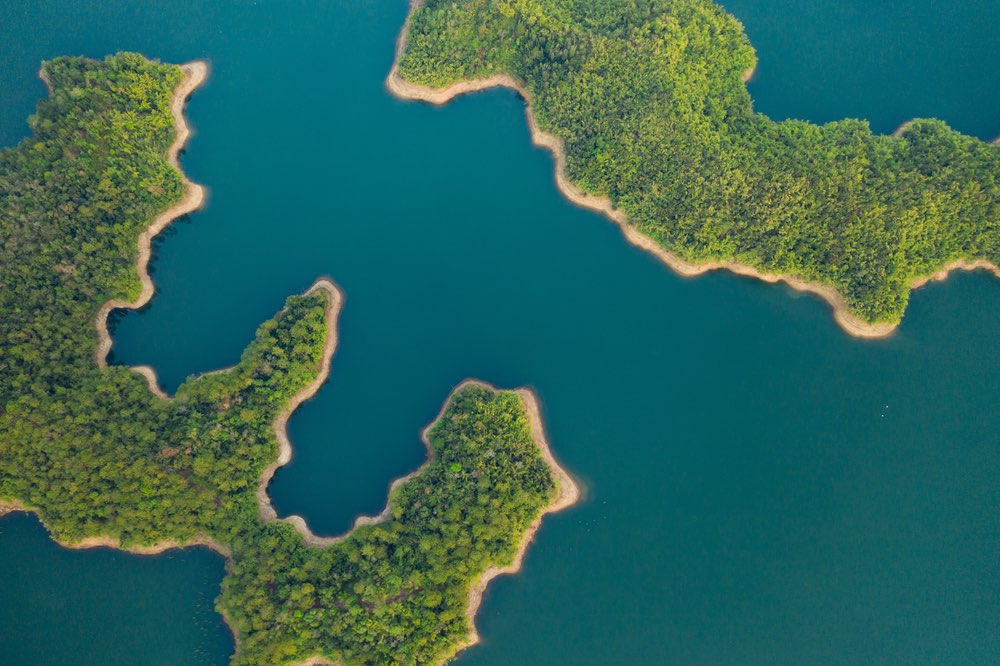 Ta Dung Geopark

Attractions
Visiting Ta Dung National Park, you will be especially impressed with the eternal landscape. With a total area of about 5000 ha, Ta Dung lake contains over 40 islands and peninsulas with various sizes and shapes, undulating on its scenic surface. On the spring day when the water level remains high and the sky is clear, you can even observe fish swimming among green algae in the lake. This area also carries an extremely diverse ecosystem, including more than 1,000 fauna and flora species with certain rare names on Vietnam Red List. Ta Dung forest is home for leopards, doucs and gibbons, pythons and many special kinds of snakes.
Serving as a nature reserve, Ta Dung National Park does present limited artificial impacts throughout the area. Therefore, you won't find many entertaining activities and games, but spend most of the time on exploring the pure charm of wildlife and enjoying the fresh, relaxing atmosphere that cannot be found in the bustling metropolitan.
Activities
Take a boat tour
Ta Dung Lake reminds visitors of a giant green mirror, blending with the greenish shades of mountains and forests. There's no better spot to observe the panoramic view of the whole area than a boat in the middle of the lake. Sneaking into the oases, you will have a clearer view of the unique topography pinpointing on the lake. Besides, while cruising around, you also have a chance to see many floating rafts of local Ma people who live by fishing, and learn about their culture through mythical stories.
Explore springs and waterfalls
Walking deep inside the forest on the summer days, the freshness and cool from water springs will immediately lower the heat, making your entry an ultimate refreshment. You will find Dak N'teng and Dak P'lao springs that flow through rocks creating majestic waterfalls such as the Sun waterfall, Dak Plao waterfall. On the journey to the waterfall, you must go across large rocks and many ancient trees. Further inside is the Digne Klan waterfall with flat rocks and large tree canopy, which is an ideal place for night camping.
Camping
Ta Dung National Park is among top camping spots in Vietnam Central Highlands thanks to its pristine conditions and great preservation efforts of the local community. Camping at Ta Dung Lake is a one of a kind experience that you cannot miss when visiting Ta Dung. After taking the boat trip, tourists who choose the overnight camp will be sent to the existing camping area. All the basic tools are prepared such as rent, blanket, kitchenwares, etc. You can bring your own food or order a BBQ meal right at the service center.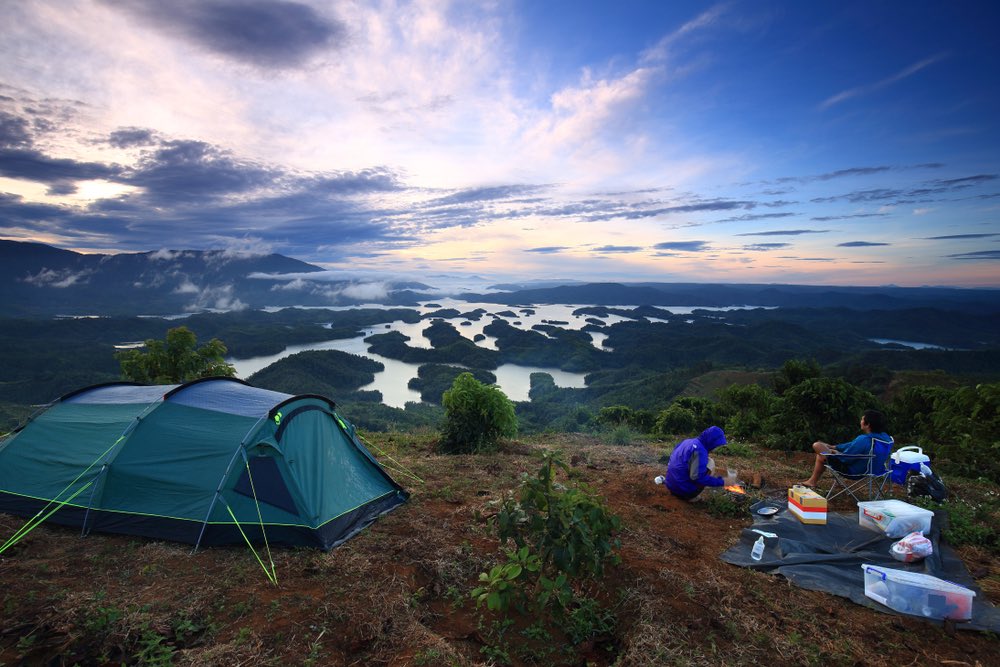 Camping and watching sunrise over Ta Dung

Best time to visit
The weather of Central Highlands is similar to other regions in southern Vietnam, which is divided into rainy season and dry season. The rainy season starts from May to October, while the dry season lasts during the other months. Serving as a reservoir of Dong Nai Hydropower Plant, the water volume of Ta Dung lake changes during the year. Therefore, to enjoy Ta Dung National Park at its fullest, plan your trip from July to December, when the water level is high, creating a crystal jade surface. It's possible to get to Ta Dung during rainy months, as the rain is mostly at night, which usually does not disturb your daytime exploration. The occasional rain during daylight hours will cool down the heat for a more pleasant atmosphere.
By visiting Ta Dung on the weekend, you can also participate in the weekly market of H'Mong people to discover their indigenous local life.
How to get there
Ta Dung National Park is about 300km from Ho Chi Minh City and 160km from Buon Ma Thuot City. You are recommended to take the 5-hour journey by shuttle bus from Ho Chi Minh City to Gia Nghia town, which costs you VND120,000 – VND 400,000. Accordingly, you can grab a taxi or rent a motorbike to Ta Dung for another 1-hour ride.
The second way, especially for backpackers, is to travel by motorbike from Buon Ma Thuot. You can either reach Dak Nong or Di Linh plateau, then follow the National Highway 28 to reach Ta Dung National Park. The ride is quite long, which is approximately 4 hours, but the majestic scenery of mountain passes along the road is totally worth your effort.
For tourists coming from the north side, the most convenient means of transportation is to fly from Hanoi, Hai Phong to Buon Ma Thuot, before taking a ride by taxi or private vehicles to the final destination.
Ticket details
Visitors are requested to pay VN 50,000 for an entrance ticket to Ta Dung National Park to discover all the natural landscape in the area. Ta Dung Lake, being the highlight of this spot, is a must-visit when you are already here. To observe all the surroundings, visitors can consider joining a boat trip. The price for boat rental is VND 1,000,000 for a group of maximum 15 guests. However, if your group is not big enough, the staff is very attentive to help combine different groups of travelers, so that the cost for travelers can be saved and you also have a chance to gather with new friends during the trip.
Useful Information
Location: Ta Dung, Daknong, Vietnam
Best for: All visitors
Entrance: 50,000
Hours: 9:00am - 5:00pm
Distance to city center: 57.1km (35.5 mi)
Conversations (0)
Join the conversation
Conversations
Join the conversation
ALL COMMENTS (0)
There are no comments. Add your comment to start the conversation.